We use affiliate links. If you buy something through the links on this page, we may earn a commission at no cost to you. Learn more.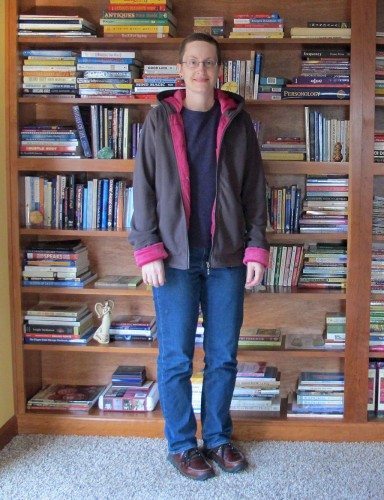 It's been several years since we featured a SCOTTEVEST product here on The Gadgeteer and I'm happy to say that in the time since we last took a look at their tech clothing, they've added some women's garments to their line up. I've been excited to try them out, so they sent me their Chloe Hoodie to review…
Note: Click the images in this review to see a larger view.
The Chloe Hoodie is made of machine washable 100% Poly Microfleece and is available in two colors: Magic and Kiss. Magic is Black with a Black lining and Kiss is Gray with a Pink lining. The Chloe comes in 6 sizes: XS, S, M, L, XL and XXL. They sent me the Kiss in Medium.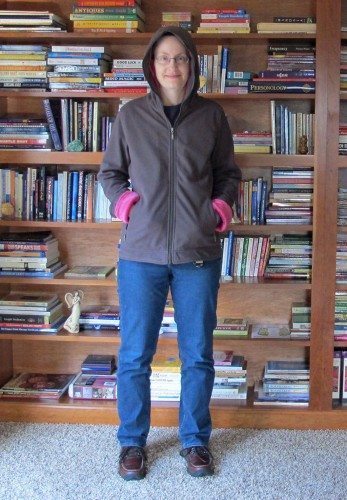 This jacket is super comfy and warm. It very soft and has nice deep hand pockets which are lined with plush fleece. The hood is also lined with plush fleece. It really keeps your head warm which is great for me since my hair is still growing back. I love that their Infinity zipper actually wraps around the hood, so that you don't need drawstrings to cinch it tight around your face. You can just pull the zipper higher as needed.
No one will mistake this as a men's jacket. It has flattering princess seams and some nice fashion elements to keep it feminine.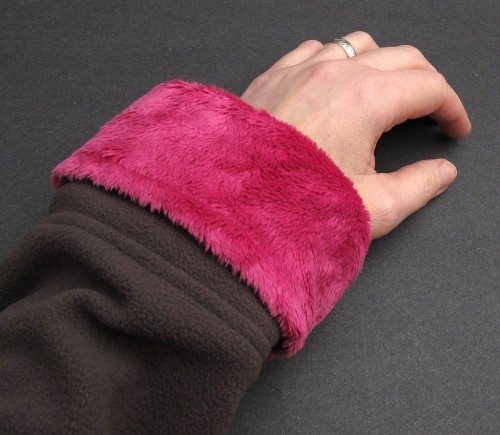 The cuffs can be worn turned up like you see here, to expose the plush fleece lining.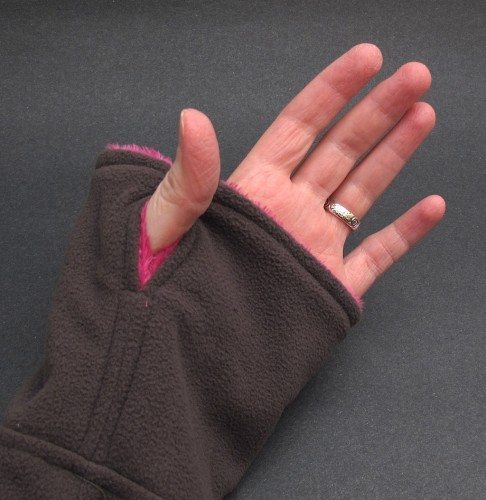 Or you can turn the cuffs down and take advantage of thumb holes to keep your hands warm.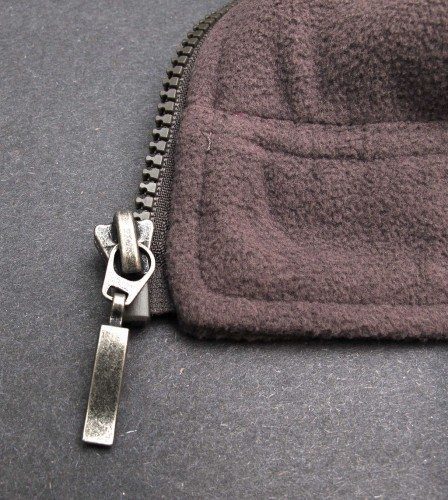 All the zippers offer a nice metal pull tab like you see above.
SCOTTEVEST is well known for including lots of pockets in their garments so that your jacket essentially becomes your gear bag. The Chloe offers 14 different pockets. Let take the tour…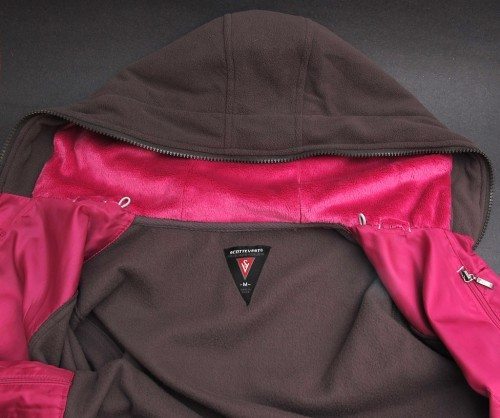 First of all, I'd like to mention that the branding on this jacket is pretty minimal. There's the label on the interior that you see here and an embroidered logo along the waist band that is pictured later in the review.
Here we see the hood. You'll notice two small white loops. These hold your earbuds.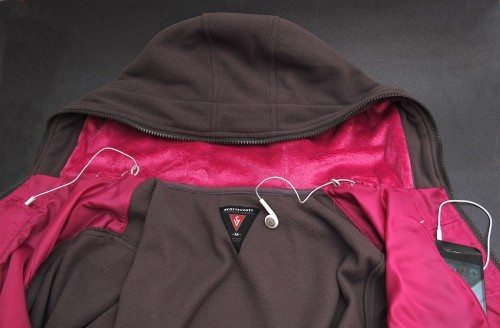 The back of the hood has a PAN (Personal Area Network), which is geek speak for a special conduit that you can use to route wires like your earbud cables. In the image above, I have my iPhone's earbuds routed behind my neck through the hood's lining. Special BudBuckets on either side hold the earbuds when they are not in your ears. The PAN is really handy because you can have your iPhone in one zippered pocket, but still attached to your earbuds.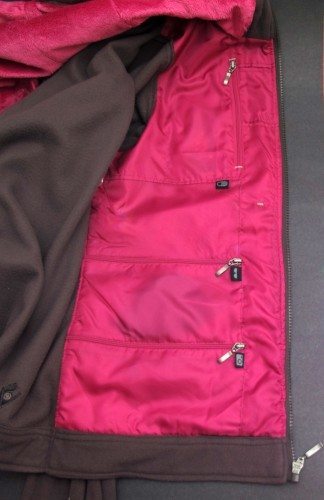 Ok let's check out the rest of the pockets. When you unzip the jacket, you'll find a set of satin pockets on each side. I was really happy to see that they include little cloth labels with icons to help you remember what each pocket is meant to hold.
From the top, you'll find a budbucket for an earbud.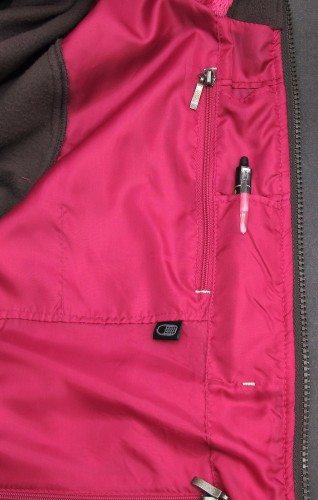 Below the budbucket it is a pen slot that is shown here with my Pilot FriXion Ball Erasable Ink pen. This slot will also work well for a stylus or pencil.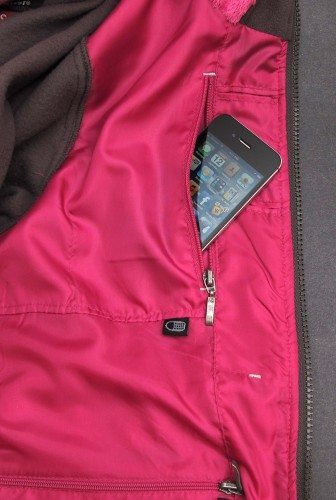 In the breast area is a vertically zippered pocket that is designed to hold your phone or audio player. A special opening in the roof of that pocket allows you to route earbud wires to the stored device.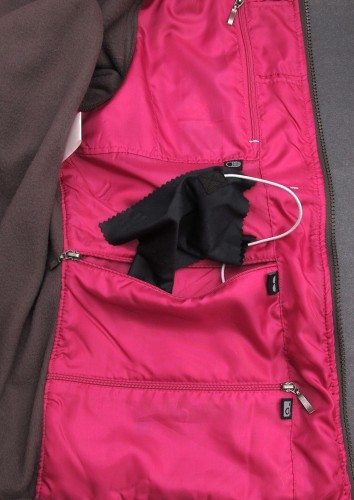 Below the phone pocket is a zippered pocket designed to hold your sunglasses. There's even a glasses cleaning cloth attached to an elastic cord which is sewn into the pocket.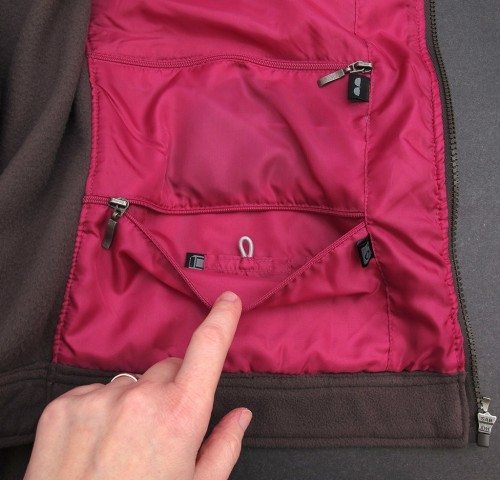 The bottom pocket is designed to hold your camera. Inside that pocket is a small Velcro pouch that can hold SD cards.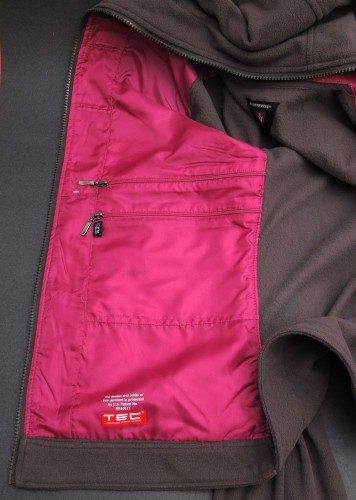 On the opposite side, you'll find a budbucket at the top, with another pen pocket below it. Next in line are two large zippered pockets. The largest is big enough to hold a Kindle sized device and the other works great for storing your passport or a small notebook.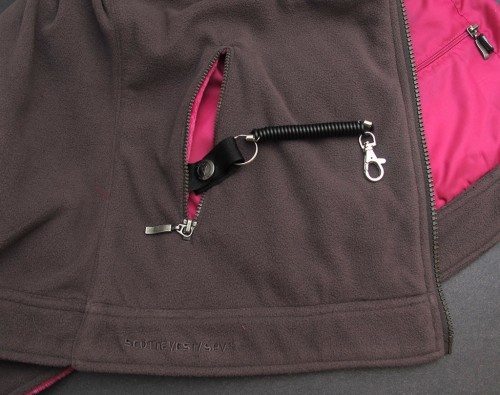 The exterior zippered hand pockets hide a few goodies too. The right one has an extendable / removable key holder. Also in that pocket but not pictured is a lipstick / chapstick holder. The pocket is held closed with Velcro that is pretty strong. I'm a little worried that over time, pulling on the Velcro tab may cause the satin lining to tear.
You'll notice the embroidered SCOTTEVEST branding below the pocket.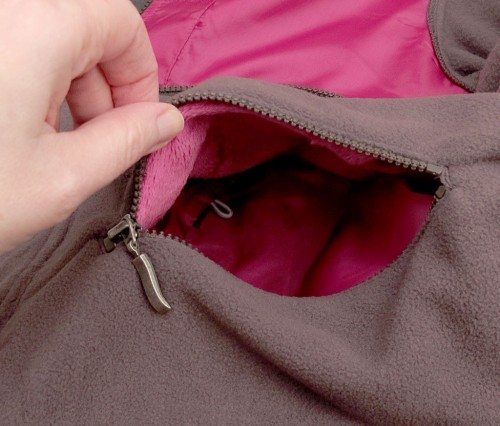 In the other hand pocket, is a small change pocket which is also held closed with Velcro. Like I mentioned before, the Velcro is pretty strong, so it's not the easiest task to pull the little pocket open with just the fingers of your hand in the pocket. If it were up to me, I'd like to see magnets used to keep these tiny pockets closed.
So what can you carry around in the Chloe? Let's see…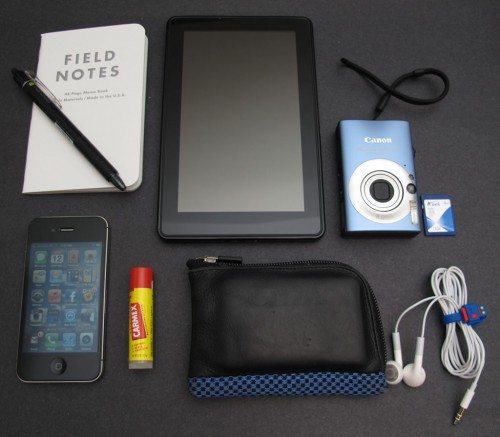 Here is a selection of gear that I would normally carry in a bag. Included is a Field Note notebook, Pilot FriXion Pen, Kindle Fire, Canon camera, extra SD card, iPhone 4S, Carmex lip balm, Waterfield wallet and iPhone earbuds.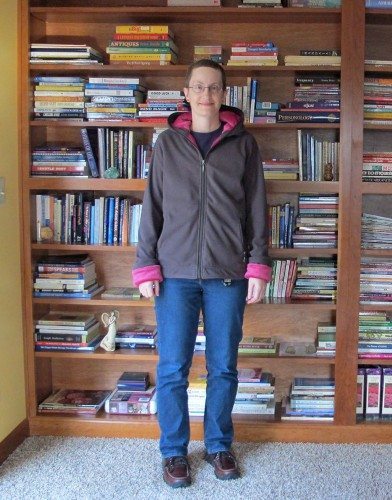 Here I am with all that gear stowed in the jacket. I love that each item has its own pocket so that everything isn't crammed in the hand pockets. With the Chloe, I can carry all the items and still be able to put my hands in my pockets to keep them warm.
I also like that the weight of the gear distributes itself evenly so that walking around is comfortable. The only item that doesn't feel that comfortable to leave in the jacket is the Kindle Fire. But it really only feels bulky when I'm sitting.
Of all the SCOTTEVEST products that I've reviewed over the years, I'd have to say that the Chloe Hoodie is my new all time favorite. The ability to easily carry my essential gear makes it a great alternative to carrying a bag. The fact that it's so cozy I could sleep in it doesn't hurt either.
Product Information
Price:
$90.00
Manufacturer:
SCOTTEVEST
Pros:

14 pockets
PAN
Warm
Stylish

Cons:

Tiny Velcro pockets are hard to open with one hand