We use affiliate links. If you buy something through the links on this page, we may earn a commission at no cost to you. Learn more.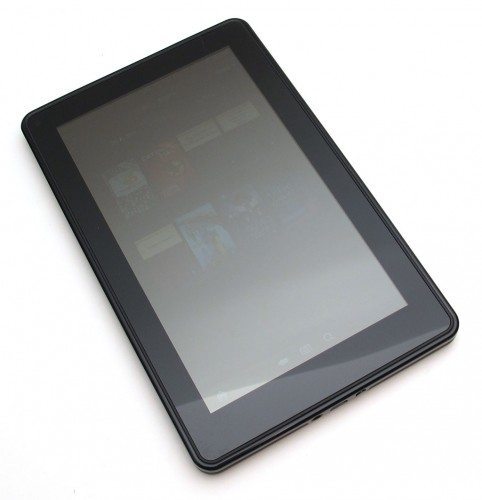 Amazon introduced their first Kindle device back in 2007 when the dedicated eBook reader population was made up almost exclusively by Sony's Reader line of products. The eReader population has grown to include more brands than I can count and in the last 5 years, we've seen the technology in this category evolve from e-Ink devices to readers with color LCDs. After several popular e-Ink Kindles, Amazon's first color device is the Kindle Fire. Although it may look and act like a tablet, Amazon does not want you to compare the Fire to an iPad or dedicated Android tablet. They say the Fire is just a content consumption device for books, magazines, music and video.  Of course telling people not to compare their device to other tablets, will cause them to do the opposite. I'm going to take a look at this already very popular device and let you know what I think.
Note: Click the images in this review to see a larger view.
Hardware Specifications
Processor: 1Ghz Texas Instruments OMAP 4 dual-core processor
Operating System: Android
Display: 7″ multi-touch 1024 x 600 pixel resolution at 169 ppi, 16 million colors
On-device Storage: 8GB internal (approximately 6GB available for user content)
Battery Life: Up to 8 hours of continuous reading or 7.5 hours of video playback, with wireless off. Battery life will vary based on wireless usage, such as web browsing and downloading content
Charge Time: Fully charges in approximately 4 hours via included U.S. power adapter. Also supports charging from your computer via USB
Connectivity: Wifi 802.11b, 802.11g, 802.11n, or enterprise networks with support for WEP, WPA and WPA2 security using password authentication; does not support connecting to ad-hoc (or peer-to-peer) Wi-Fi networks
USB Port: USB 2.0 (micro-B connector)
Audio: 3.5 mm stereo audio jack, top-mounted stereo speakers
Content Formats Supported: Kindle (AZW), TXT, PDF, unprotected MOBI, PRC natively, Audible (Audible Enhanced (AA, AAX)), DOC, DOCX, JPEG, GIF, PNG, BMP, non-DRM AAC, MP3, MIDI, OGG, WAV, MP4, VP8
Size (in inches): 7.5″ x 4.7″ x 0.45″ (190 mm x 120 mm x 11.4 mm)
Weight: 14.6 ounces (413 grams)
Included in the Box
Kindle Fire
U.S. power adapter (supports 100-240V)
Quick Start Guide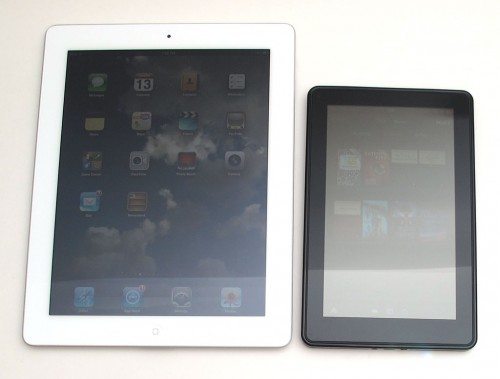 Let me start out by showing you how the compares to the iPad 2 as far as device size. For me personally, a 10 inch display like the iPad's is the sweet spot when it comes to web browsing and magazine reading. The smaller 7 inch display of the Fire is definitely great for portability, but it feels cramped when I'm using it for web browsing and viewing magazines. That said, I find the screen size of the Fire to be just fine for reading books, watching full screen video and playing games.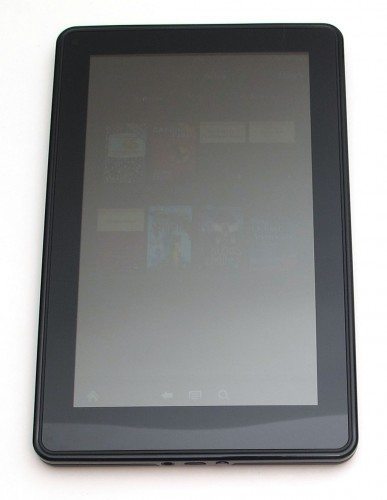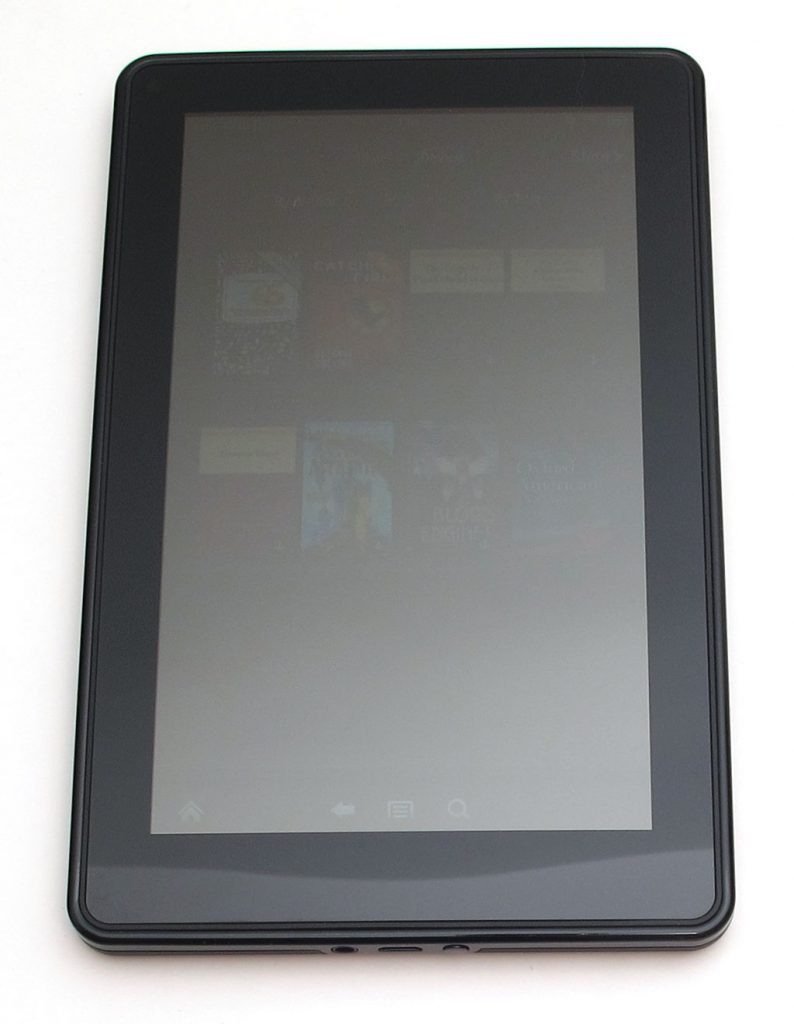 The Kindle Fire has a very spartan design. It's available only in Black and you'll find no flashy chrome trim, LED status lights or menu buttons on this device. Actually it has only one button… a tiny power button located on the bottom edge.
The front of the device has the display with a narrow bezel around all the edges.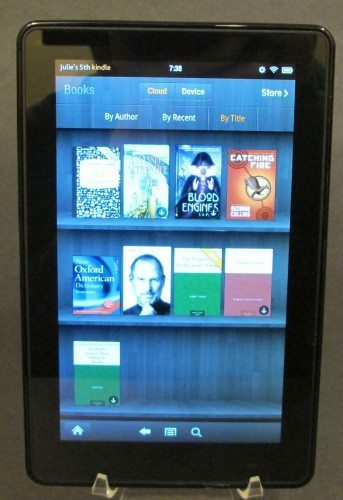 The display is crisp and clear, with colors that are bright and vibrant. It's not Samsung brilliant, but it's still very nice. The image above does not do it justice. It's very difficult to photography glossy color LCDs like the Fire.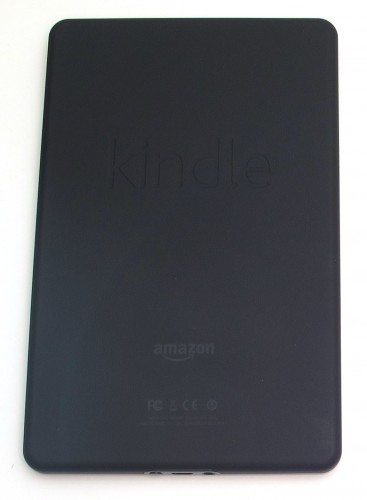 The back of the Fire is made of a soft rubber like material that attracts smudges and grease.

Along the top edge are two speakers. Don't expect to be able to hear audio in noisy environments. Even at max volume, it's not very loud. In a small room, it works fine though.

On the bottom edge you'll find a 3.5mm headphone jack, micro USB connector for charging and the power button. That's it. No dedicated volume buttons, microphone and no camera. These omissions definitely restrict the Fire from being considered a full fledged tablet since you'll be unable to use it for Skype calls and other video chat type applications. The omissions do not end with the microphone and camera though. The Fire also does not include a flash memory card slot for file expansion and it lacks Bluetooth connectivity as well. The lack of Bluetooth means you will not be able to connect a wireless Bluetooth keyboard or headphones. The lack of a flash card slot isn't a deal breaker since Amazon gives you free file storage in the cloud for all their content and the built in 8GB of memory (6GB available for user content) enables you to store 80 apps, 10 movies or 800 songs or 6,000 books directly on the device.
In hand the Fire feels really solid. It feels like a slab of Lucite with no flexing, creaking or cracking. It's comfortable to hold in your hand because the edges are rounded and the back has a slight grip to it.
User Interface
The Kindle Fire is powered by the Android operating system, with a highly modified front end.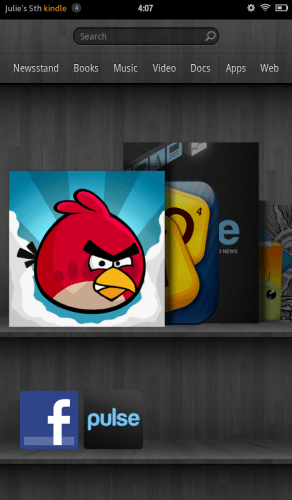 The home screen uses a familiar bookshelf motif that consists of multiple shelves. The top shelf is a carrousel / cover flow style stack of icons of the latest accessed apps, books, music, videos and webpages. You can flip through the icons by dragging your finger across the stack. I don't really like flipping through the icons because frequently I'll tap an icon and nothing will happen or it will flip to the next icon in sequence and launch that one instead. You can add your own icons to the bottom shelf, which is designated to hold your favorite apps, books and magazines. If you add more than 4 favorites, a new shelf will be created to add more. Then the whole home screen will scroll up and down.
At the top of the screen is a search box that will allow you to search the content on your device. As you type a book title or app name, you'll see a list of matching items that filters as you continue to type the search criteria. The search feature will not drill down into books though. It will only allow you to find items based on titles, authors and artists.
Below the search box is a navigation bar that takes you to the 7 areas on the device: Newsstand, Books, Music, Video, Docs, Apps and Web.
Like other Android devices, you can view your notifications by swiping down from the top left corner of the display. To access the volume slider and other hardware settings, you tap the little gear icon in the upper right corner.
You will also notice a Home icon and back arrow at the bottom of the display. This is a menu that isn't static on the screen. You usually have to tap the screen to have it appear. I really prefer a dedicated home button (and volume buttons) of some sort on my devices.
Reading Books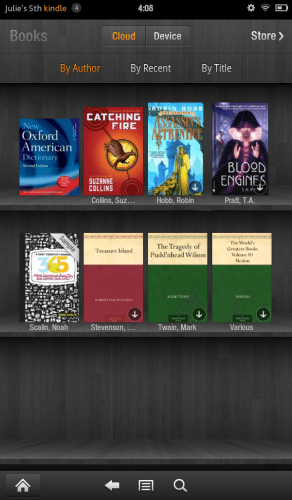 Here we see the book area. You can view your library by cover art grid view…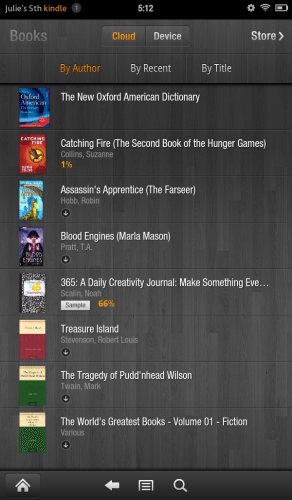 Or display it as a list which shows the title and author. In list view it also shows a percentage of how much you've read for each book.
It would be great if there was a way to file books in named folders, but the only way to organize the book list is by author name, recently read or by title.
Notice the Device / Cloud button at the top of the display. You'll find these buttons on the Books, Magazines and Apps pages. When you're on the device tab, you'll see the books, magazines and apps that have been installed directly on your device in the 8GB of built-in memory. The cloud on the other hand, is an online storage space for you to securely store and access all of your own personal content, from your own personal movies, mp3's, documents, etc. You can access your "Cloud Drive" on Amazon from almost any device that can access the internet.
Your amazon account includes 5GB of free cloud storage. For $20 per year more, you get 20GB of storage space, plus unlimited space for your mp3 music files. If you need even more memory, there are additional paid plans.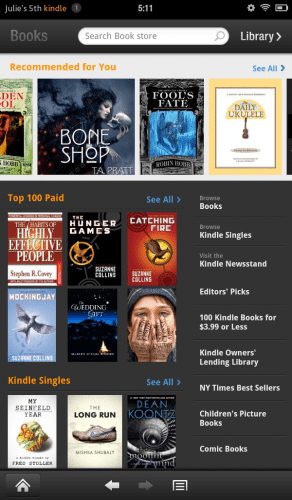 Of course you can access Amazon's store to browse and purchase books. You'll need a WiFi connection though as the Fire does not include built in 3G connectivity like other Kindle devices.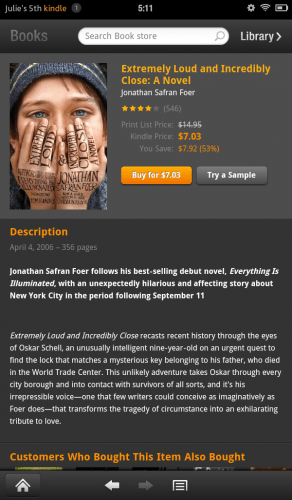 I like the interface for the store a lot. It's simple and easy to navigate. I always found the store on older (non-touch) Kindle's to be a little tedious to use.
I love that you can download a free sample of a book that you're interested in buying. The samples show up in your library with the rest of your books.
I found the book reading experience on the Kindle Fire to be enjoyable. I'm already very comfortable reading on devices with a color LCD as I do almost all my reading on an iPhone. I always switch the background to black and the letters to grey, but you can also have a white or sepia background.
When you're reading there are no distractions on the screen. Just words.
To see the clock, you have to tap the center of the screen. Turning pages is accomplished by tapping the left or right side of the screen. You can select words or phrases for a definition. You're also able to highlight and make annotations.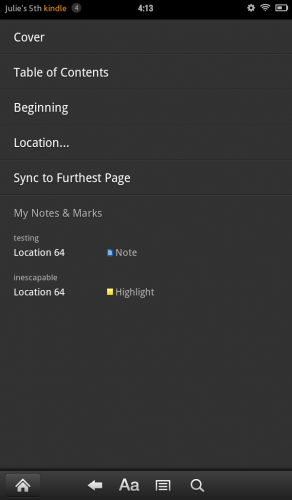 You can then view your notes and highlights for each book by clicking the menu button at the bottom of the display.
Reading Magazines
Reading magazines on a 7″ display isn't a wonderful experience in my opinion because you can't easily read the magazine pages as intended due to the screen size.
The Fire's magazine reading interface does offer a solution to that problem by allowing you to toggle into a Text Mode. If you look at the image above on the Left, that's the normal magazine page. In order to comfortably read the small text, I have to zoom in. But if I toggle to Text mode as seen above on the Right, the article text is reformatted in more of a book style. Pictures are still shown and you can even search text. However, you can't annotate, highlight or bookmark pages in magazines.
FYI: turning the Fire into landscape view makes things worse. It shows 2 magazine pages side by side with even tinier text.
Listening to Music
The music player on the Fire isn't overly fancy. It has the necessary features to get the job done. Just remember, that the max audio output from the built-in speakers is pretty low and the Fire does not have dedicated volume buttons. The music player has a volume slider right on the screen though.
You can use the music player to stream music stored in your cloud drive. But of course, you'll need to have a wifi connection to do so.
Watching Video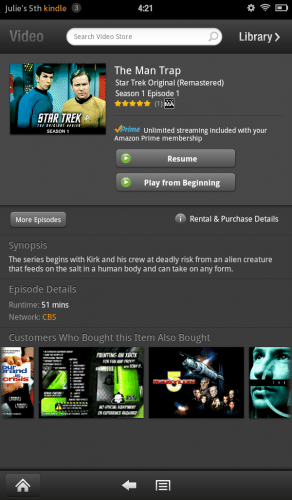 The Fire comes with a free month of Amazon Prime service. Amazon Prime gives you free 2 day shipping on tons of products and unlimited, commercial-free, instant streaming of thousands of movies and TV shows at no additional cost along with newer movies and TV shows that can be rented or purchased. For example, right now you can rent The Help for $1.99 for 48hrs. Or buy episodes of The Vampire Diaries for $1.99.
I did cartwheels (ok, not really…) when I saw that the original Star Trek episodes were available for free. I watched the very first episode, which I had somehow managed to have never seen. The episode streamed perfectly with no hiccups, pausing or stuttering.
It's important to note that the Prime Instant Videos are streaming only. So you'll need a Wifi connection to enjoy them. However, rented movies and purchased TV shows can be downloaded so that you can view them even when you're offline.
Apps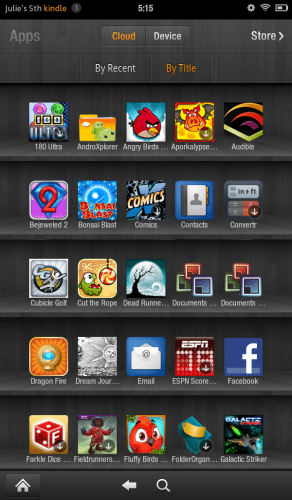 The Kindle Fire is powered by Android, but you will not be able to access the standard app market with this device. You'll only be able to use Amazon's own appstore, which is a bit of a bummer considering that Amazon's appstore does not include all the apps that the app market has to offer.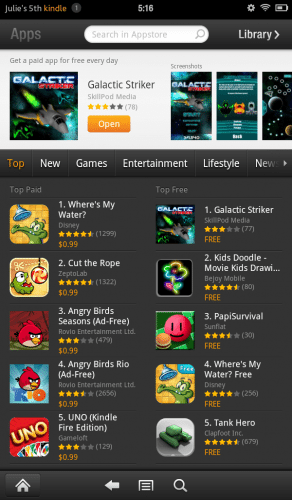 Don't get me wrong, Amazon offers a very good selection of apps and even offers a paid app for free each day. But I hate not having it all. I'm greedy. One example of an app that I'd like to install on the Fire which is not included in Amazon's appstore is the official Gmail app.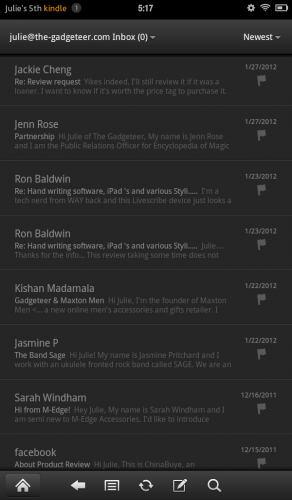 The good news is that there's an email app included on the Fire. I set it up to connect to my Gmail account. Yay right? Well… not really. The app is ok for reading and responding to messages.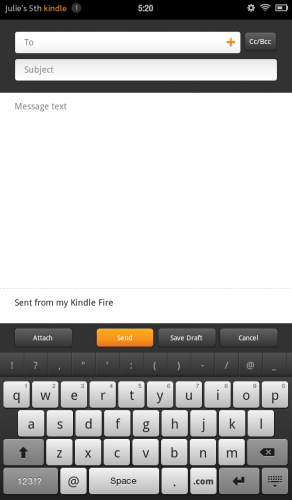 In portrait mode you can thumb type.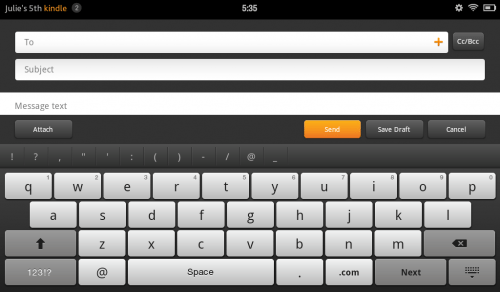 Or kinda touch type on a very cramped keyboard when in landscape orientation. But here's the bad news… you can't connect to your gmail/google contacts. What is up with that? Grrrr…
Good news again… you can use the Fire's web browser to access your Gmail and your contacts. 🙂
Web Browsing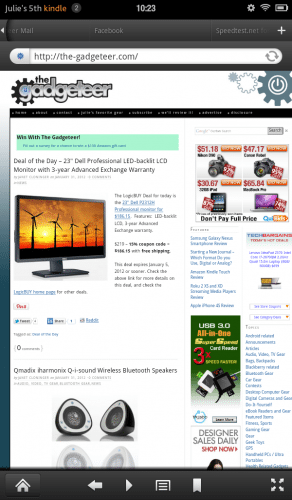 Browsing my favorite sites on the Fire is an ok experience. It's not nearly as comfortable as browsing on the iPad due to the screen size though. You can browse in tabbed mode as shown above.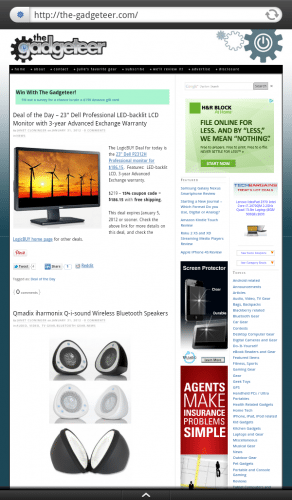 Or full screen mode, which gives you a few extra lines per screen.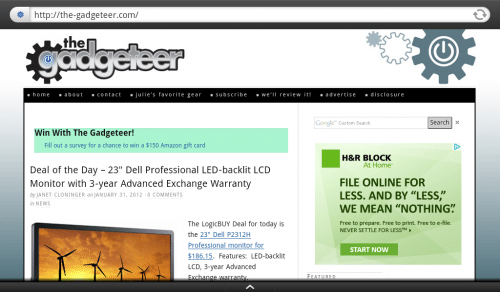 In landscape mode, it's much easier to read the text, but you have to scroll more often.
Browsing on a small screen can also cause frustrations when tapping links when they are small and next to each other. A lot of times you'll need to zoom in so that you can tap accurately. I don't know how many times I tried to tap something and would end up tapping an adjacent link and then have to press the back button.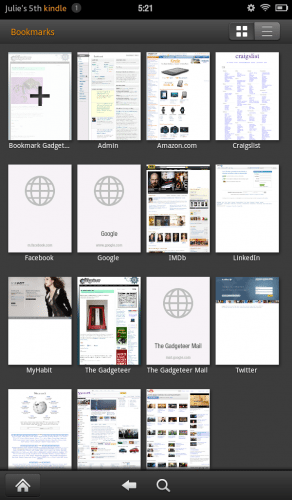 Book marks can be viewed by thumbnail or list.
One of the touted gee whiz features of the Fire is this new web page loading technology called Amazon Silk. According to Amazon, it's supposed to be a revolutionary Cloud-Accelerated "Split Browser" that dramatically improves web page loading times. Unfortunately, I really haven't noticed it being any quicker than surfing on my iPad. If anything, it actually feels SLOWER to me. I wanted to do some speed test with my favorite Speedtest app, but guess what? It's not in the Amazon market and my attempts to sideload it failed.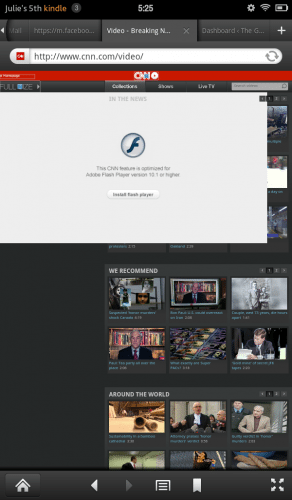 Another weirdness I noticed is that some flash based sites like CNN's video pages, prompted me to install the latest Flashplayer and thought the Fire was an OSX device. Of course trying to install it didn't work.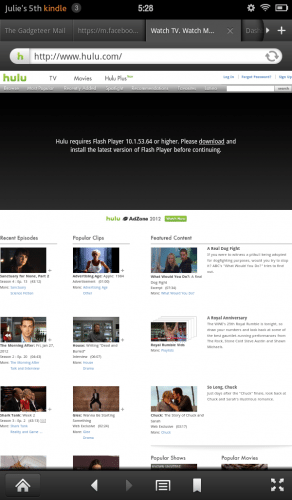 I had the same issue with Hulu.com. Android fans always brag about being able to load flash enabled sites but it feels hit or miss to me. I never really notice the lack of flash on my iPad because I don't visit many (any?) flash enabled sites.
Performance
Changing from screen to screen, app to app, loading books, magazines, etc, all feels snappy. The Kindle Fire has a dual core processor, so it's not laggy by any means. The only lag I can really complain about is with the web browser. I'm not the only one complaining, so I'm hoping and expect Amazon will improve the tech behind Amazon Silk.
Battery Life
No complaints here at all. Battery life is great. I can get days and days of use out of the Fire before needing to charge. Granted, I don't watch many videos or surf for long periods of time using this device.
Conclusion
The Kindle Fire is already a wildly popular device because of its sub $200 price tag and Amazon's brand reputation. The reasons why I like the Fire are its price, compact size, nice display, snappy performance and good battery life. The reasons why I don't like this device are the lack of 3G, Bluetooth, dedicated volume and menu buttons, laggy web browser and no access to Google's app market or core apps (Gmail, Calendar, etc.). I understand that this is Amazon's first "tablet" device, so I'm cutting them some slack and am hoping that that future models will address at least some of these deficiencies.
I don't consider the Amazon Kindle Fire to be a real tablet.  But it will be many people's first taste of Android and using a tablet style device. I think this device is causing ripples in the tablet market which will benefit all of us. Even an iPad fan like myself.
Product Information
Price:
$199
Manufacturer:
Amazon
Pros:

Compact
Snappy performance and great battery life
Nice display
5GB free cloud storage
Free 1 month of Amazon Prime

Cons:

Laggy web browser
No Bluetooth
No microphone
No camera