We use affiliate links. If you buy something through the links on this page, we may earn a commission at no cost to you. Learn more.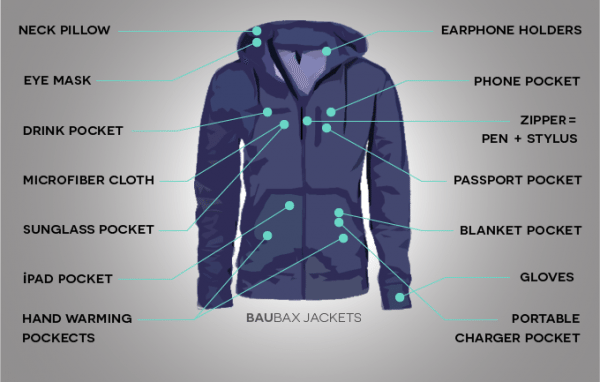 I don't get very excited over clothing, but I seriously want one of these (I hope my wife is reading this). Baubax is a collection of jackets that have an uncanny amount of useful features, especially for gadget enthusiasts. It comes in four different styles: windbreaker, bomber, blazer, and sweatshirt. Each style has a male and female version and is available in multiple colors.
Although there are different styles, each comes with a standard set of features. Some of my favorites include, a tablet pocket, a drink pocket, a hidden pen/stylus, a power bank pocket, and an inflatable neck pillow. Along with the standard features, the blazer and bomber both have detachable hoods. If that weren't enough, the blazer is wrinkle free so you don't look like a soup sandwich in the boardroom, while the windbreaker is water-repellent. With so many useful features, each style is essentially a wearable carry-on.
Baubax started off as a Kickstarter project, but was so successful it eventually became an IndieGoGo InDemand project. Pricing ranges from $149 to $189, depending on which style you prefer, and there is an estimated delivery date of December 2015. Even if your not prone to getting excited over clothing, I highly recommend going to either project site and watching the video.