We use affiliate links. If you buy something through the links on this page, we may earn a commission at no cost to you. Learn more.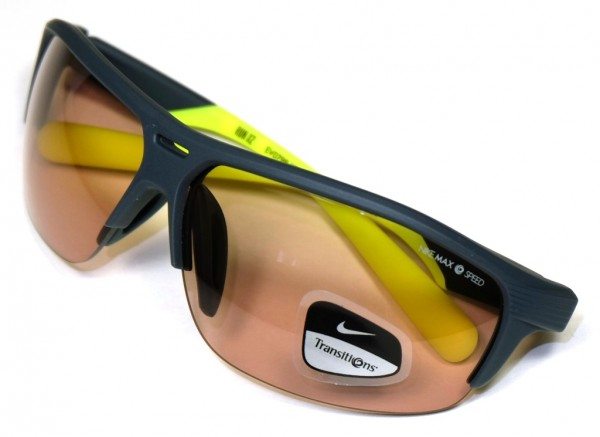 There's just nothing worse than exercising in glasses or sunglasses when they slip, bounce and fog up because of perspiration. When the Gadgeteer was asked to review the Nike Vision Run X2 Sunglasses, I volunteered to see if they might function better than others during exercise. What I found was that they are excellent sunglasses but are they worth the $176 price?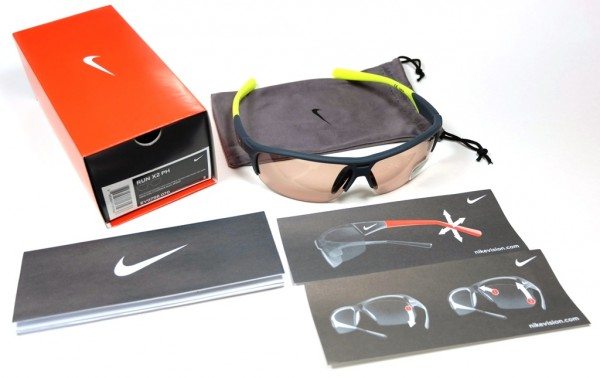 Package Contents
Nike Vision Run X2 Sunglasses
Carrying pouch
Quick instructions on the adjusting the temples and removing the lenses
Warranty
NOTE: They do NOT come with additional lenses
Design & Build Quality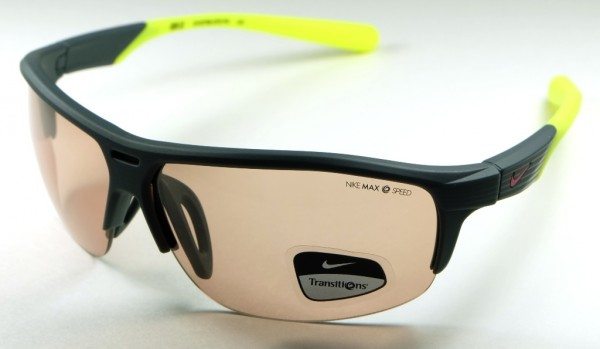 The Nike Vision Run X2 sunglasses are very lightweight, made of nylon, and have adjustable silicone temples to ensure a good fit. The Transitions lenses are interchangeable and made of a polycarbonate material that provide 100% protection from UVA/UVB. They also have a Ripel Lens Coating to repel water, perspiration, dust, sand, salt, oil, and fingerprints.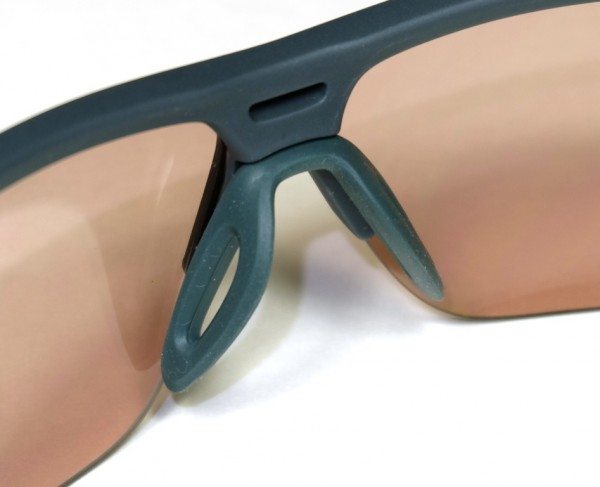 The silicone nose bridge is ventilated to reduce lens fogging and it is adjustable to ensure a good fit as well.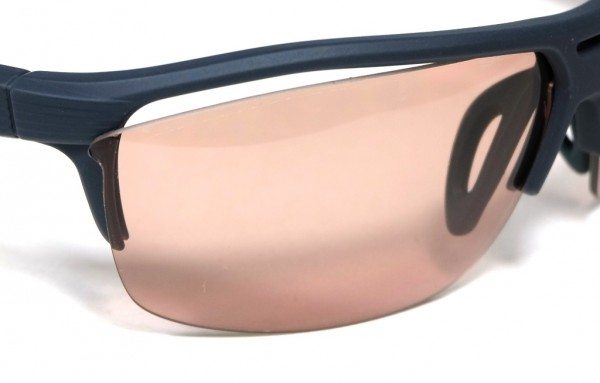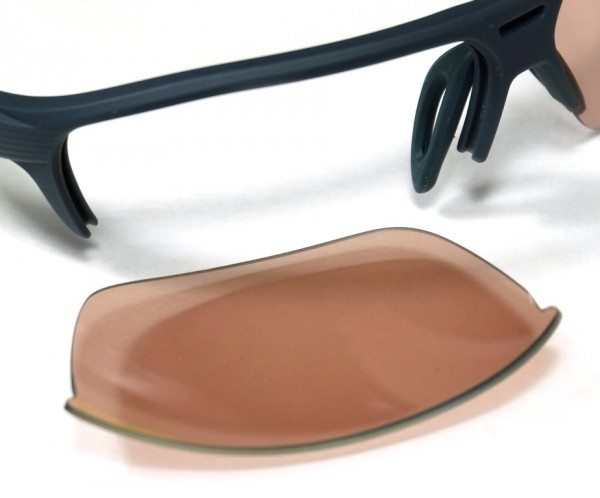 If desired, the lenses are easily replaced by gently prying apart the open frame around the lens. Even though they have interchangeable lenses, there appears to be no option when purchasing the sunglasses to choose your preferred lens type. So, if you want a different type of lenses for you particular frames, you will have to purchase them separately.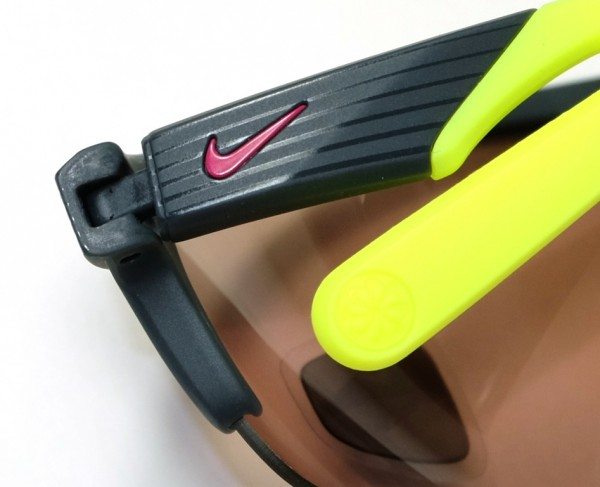 The hinges are nylon as well.

There are metal screws to attach the arms of the sunglasses to the frame.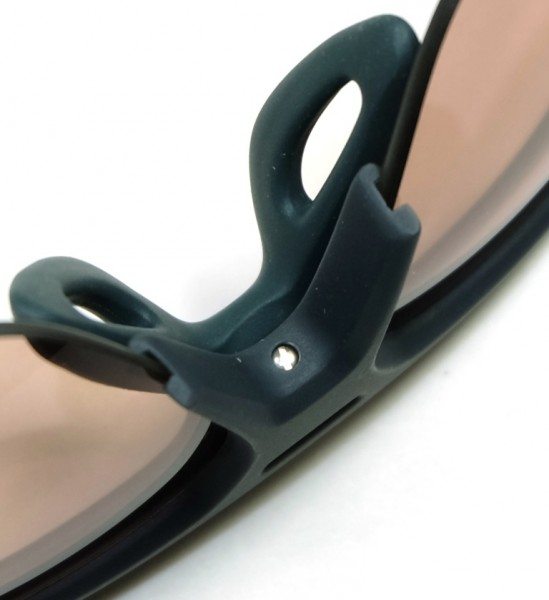 There is another metal screw that attaches the nose bridge to the frame.
Use

After the proper adjustment, the temples of the sunglasses wrap comfortably around your head. It's a snug fit but not too tight or too loose.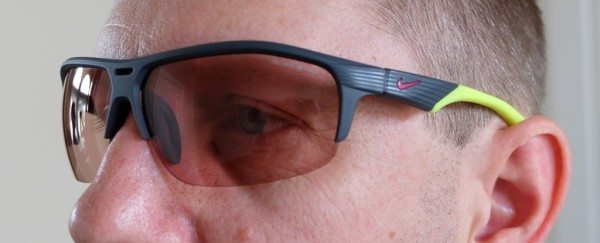 The ventilated nose bridge is also comfortable.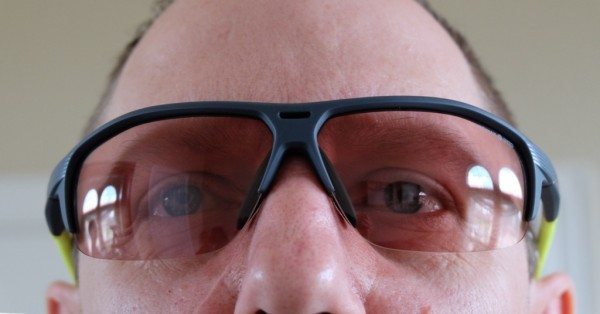 My first impression was that these sunglasses were much cheaper than their $176 price tag because they are lightweight and feel like they are made of inexpensive plastic. Upon further investigation, however, I found that they are made of durable nylon. The adjustable temples and nose bridge are very nice features to adjust the sunglass to your desired fit. Very little adjustment was necessary, but it is nice to have it available. The lenses curve around your face enough to almost completely cover your entire field of view and are also crystal clear and provide wonderful visibility.
During our tests, my husband and I found that these sunglasses are so lightweight that you forget you are wearing them when exercising. It was also a pleasant surprise that when running, the Nike Vision Run X2 don't slip, bounce, or move at all and they have no problems with fogging thanks to the ventilated nose bridge (I'm guessing). In addition, they don't hurt or feel uncomfortable in any way after wearing them for at least one hour. The sunglasses are also attractive and sporty as well as functional.
When evaluating the Run X2 sunglass, I discovered a few shortcomings. Even though the lenses have a coating to resist water, dust, fingerprints, etc., it is easy to get fingerprints on them. However, the fingerprints are easily wiped away using a microfiber cloth (or any other soft cloth). I also noticed that the Transitions lenses didn't "transition" much (they didn't get much darker when exposed to sunlight) and both of us felt that it would have been much more pleasant to have darker lenses when in the Texas sunshine. Moreover, these sunglasses are just plain expensive!
Final Thoughts
The Nike Vision Run X2 Sunglasses are comfortable, lightweight, durable, and adjustable. They don't slip, bounce, or fog up; you may even forget that you have them on while exercising. They also have Transitions lenses that are interchangeable and provide 100% UVA/UVB protection. In addition, the lenses are crystal clear and cover most of your field of view. However, I was somewhat disappointed that the Transitions lenses don't darken very much when exposed to the sun and that you are not able to mix and match your preferred Run X2 frames with your preferred lenses when ordering. So, if you want a different type of lenses for your frames, you will have to purchase them separately.
These are truly wonderful sunglasses but maybe not quite $176 wonderful. I may not have purchased these sunglasses at that price, however, there are some in my family who probably would because they are sporty, attractive, and functional.
Source: The sample used in this review was provided by Nike. Please visit their website for more information.

Product Information
Price:
$176
Manufacturer:
Nike
Pros:

Made of durable nylon
So lightweight you may forget you have them on
Transitions lenses that are interchangeable and provide 100% UVA/UVB protection
Adjustable temples to ensure a snug fit
Ventilated, adjustable nose bridge to prevent fogging
They don't slip, bounce, or fog up when exercising
Sporty appearance

Cons:

Very expensive
Can't mix and match Run X2 frames and lenses when ordering
Transitions lenses don't darken much when exposed to the sun