We use affiliate links. If you buy something through the links on this page, we may earn a commission at no cost to you. Learn more.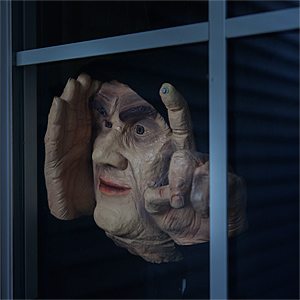 While this may not fall into the traditional realm of gadgetry, it does coincide with another love of mine….pranking my wife! The Tapping Peeper is a motion activated figure that attaches to your window with a suction cup. While I can't speak for your loved ones, I know my wife would go running scared if she saw this outside our window.
Just in case the figure isn't immediately noticed, it taps on the window 3 times when it detects motion. If your mark doesn't sit close enough to your window to have motion detected, the Peeper can be set to tap every 10 seconds. To ensure you scare the bejesus out of your friends, the tapping finger has a small, metal tip for maximum sound.
Even if you're aren't into pranking others, Halloween is quickly approaching and this would make an awesome decoration. The Tapping Peeper can be purchased from ThinkGeek for $59.99. For more information please visit their site. If you do purchase one for pranking, please forward me all your hilarious videos.