We use affiliate links. If you buy something through the links on this page, we may earn a commission at no cost to you. Learn more.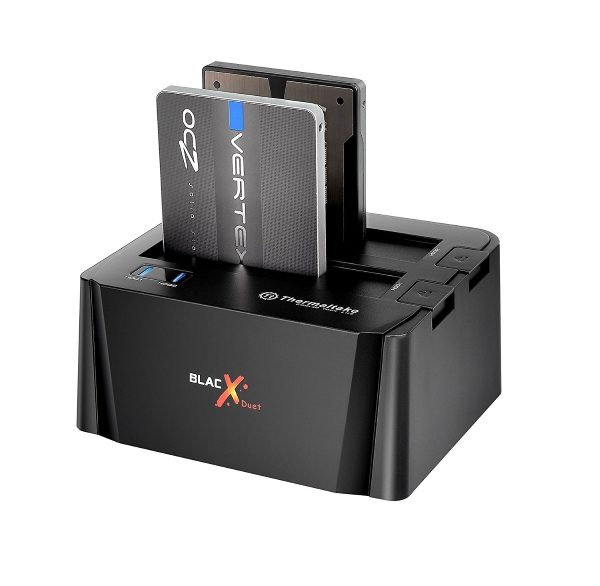 Photographers and videographers alike usually have a need for a large amount of data storage. Depending on your workflow, you might be like me and have numerous SSD drives for several projects that you access quite frequently, and therefore they are always within reach. You may also have some legacy 5 ¼ drives. While the 5 ¼ drives may not be a daily part of your workflow, or drives that you walk around with, I am sure that they have content on them that you may need to access them from time to time.
This scenario describes a part of my workflow quite well, and I use multiple USB hard drive docks to provide ease and quick access. Despite the number of docks I already own, I have been looking to add one more. The Thermaltake BlacX Duet 2.5″/3.5″ SATA I/II/III USB 3.0 External Hard Drive Enclosure Docking Station seems like it would be a nice addition for me. It has a USB 3.0 interface, and is capable of data transfer speeds of up to 5 Gbps which is much better that some of my existing docks that are USB 2.0. It also supports both 2.5 inch and 3.5 inch drives, and for those that use the MAC OS, this dock will work as well. I really like the hot swap capability that these docks offer, and the 2 year warranty is a plus.
If you want to add this dock to your workflow, you can purchase one at Amazon for $59.97.