We use affiliate links. If you buy something through the links on this page, we may earn a commission at no cost to you. Learn more.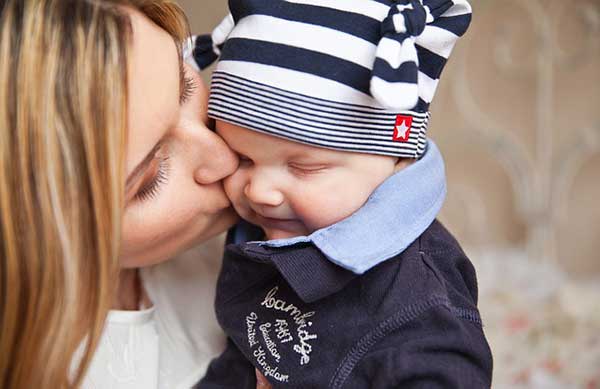 There are only 13 shopping days until Mother's day on May 13th. You haven't forgotten dear ol'Mom have you? If you haven't even begun shopping, I can imagine that knowing that the big day is so close is stressing you out. But there is still plenty of time and we have a few ideas to help you out.
SureCall FusionTrek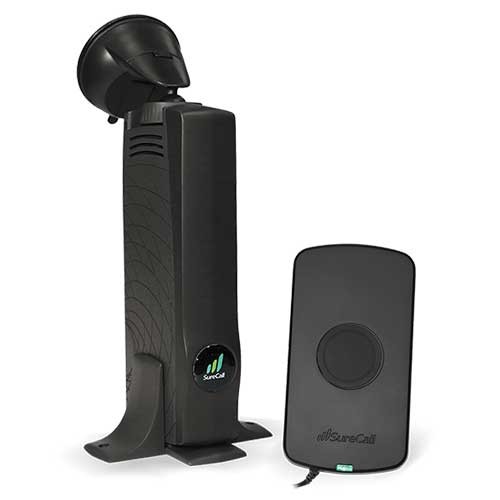 Does your mom have to drive through areas with spotty cell phone coverage? The Surecall FusionTrek is a signal booster that has been designed especially for vehicles. It sets up in minutes, requires no special cradle for the phone, and will boost a weak existing 3G or 4G LTE signal 1-3 bars for all North American cell carriers, including AT&T, Verizon, Sprint, and T-Mobile. Less dropped calls and better data speeds are guaranteed or they will refund your money back within 60 days. The unit is also backed by a 3-year warranty.
Price: MSRP $199.99
Where to buy: Surecall's retailers like Amazon
Pearl Compact Mirror and USB Battery Pack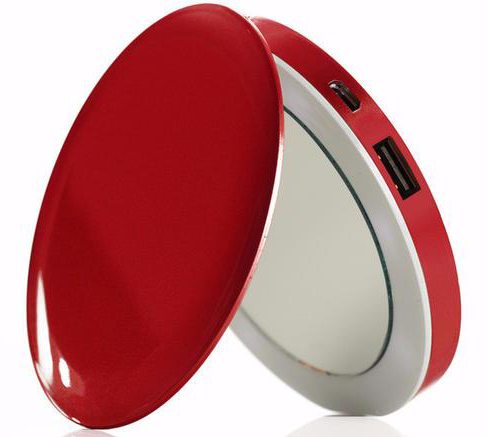 Multifunctional items are the key to traveling light, and the Pearl compact Mirror and USB Battery Pack has three functions in a small package.  It's about the same size as a mirrored compact, and inside you'll find both a regular and a magnifying mirror so you can check your hair before heading to that meeting.  But it also packs a 3000mAh battery inside that can be used to recharge your mobile device or to power the ring of LEDs around one of the mirrors.  The LEDs help you see yourself better in the mirror, and they can even function as a flashlight in a pinch.
Price: $20-30, depending on the color
Read our review: Pearl Compact Mirror and USB Battery Pack review
Where you can buy one: Amazon
Aura Pendant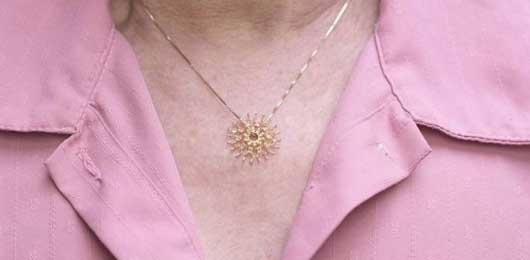 It's hard to go wrong with choosing jewelry as a gift for mom, but if a regular old necklace or earrings just seems a bit too boring this year, I have something that is infinitely more unique. It's an Aura Pendant and no one else will have one exactly like the one you make for your mom. That's right, you make it… with your voice and your heartbeat.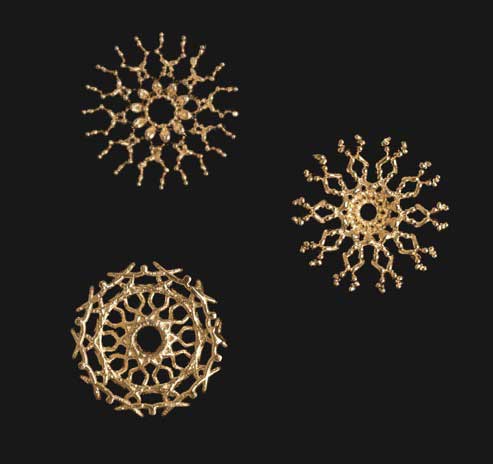 The Aura Pendant is a personalized necklace that is 3D printed by Shapeways in metals from rose gold to platinum using an iOS app (sorry Android fans) and your voice. You speak into the app and it uses the waveform of your voice and your heartbeat to construct the pendant's shape.
The idea is that you record yourself talking about some happy memory of your mom and that memory is converted into a piece of jewelry that mom can wear and enjoy for years to come.
Price: 18k: $499, rose gold: $349, silver: $89 and it takes up to 2 weeks to ship.
Where to buy: loveproject.com.br
Fiskars scissors and knives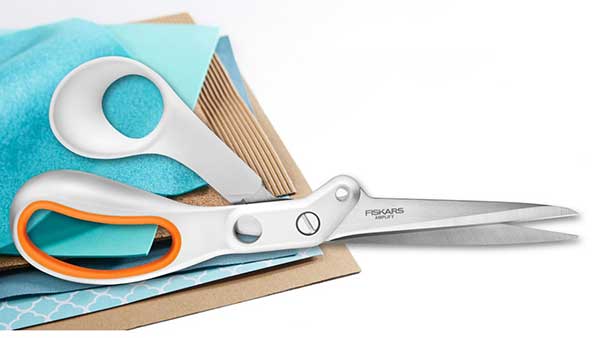 Fiskars is well known for their iconic orange-handled scissors, but they aren't a one-trick pony. In addition to regular scissors, they also offer a variety of other types of shears that can be used for everyday cutting, material, crafts, and mixed media like the Amplify shears shown above. The Amplify shears have a lifetime warranty and are designed to cut thicker and heavier materials that regular scissors can't such as fabric, cardstock, fiberglass, and more.
Price: MSRP $29.99 8-inch shears, $39.99 10-inch shears
Where to buy: fiskars.com and Amazon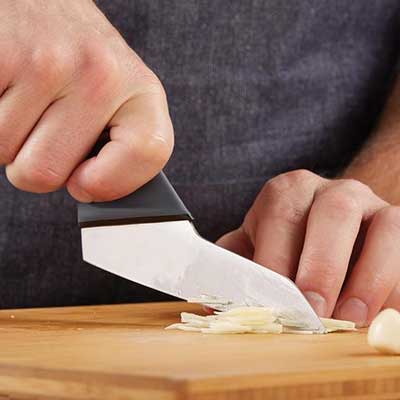 Scissors aren't the only cutting products that Fiskars sells. They also offer Summit knives which feature Japanese-grade, stainless steel blades for lasting sharpness and a unique handle that has been designed for a chef's pinch grip for optimal cutting. You can buy individual knives or a set that contains various sizes and styles.
Price: MSRP $74.99 for a 4-piece set
Where to buy: fiskars.com and Amazon
RapidX X5 5-port USB car charger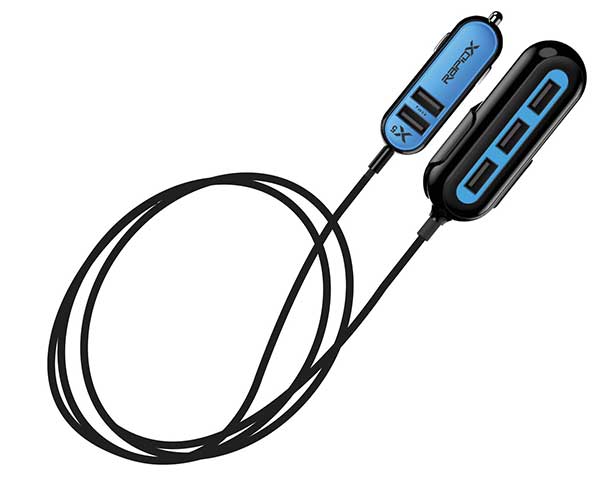 The X5 car charger from RapidX is a charging adapter for your car that plugs into 12V-24V vehicle outlets and cigarette lighters. We've all seen USB car chargers before, so don't click the back button on your browser just yet. What sets the RapidX X5 charger apart from many others on the market is that this one adapter gives you 5 USB ports. They are fast charging ports too.
The other end that plugs into the 12V-24V outlet in your car has 2 USB ports and at the other end of the 5-foot cable is a small hub with 3 more USB ports and a removable clip that you can use to clip the adapter to the backseat pocket.
With the X5, mom can keep everyone in the car happy with charged phones, tablets and more.
Price: MSRP $24.99
Where to buy: RapidX.io and Amazon
FlexiSpot Deskcise Pro Sit Stand workstation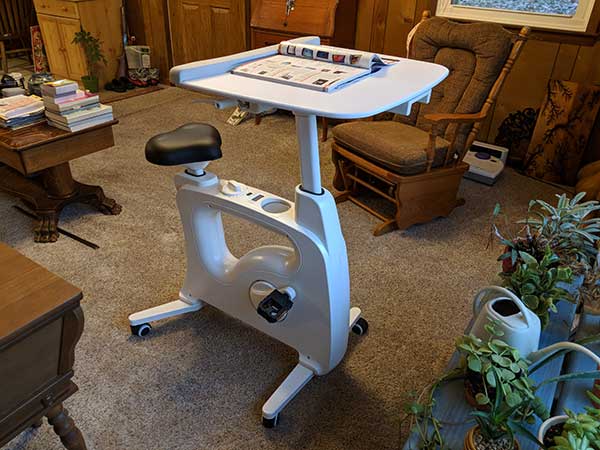 Standing desks have been popular for the last few years, but the FlexiSpot goes one step further. It's a standing desk AND a riding desk. That's right, you can ride and work at the same time. It's surprisingly easy to do. You actually forget you're pedaling after a few minutes. This well made easy to use desk will help you burn calories while you surf and work on your computer, read magazines or binge watch Netflix. Check out my FlexiSpot review.
Price: $429.99 
Where you can buy one: FlexiSpot and Amazon
Bosch FlexiClick 5-in-1 Drill/Driver Kit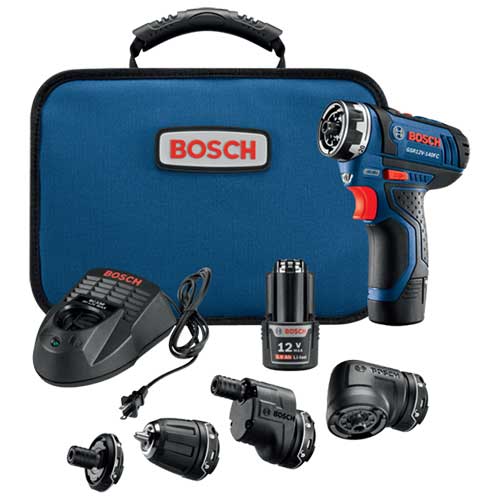 Tools aren't just for dads, moms will love them too! Bosch's FlexiClick is a one-click system that saves time and delivers high-quality drilling and bit driving capability for any project – big or small. It combines 12-volt power with four professional-grade attachments that include a 3/8" keyless chuck, a locking bit holder, a right angle drill attachment and an offset angle attachment. With this set, mom will confidently be able to create and repair whatever life throws at her even if the workspace is tight. The handle even has a built-in light for work in dark areas.
Price: MSRP $199.99
Where to buy: boschtools.com and Amazon
The Ultimate Cuff Apple Watchband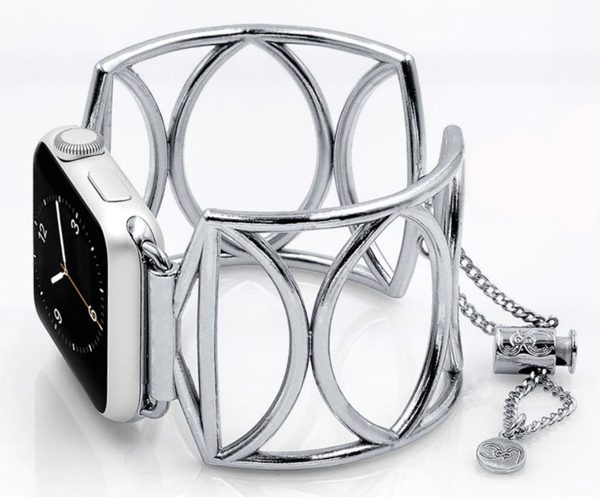 There are many watchbands for the Apple Watch on the market, but most of the non-Apple bands tend to just be 3rd-party clones of the Apple bands.  If you're looking for something different, The Ultimate Cuff bands will add a stylish metal band.  The bands are available in a variety of colors and styles.
Price: $98-122
Where to buy: The Ultimate Cuff
Amazon Echo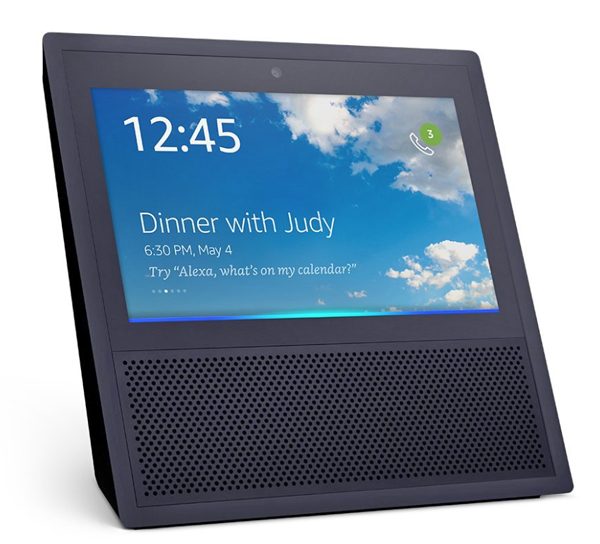 Amazon Echo devices come in a variety of sizes, with or without nice Bluetooth speakers, with or without display screens.  They all listen to questions or requests and perform a variety of functions: answer questions, tell jokes, play music from various music streaming services, set timers, and alarms, and even play videos (if they have a screen).  In addition, they become a hub to control a variety of home automation devices – from smart lighting to thermostats to door locks to who knows what else.
Price: $49.99-$229.99, depending on the model
Read our review: Amazon Echo Dot 2nd generation review
Where to buy: Amazon