We use affiliate links. If you buy something through the links on this page, we may earn a commission at no cost to you. Learn more.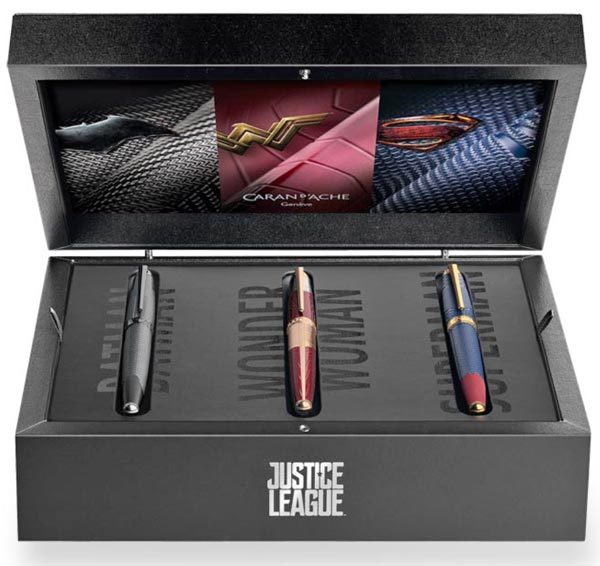 Are you feeling inspired by all these superhero movies currently in theaters?  Are you wanting to feel a little heroic in your daily life?  Well, short of developing superpowers or becoming a billionaire vigilante, you're not going to be joining the Justice League yourself.  Perhaps you can feel a little super just by using this pen set inspired by the Justice League.
Caran d'Ache has, for more than a hundred years, been creating fine writing instruments.  This set of pens has all the quality the company is known for, combined with the style of three of DC's finest heroes.  The set of pens are inspired by Batman, Wonder Woman, and Superman.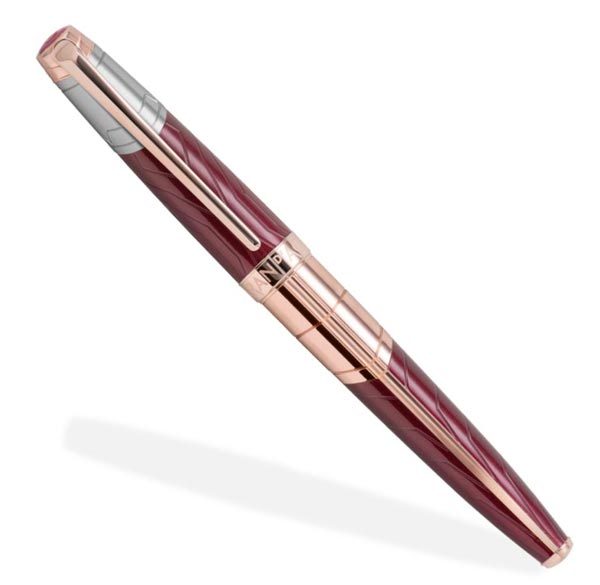 Each pen has gold-plating and cutter-inscribed decorative elements, pen caps with the Caran d'Ache hexagon logo, and each has engraved Swiss Made and Caran d'Ache labels.  Levenger describes each pen:
Wonder Woman: The pattern of Wonder Woman's bracelet is cutter-engraved on the first part of the cap, with a raw, unpolished metallic finish to recall her costume. The second part of the cap is cutter-engraved and coated with translucent, burgundy lacquer to represent the metallic reflections of Wonder Woman's bustier. On the bottom of the barrel, the pattern of her boots is cutter-engraved in a highly graphic design. There are also raw metallic finished recalling the look of her boots. The pink gold-plated ring is laser-engraved with the Swiss Made and Caran d'Ache labels. 
Batman: The barrel and cap are cutter-engraved with a chevron pattern, coated in translucent black lacquer with a satin finish. The ends of the cap and body are smooth and coated in black satin-finish lacquer. The pen ring is engraved with the Swiss Made and Caran d'Ache labels. 
Superman: The metallic appearance and scaly texture of the costume are reinterpreted by different cutter-engraved elements. The barrel and cap are engraved and coated in dense blue satin-finish lacquer. The cap recalls Superman's torso and the barrel of the pen are his legs. The lower part of the barrel is coated in dark red lacquer and boasts a new engraving inspired by his boots. The gold-plated pen ring is laser-engraved with the Swiss Made and Caran d'Ache labels.
There are two sets available, each set for the serious collector with Bruce Wayne-deep pockets.  The rollerball set of three Caran d'Ache Justice League Trilogy pens in a presentation box is $3750.00.  The fountain pen set is $5550.00.  Learn more at Levenger.