The Gadgeteer is supported by readers like you! If you buy something through links on our site, we may earn an affiliate commission at no cost to you. Thank you! Learn more.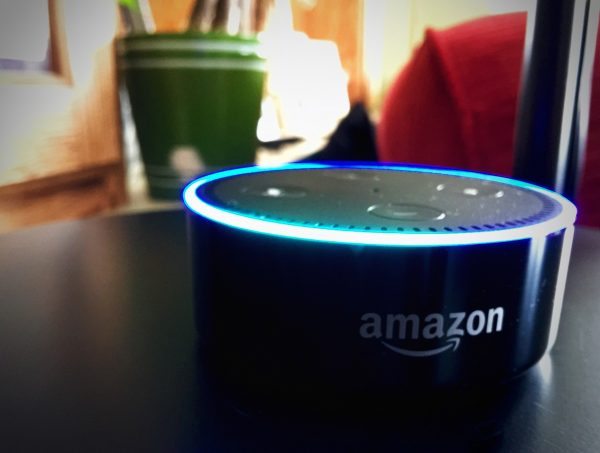 I have met the future and her name is Alexa. Most of us know Amazon for their great Amazon Prime shopping feature. I mean who doesn't love free two-day shipping. However, today I'll be talking about Amazon's foray into the future of voice activated technology. The Amazon Echo Dot. Specifically the second generation model.
Due to the success of the first model and competition from Google Home, Amazon introduced the second – gen Amazon Echo Dot back in October of 2016.
What is the Echo Dot? Simply, it's a hands-free, voice-activated small device with a built – in speaker. Dot can do all kinds of cool things, it can play music, provide information, news, sports scores, weather and more – instantly.
In the Box:
Packaging for the Dot is as simple as the device itself. Inside you get the Dot, a power adapter (9watt), a USB charging cable and basic instructions for setting up your new Echo Dot.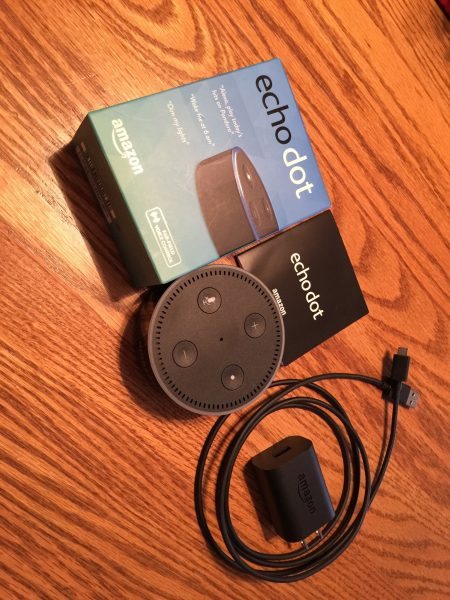 Setup for the Dot couldn't be easier. Just download the free Alexa app which is available for Fire OS, Android, IOS and desktop browsers. Once that's done, open the app and follow the instructions to connect Dot to your Wifi network. Now you're ready to say hello to Alexa.
Alexa is actually one of four "wake" words you can use to activate your Dot. You can also use Echo, Amazon, or if you're a Trekkie you can now use your computer. A friend of mine actually had to use a different wake word because they have a daughter named Alexa, which you can imagine caused some interesting problems.
Speaking of kids, they will also love Alexa. I have two young nephews and when they come over they love asking Alexa questions or have her tell them corny jokes. Like most young kids they love Sponge Bob and got a real kick when they asked Alexa "who lives in a pineapple under the sea?" And she responded "Sponge Bob Squarepants."
The Alexa app is also where you manage your Dot.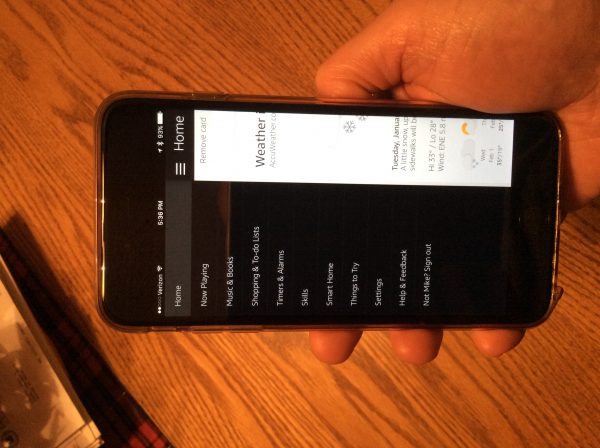 You can set timers and alarms or set up an ever growing list of Smart Home devices from companies like Philips Hue, WeMo, Nest and many more. Connect to music services like Spotify, Pandora and Amazon Prime Music. And if you connect your Audible account, Alexa can even read you a book.
Style wise the new Dot is slightly shorter than the original Echo Dot. Amazon replaced the volume dial of the first – gen Dot with plus and minus buttons to control volume.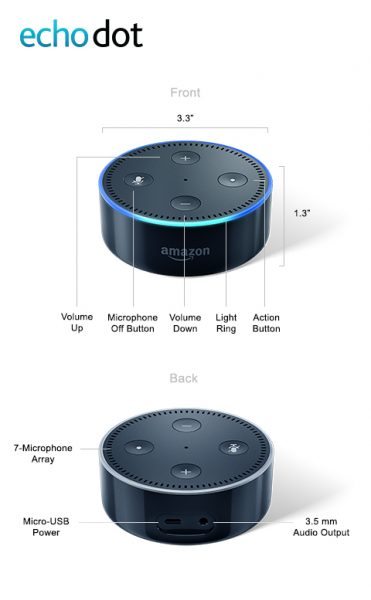 The second – gen Dot also comes in a new color; white. The Dot is small, 3.3 x 3.3 x 1.3 inches, which makes it a perfect size to place just about anywhere you want in any room you want. All you need is a socket to plug the Dot into and you're ready to go. In my case, it's on a light stand table in my living room. Due to its portable nature, the Dot is easy to move from room to room if necessary. I take mine into my bedroom at night and use it as my alarm clock (more on that later in features).
Features:
The Dot has seven microphones that use Far – Field voice recognition with enhanced noise cancellation technology, so Alexa can hear your voice commands from any direction, across any room, even in noisy environments. Alexa can easily hear me from just about anywhere in my home. Although sometimes she has trouble understanding me if I'm in another room and I have my TV on.
The Echo Dot has a long list of what Amazon calls "Skills". These skills once enabled in the app allow Alexa to perform certain voice-activated tasks. You can use these skills to order a pizza from Dominos, play a quick game of Jeopardy and even request a ride from Uber or Lyft. The list is pretty extensive (8,000 plus) and continues to grow. To enable a skill you just have to ask Alexa.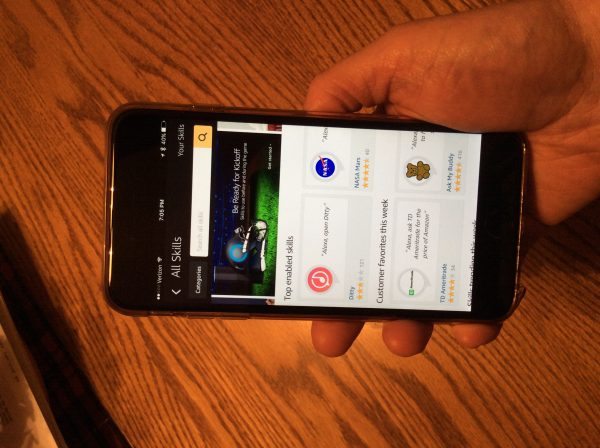 Then there's the ever growing list of Smart Home skills Alexa can perform if you have Smart Home products, like Philips Hue Smart Bulbs or a Nest thermostat to name a couple. I use Dot to control lights in my home with my Philips Hue Smart Bulbs. I can ask Alexa to turn lights on or off and even dim the lights when I'm watching a movie. I really love this feature if I come home after dark and didn't leave any lights on. I just walk into my house and tell Alexa to turn on the light of my choosing.
The Dot's Bluetooth allows you to play music over Bluetooth capable speakers or headphones.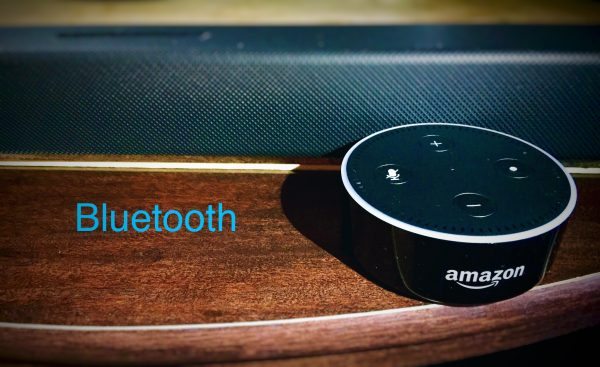 You can also use a 3.5mm stereo cable to connect your Dot to a non-Bluetooth device. Unfortunately, Amazon does not provide said cable. But, if you're a cable hoarder like me you probably have one somewhere in the house.
Dot speakers do get pretty loud considering its diminutive size, but if you really like to rock out with your music like I do you're going to want to use an external speaker. Using Dot with a Bluetooth speaker is simple, just set your speaker to it's Bluetooth function then ask Alexa to "pair speaker" and you're ready to go. Personally, I use my Bluetooth ready sound bar and it sounds great. Using services like Spotify, Pandora or Amazon Prime Music you can ask Alexa to play a specific song or artist, search for songs by lyric, or just sit back and let her pick the music for you.
The Dot is great to use in any room in the house. I use it in my bedroom as an alarm clock. From my bed I can ask Alexa to 'set an alarm" and she will ask me what time; easy. When the alarm goes off in the morning and I want a few extra minutes of sleep I just have to ask Alexa to "snooze" and the alarm will go off again after seven minutes.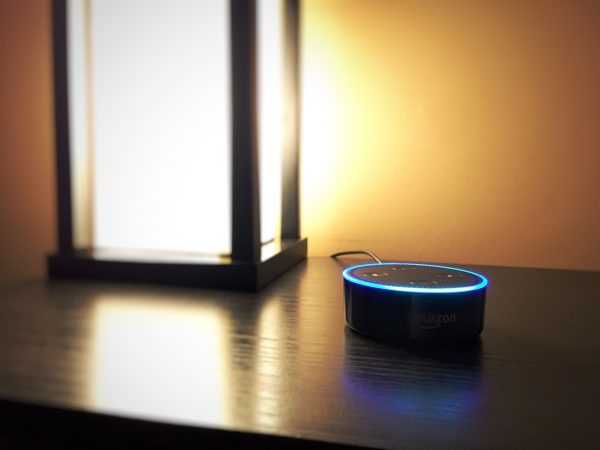 In the kitchen, you can ask Alexa to look up recipes or even set timers, which is really great if you're a messy cook like me and your hands are always covered in something.
Another thing I like about the Dot is that it's connected to the cloud so it's always learning and the more I use it the better it gets to know my speech patterns and personal preferences. And because it's always connected, it gets updates automatically.
Bottom Line:
I think the Amazon Echo Dot may be one of the best tech products to hit the market in the last decade. Is it perfect? No, but name me any new tech that is. It's easy to setup and use, so you don't have to be a tech nerd like me. It comes loaded with plenty of great features with the promise of more to come. You don't have to look any further than this year's Consumer Electronics Show, where a lot of new Smart Home products were introduced, most of them supporting the Amazon Echo Dot. So whether you want it to just play music, set alarms, give you the latest weather report, order a pizza or you want to be able to control your Smart Home products with just your voice, the Amazon Echo Dot, with a more than reasonable price tag of $49.99 is a no brainer. The future is here and its name is Alexa(Amazon Echo Dot).
Update 05/18/17
With Alexa calling and messaging you can now use the Echo Dot to call or message anyone with a supported Echo device or the Alexa App on their phone – for free. To get started download the updated Alexa App, complete set-up including importing your contacts, then tell your friends and family. To make a call simply ask Alexa. Alexa will also let you know when someone is calling, and a green light ring will appear on your Echo Dot. You can ask Alexa to answer or ignore a call.
In addition to the calling feature you can also send and receive messages. To send a message just ask to send a message, then tell Alexa what you'd like to say and she'll send it. When you get a new message you'll hear a chime, and a green light ring will appear on your Echo Dot. You'll also get a notification in the Alexa App so no matter where you are you'll know that you received a new message.
I tried this feature myself, set-up was easy and it worked without a hitch. Add yet another feature to the ever growing Alexa arsenal.
Source: The sample for this review was provided by me with my own funds. For more info visit their site Amazon.com.


Product Information
Price:
$49.99
Manufacturer:
Amazon
Retailer:
http://amzn.to/2l3816O
Pros:

Price
Portable size
Voice controlled
Ability to control Smart Home devices
Bluetooth

Cons:

Sometimes has trouble understanding or answering certain questions