We use affiliate links. If you buy something through the links on this page, we may earn a commission at no cost to you. Learn more.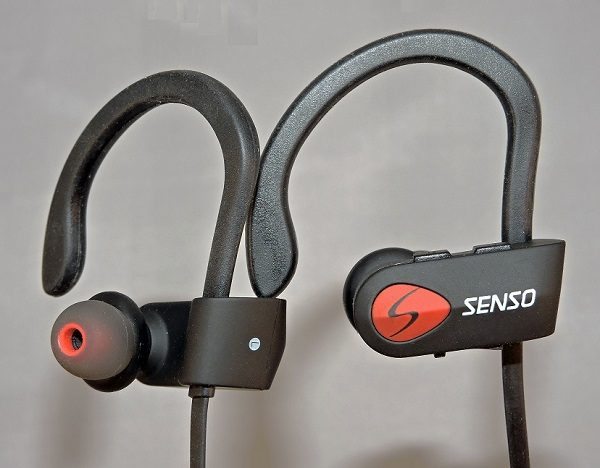 I've owned many sets of headphones in my day: Over-the-Ear, On-Ear, Earbuds, Earhook, you name it. But I am a huge fan of the Senso ActivBuds S-250 waterproof Bluetooth headphones. They're my go-to set for when I'm on the run. Why is that? They're waterproof (IPX-7 rating), noise-canceling, Bluetooth 4.1, HD stereo earbuds with very light earhooks that provide stability, comfort, and confidence that your workout won't be interrupted by an earbud falling out by accident. They sport a long-lasting battery that won't quit for 8 hours – long enough to outlast any workout you can throw at it or a binge-watching movie marathon. 
I like them, too, because the Bluetooth 4,1 audio means there is virtually no lag between the video you see on the screen and the audio you hear in your ear. Bluetooth 3.0 headphones had that insanely disturbing half-second delay that meant your dialogue was nowhere near what was appearing on the screen. It really took the joy out of your favorite movie. Not these. You can enjoy the Bluetooth 4.1 functionality for many comfortable hours, at a distance of around 30 feet. The only thing I would change about them is their bulk. They're a little clunky. But the trade-off between their 'clunkiness' vs. their fit and sound, is no contest.
So let's talk about sound quality. That's one of the top reasons we buy headphones, right? Sure, they're not Bose or Klipsch, but these are no lightweights, either. The bass is true and deep, while the trebles and mid-tones are clear and crisp. They've got quite a kick to them, too. With CVC 6.0 noise suppression, you don't have to worry about annoying sounds in your area distracting you from your listening pleasure. I've frequently used these to listen to music or videos from my laptop while my wife watches TV in the same room, with little to no sound from her shows getting through.
The Senso ActivBuds S-250 waterproof Bluetooth headphones charge very quickly and have a built-in mic so that you can receive phone calls while listening to your favorite audio. So you don't have to worry about missing that important call because the headphones canceled out the ringing of your phone.
The best part is that they're now on sale on Amazon.com for 79% off! You can get them for $35.97 right now, instead of the MSRP of $169.99. You really can't go wrong with these headphones.
The product for this review was purchased with my own funds. For more info visit Senso and visit Amazon to order a pair.