We use affiliate links. If you buy something through the links on this page, we may earn a commission at no cost to you. Learn more.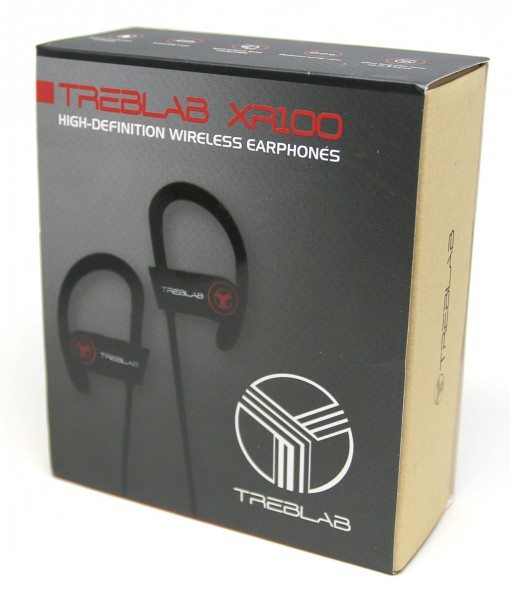 Do you have a hard time finding a good pair of headphones? I do. I'm really picky when it comes to sound quality, but I'm also really critical of the way headphones fit. If I stick a pair of headphones in my ears and they start bugging me within a few minutes, they immediately go in a drawer to collect dust. Usually it's the fit that is the main problem because I have sensitive ears. But I also get annoyed by cords rubbing against my clothes or pulling when I move. Lately I've been on a quest to find a really good pair of wireless headphones because I'm tired of cords. The latest Bluetooth headphones that I've had the opportunity to test are the Treblab XR100 Bluetooth headphones. Let's take a look.

Hardware specs
Bluetooth 4.1
Bluetooth profiles: HFP, HSP, A2DP, AVRCP
Noise-Cancellation СМС 6.0
Operation time: up to 9 hours
Standby time: up to 250 hours
Operation range: 38 feet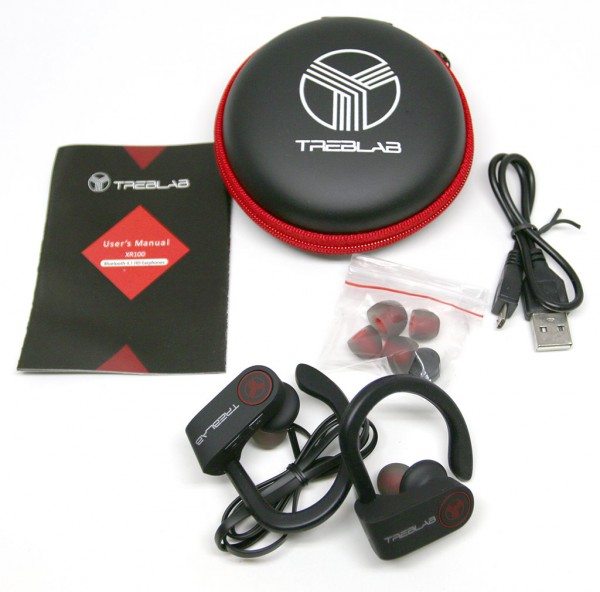 What's in the box?
Bluetooth headphones
3 sets of ear buds (different sizes)
Zippered storage case
USB charging cable
User's manual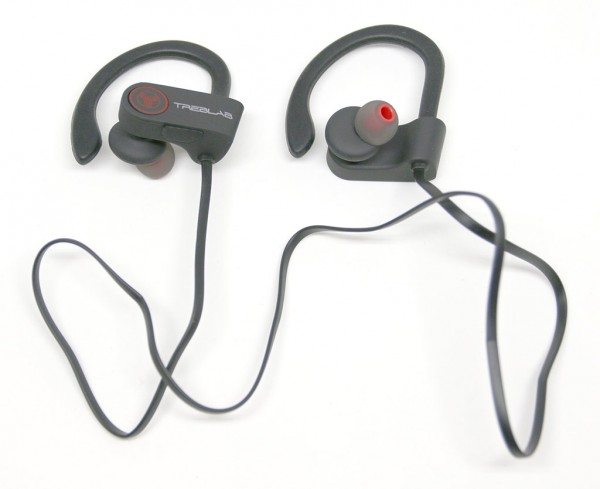 The Treblab headphones are wireless because you don't have to plug them into your phone using the 3.5mm headphone jack. But they aren't completely wireless because there is a flat cable connects that connects the two ear pieces together.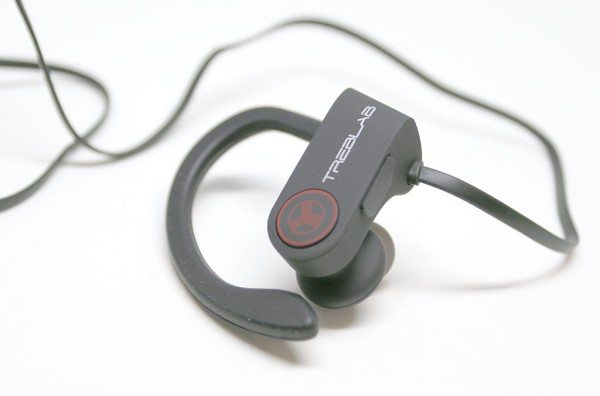 The headphones are plastic with a dark grey soft touch silicon-like covering. There's a non-removable earhook that isn't adjustable and does not have a wire inside that will let it hold a form if you want to customize the shape.
On the outside of the of the right ear piece is a multi-function Home button that is used to power on, power off, play and pause music. It is also used to answer and end calls.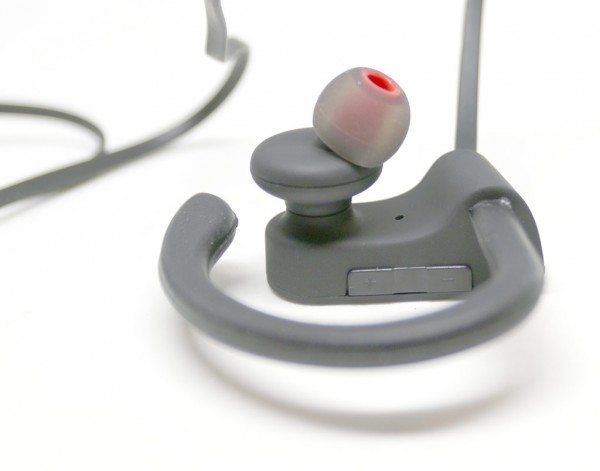 The ear pieces have been designed to go into your ear canal and there are several sizes of ear tips included with the headphones.
The volume adjustment rocker button is located on the top edge of the right ear piece. The volume switch can also be used to switch to next and previous tracks in your media player by holding down the button in either direction.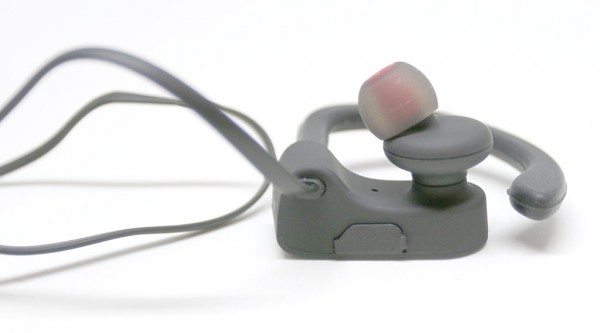 On the bottom of the right ear piece is a protective flap that covers a micro USB port that is used to charge the headset.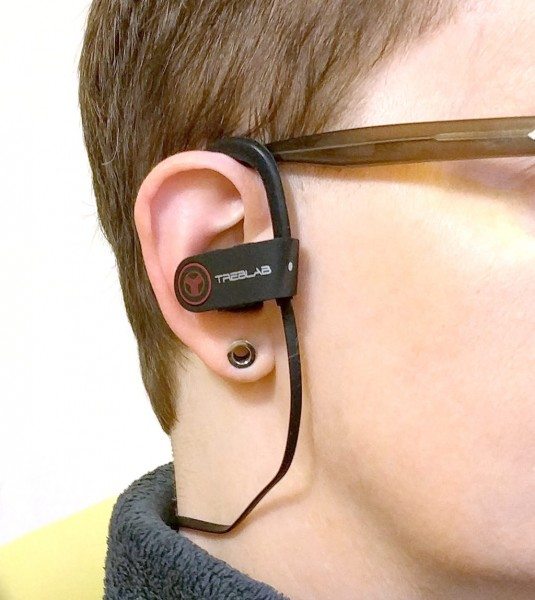 Pairing the headphones with my Nexus 6P smartphone was quick and easy, so I had no issues there. As far as comfort goes, I found that the Treblab XR100 Bluetooth headphones fit well when I used the smallest ear tips. Although I wouldn't want to wear them all day, I had no problem wearing them continuously for 1-2 hours with no discomfort. Being able to get up from my desk to walk around without removing the headphones or taking my phone with me was nice and the range of these headphones seemed about the same as other Bluetooth headphones that I've tested in the past.
Treblab advertises that the XR100 headphones have Hi Def sound and are noise canceling. First of all, the sound quality did not impress me at all. Music and phone calls both sounded muddy and muffled to me. I even tried an EQ app to see if I could improve the sound quality, but I wasn't able to. I would not enjoy listening to music all day while wearing these headphones. * Read update below.
As for the claims that the Treblab headphones are able to cancel noise, they don't have any active noise canceling technology built in to them. The only way that they cancel noise is like other in-ear headphones, just from having the eartip stuck in your ear canal.
Treblab XR100 wireless headphones are relatively expensive at $80, but they have 9 hours of battery life, easy to use controls and come with a nice zippered pouch to store them when they are not being used. But when it comes down to it, it's almost impossible for me to get past the disappointing sound quality. If you just want to use them as a handsfree headset for calls, they will work fine, but if you're into music, my advice is to look elsewhere if you're shopping for a pair of Bluetooth headphones. You'll be glad you did.
Update 03/11/16
After I posted the review complaining that the sound quality and noise cancellation feature of these headphones when used with my Nexus 6P was very disappointing, Michael left a comments explaining the reason for the sound quality problems:
Based on my research, your phone doesn't support the Apt-X codec, so you wouldn't be able to take advantage of this technology, which is designed to provide much better sound quality than what is usually streamed over Bluetooth.
I then did my own research and was really surprised and disappointed that Google didn't include that codec.
To see if a different phone would sound better, I just connected the Treblabs to a Samsung Galaxy S7 Edge and I'm happy to report that they sound MUCH better. I won't say they are fantastic, but they sound pretty good.
As for the noise cancellation issues, Treblab is saying that they never claimed that the headphones have active noise canceling and say that the headphones have passive canceling. Ok… but I think that's misleading and think they shouldn't mention it at all.
Update 06/26/17
I gave these to my buddy at work Bill Ray and he's been using them 5 days a week during his epic workouts. They just recently stopped pairing with his phone, so we contacted Treblab's support and they were happy to replace them. Treblab makes nice headphones and has great customer service.
Source: The sample for this review was provided by Treblab. Please visit their site for more info and Amazon to order.
Product Information
Price:
$79.99
Manufacturer:
TrebLab
Retailer:
Amazon
Pros:

No wires
Comfortable to wear
Easy to use controls
Zippered pouch

Cons:

Poor sound quality with the Nexus 6P