The Gadgeteer is supported by readers like you! If you buy something through links on our site, we may earn an affiliate commission. Thank you! Learn more.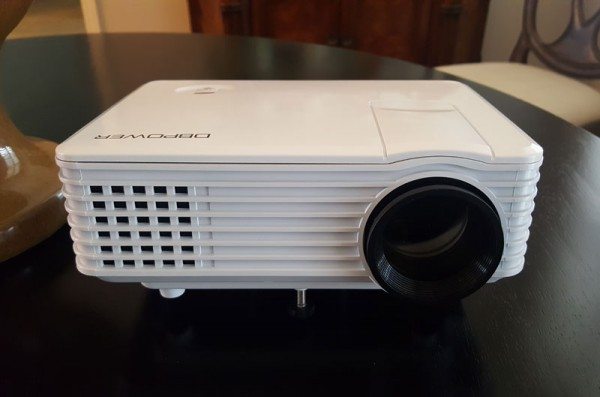 I have used projectors for decades.  I have used small ones to large ones, awesome ones to crappy ones.  I used projectors 'back in the day' that were so big you had to drag them in a suitcase. And one thing that I have always wanted was a projector that was small enough to carry with me when I travel, yet powerful enough to actually be useful.  The DBPower Portable Mini LED Projector (approx. $100 various places on the Internet) has many qualities that I love and some that I don't.  So will it accompany me on my next trip?  Let's find out.
First of all, the specs from the manufacturer:
Projector System:4 inch LCD TFT display
Native Resolution:800 x 480, max support 1080P
Input interface: USB/VGA/HDMI/AV
Output interface: headphones audio out
Support:MP3/WMA/OGG/AAC/FLAC/APE/WAV audio, JPEG/BMP/PNG image, image zoom,360 degree rotate
Brightness:120 Lumens
Contrast Ratio:1000:1
Image Flip:360 degree flip
Lens:3 pieces of glass lenses manual focus
Aspect Ratio:16:9 & 4:3
Language:Support: 23 languages
Lamps Type: LED 40W, 50,000 hours life
Picture Size:20-80 inch
Noise:<25 dB
Keystone Correction: 15 degree; Vertical, Manual keystone correction
Working Voltage:110-240V / 50-60Hz
Size: 8 ¼ inch wide, 5 ¼ inch deep, 3 ¾ inch tall
Weight: 2.2 lbs
Model:  RD-805
In the box:
Projector, remote control, power cord, and AV cable, lens cap.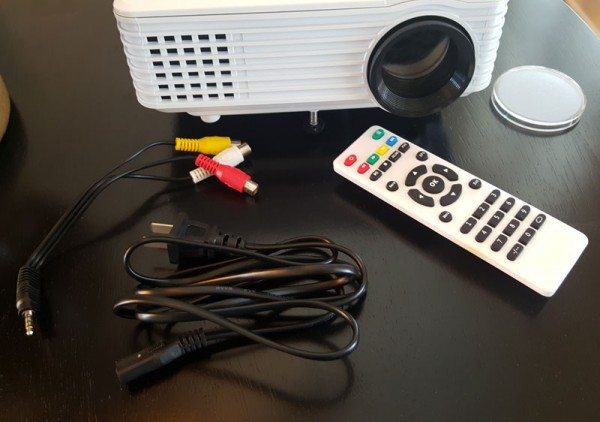 The Pros
I love the size of this projector.  Inside the box it is sitting inside a padded compartment with the power cord, AV cable, and remote control.  I considered getting a travel case of some kind, but it fits so nicely inside the box that I just use the box itself as the travel case.  And the size is so small that it easily fits inside any suitcase I take or even a backpack. To show the size, I took a top-view picture (below) of my Nexus 7 tablet sitting on top of the projector.  Because it is an LED projector, it never gets hot.  Ever. So when you turn it off there is no 'cool down' period where the fan blows to cool it off before you put it away.  And it is incredibly light!  I remember literally lugging a suitcase projector through the airport many years ago to take it with me on a trip.  This projector is the perfect size.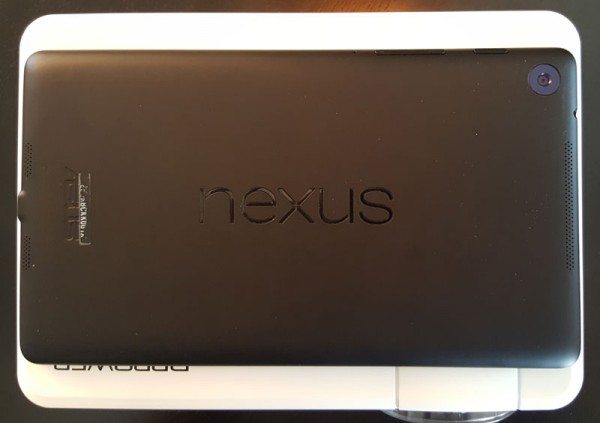 I also love that it has many options for input:  AV, HDMI, USB, and VGA.  You can connect many, many different devices with ease.  I did not encounter any problems connecting the various computers in my house to the projector.  I tried connecting my Galaxy S6 cellphone and my Nexus 7 tablet to the projector via their USB cables, but it did not recognize them.  An interesting little tidbit though:  they didn't work with the projector, but they did begin to charge!
The projected image was clear and crisp, and I have no complaints with that.  Anything I did on my computer screen showed up very nicely on the projected image.  The fact that it is LED means it pulls very little power compared to a 'lamp' projector, and it will last thousands of hours longer as well.  All the connections are on the back, including the keystone adjustment slider at the bottom, as you can see from the picture below.  The lens on the front can be rotated to adjust the sharpness of the image, and I found that I could put the projector anywhere from 4 ft to 9 ft from the display surface, which fit any need that I had.  And the rubberized feet on the bottom keep the projector in place on any surface.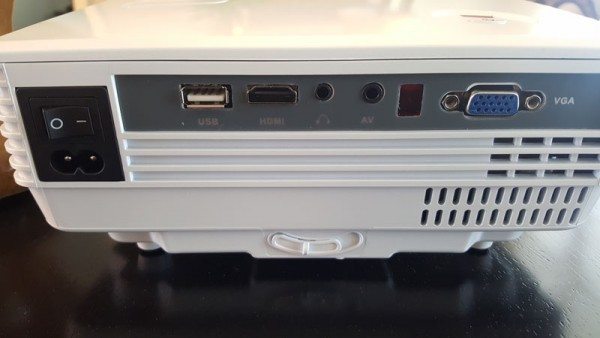 The Cons
The first thing I need to mention is that this LED projector is rated at 120 lumens.  Most business-class/classroom projectors have around 2,000-3,000 lumuns, and some projectors have upwards of 4,000 if they are used in large auditoriums or arenas. And those projectors are usually 'lamp' projectors that have a bulb as the light source instead of LED, so the image is much brighter and can be used in bright rooms.  For projectors that have around a 1,000 lumen rating you usually have to use those in a dark room. This projector only has 120 lumens and uses LED as the light source.  Yeah.  You have to be in a very dark room for this projector to be useful.
I tried to use this projector during the day in my house and it was basically useless if there was any ambient light in the room. If I was going somewhere to give a presentation in a business conference room, I wouldn't use this projector unless I could ensure the room could be made very dark.  Conference rooms with windows are out.  There is a 'brightness' adjustment on the settings menu for the projector, but raising that number simply white-washes out the image, so that doesn't do much good either.
The built-in speaker is also basically useless.  If I ever need sound then I take a small speaker and plug it into the audio-out jack.   There is a screw hole on the bottom of the projector to allow you to attach thing such as mini-tripod.  I have one of those and tried to use it.  But the hole is off-center on the bottom, so the projector wouldn't stand upright with the tripod. So I just sit the projector on whatever surface I have and use the 5th adjustable leg on the bottom front of the projector to raise the image if needed. (see image below)
Finally, and this isn't that big of a deal, the IR port for the remote control is located on the back of the projector where the ports are.  So you can only use the remote standing behind the projector.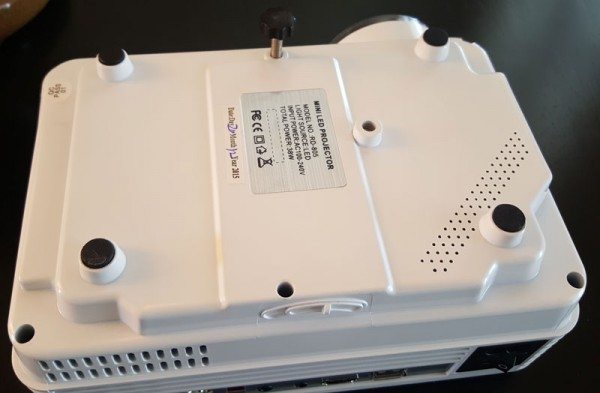 Other things to consider
At this price point you won't find a wireless interface to connect things wirelessly, which is fine with me considering the multiple inputs available.  The projector does have a nice feature where you can put pictures, music, or videos onto a USB jump drive and plug the drive into the back of the projector.  You will then see a multimedia interface projected on the screen that enables you to use the remote control and select whatever you want to see.
I used that feature a few times, but I don't anymore.  For example, when I tried to watch a movie on a USB jump drive, the projected area on the wall was at 1024×768 but the movie file resolution was only 640×480.  So the movie played in a small box (640×480) in the middle of the projected area.  Sounds weird, I know.  And that's why I don't use this projector to watch movies from USB jump drives!
Bottom line
In certain circumstances, I can see this projector being used successfully, for example at night in your home when you have a small group of people, or perhaps in your room playing games with your game console attached.   Or maybe when you go on a business trip and you need a backup solution in case the projector in the room doesn't work.  Or maybe you aren't sure you will have a projector where you are going and you want to take it 'just in case'.  Heck, it is so small and portable, go ahead and take it.  And the price point is incredibly compelling.  But it won't be useful to you in most business environments.  And as long as you understand that, you won't be disappointed.
Updates 11/27/17
This projector has been a disappointment. I gave it an honest try and took the projector with me many places when giving presentations and I tried to use it numerous times. I just never found an environment where it was dark enough to actually use successfully. I gave up on it every time. So while I do think that in certain situations it might be useful, it just hasn't been useful to me.
Source: The sample for this review was provided by DBPower. Please visit their site for more info and Amazon to order. You save 5% off the price by using the code: 3YG65H96 (expires after 08/31/2017).
Support The Gadgeteer
:
The Gadgeteer is supported by readers like you! If you buy something through the links on our site, we may earn a small affiliate commission. Thank you! Learn more.