The Gadgeteer is supported by readers like you! If you buy something through links on our site, we may earn an affiliate commission. Thank you! Learn more.

What is it?
The Rowkin Surge Charge wireless headphones are a pair of earbuds that fit individually in each ear, to provide mono or stereo capability for phone or music.
What's in the box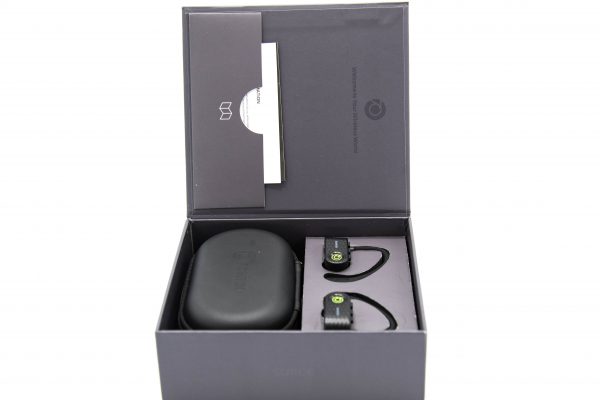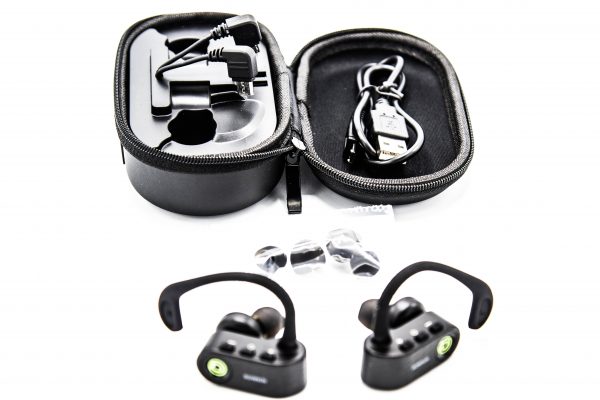 1 x Case with the built-in battery and charging cables
2 x Earbud (1 Left & 1 Right)
1 x Micro USB cable
2 x Pair of additional ear-tips (Different sizes)
1 x Instruction booklet
Design and features
The Rowkin Surge Charge earbuds are designed with complete and mirrored controls on each earbud. The controls include (+) plus, (-) minus and (o) power buttons, that control all of the call and music functions. The top (+) button works as "volume up" and "track forwards", and the bottom (-) button works as "volume down" and "track backwards". The (o) power button also works to stop and play music, and to answer and to disconnect calls.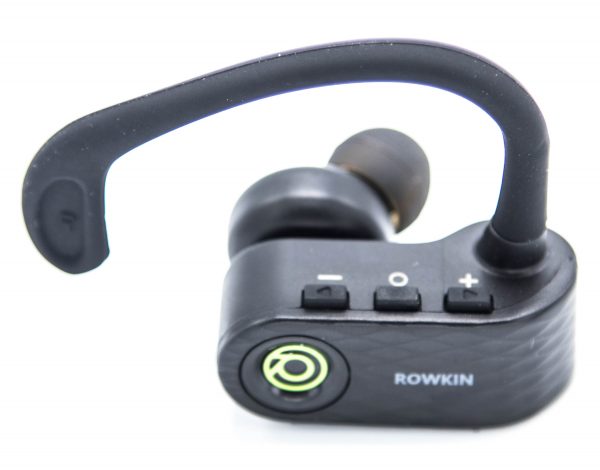 There is also a micro USB port on each earbud for charging, and an extended ear strap for securing around each ear.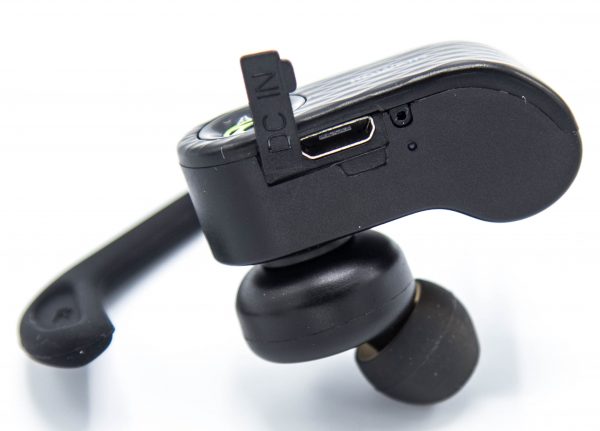 The ear strap is flexible and can be molded by hand around each ear for the desired fit. It is important to note that if not properly adjusted to each ear, the ear straps will present some discomfort. These earbuds are large in comparison to other in-ear earbuds that are currently available, but they are light and only create a slight presence on each ear.
The charging case includes a built-in battery that allows the case to be charged and in turn charge the earbuds from depleted to full about 4 times, before the case itself needs to be recharged. Within the charging case, there are two built-in micro USB cables that have to be plugged into each earbud for charging. There is a LED on each earbud that is red when charging, and white when fully charged. The separate micro USB cable that is provided is used to charge the case. There are additional ear-tips that are provided in different sizes. I switched from the ones that came attached to the smallest ones provided.
The earbuds have to be powered on individually, but only one has to be paired to the phone. Pairing is accomplished by holding down the power button for about 5 seconds until it blinks blue and red, which is typical of most earbuds. The pairing process was very easy, and I soon realized that I had the option to pair one earbud, or both earbuds individually. This is an interesting feature that allows each to function separately, for all of the functions including music and phone. Once both earbuds are powered on and the voice command for connected is heard, a second voice command confirms "true wireless stereo" connection. I sometimes heard the "true wireless stereo" confirmation prior to the "connected" confirmation in one or the other earbud. I suspect that this is quite normal since once any one of the earbuds is connected via Bluetooth, they connect to each other to provide the stereo experience without the need for the other to be connected individually. This, of course, is why only one earbud has to be paired if so desired. When using both earbuds, the volume and track controls on either one work for both. I mention this because if using one, you will notice that the volume setting may be completely different than when in stereo mode, since it reverts to the setting of the individual earbud.
Performance:
The Rowkin Surge Charge wireless earbuds are an absolute pleasure to listen to. The Bass, Mids and Highs are well balanced, and are easy but fulfilling on the ears. Out of the dozen or so wireless earbuds/earphones that I have tested so far, these sound the best. However, I did experience several momentary individual dropouts and disconnections, but I cannot really qualify the disconnections since the same happens to some of my other Bluetooth earphones, and usually at or close to the same locations. While it is likely that there is some environmental cause that is accountable for some of the disconnections, I suspect that most were the fault of the earbuds. At times either earbud would fade and then regain the normal connection and volume, and a few times they disconnected and reconnected. While it is very annoying when these events occur, they were not what I considered a "deal breaker", since they only occurred once or twice during an hour of listening.
When using these earbuds for phone calls the sound quality is clear, and I received the same confirmation from the other party on the call. With normal use, the charge lasted a bit over 4 hours before the "battery low" warning was heard.
What I like
I really like the sound and clarity of these earbuds. They provide a pleasurable and comfortable listening experience irrespective of the volume. I like that they can operate individually, and that you are not forced to use one particular ear for phone use. The time between recharges is acceptable, and the ability to recharge them via the case is a plus.
What can be improved
The biggest issue I find is the way the earbuds charge. Unlike most earbuds that are housed in a charging case, each of these has to be physically plugged into the micro USB plugs that are built into the inside of the case. I am used to just having to drop my earbuds into the case, and the built-in contacts do the rest. For me, this is a major negative. I also would like to see the size reduced so that no ear strap is needed, and so that they are lighter, albeit that I suspect that the size has something to do with the great sound and the individual operational features.
Final thoughts
The Rowkin Surge Charge wireless headphones are great to listen to, and once the time is taken to fit them properly to each ear, they do not disappoint. They are somewhat large and therefore not inconspicuous. The great features that they offer are also a plus, but they may not be able to overcome the many other available earbuds that offer smaller and lighter devices, with true wireless charging. That being said, I will continue to use them until I find a similar pair with comparable operational features and sound reproduction, along with a better design.
Updates 05/18/18
It is now several weeks since my review on the Rowkin Surge Charge wireless earbuds was published, and I have been using them as my daily commute "go to" earbuds. While I still really love the well-balanced sound they produce, the honeymoon ends there.
During the past 2 weeks, it has become the norm for these earbuds to lose the Bluetooth connection on one side or the other or both, and they do so very frequently. During an average one hour ride on the railroad, I can expect this to occur at least 5 or 6 times. In addition, on 2 occasions I suddenly heard the "power off" voice command, and they powered off while I was listening to music. I had to physically power them back on. And just in case you are wondering, Yes!!, on both occasions they were fully charged.
So as I mentioned, while I really love the sound they produce, I will be eagerly searching for a replacement with equal or better sound and definitely better connectivity.
Price: $119.99
Where to buy: Amazon
Source: The sample for this review was provided by Rowkin.
Support The Gadgeteer
:
The Gadgeteer is supported by readers like you! If you buy something through the links on our site, we may earn a small affiliate commission. Thank you! Learn more.