We use affiliate links. If you buy something through the links on this page, we may earn a commission at no cost to you. Learn more.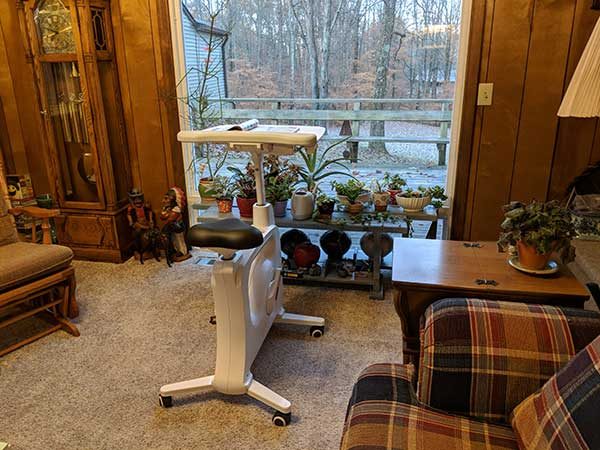 Did you succumb to the recent trend and buy a standing desk or are you still slouching in a chair behind your computer all day? I had a standing desk for a short time but just couldn't learn to love it, so I gave it away and went back to slouching behind my computer all day at work and then going home and doing the same.
When the folks at Flexispot contacted me to see if I would be interested in giving their all in one Deskcise Pro desk bike a try, I was curious and said yes.
What is it?
The Flexispot all in one Deskcise Pro desk bike is a small low impact exercise bike with a built-in platform for a laptop that has been designed for people between 5'1″ and 6'2″
Product specs
Desktop size: 19.6″ x 22.8″
Bike size: 36″ x 22.8″ x 43.3″- 49″
Height adjustable seat range: 30.7″ – 38.1″
8 level magnetic tension resistance
Weight capacity: 300 lbs
Design and features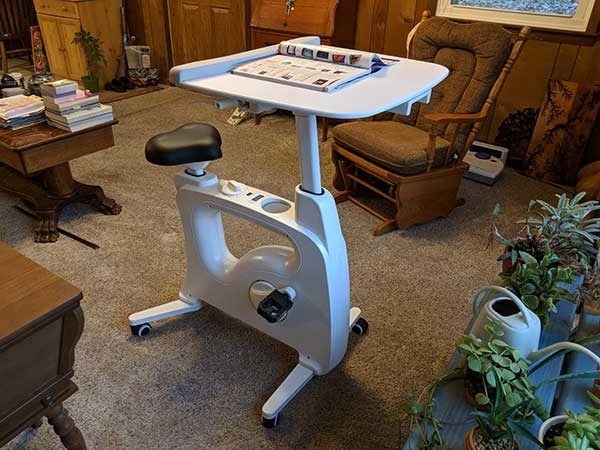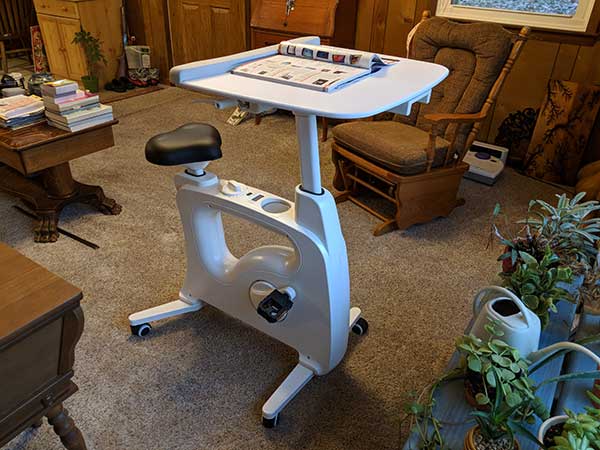 The Flexispot is made of white plastic and metal and is compact enough to fit in even small homes. It arrives assembled except for attaching the desktop which requires no tools to attach.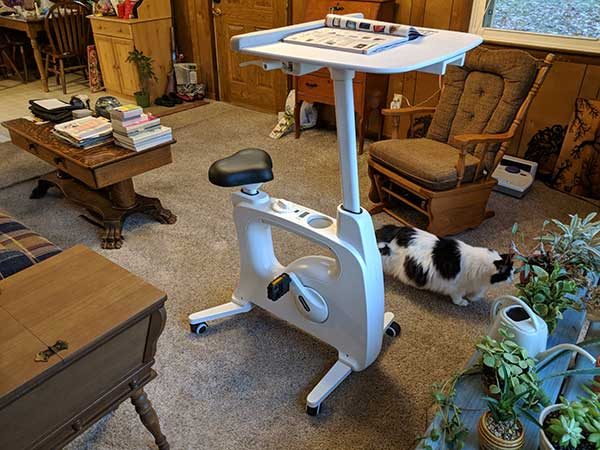 As mentioned in the product specs, the Flexispot is designed for people between 5'1″ and 6'2″. I am 5'6″, so I had no trouble adjusting the height of the desktop to accommodate me.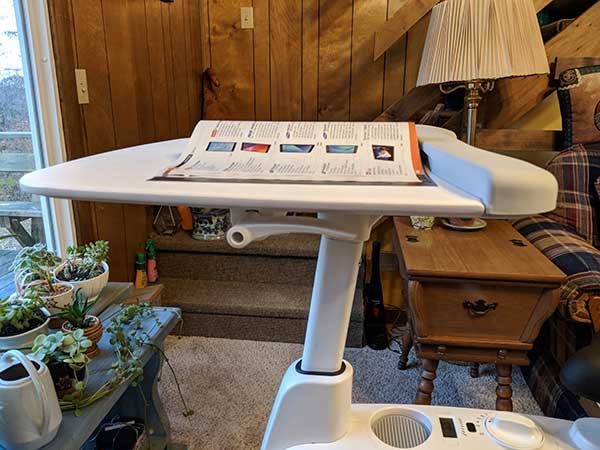 To adjust the height level of the desktop, you just press the lever on the side of the desk and lift upwards or press downwards till the height is where you like it. Then you let go of the lever to lock the placement.
A lever on the opposite side of the desktop allows you to slide the desktop forwards or backward to bring the platform closer or farther away from you. You can even pull the desktop back as far as it will go and then stand behind the seat to use the Flexispot as a standing desk.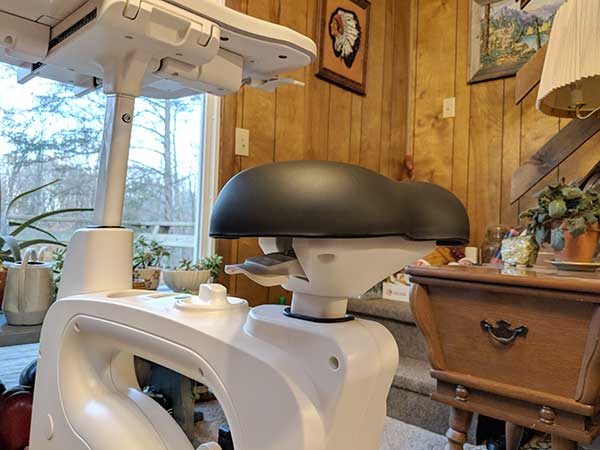 You can do the same with the padded seat to raise and lower it.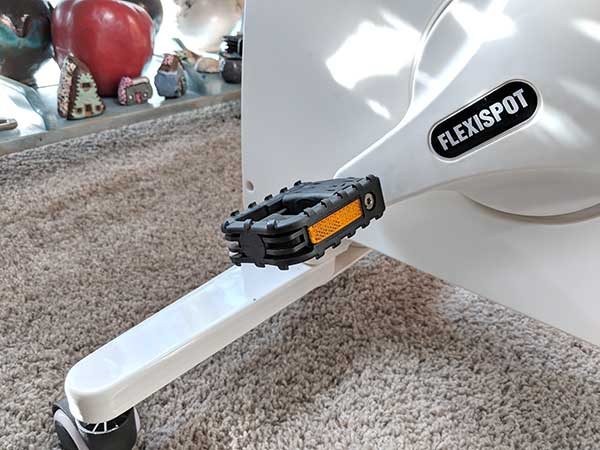 The Flexispot has hard rubber pedals that work well when you are wearing shoes. FYI, I find it a little amusing that the pedals have reflectors on them considering you won't be riding this "vehicle" on the roads.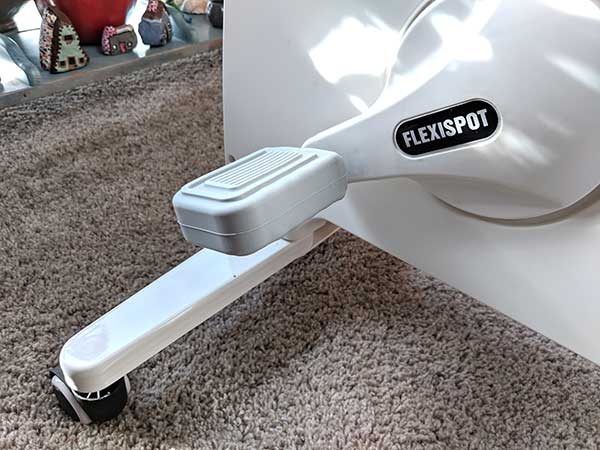 If you want to ride the Flexispot without shoes, soft rubber covers are included to make riding more comfortable.
You'll also notice that the Flexispot has caster wheels. This makes it easy to move the desk bike where ever you want to place it. The wheels also lock in place when you're on the bike so that it won't move while you're getting your exercise.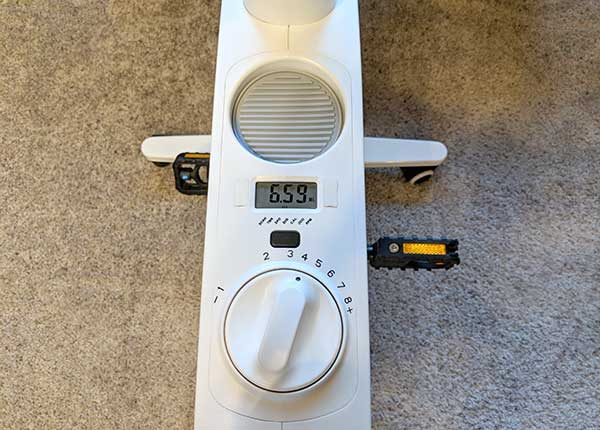 The all in one Deskcise Pro has a large knob that you use to adjust the magnetic tension resistance. There are 8 adjustable settings to choose from so you set things up to be easy or challenging.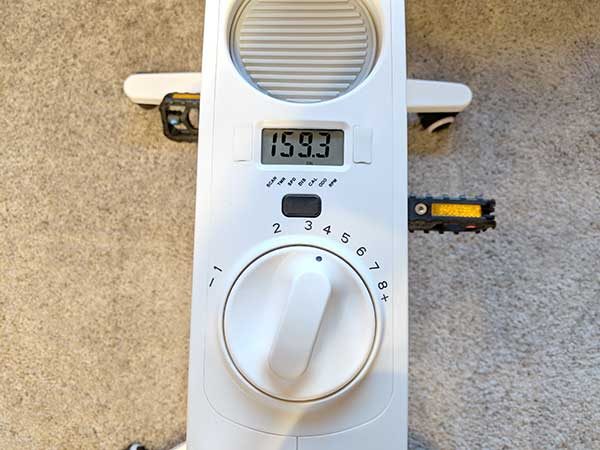 An LCD display above the knob will show workout time, pedal revolutions, distance, calories burned and speed. A button below the display is used to cycle through each of the readouts.
There's even a built-in cup holder so you can stay hydrated during your bike desk sessions.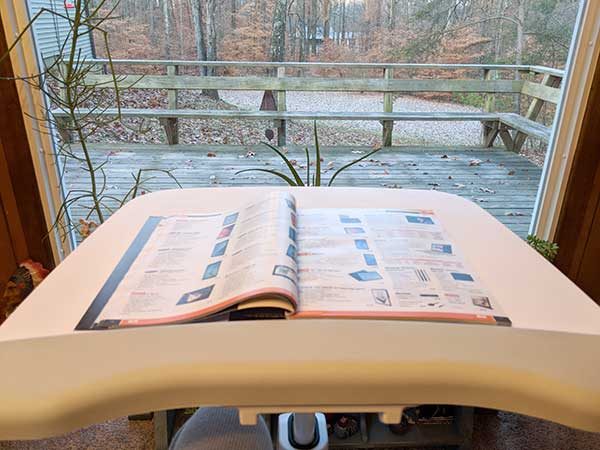 The desk platform is large enough for magazines, books, tablets, and laptops, and has a padded wrist rest for comfort.
Let's go for a spin!
When I first jumped on the Flexispot, I thought that pumping my legs while trying to do work on my computer or reading a magazine would be really distracting. It was a little distracting at first, but after a few minutes, I forgot all about the fact that I was riding a "bike" and zoned out on what I was doing with my eyes and brain.
Before I knew it, 20 minutes passed by and I'd "traveled" a couple miles. I was surprised and felt good about myself because I was actually moving parts of my body that are usually sitting still while I surf and read. Getting a little extra movement without really trying is pretty cool.
The Flexispot seat is padded and pretty comfortable, but I did notice my rear end getting a little sore after using the bike for an extended time. I don't have a lot of padding back there, so I have comfort problems with most bicycle seats but thought I should still mention it.
I like that the Flexispot comes 99% assembled and that it's easy to adjust and use. There's no thick manual to read. You just get on and ride.
I also like that the desk bike is small and that it doesn't make a lot of noise while you're pedaling it to bother other people in the room.
One thing that I'd like to see added to a future version is a tilt feature added to the desktop platform to make it easier to read or watch videos on a tablet without needing a separate stand.
Positives
Comes assembled
Small and compact
Doesn't make much noise
Negatives
Expensive
Desk platform doesn't tilt
Price: $499.99
Where to buy: Amazon
Final thoughts
We all know that it's not good for our health to sit for hours at a time. Finding easy ways to add movement while still doing the activities that we like and need to do on a daily basis can be a challenge but the Flexispot all in one Deskcise Pro makes it easy and fun to go from sitting to low impact exercising with minimal effort.
Source: The sample for this review was provided by Flexispot. Please visit their site for more info.