We use affiliate links. If you buy something through the links on this page, we may earn a commission at no cost to you. Learn more.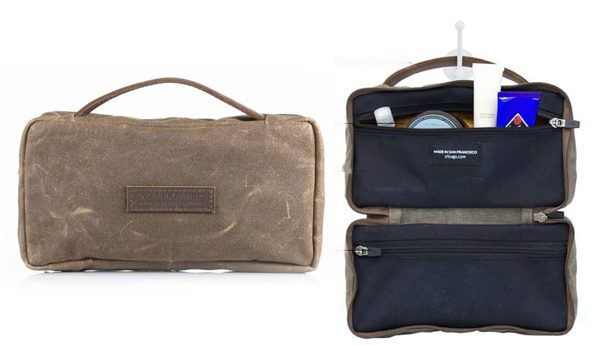 A long time ago, I told you about a wet-shaving travel kit I had assembled for my husband.  Since then, I replaced the original leather razor case with the beautiful, sturdy, and safe WaterField Razor Case, which still looks great and performs wonderfully.  What doesn't look so great now is the faux leather bag I had originally gotten to hold the whole kit.  WaterField Designs comes to the rescue again with their Duo Dopp Kit that could hold the entire kit and caboodle.
The Dopp bag is available in waxed canvas (shown) or in 1050-denier black ballistic nylon.  The exterior has full-grain leather accents.  A leather grab handle makes it easy to carry and even easy to hang from a hook when you use it.  Inside, the bag has two zippered mesh compartments to organize your toiletries and a gold fabric lining to make the contents more easily visible.  All zippers are premium YYK brand, and the exterior zipper is waterproof.    The Duo Dopp measures 9.5″ long X 5″ wide X 3.5″ tall and weighs only 6.5 ounces.
The Duo Dopp Kit is $79.00 in either the waxed canvas or the ballistic nylon option from WaterField Designs.