We use affiliate links. If you buy something through the links on this page, we may earn a commission at no cost to you. Learn more.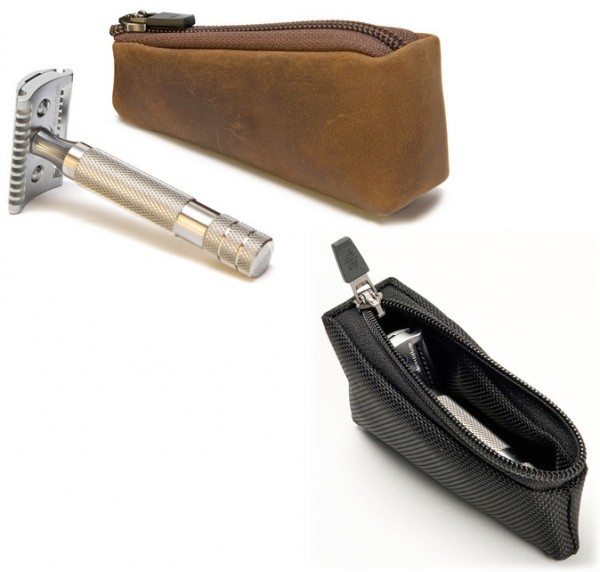 I've mentioned before that my husband shaves with a vintage double-edged razor, and that I created a kit with his shaving gear and other toiletries for when he travels.  (Check the links at the end of this review to read more about his travel kit.)  In the past, men had elaborate travel kits with fittings for the razor, shaving soap, fresh- and used-blade holders, and other accessories, but those have disappeared as men began simplifying their shaving routines.  You don't find a lot of new shaving accessories these days, and I was pleased to see that Waterfield Designs had added a Razor Case to their line of bags, wallets, and cases.  I thought the Razor Case would be perfect for Butch's travel kit.  Waterfield graciously agreed to send one to The Gadgeteer for review.
All images can be clicked for a larger view.
Waterfield makes the Razor Case in both black ballistic nylon and in Grizzly leather.  You can see both models in the top image in this review; I snagged this one product image from Waterfield so you could see both.  The leather is a very attractive case, but I asked for the nylon case.  I thought it would hold up to a damp razor being stored inside without showing water marks.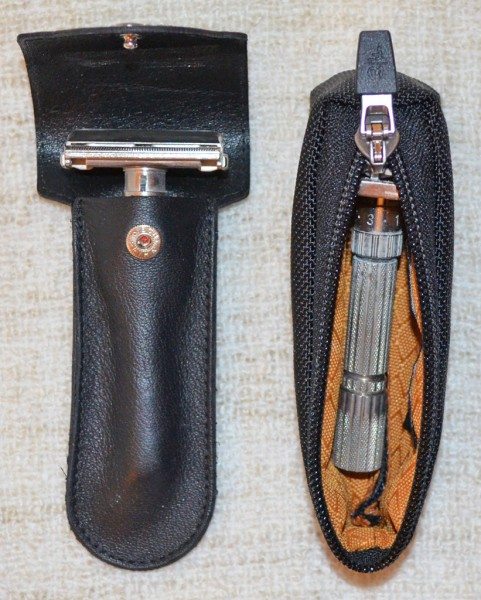 To protect his vintage razor – and to protect his hands from cuts if he leaves a blade in his razor before putting it in his Dopp kit – I got a cheap leather case for the razor (seen on the left) when I originally put together the travel kit.  It works to protect the razor, but you could still get a nasty cut removing the razor if you're not careful, because you have to grab it by the blade holder to remove it from the case.  I put a little blade "bank" to hold used razors in his kit, but I noticed that Butch had left a used blade in the razor when he last stored it.  I also noticed that the blade had cut a couple of nicks in the leather flap of this cheap case.
The Waterfield case is much safer.  You can see that you grab the razor by the handle in the Waterfield Razor Case, so you don't have to worry about cutting yourself with the razor in this case.  You can tell thought went into the design of this case, because even the way the zipper is sewn in is designed to protect you from the blade's cutting edge.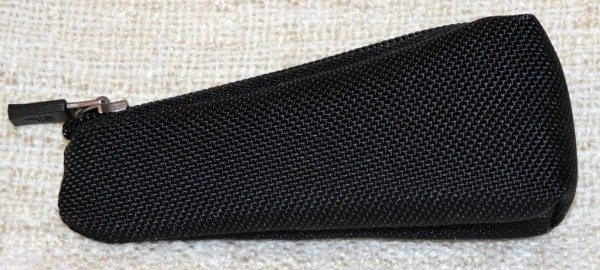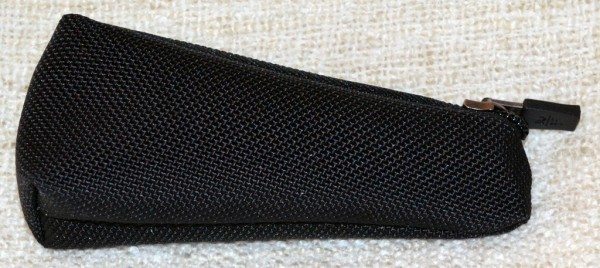 The Razor Case is wedge shaped, with the razor's blade holder designed to go in to the case first.  Because razor blades are a standard size, you don't have to worry that your double-edge safety razor will be too wide to fit.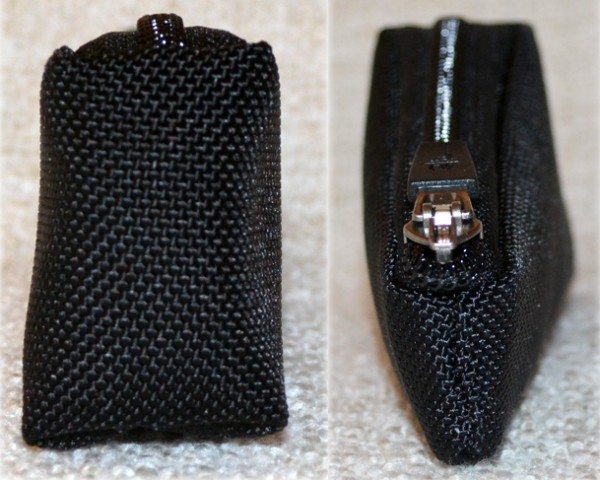 The zipper is sturdy.  It has plastic teeth and a metal zipper pull.  The pull is finished with a rubber cap with the Waterfield logo embossed on it.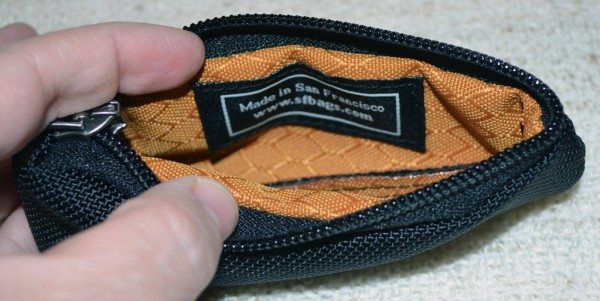 The interior is lined with a fabric liner that Waterfield calls "gold", but it looks coppery to me.  There's also a large label with Waterfield's URL on it.  You can get a glimpse of the stitching in the bottom of the case.  All the seams are straight and even.
The case is 5″ long and about 1″ wide; it's 1.5″ tall at the short end and 2.25″ tall at the longer end.  It weighs about 1.3 ounces, so you won't even notice its weight in your travel kit.
Waterfield says it fits iKon™ or similarly-sized stainless steel safety razors.  We don't have any new razors in this house, but we do have a variety of vintage razors to try the Razor Case with.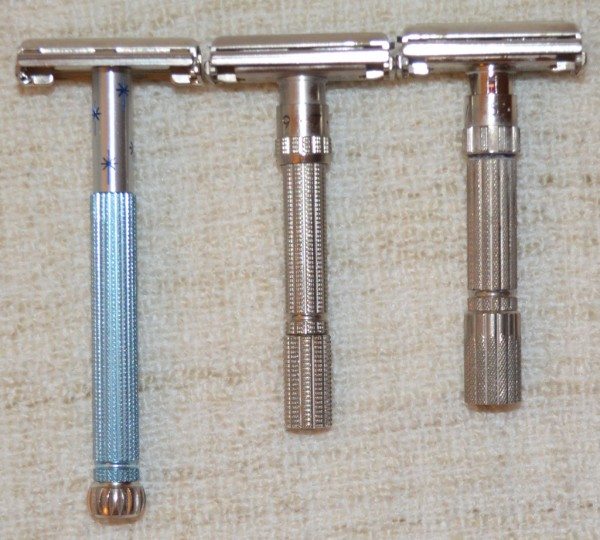 I decided to try the case with (left to right) my Lady Gillette, the Gillette Slim adjustable from Butch's travel kit, and the Gillette "FatBoy" that Butch uses at home.  These razors, of course, all have the standard sized blade holder.  The Lady Gillette is about 4.25″ long; the Slim is just under 3.5″ long; and the FatBoy is about 3.3″ long.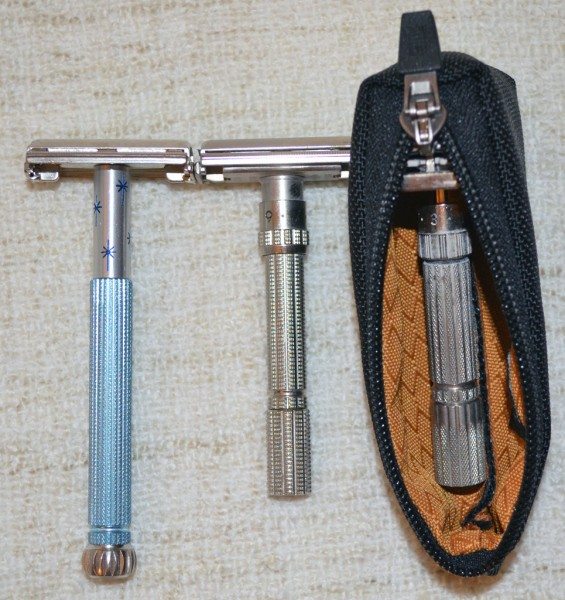 The FatBoy fits with length to spare.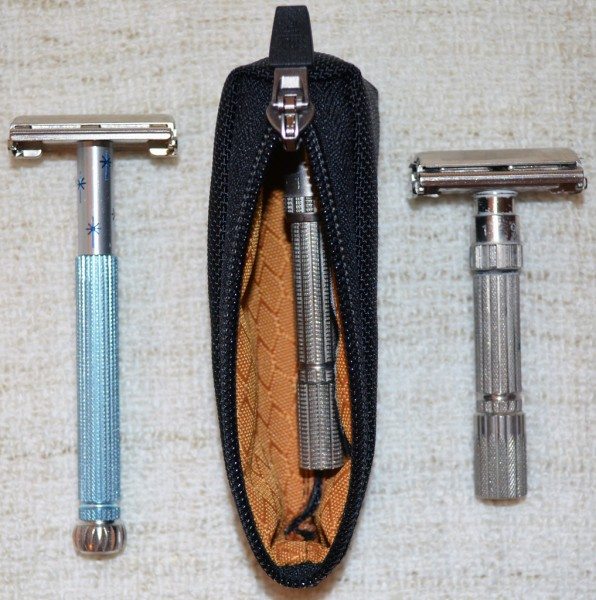 The Slim fits with room to spare, too.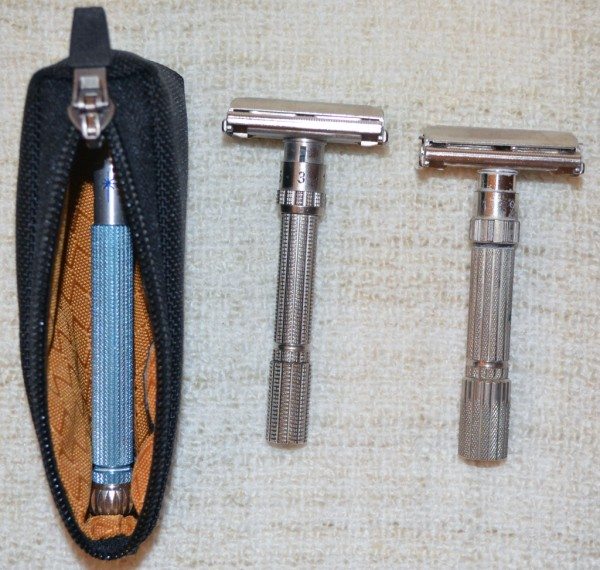 The Lady Gillette just fits, but this razor is probably one of the longer razors you'll see.  If your razor is no longer than the Lady Gillette, you should be fine.
There's room in the Razor Case to stick a pack of blades in there, too.  You could travel with only this case in your suitcase, or…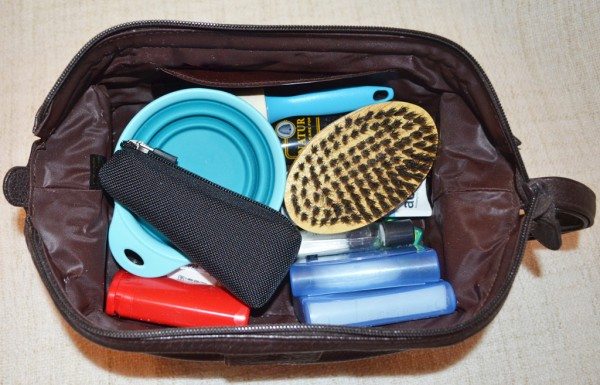 you could toss it into your travel case, like Butch's Dopp kit, seen here.
While I was trying out the Razor Case, I intentionally dripped water on it, like might happen when you're finishing up your shave and packing things back up.  The case dried without any visible water spots.
The strong ballistic nylon, sturdy zipper, and quality construction means Waterfield's Razor Case should serve you for many years.  I'd still recommend taking the used blade out before storing the razor, but the fabric is thick and strong enough that you don't have to worry about the blade cutting through.  And you don't have to worry about the blade cutting you as you remove the razor, because you grab the razor by the handle.  It's a simple case that does a simple job well, and it looks good doing it.  Waterfield's Razor Case is the perfect accessory for the person who wants to enjoy the luxury of wet shaving with a safety razor while traveling.
Source: The sample for this review was provided by Waterfield Designs.  Please visit their website for more information and to order.

Product Information
Price:
$25 as shown; $30 for the leather version
Manufacturer:
Waterfield Designs
Retailer:
Waterfield Designs
Pros:

Fits safety razors - vintage or new - of various sizes
Sturdy and well made
Thick enough to protect you from the razor blade if you forget to remove it from the razor before storing

Cons: