We use affiliate links. If you buy something through the links on this page, we may earn a commission at no cost to you. Learn more.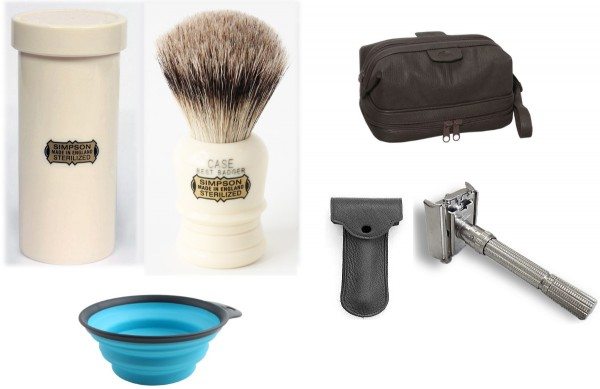 My husband discovered the joys of shaving with vintage double-edged razors and warm shaving cream a few years ago.  He uses an old Gillette "Fat Boy" razor older than he is with Gillette 7 O'clock double-edge blades, and his skin has never been better.  His beard, which used to literally shred the collars of his shirts over time, is softer now, and he only needs to shave every other day instead of everyday.  He has a big Simpsons badger brush and some beautiful Asian stoneware bowls that he uses to whip up his shaving cream.  The bowls actually nest together, with the bottom bowl filled with hot water to keep the shaving lather warm throughout his entire shave.  He has an entire ritual for shaving now, instead of just running an electric razor over his face with mediocre results.  Of course, his ritual comes to a halt when he has to travel, because he doesn't want to risk losing any of his best shaving equipment in lost or damaged luggage.
I put together a travel kit for him so that he doesn't have to completely give up his nice equipment and resort to using a disposable plastic razor and a can of shaving foam.  I started with a big Dopp kit, seen in the top right.  This bag is the Dopp Senator Travel Kit, which is no longer available.  This bag is made of synthetic leather, which isn't as luxurious as some of Dopp's bags, but he doesn't have to worry about damaging the bag with his wet shaving supplies.  It has a big open section on the top and an organized compartment in the bottom with room for all his toiletries.  Dopp still makes similar travel kit bags.
I found a less expensive vintage double-edged Gillette razor on eBay for his travel kit, and I put it in a Genuine Leather Double Edge Safety Razor Travel Case for safety.  He usually disposes of any used razor blade before packing up his kit, though.  I included a small empty Altoids tin to hold used blades until he can get home to dispose of them in his "blade bank".  Simpsons makes small badger brushes for travel, so I got him a Simpsons Case C1 brush and the Simpsons Small Shaving Brush Travel Case to hold the brush and protect the bristles while it's stored in the Dopp kit.  The travel case has a large opening in the bottom to allow air in to dry the brush if it isn't completely dry when he has to pack up.  The place where he has to compromise is with the lather mixing bowl.  I didn't want to put anything breakable in the kit, so I found a small Popware collapsible bowl that's small enough to fit in the travel kit.  (It's actually a travel water bowl for small dogs, but Butch doesn't have to know that!)  He can whip up his lather, then let the bowl float in a sink full of hot water as he shaves.  It doesn't keep the lather as warm as his stoneware bowls, but it's better than using that horrible canned shaving foam.
I finished off his travel kit with a styptic pencil, a small plastic bottle of witch hazel, and a small pot of his Truefitt & Hill Ultimate Comfort shaving cream that I fill up from his big container at home.  The Dopp kit has room for all his other toiletries, too.  It's a lot of luxury in a relatively small kit.
To learn more about vintage shaving gear and how to find and use it, check out the Badger & Blade website.  Prepare to develop a serious case of shaving equipment acquisition disorder!