We use affiliate links. If you buy something through the links on this page, we may earn a commission at no cost to you. Learn more.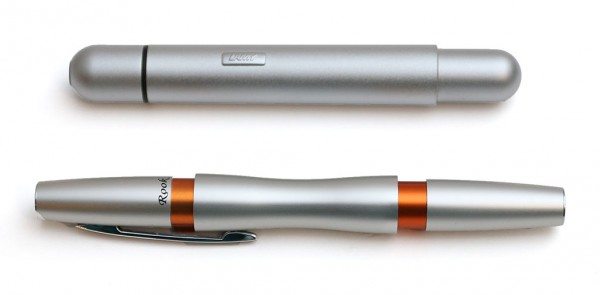 Today I want to show you two ballpoint pens that have been designed to take up less space than traditional pens while still providing a comfortable writing experience. Everyday Carry (EDC) enthusiasts who are always on the look out for ways to pare down the size and weight of their gear bags might enjoy learning about the Lamy Pico Pocket Lamy Pico Pocket Size Extendable and Ohto Rook ballpoint pens from Jetpens.com. Let's take a closer look at both of these writing instruments.
Note: Images can be clicked to view a larger size.
Ohto Rook ballpoint pen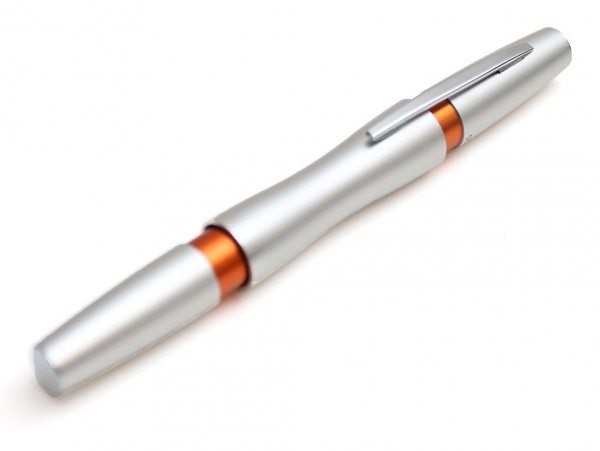 The Ohto Rook is not a chess piece, but it is a cool little metal bodied pen that is available in four colors. I was sent the silver with orange. The pen has a handy pocket clip and has a matte finish that looks and feels smooth to the touch.
The Rook is approximately 4.1 inches (10.3 cm) long when capped.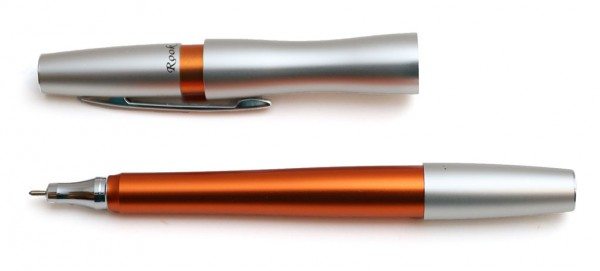 The cap pulls off to reveal a 4 inch long pen that can be used on its own.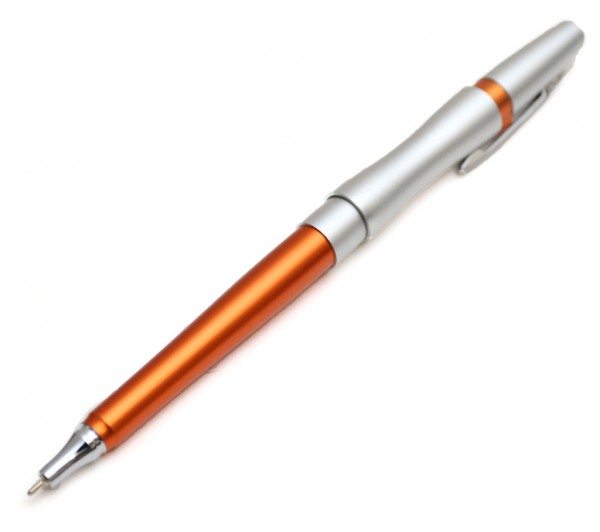 But the pen is much more comfortable to write with when the cap is posted to the back of the pen giving it a length of 6 inches.

For a size comparison, here's the Ohto Rook next to a generic Bic style pen.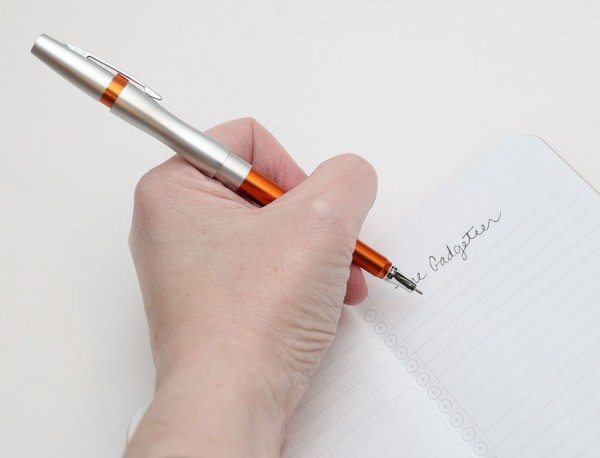 Writing with the Rook feels just like writing with any other normal sized pen. You don't have to contort your hand or fingers to use it.
The 0.7 mm writing tip puts down a smooth thin line of ink that doesn't skip, bleed or leave blobs on the paper.
I like the looks of the Rook a lot and am happy with the way it writes. But there are two small issues with it. First of all, you have to make sure you press the cap fully onto the pen when you're done writing. You need to feel it securely snap in place. If you don't, it will most likely fall off. The second issue is that the metal edges on the silver part of the cap and barrel feel sharp and grab at my hand and fingers when I touch them. It would be nice if the edges were smoother. I've not been cut by this pen, but it does feel like it could happen.
Refills for the Ohto Rook come in black 0.77 mm for $1.30
Price: $16.50
The Ohto Rook is available from JetPens.com
Lamy Pico Pocket Size Extendable ballpoint pen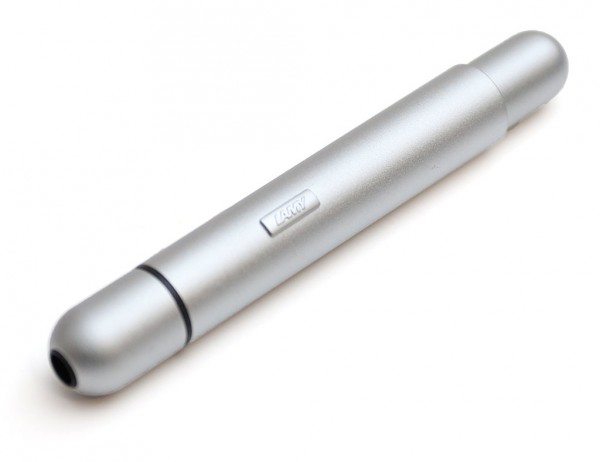 Lamy is a well known brand in pen circles (yes, there are such things as pen circles). Their Pico Pocket Size Extendable pen doesn't look like a writing instrument at first glance. The metal tube looks more like some type of futuristic gadget.
The Pico is available in five colors including the pearl chrome version that was sent to me which has a smooth bead blasted finish to it.
This is a compact pen that measures 3.75 inches when closed. But how does it open? Does it pull apart like the Ohto pen written about above? Nope…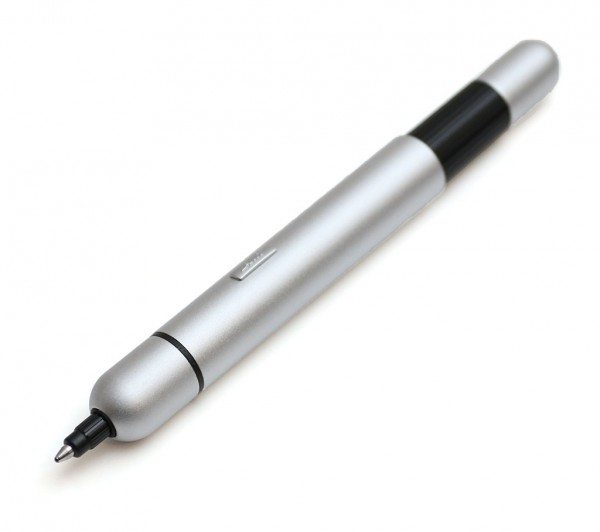 You just press the spring loaded button on the end without the black stripe. Doing so extends the 0.7mm writing tip and also extends the cap. You're left with a pen that is 5 inches long when opened as you see above. Extending and retracting the tip is a fluid action and so far I've not noticed it getting stuck or jammed.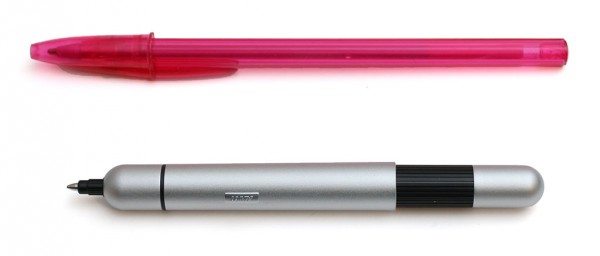 The Pico is a little shorter than a standard Bic pen, but it's still comfortable to hold and write with it.
You might think that since the Lamy has a tube shape that it will roll away from you or off a flat surface. Luckily the Lamy logo on the side of the barrel is raised so that won't happen.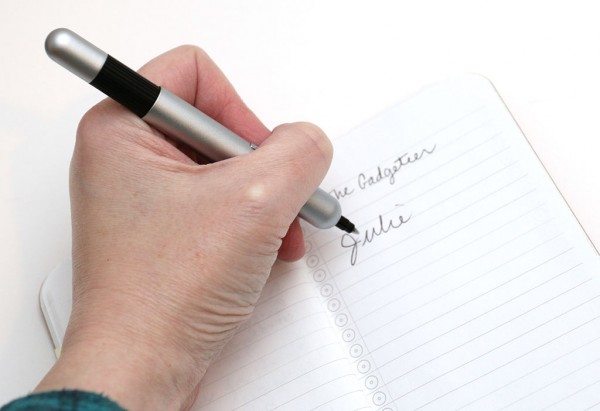 The Pico has a tip size of 0.7 mm and doesn't skip, bleed or blob when writing. I found it to write about the same as the Ohto Rook and for that fact I was disappointed with the way the Lamy writes based on the fact that it's a $45 pen and my $5 Uniball Jetstream writes much smoother and darker.  Another issue worth noting is that the finish on the Lamy is susceptible to scratching. You wouldn't want to put it in a pocket full of change or other items. Lamy must know about this because I've read that they sell a little protective sleeve for this pen.
Refills for the Lamy Pico Pocket Size come in 0.5 mm and 0.7 mm with black and blue ink for $3.75 each.
Price: $45.00
The Lamy Pico Pocket Size Extendable is available from JetPens.com
Of the two pens, I'd pick the Lamy based on the fact that it's one piece with nothing to drop or remove in order to use it like with the Ohto. I just wish it wrote as well as my Uniball and didn't scratch so easily. I think my quest to find the perfect pocket pen continues…
Source: The samples for this review was provided by Jetpens. Please visit http://jetpens.com for more info.
Product Information
Price:
Lamy Pico - $45.00, Ohto Rook - $16.50
Retailer:
Jetpens
Pros:
Cons:

Ohto Rook has sharp edges
Lamy Pico's finish scratches easily
Lamy Pico is expensive