We use affiliate links. If you buy something through the links on this page, we may earn a commission at no cost to you. Learn more.
Product Requirements:
Device:
Any touch screen device
I like gadgets just as much as the next guy, but I only buy one if it really helps me. I thought I had found the nicest pen/stylus combo when I bought a
Retro 51 Tornado Data Pen; that is until a few weeks ago. The Fisher Bullet Space Pen (Model #400CL-S) with the clip and stylus point can be purchased
from StylusCentral. I've always been curious about those little silver bullet-shaped pens that go up in space with the astronauts but had never actually used one or owned one. The Bullet has that nice hefty, smooth slick feel that makes you want to flip it around in your fingers straight away. In case you were wondering, the quality of a Fisher pen is right up there with the best of pen manufacturers.


Currently they only offer the Bullet stylus pen in chrome and black; both with
and without the pocket clip. I'm sure once demand starts to climb for these
wonderfully utilitarian pens they will begin to offer the model in their black
or gold Titanium Nitride versions…the ultimate in high-tech looks.
As far as a stylus is concerned, it is nicely balanced and easy to use. It's
comparable to the stock Palm styli on how it feels on the Palm's writing surface.
If you use Scotch Magic "Removable" tape on the Graffiti area, it
feels really nice. As a pen, it is second to none. It writes remarkably smooth.
The pen can be heated to 400 degrees, frozen to -50 degrees and it will still
write. The space pen will write over grease, oil, water, upside down and on
most surfaces due to the pressurized ink cartridge and the "viscoelastic
thixotropic" ink.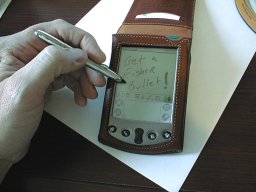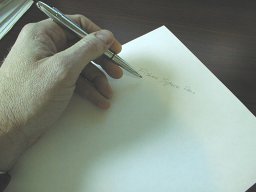 Many of you may say, I don't need a pen that does all of that. Well, how many
of you would like a pen that you can carry in your pocket or in a briefcase
in a hot car and have 100% confidence that it will not leak…and will write
every time? Have you ever tried to write a phone number in an awkward position
in an airport while on the phone, only to get frustrated because, well, the
darn pen won't write sideways? Fisher has solved that problem with the nitrogen-pressurized
special ink cartridge ($4.00 for a refill).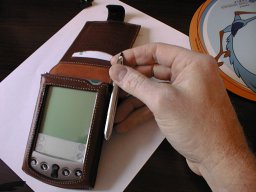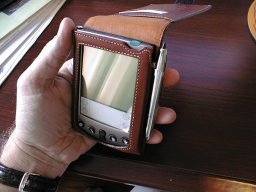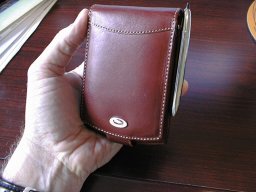 One nice "Bonus" is that it clips verrrry nicely onto the side of
a Vaja Fliptop Case. Once the case lid is closed, the pen won't fall out; and
the whole ensemble can be carried with confidence in your back pocket. The pen
will probably clip to any number of Palm cases as well. Handy, eh?
As I said before, I don't buy gadgetry just to "Have it". I only buy
something if it makes my life easier or more convenient. At $22.00 the Fisher
Bullet Space Pen is a real bargain for what it delivers. I already bought a
second bullet to keep in my car. The inside temperature of my car soars to over
130 degrees in the summer time here in the South. Unless the temperature goes
up "significantly", the Bullet will always write and never leak.
Price: $22.00
Pros:
High quality and great design at a very reasonable price
Pen will write upside down, on wet and/or greasy surfaces
Stylus tip has nice feel on Palm
Will clip to a Vaja Fliptop case very nicely
Cons:
None really except that you may need to make a call or two to
find a cartridge (IF you run one out of ink)
Product Information
Price:
$22.00
Manufacturer:
Fisher Space Pen
Pros:

High quality and great design at a very reasonable price
Pen will write upside down, on wet and/or greasy surfaces
Stylus tip has nice feel on Palm
Will clip to a Vaja Fliptop case very nicely

Cons:

None really except that you may need to make a call or two to
find a cartridge (IF you run one out of ink)