We use affiliate links. If you buy something through the links on this page, we may earn a commission at no cost to you. Learn more.
Device:
Palm V, Palm Vx
Vaja is a fine leather case company in
Argentina that has been creating some terrific cases for the Palm PDA. One of
their latest offerings is the Palm V/Vx Flip Top Case with Wallet that is
available in eight different color / leather styles. This case is identical to their Palm
V/Vx Flip Top Case except that it also includes a wallet section.
The wallet section folds up and snaps securely to the flip cover. When the
wallet is snapped shut, two card slots are exposed. When the wallet is open,
four more card slots are available as well as two deep slots behind the card
slots. There is also a long dollar bill slot that is lined with a satin material
on one side and leather on the other. The dollar slot is nice and long which
makes it easy to insert and remove your money. I also found that the card slots
are easier to use than the ones in some PDA cases. These slots are nice and wide
which makes inserting and removing your cards simple.
Regarding the card slots on the underside of the flip cover, I do have one
concern. It is possible that when the case is closed that plastic credit cards
in these two slots might touch the Palm V/Vx screen. While testing this case, I
didn't notice any new scratches on my screen, but there could be a potential…
Since there are 4 slots on the inside of the wallet section, I would be more
inclined to just not use these other two slots.
In the past I've reviewed other PDA wallet cases and
sometimes have found them to be hard to close when they were full of cards
and cash. The Vaja case is easy to snap shut and also doesn't look stuffed
when closed. I put 6 plastic credit cards in the slots and 5 bills in the
dollar slot. The wallet section closed easily and the flip cover fastened
shut easily. Mind you, this case isn't thin due to the wallet section. But
when full it still looks great. When full, the case is approximately
~1.25″ thick.
As far as usability, you can access both stylus silos easily while the
PDA is in the case. The up and down scroll buttons as well as the
application buttons are also not obstructed.
The inside of the flip cover is embossed with a handy graffiti chart.
You can also personalize the case by having your name embossed in the
leather above the screen (for an additional charge).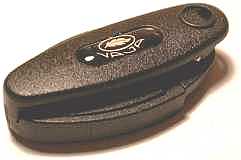 This case comes in a belt clip and non-belt clip version. The clip is smaller
than the E&B case clips and as a result, the maximum belt width that it can
accept is ~1.25″.
The Palm V/Vx fits securely in the case while still being easy to remove.
This is good since you have to remove the PDA from the case in order to hotsync
and/or charge it in the cradle. That is really the only down side to this case.
Other than that, the workmanship on this case is excellent. The leather quality
is the best I have seen. I usually don't care for black leather cases because
the leather always seems to look cheap to me. This is NOT true with this case at
all. If you are looking to replace your wallet and integrate your PDA, then this
is the case you need. Oh yeah, and it smells great too!
Price: $59.40 ($57.40 without clip)
Pros:
Extremely well made.
6 card slots.
Wide dollar bill slot.
Cons:

Thick case.
Have to remove PDA to hotsync / charge.
Belt clip version can only accept narrow belts.
Product Information
Price:
$59.40
Manufacturer:
Vaja
Pros:

Extremely well made.
6 card slots.
Wide dollar bill slot.

Cons:

Thick case.
Have to remove PDA to hotsync / charge.
Belt clip version can only accept narrow belts.