We use affiliate links. If you buy something through the links on this page, we may earn a commission at no cost to you. Learn more.
The Lamy Twin Pen available at StylusCentral is a two tip writing instrument manufactured by Lamy the well known German writing instrument maker. The Twin Pen has a stainless steel body with a matt finish which is nice because it doesn't show fingerprints. However the shiny pocket clip does show fingerprints… as well as scratches. The Lamy logo which is printed on this clip in black is also easily scratched.

The Twin Pen houses a black ballpoint pen and a stylus. The pen writes as well as any typical ballpoint pen. The stylus is light
gray which makes it easy to tell which tip you have extended. I really like the stylus tip. It is smooth and very easy to write with. It has a good point which looks exactly like the tip of the ballpoint pen.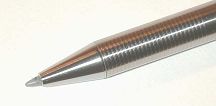 Tip selection is achieved by a twist mechanism. Twist the top portion of the pen clockwise and you get the pen tip. Twist the other way and you get the stylus tip. Twist to the middle and either tip goes back into the barrel. An icon on the barrel shows you which way to twist for the desired tip. One icon is a black dot and the other looks like a screen. I would assume that the black doc defines the ballpoint pen tip and the screen icon signifies the stylus tip. On my Twin Pen however, the opposite was true. I'm pretty sure the tips were just put in backwards though.
If you need to take the pen apart to insert refill tips, you just unscrew the
bottom barrel. Then the old pens just pull out and then new ones can be put in. Stylus refills
are available for $0.99
This pen has a nice heft to it and is well balanced. Finger grip grooves are cut into the bottom portion of the pen barrel which keeps the pen from feeling slippery and hard to hold on to.
The Lamy Twin Pen is a nice pen/stylus combo. It has a great feel to it and the stylus tip is very nice. You can tell that this pen is well made due to the fact that it doesn't rattle at all. Pens that rattle annoy me for some reason. At $50, this isn't an inexpensive item. But, it does have a lifetime warranty and it is a quality instrument.
Price: $49.95
Pros:
Nice weight
Smooth stylus tip
Doesn't rattle
Cons:
Pocket clip scratches easily and shows fingerprints
Expensive

Product Information
Price:
$49.95
Manufacturer:
Stylus Central
Pros:

Nice weight
Smooth stylus tip
Doesn't rattle

Cons:

Pocket clip scratches easily and shows fingerprints
Expensive