We use affiliate links. If you buy something through the links on this page, we may earn a commission at no cost to you. Learn more.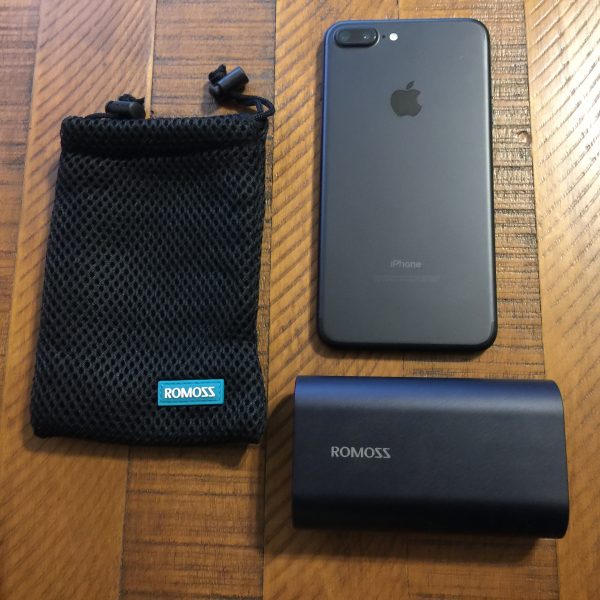 As someone who travels a lot I often find myself in situations where my phone or other device is low or out of power and a wall outlet is not readily available.  Before I travel, I meticulously charge my phones (I carry a personal and a work phone), my headphones, iPad, and computer.  Where these plans fall apart is when I get to the airport and begin draining my batteries while waiting to board my flight.  I don't know how I made it this long without a supplementary power supply but now that I have the ROMOSS Longuard Power Bank, I will never travel without it.  (Picture is the Longuard next to an Apple iPhone 7 plus) 
The size (2.4 x 4.06 x 1.18 inches) is very manageable and easy to tuck away when not in use and the 0.69 pound weight is what you would expect from a battery that can deliver 10000 mAh.  Included with the battery is a USB to micro USB cord for charging and a padded mesh pouch with drawstring closure for storage and protection.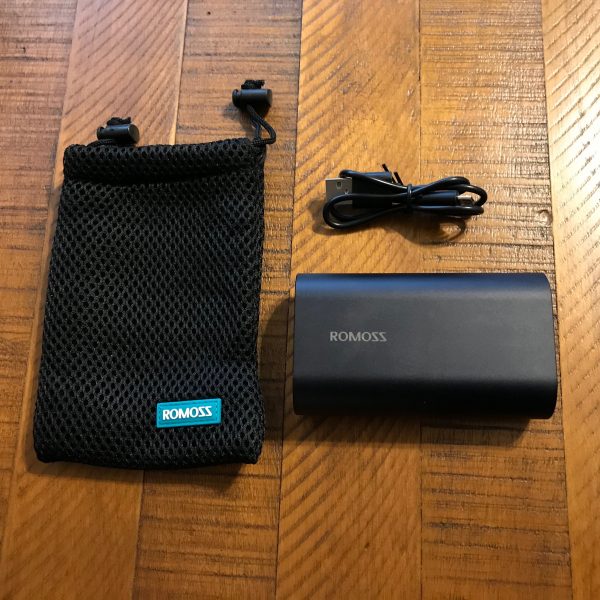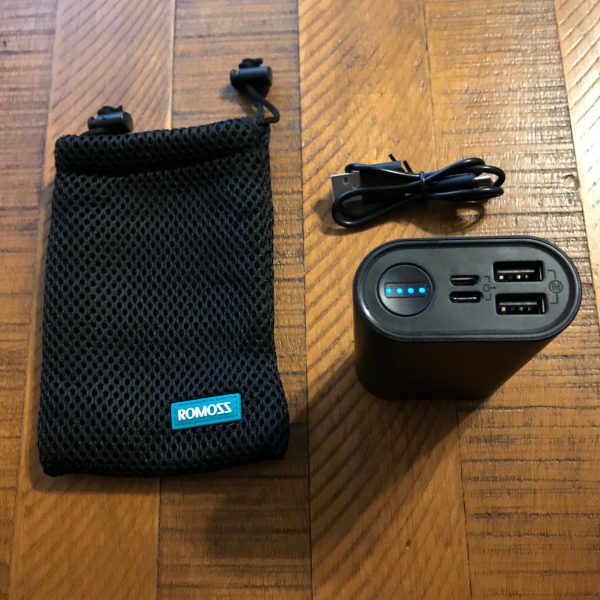 This power bank features dual 2.4A outputs allowing you to charge two devices at once.  Many other external battery packs only offer one output, putting this in the front of the pack.  ROMOSS' proprietary Quick Charge technology automatically optimizes the power delivered to your device so you get the fastest safe charging rate.  It performs self-diagnostics to protect your electronics against overcharging, overheating, short circuits and excessive current.  If it detects a problem, the Longuard will turn itself off in order to protect anything you have connected to it.
From empty, the Longuard can be fully recharged in 4 hours and after testing, I found the recharge time to be slightly less than this.  The same battery technology that is found in today's electric cars can be found in the Longuard.  According to ROMOSS, there are 26650 battery cells in the device and have been certified for over 1000 charging cycles, 60% more than other leading power banks on the market.  There is just one button on the Longuard on which the four LED power level indicator lights can be found.  10000 mAh will charge an iPhone or Galaxy 2 to 3.5 times depending on which device you own.  For my needs, the balance of size and power capacity makes this just right for me.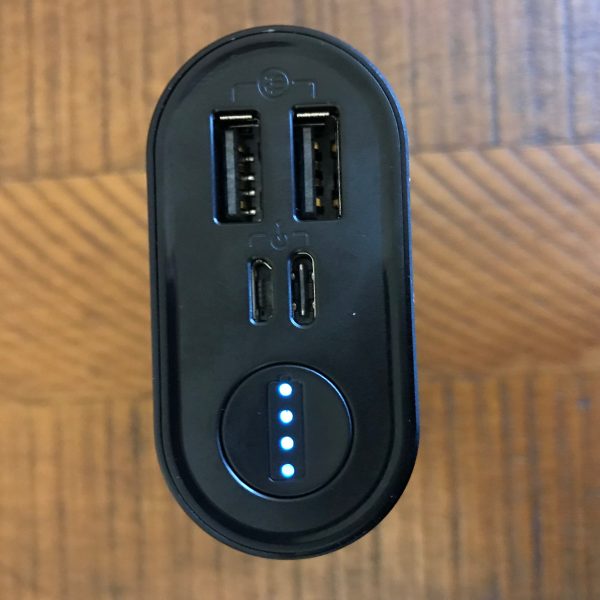 I was using this for the first time in the field on a flight with some coworkers.  I hadn't planned on talking about it or asking my colleagues if they had an external power bank but as soon as we took our seats, 3 of the 5 people traveling with me had taken out their own batteries and were charging their devices.  This began a show and tell session that led to everyone explaining why theirs was the best, even though nobody knew anything about the other batteries.  This is what you come to expect when you work in an industry with a lot of alpha personalities and everyone, including myself, thinks that we are all electronics gurus despite our need to call IT in a panic whenever the slightest thing goes wrong with anything that has a power button.  After a brief show and tell I realized that not every power bank has 2 outputs and charge in 4 hours.  Without even trying, one person used his in-flight WiFi to head to Amazon to pick up a Longuard so it was waiting for him when he got home.
One of the things that amazed me was how the price of these power banks have come down from what I remember.  With a price of $23.99, this is an absolute no-brainer for me to recommend for people looking for a power bank that is reliable, versatile (2 power outputs) and small enough to bring with you anywhere.  If you plan on being away from a power outlet for an extended period of time, you will likely need something more than 10000 mAh.  For those times where you just need to get you through a day or two or have a backup in case you forgot to charge your device, the Longuard will not disappoint.
Source: The sample for this review was provided by ROMOSS.  For more information or to purchase please visit their website or ROMOSS.  For more information or to purchase please visit their website or Amazon.
Product Information
| | |
| --- | --- |
| Price: | $23.99 |
| Manufacturer: | ROMOSS |
| Retailer: | Amazon |
| Pros: | Very affordable at $23.99 on Amazon; 2 power outputs; quick charging; long battery life (1000+ charge cycles); protects your devices from overcharging or other kinds of damage. |
| Cons: | I honestly don't have any criticism of this power bank. Should I come up with anything after more use I will provide an update. |