We use affiliate links. If you buy something through the links on this page, we may earn a commission at no cost to you. Learn more.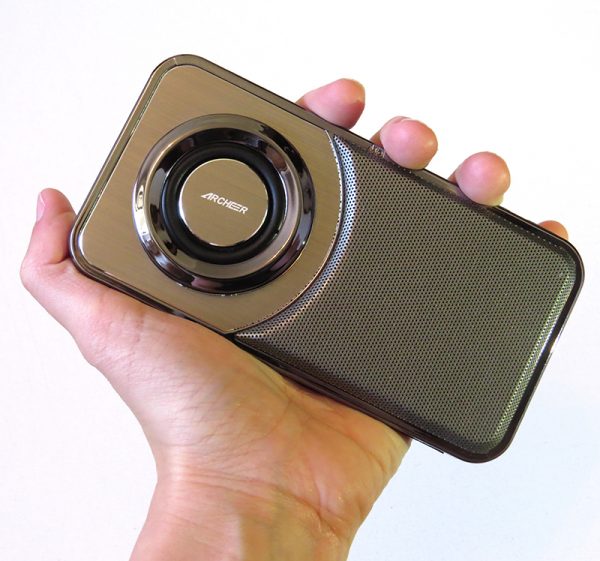 I have always been a fan of cheap, useful gadgets. Sure, there are Bluetooth speakers on the market that are worth hundreds of dollars, but what about for those who are on a budget? Archeer came out with their A110 slim, portable Bluetooth speaker which has quite a low price for what it offers. Curiously, I had to try it out.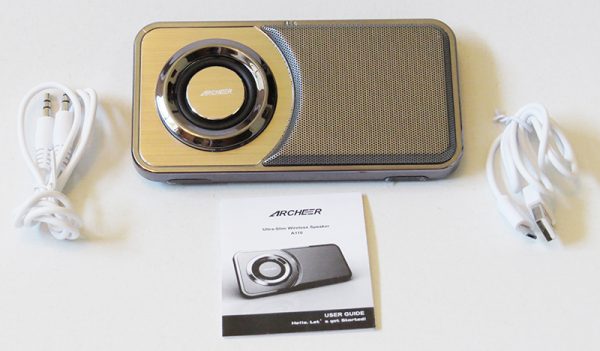 Inside of the box you'll find:
– A110 speaker
– Micro-USB charging cable
– Auxiliary cable
– Instruction Manual

There are more features to this little speaker than just playing music via Bluetooth. It comes with Bluetooth, an FM radio, TF (microSD) card slot for playback and recording, and an auxiliary port.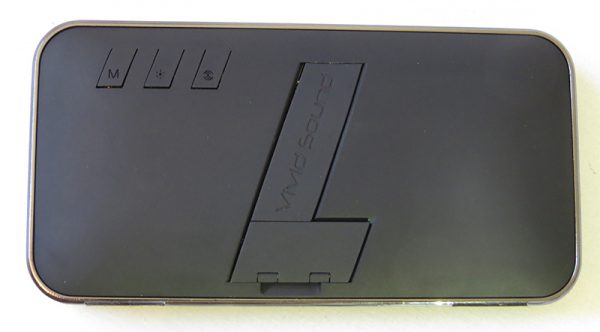 Of course, the FM radio I had to try out first. To do so, you press the 'M' button on the back of the speaker until you reach the FM mode. I like to jump into things without reading instructions, so of course, I did that at first. I could not get a signal for the life of me. Well, I pressed the play button (via the instruction manual) and it found several signals that it saved to memory. Not only that, the FM broadcasts that were auto-saved came in pretty darn clear, and I could scroll through them easily with the volume buttons.

The volume buttons actually are volume and forward/backward buttons. Holding down the up or down button will change the volume, while a single tap will change your track or radio station. It might take a few tries to get used to how long to press it for the volume.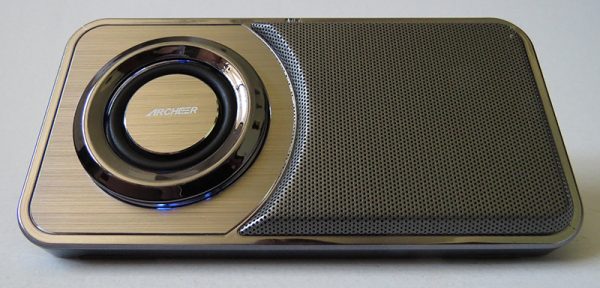 Pairing the Bluetooth was very simple. I pressed the pairing button on the back of the speaker and it showed up on my device right away and each time I turned on the speaker, it paired quickly to my phone. It will verbally tell you it is paired as well. Pressing play would automatically start whatever was last playing on my phone which was nice since after the initial pairing, I technically didn't even need to pick up and use my phone to listen to music.
The middle button on the backside of the unit is for the lighting. Holding down the button will turn on or off the lighting, and pressing the button again will cycle through three lighting schemes; solid blue, multiple colors fading into each other, and one that goes along to your music. It doesn't really go along to the music, but it makes it look like it is.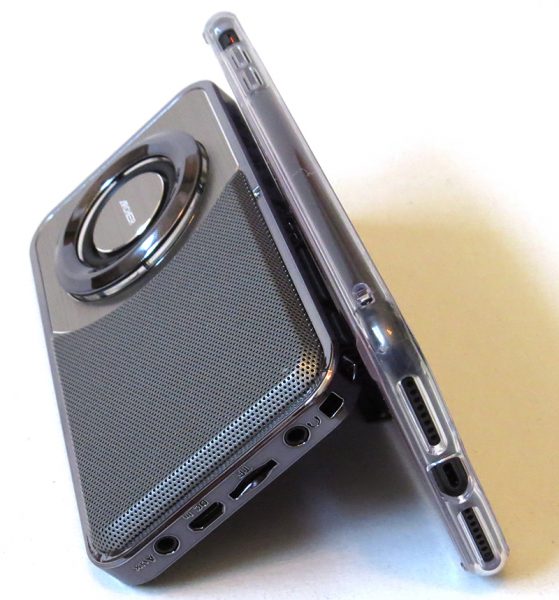 There is a stand on the back of the speaker to keep the speaker upright but also can double as a phone stand. I thought this was pretty nifty and it worked well to hold the phone. On tabletops, the vibrations from the speaker would make the unit move around, so I had to be extra careful not to let it fall off of an edge. There are rubbery feet on the bottom to prevent it from moving, but they are too far forward when it is angled on the stand, so they do not work.
It is supposed to have a six-hour battery life, and it seems pretty accurate to what is advertised. It will not turn off automatically when it does not detect music, so make sure to turn it off when you are finished. I left it on all day with the lights on accidentally and it still had about a quarter of its battery life left. Charging didn't take too long either. I plugged it in around lunch time and it was done before my evening meal.
The sound quality of this little thing was surprisingly good. It isn't going to blow the room away, but for a small room, or something to throw in your pocket and walk around with, it worked pretty well. There is a little bass that comes through, and the mid and high tones are pretty clear. Pop songs without the booming bass, along with classic rock music sounded the best on this speaker. All and all, for how cheap the speaker is, the audio quality was really good.
Overall, for the price of this little thing, I was very happy. If you are looking for something that will blow you out of the water with amazing sound quality and bass, you might want to look somewhere else, but if you are looking for a decent, portable Bluetooth speaker that is easy on the pocketbook, the Archeer A110 Bluetooth speaker might be worth a try.
Source: The sample for this review was provided by Archeer. Please visit their site for more info and Amazon to order.