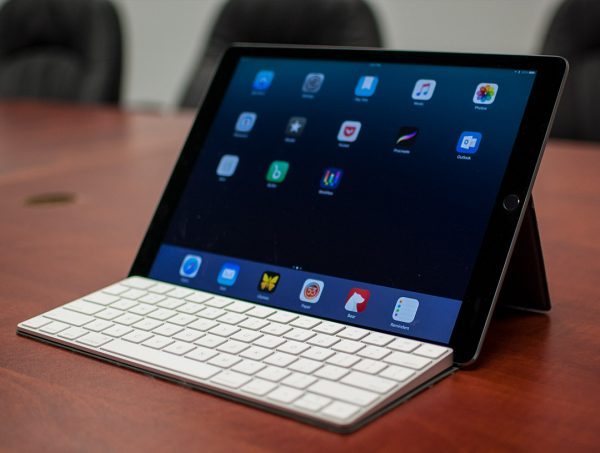 When I moved to the larger screen of the 12.9″ iPad Pro several months ago, I did so with the full intention of using it as my primary computer. For me, that meant at least trying to embrace the iPad in its purest form by using its software keyboard exclusively.
But as a long-time touch typist, coupled with the amount of writing I was doing on the new device, it didn't take long for me to look into a physical keyboard. As if on cue, a new product arrived for preorder on Studio Neat's website that caught my eye, the Canopy Keyboard Cover.
What is it?
The Studio Neat Canopy is a case made specifically for the Apple Magic Keyboard. The outside of the case is a rigid, synthetic canvas that easily slips into a bag and has a nice look and texture. The inside keyboard-facing panels are lined with microfiber, save for the adhesive area that holds the keyboard in place.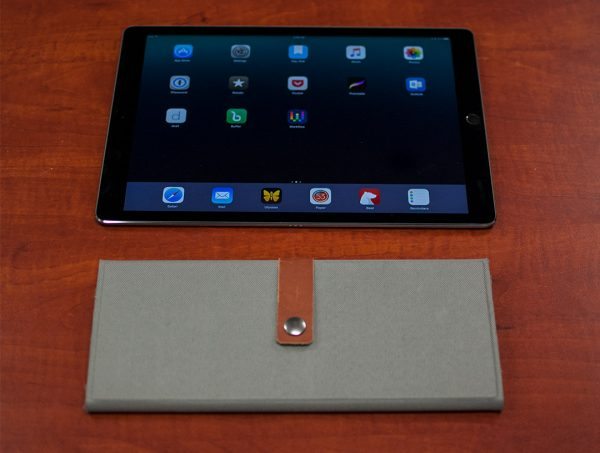 When closed and snapped shut the 6 oz. case is negligibly larger than the Magic Keyboard itself and provides adequate protection for tossing it into a bag without worry.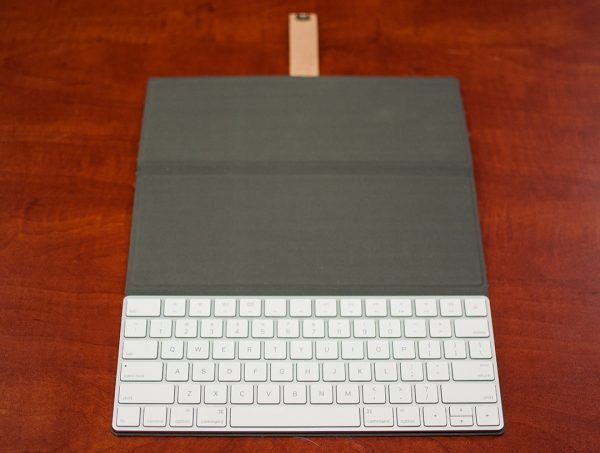 A quick snap and bit of folding creates a tent with the iPad nestled in between the edge of the keyboard and the angled panel.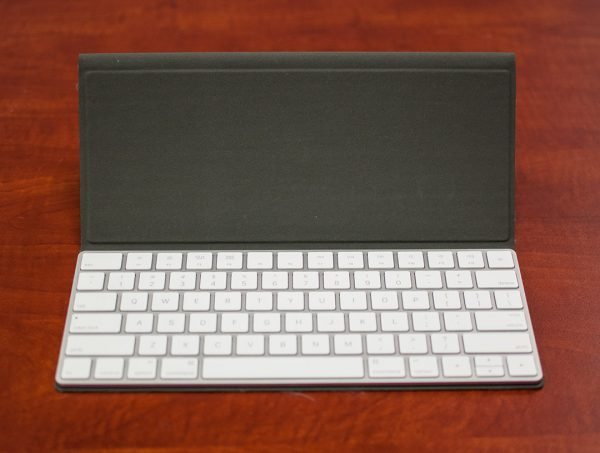 The leather strap and snap are sturdy enough to support the weight of an iPad Pro without coming loose. So naturally, any other tablet or phone that could pair with a Bluetooth keyboard would work just fine. Obviously, since it only fits Apple's keyboard, an Apple device would make the best use of that pairing.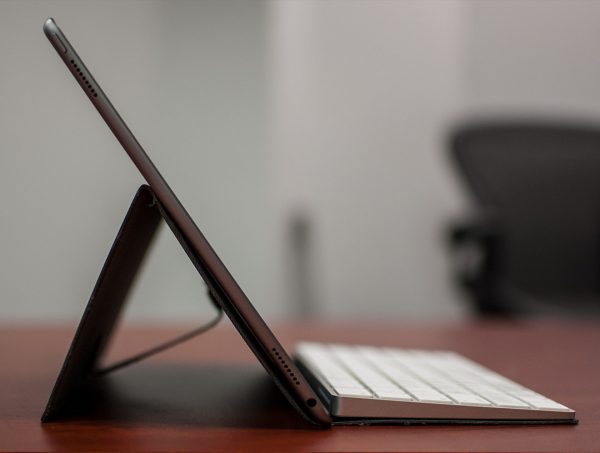 At its most unfolded state, the screen is angled at about where you'd want a laptop's screen to be. You can adjust it to a bit less of an incline, but in use on a slick surface, the weight of the tablet tends to push it back to where the leather strap extends the furthest.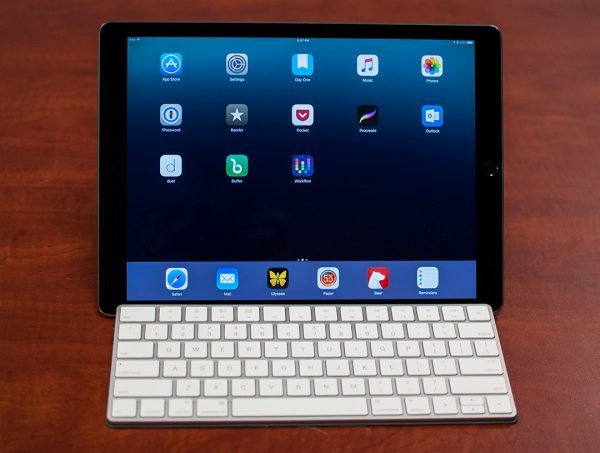 I've been using the Canopy for about a month now and it's been very nice. I get to use the keyboard that I'm comfortable and familiar with and I don't have to feel like I'm throwing money away on a proprietary keyboard case made specifically for this iteration of iPad. Even if Apple doesn't change the size of their tablet in the near future, one always runs the risk of accessory obsolescence on the next upgrade cycle.
One minor annoyance I've run into is forgetting to turn off the Magic Keyboard before folding up the case. Doing so not only disables the iPad's software keyboard if you're still within Bluetooth range, but the slightest pressure on the case activates several keys, turning on the iPad display. More than once I've had to completely unfold the Canopy simply to turn off the keyboard.
Also, I'm not sure this is an issue given the toughness of the iPad's screen, but the edge of the keyboard and the bottom of the bezel comes in direct contact while in use.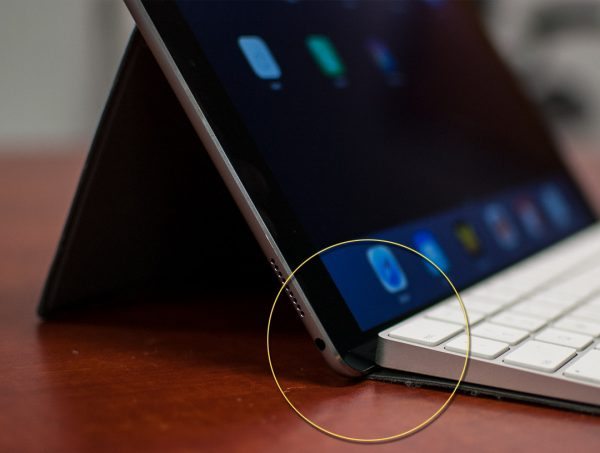 It shouldn't really rub very much or make any scratches in the glass, but it could be a cause for concern.
So who is it for?
I feel like this is ultimately a product for a relatively small demographic. Those who are looking for an iPad stand and also happen to have a spare Magic Keyboard laying around would be well suited to give this case a hard look. That said, I imagine dropping $40 on the Canopy in addition to a new Magic Keyboard ($99 on Apple's website) would open the door to several other options. Even Apple's own iPad Pro Smart Keyboard is comparable to the combined cost, and even less in the 9.7″ version.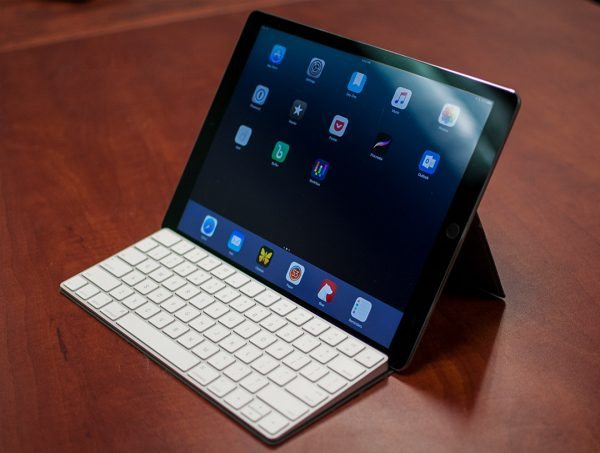 In writing this, it was exceedingly difficult to make the review all about the case itself and less about the Magic Keyboard, but it goes without saying that if you aren't a fan of Apple's diminutive keyboard, this product is definitely not for you.
As for me, Apple's keyboard is perfect. I've been using one for years both at home and at work. It works wonderfully with the iPad, and the Canopy is an elegant solution to always having my favorite keyboard with me.
Like!
Use a full-size keyboard that you're already used to
Accommodate any size of current (and future!) iPad
The case is no larger than the keyboard itself
Sturdy enough to use sitting on a lap
Meh…
You'd better like the Apple Magic Keyboard
Might be a little pricey for what it does
Source: The product written about in this review was provided by me with my own funds. Please visit Studio Neat for more info and to order.
Support The Gadgeteer
:
We may earn a small affiliate commission from purchases made from buying through links on our site. As an Amazon Associate I earn from qualifying purchases. Learn more.
Product Information
Price:
$40
Manufacturer:
Studio Neat
Requirements:
Pros:

Use a full-size keyboard that you're already used to
Accommodate any size of current (and future!) iPad
The case is no larger than the keyboard itself
Sturdy enough to use sitting on a lap

Cons:

You'd better like the Apple Magic Keyboard
Might be a little pricey for what it does