We use affiliate links. If you buy something through the links on this page, we may earn a commission at no cost to you. Learn more.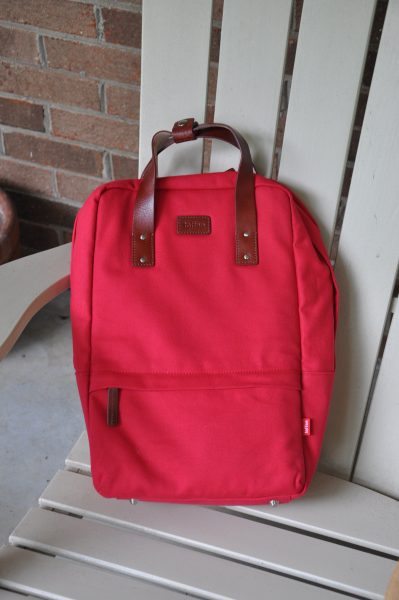 Carrying things around has certainly changed in the last few years. Knapsacks used to be for school books or camping equipment. People in the work world carried briefcases. Then, suddenly, laptops happened, and slowly, the knapsack/backpack became ubiquitous. I've carried them off and on for years, for work and for pleasure. Toffee (spelled with reversed "e"s, as one does) has released a new model called the Centennial Backpack. I've stopped carrying backpacks since I tend to over pack, but I thought I'd give this one a go for the sake of our readers. I was sent a red version for testing (it also comes in Navy and a greenish grey) and was pleased by the layout and balance it has. Let's look further.
Note: Photos may be tapped or clicked for a larger image.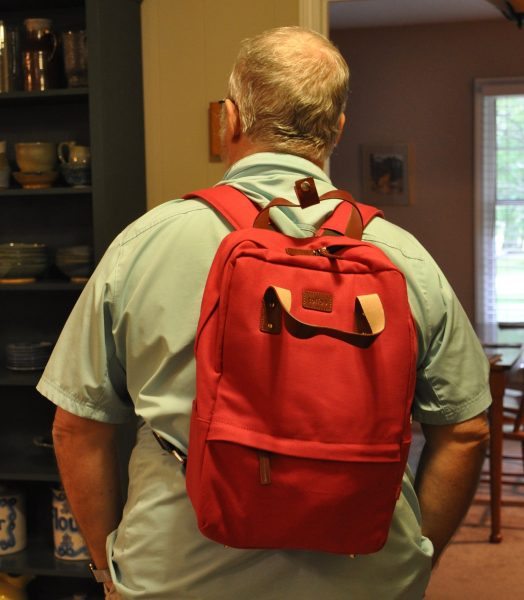 I have been a fan of shoulder bags for a decade or so, due to my tendency to pack backpacks so full that they almost pop, and they pull at my shoulders from the weight. My last one was for my 15″ MacBookPro, a ThinkPad, extra hard drives, umbrella, and enough other stuff for an armed assault on any airport I happened to get deposited in. The Centennial, by contrast, is designed for 13″ laptops, and skinny ones at that.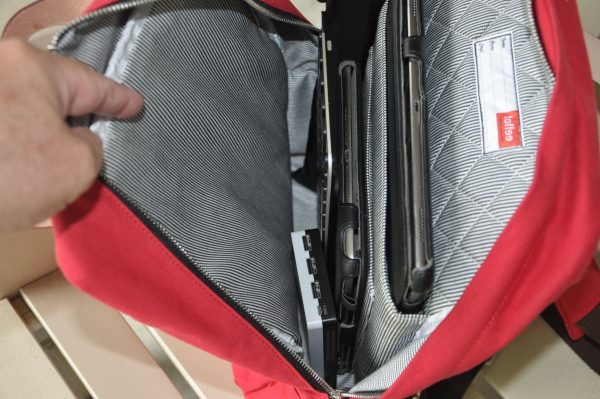 The laptop compartment is against the back of the pack, where it can both be protected, and be closer to the wearer's center of gravity. In front of the padded laptop sleeve, there is a slash pocket (very little depth) that will hold a standard iPad/iPad Air with no cover or just the minimalist Smart Cover.
If you put your iPad into the larger 14″ x 9.5″ x 5.5″ pocket (which I have to, since mine has a thicker case on it), be careful, because the bottom of the bag is only lightly padded, if at all. (You can see the bottom in the pic below.)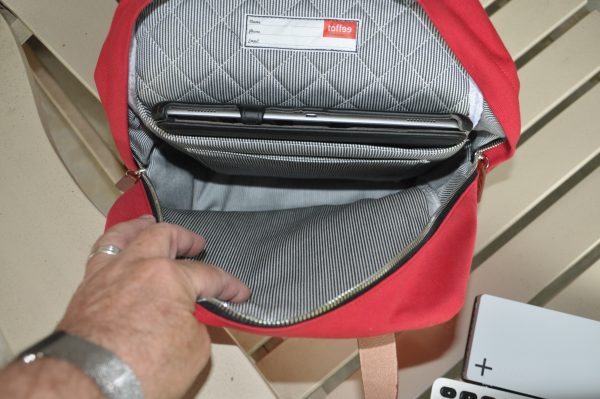 There is quite a bit of room inside that larger pocket, and there's an outer zippered pocket on the outer lower back that measures 10″ x 4.5″.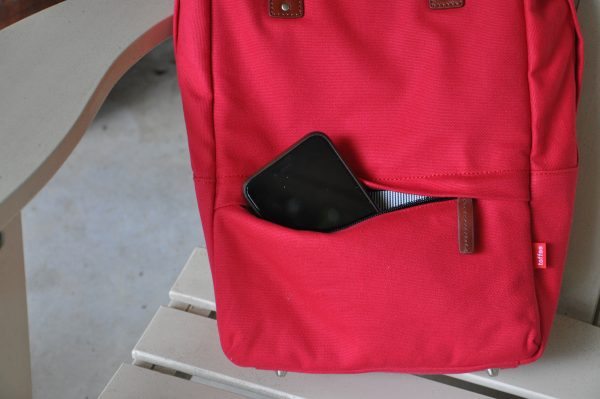 It's not really a slash pocket, since it shares the area of the larger interior pocket. It holds throat lozenges, phones, glasses, chargers, cables, and airline tickets with ease. There are four chrome feet on the bottom, (two are visible in the photo above) but the bag has no stiffeners, so it doesn't really stay upright on its own, once you've got a few things in it.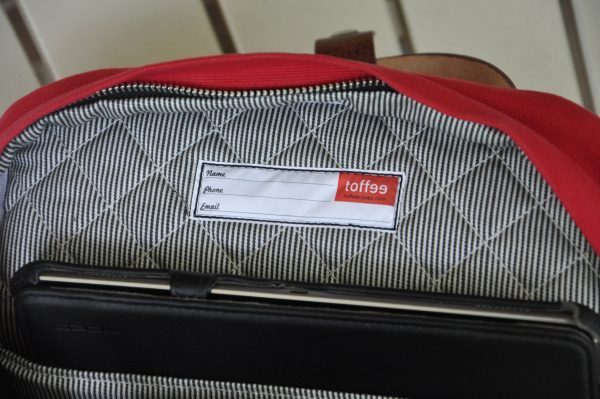 The zippers are aluminum-toothed YKK with leather pull-tabs on the sliders. The light metal and the lack of stiffness in the bag material makes the zippers a bit tough to operate.
A typical load for me with this bag is my iPad Pro 12.9″, my Roost Laptop stand (which I use for the Pro), my trusty Logitech K811 keyboard, sunglasses, cable and charger, and other small things as needed. I can also fit my iPad Air 2 in, if I need to. If the full bottom was padded, I'd probably do this every time I need to carry both devices. As it is, I'm a little leery of forgetting I can't just drop the Air into that large pocket, so I use a different bag.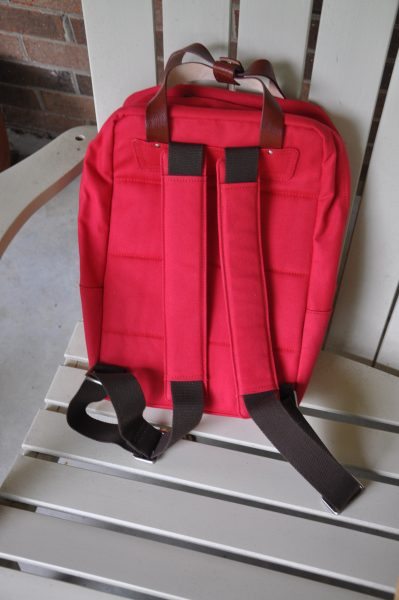 The 1.5″ wide webbing straps are adjustable but fully sewn on. They are covered with sliding pads of the same materials used on the backing area – canvas duck and what feels like about a quarter-inch of semi-closed-cell foam. Not exactly the cushiest padding for a strap or against your back, but it gets the job done. Wearing this pack for a long summer bike/walk commute might be a sweaty affair, since there's little ventilation.
In use, both my wife (who co-opted the pack on first sight for a day) and I noticed that the zippers are a little tough to open or close with one hand. This makes the whole bag irritating to search through, even though there are only two pockets. There's no slipping one arm out and slinging it around to the front, because you need both hands to open the zipper and then close it back. Plus, with one large, cavernous pocket, things tend to get lost, unless you use some sort of content management system (think Cocoon's Grid-it or Tom Bihn's Freudian Slip) to keep things from just being in a jumble at the bottom. And, while the nice leather haul loops do their job well, when you snap them together, they are another two-handed task to perform before you can retrieve your laptop or iPad.
I'm still using it, but the zipper issue is wearing away at my enjoyment of it. I tend to have my bag in my car on the passenger seat, and am constantly grabbing stuff out of it blindly, with one hand. If I have to take that other hand off the wheel just to open the zipper…. well, it's not safe. The zippers are aluminum-toothed YKK with leather pull-tabs on the sliders. The light metal and the lack of stiffness in the bag material makes the zippers a bit tough to operate.
With the thinness of the material, I don't think this bag will last for long-term use. At $150, I think it's more fashion statement than practical Gadgeteer-worthy functionality.
Source: The sample for this review was provided by Toffee Cases. Please visit their site for more info and Amazon to order.

Product Information
Price:
$150
Manufacturer:
Toffee
Retailer:
Amazon
Requirements:

Things to carry that aren't larger than a 13" laptop

Pros:

Nicely padded laptop sleeve.
Protected iPad sleeve.
Not too big, but can hold larger items well.

Cons:

Zippers are futzy.
No padding on bottom of case.
Tablet sleeve is very tight.
Pricey, considering materials.