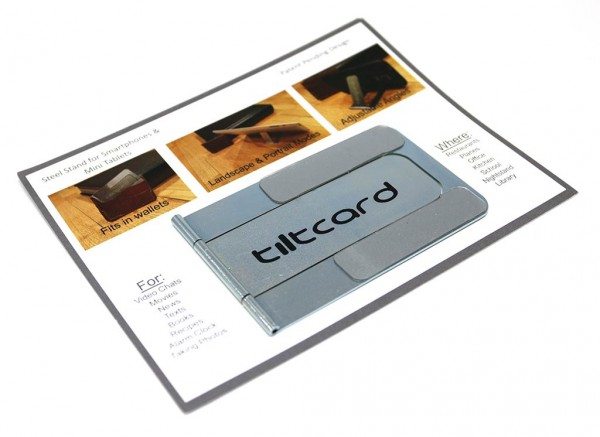 Have you ever found yourself needing to view your mobile device hands-free? Maybe you're at a coffee shop enjoying a cup of joe and a scone, but also want to watch a video while you're eating and drinking. The Tiltcard is a credit card sized steel stand that props up your smartphone or small tablet so you don't have to use your hands. Let's check it out.
Note: Images can be clicked to view a larger size.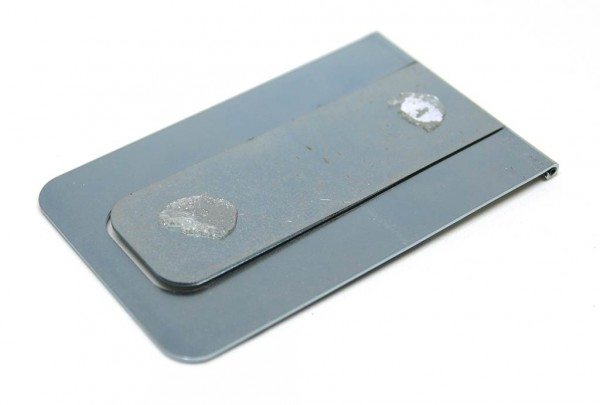 The Tiltcard packaging is very minimal. It comes attached to a post card sized card that includes usage instructions. Pulling the stand off the card results in two blobs of adhesive stuck to the back of the stand that takes a few minutes to remove.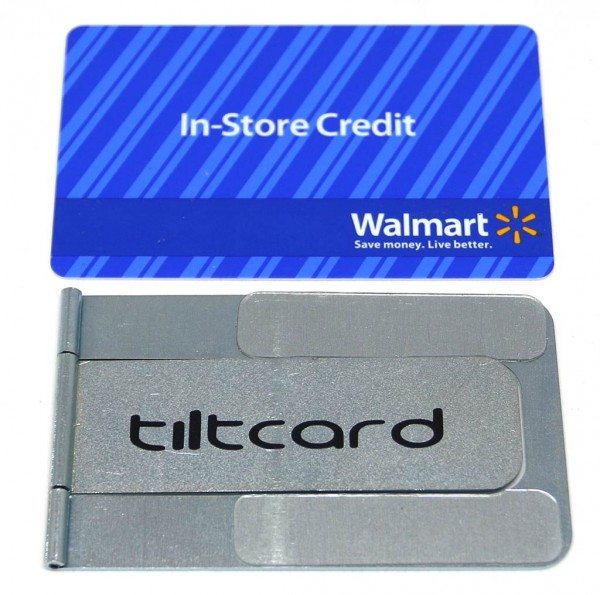 The Tiltcard is almost exactly the same size and thickness as a standard plastic credit card. The only part of the Tiltcard that is thicker than a credit card is the hinge area. That said, the Tiltcard should fit fine in any wallet card slot. I tried it on a couple of my own wallets and had no issues.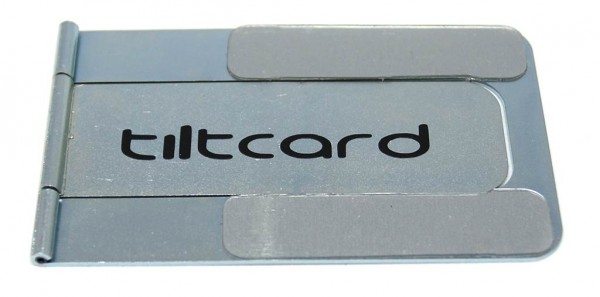 The Tiltcard is made of steel and comes in either silver or black with your choice of a black, red or silver logo. As you can see, I was sent the silver version of the stand with a black logo. The logo is a sticker with individual letters, so it can be removed if you desire.
The stand has two thin rubber-like pads that are used to hold the edge of the mobile device. A hinge on one side allows the center of the Tiltcard to pivot up to create the stand.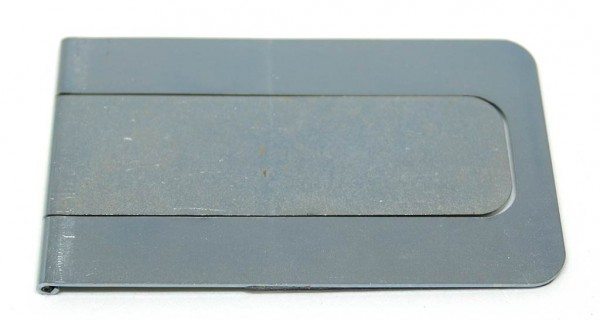 There's nothing on bottom of the stand which surprised me a little. I think it would benefit from two more strips of rubber for skid protection.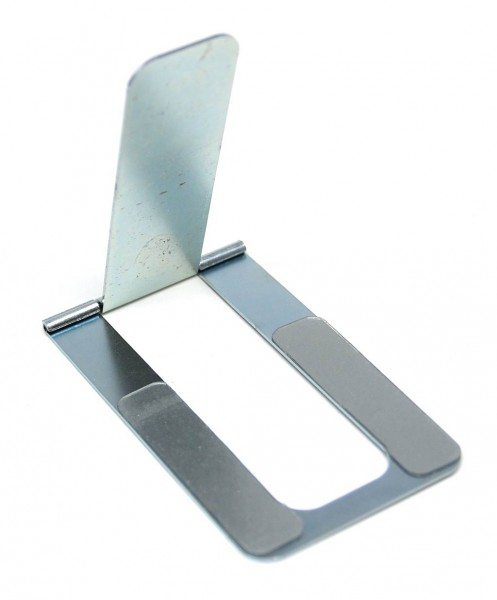 To use the Tiltcard, lift the center section, which can rotate 180 degrees.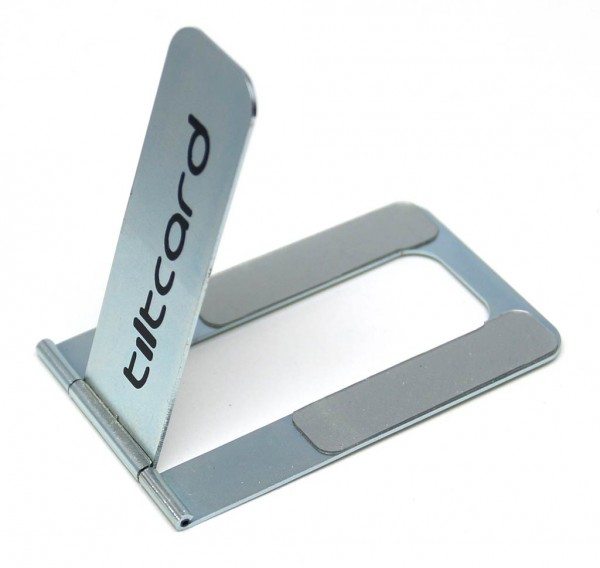 The farther you open the prop, the flatter the viewing angle of the mobile device.
Here we see that I'm using my Nexus 6P smartphone with the Tiltcard. The rubber strips on the bottom of the stand prevent the phone from sliding.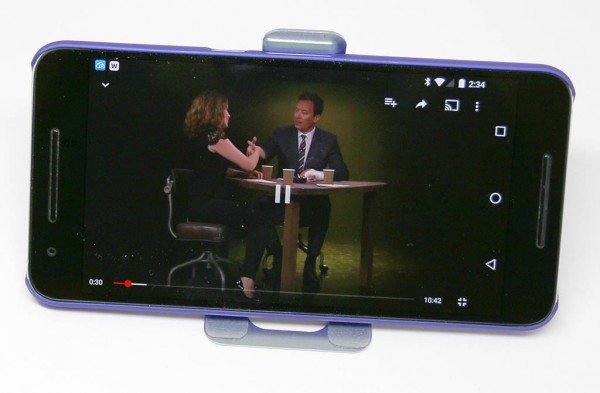 I tested the phone with the Tiltcard in portrait and landscape orientations.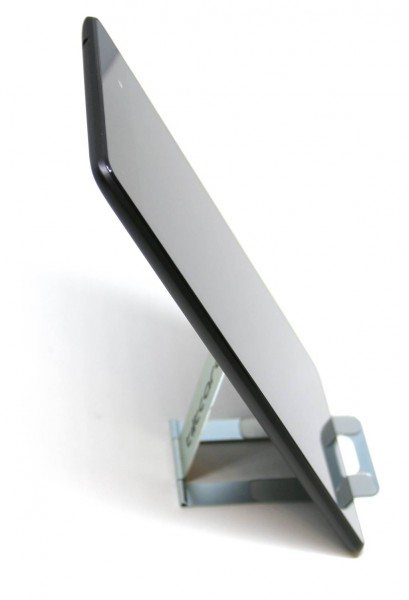 The Tiltcard can also be used with small tablets like the Nexus 7. It will even work with larger tablets if you use two Tiltcards side by side.
When you're done using the Tiltcard, you just fold the center section back place, store the card in your wallet and you're good to go.
Here's a video showing it in use:
The Tiltcard is a simple product that performs its intended task. As long as you don't try to use it with a overly large device, it is a small but sturdy stand that will let you go hands free.
Source: The sample for this review was provided by Tiltcard. Please visit their site for more info.
Product Information
Price:
$8
Manufacturer:
Tiltcard
Pros:

Simple
Portable
Customizable viewing angle
Inexpensive

Cons: