We use affiliate links. If you buy something through the links on this page, we may earn a commission at no cost to you. Learn more.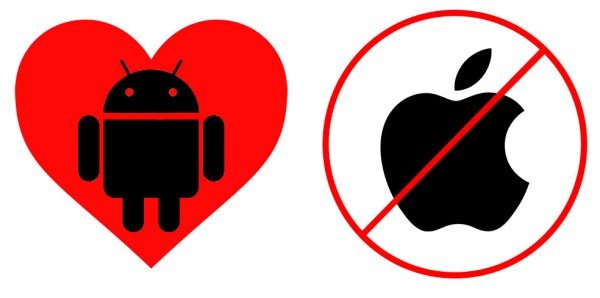 Yesterday I posted an article titled: 5 reasons why I think Apple devices are better than Android devices. Today I'm going to take the opposite view and argue with myself by listing the top 5 reasons why I think Android devices are better than Apple devices. Since I'm a bigger Android fan than Apple fan at the moment, these reasons probably won't shock anyone, but let's take a look.
1. There are more choices of Android devices than Apple devices. Whether you're shopping for a smartphone or a tablet, there are almost an infinite number of devices to choose from vs. the small number of devices that Apple offers. Android devices come in many shapes and sizes, with features that range from microSD card slots, replaceable batteries, heart rate sensors, built-in styluses, fingerprint sensors, gaming controls, wireless charging, IR blasters and more. With Apple you get the same set of features on all their devices, with screen size and storage capacity being the only main differences. If you don't like having the same device as everyone else, Android has you covered. There are even some companies like Motorola and their Moto X that allow you to customize your device by choosing the color of the front, back and buttons. Android reminds me of the PC market place and Apple reminds me of… well… the Mac marketplace.
2. Android gives you more options to customize the user interface. This might not be a big deal for everyone, but it's one of the main reasons why I love Android so much. I can tweak the look and feel as much or as little as I like. Some phones have special skins over the OS that have been added by the manufacturer like HTC's Sense interface and Samsung's Touchwiz. If you don't like those skins, you can install a variety of launchers that allow you to completely customize the interface down to the way the icons look. Hardcore tweakers can go even further and install 3rd party ROMs that add (and remove) all sorts of operating system features. With Apple you can't even rearrange the home screen icons the way you want to or put widgets on the home screen.
3. Android allows for full use of NFC. NFC stands for Near Field Communication. It's a feature that has been available on Android devices for years, but has only just recently been added to the iPhone. Problem is that the only NFC use approved for the iPhone is to easily pair devices like Bluetooth speakers for Apple Pay. This is really minimizing all the cool stuff that NFC allows you to do like programming tags that perform an action when you tap your phone over them. Here are a few examples:
Control your smartphone with NFC tags
NFC Ring review
This is just another way that Android is more fun for geeks than an iPhone.
4. Android allows for USB OTG. OTG stands for On-The-Go. This feature allows you to connect standard USB keyboards, flash drives, mice, USB hubs, etc. to your Android device. It effectively can turn your Android smartphone or tablet into a tiny computer. Check out these examples:
Brando MicroUSB OTG 3-Port Hub with Smartphone Stand review
Fun with USB On-The-Go gadgets from Brando
Never miss one of our posts again. Sent MON, WED, and FRI with the latest gadget reviews and news!
I've used OTG to connect a keyboard and mouse to my Nexus 7 tablet to enable me to use it as a terminal to remote into the Gadgeteer's web server. It works great and is pretty cool when you plug a mouse into your tablet or smartphone and suddenly have a movable pointer on the screen like a regular computer.
Not OTG, but I have a better solution that allows me to quickly use my existing keyboard and mouse with my Android devices without plugging them into the device… at least not physically:
IOGEAR KeyShair Bluetooth Keyboard/Mouse sharing adapter review
FYI, the Keyshair will work with iOS devices too, but you'll only get the keyboard feature. The mouse feature only works if the device is jailbroken.
5. Android reminds me of the early days of Palm Pilot and other PDAs. Back in those days there were people doing things never done before. Bending these small devices to their will. Hackers and tinkerers like devices that are more open. Android is like that too. When I got tired of paying for Sirius XM radio because the content sucked, I figured out a cool way to do everything I wanted just using my phone. Two guys I work with went even farther than that and created car computers out of Nexus 7 tablets:
Julie's gadget diary – Nexus 7 powered car mods
Julie's gadget diary – How I set up handsfree media control in my MINI Cooper
Then there was the time I decided to turn my Nexus 7 into a pseudo laptop for a trip:
Julie's gadget diary – Back from vacation, how did the Nexus 7 work out as my laptop replacement?
It's funny though, that last experience didn't turn out the way I had dreamed and I even said in the article that I would never try to turn the Nexus 7 into a laptop replacement again. But since then I've thought about giving it another go because it's fun to figure out ways to extend the use of my devices. Yes, you can do some of the same things with iOS devices, I'm not going to say that you can't. But I think it is easier to push an Android device to its limits than it is an Apple device.
In the end I would be ok using an iOS or Android device. I'm just happier using Android – at least for now.
Why do you like Android better than iOS / Apple? Leave your comments below and play nice!