We use affiliate links. If you buy something through the links on this page, we may earn a commission at no cost to you. Learn more.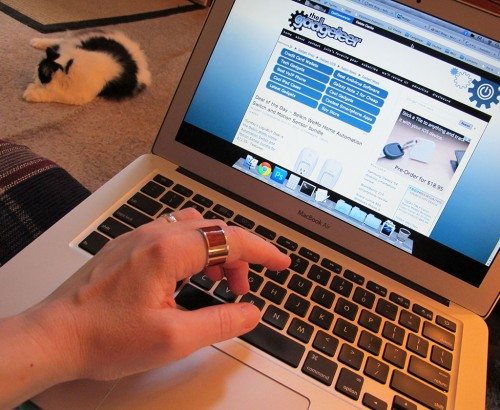 Read my NFC Ring review for the 2016 version.
NFC stands for Near Field Communication, and although this technology has been around for awhile, it's only just now starting to show up in gadgets like newer Android smartphones, tablets, Blackberry, Windows phones and portable speakers. By programming small stickers or key fobs, you can automate often performed tasks just by tapping the tag with an NFC enabled device. Now you can even wear an NFC tag on your finger. The NFC Ring is a new UK based Kickstarter project from John McLear of Etherpad and Matt Mullenweg, creator of the WordPress blogging platform. The project is seeking £30,000 of funding and will end on 8/19/13. They sent me a prototype ring a few weeks ago to try out. Let's take a look.
Note: Images can be clicked to view a larger size.
I was sent a prototype of the larger sized Alpha ring, so the images that you see in this review may or may not represent what the final production rings will look like.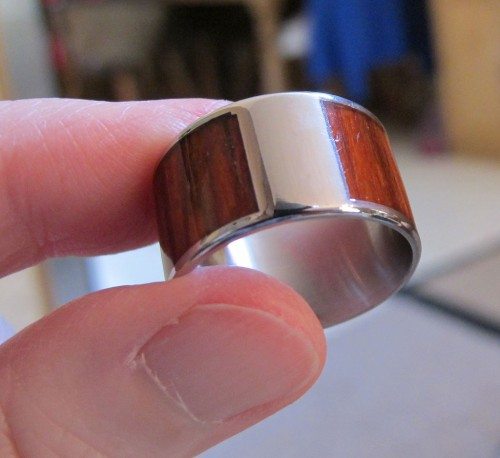 The rings are made of steel (Titanium versions will be considered as a stretch goal for the project) and have 2 separate inlays with a NTAG203 chip sealed in the band with a decorative cover over each tag. The cover (like the wood style you see above) designs have not yet been determined, but will be decided by a  community vote. Note: the ring is water resistant, but tests haven't been finalized to say if they are fully waterproof.
There will be two versions of the NFC ring. The Alpha version, which is for people with larger hands/fingers, has a 12mm wide band. The regular sized ring has an 8mm wide band. Both rings com in sizes 7-15.
The idea is that you'll program one inlay/side of the ring for public info and the other side for private. The public inlay has a length of 30mm and the private inlay is 20mm long. Using NFC tag writing apps, you can program the inlays to provide contact info, launch websites, open NFC enabled doors, unlock your smart phone and more. The current incarnation of the NFC Ring app is very basic and can only write tags to launch a website or provide contact info for Twitter, Facebook, Youtube and Etherpad. But, you can use apps like NFC Task Launcher and others to do much much more.
The NFC Ring is worn with the public inlay on top facing away the back of your hand so that when you make a fist and bump it to the back of someone's phone, you'll be sharing non-private info. To use the private side, you open your hand and touch the back of a phone to send the tag info.
The data written to the tags is not encrypted, but the ring has been designed to not allow an NFC reader to capture your info. The two tags effectively jam a reader by introducing cross talk. For a lot more info on this topic, be sure to read and watch the videos linked in the Kickstarter NFC Ring project page.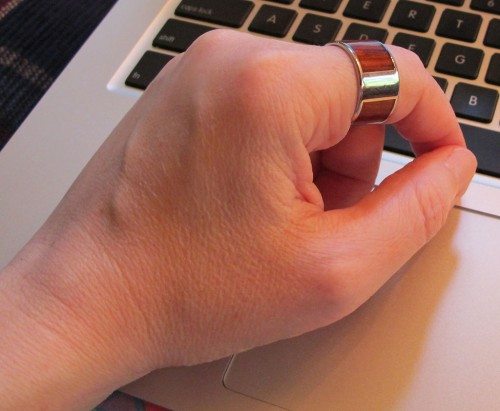 I've been wearing and using the prototype NFC Ring for a couple weeks now and can't wait to get the final version. I tested the ring with a Samsung Galaxy S3 and a Samsung Galaxy Note 2. I found that the NFC Ring worked much better with the Note 2. Talking with John McLear, I learned that there are some limitations with certain phones. Some Samsung, Nexus and Blackberry Z10 devices have the NFC antenna built into their batteries. It's not to say that the rings won't work with those devices, they just don't work consistently… The larger Alpha version of the ring is suggested if you have one of these phones. I figured out that my SGS3 problems could be almost completely resolved if I removed the wireless charging cover and put the original thin plastic cover on the phone.
I used an app called NFCSecure to write an unlock tag to the private inlay so that I wouldn't have to enter a PIN number to unlock my phone. Instead, I just tap the power button to bring up the lock screen, swipe and then hold my palm up to the back of the back of the phone to unlock it. I'm looking forward to someday being able to unlock by just tapping the back of the phone. For the public side, I programmed the inlay to open https://the-gadgeteer.com in a browser.
If you're interested in buying an NFC Ring, a minimum pledge of £22 will net you a standard ring and £25 will reserve an Alpha ring. Shipping dates are estimated for September. Chances look good for full funding as the project started yesterday (7/20/13) and they are already nearly halfway to their £30,000 funding goal. I put my pledge in for one 🙂
So what types of things would you use an NFC Ring for?
Read my NFC Ring review for the 2016 version.
Product Information
Price:
£22 - £300 (approximately $35 - $458 US)
Manufacturer:
NFC Ring
Retailer:
Kickstarter
Requirements:
Pros:

Completely wireless and battery free
2 tags, one for public and one for private
Reprogrammable

Cons:

Standard sized ring may not work well with some phones depending on the location of the NFC receiver