We use affiliate links. If you buy something through the links on this page, we may earn a commission at no cost to you. Learn more.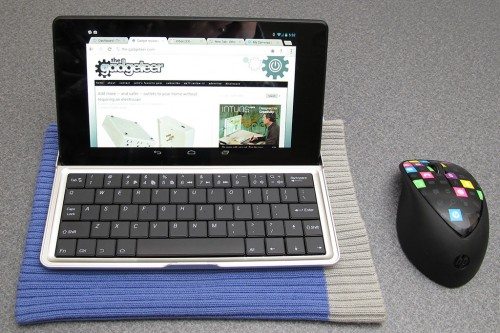 Last week I was down on Sanibel Island, Florida for vacation. I had the bright idea that I would leave my 13″ Macbook Air at home and use my shiny new Nexus 7 (2013) Android LTE tablet as a laptop replacement. For those of you who are regulars here, you may remember a similar scenario three years ago where the destination was also Sanibel Island and the idea at that time was to use an iPad as my laptop. The experiment wasn't too successful back then, but I had high hopes that the Nexus would have a completely different result. Did it? Keep reading to find out.
The original idea was to leave the laptop at home so I wouldn't be tempted to do a lot of Gadgeteer work while I was supposed to be relaxing. At first, I was just going to take the Nexus tablet and that's it. But it didn't take any time at all before my gadgeteer brain had shifted into making the tablet into a full fledged laptop. It wasn't hard to make the leap in that direction because I had received 2 Bluetooth keyboards for review not long before the trip. Bluetooth keyboard + Nexus tablet = a pseudo laptop right? Not quite. I needed a mouse too and ended grabbing a really old Bluetake Bluetooth mouse from a drawer the morning we were set to leave. Add in the LG G2 Android smartphone review device that I planned to use as a camera, and I was all set for the trip.
What about a weight comparison? My 13″ Macbook Air with charger weighs in at 3 pounds 6 ounces and the Nexus, Bluetooth keyboard, mouse, charger and a stylus weigh 2 pounds lighter. Nice!
When we got to our destination, I found that we had a great WiFi signal, so I turned off LTE to save my data. At first everything worked out really well. I used the tablet to look up places to eat on the island, used Feedly to read my favorite RSS feeds and caught up with emails that had come in since leaving Indiana. The trouble started one afternoon when Jeanne was down on the beach collecting shells for 9000th time and I had decided to stay in the condo to work on one of the Bluetooth keyboard reviews.
I had the Minisuit Nexus 7 keyboard case and the iwerkz Universal Foldable Bluetooth keyboard and both worked just fine on their own. It's when I also tried to pair the Bluetooth mouse that I started having issues. The Bluetake mouse wouldn't work at all. The Nexus saw it, but it would never pair. I figured it had to be due to its age, so the next day I sweet talked Jeanne into driving back to Fort Myers to the nearest Best Buy so I could buy another Bluetooth mouse. This one didn't have any problems pairing with the Nexus, but using it was jerky and erratic. Grrrrrrr! Not only that, but when both the mouse and a keyboard were paired with the Nexus, the keyboard would have a problem with repeating keys. I became really frustrated and did a little googling only to find that a LOT of people are having these types of issues with the Nexus 7. The problem seems to be an interference between Bluetooth and WiFi. Turning off WiFi solved the problem immediately and allowed both the mouse and keyboard to behave normally. Yay – sorta.
With the mouse and keyboard combo issue solved, I was able to do "real work" now. That means I could use the Chrome browser to login to The Gadgeteer WordPress dashboard and work on reviews, moderate comments etc. It did work pretty well, but the display on the Nexus is obviously smaller than a laptop, so it sometimes (all the time) felt really cramped. I found I was scrolling up and down way more than I do on my Macbook Air.
Getting images that I'd taken with the LG G2 phone into a review wasn't always the easiest either. I have all my Android devices set to automatically sync any photos that I take to my Google+ account. So that means that on all of my Android devices I have access to all the photos. I figured I would be able to upload those photos right into WordPress on The Gadgeteer. No go. I had to download the images to the tablet first and then upload them into WordPress. It was doable, but adding an extra step to something that should be quick and simple tends to annoy me.
When I was using the Nexus to read news feeds, emails, books, watch Hulu, or surf the web, it worked great. It was only when I tried to use it to work on reviews and do Gadgeteer work where it became more difficult than necessary. Although I could make it work, it took too much effort and became frustrating, which isn't something you want to be while on vacation.
In preparation for writing this post, I went back and read the one from 2010 where I tried to turn the iPad into a laptop. At end of that post I wrote:
I still love my iPad for emailing, game playing and web surfing, but I will most likely bring a real laptop with me on my next trip. What started as an experiment to lighten my gear load, ended up causing me to carry more items (iPad, mouse, keyboard) and have more frustration than if I would have just brought my Macbook Pro with me in the first place. Live and learn.
I obviously didn't live and learn after that experience, but it finally sunk in this time. Really. No more trying to turn a device into something it isn't. I learned my lesson – finally. 🙂
On the way to the airport for our return flight, we stopped at an Apple store so I could see what the 11″ Macbook Air would be like compared to my 13″ version. My current MBA is 3yrs old now, so I'm considering updating it before the end of the year. I think I'll probably stick with the 13″ because the size has been perfect for me, but I keep thinking about the smaller one, but since this would be my one and only computer that I use for everything, I'm leery of  going smaller. Has anyone downsized and regretted it?