We use affiliate links. If you buy something through the links on this page, we may earn a commission at no cost to you. Learn more.
Product Requirements:
Device:
Windows XP,2000,ME,98SE
Mac OS X 10.2.6 or higher
After reviewing the

Logitech MX1000 Laser Cordless mouse about 8 months ago, I happily
retired my run of the mill wired mouse to a drawer. I really love the MX1000,
but I'm not so enamored that I won't try something new when it comes along.
You never know when something better might be lurking out there. So, when
Bluetake asked if I would like to review
their BT510, I said sure! Having reviewed their

BT500 mouse, I was anxious to see if any of my criticisms would still hold
true with this new model.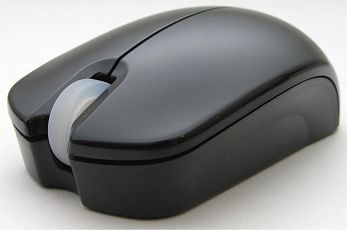 Hardware Specs
Bluetooth Class 2, up to 10 meters
Carrier Frequency: 2.402~2.480GHz
Data Rate: up to 723 Kbps
Spread Spectrum: FHSS (Frequency Hopping Spread Spectrum)
Antenna: Internal antenna
Bluetooth Profile Supported: Human Interface Device Profile (HID)
Power: Power DV 3V (AAA Battery x2 ) or DC 5V (USB DC Input)
Dimensions: 94.1 x 57.6 x 33.2mm
Package Contents
BT510 Bluetooth Mini Mouse
Quick Setup Guide x1
Utility CD
2 AAA Alkaline Batteries
USB spare power cable
Pouch
 
The BT510 is a two button, scroll wheel, 800 dpi optical
mouse. Weighing in at 3 ounces with 2 AAA batteries installed, it is 1
ounce heavier and a bit larger overall than the BT500. It is still smaller than
a standard sized mouse, and definitely smaller than my MX1000. In my opinion,
this puts the BT510 in the travel mouse category. This holds true as most
desktop computers do not have Bluetooth built in, while many notebook computers
do.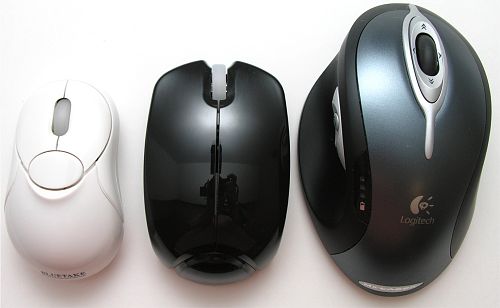 Left to right: BT500, BT510, MX1000
The style of the BT510 is quite a bit different than BT500. According to
Bluetake's site, this mouse has a new fangled design. In my
opinion, it's just more modern looking. Available in black or white, the mouse
is made of shiny plastic with a soft rubber scroll wheel between two buttons
which have definite tactile feedback.
I'm not going to go through all the steps necessary to set up a Bluetooth
adapter on your computer. This review assumes you already have that setup
completed. So,
once that process is out of the way, you need only install the 2 AAA batteries
into the mouse by removing the upper shell. This is done by sliding
the lock on the bottom of the device to the unlock position. The upper shell can
then be removed revealing the battery compartment.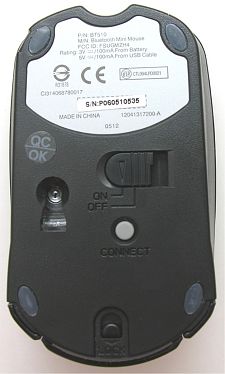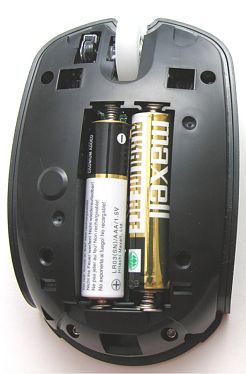 Once the batteries are installed and the upper shell snapped back into place,
you can then slide the power switch to the On position. When powered on, the
optical sensor on the bottom of the mouse glows a bright red. Pressing and
holding the connect button next to the sensor will enable the mouse to pair with
the computer.
After successful pairing, you're on your way to using the mouse. As far as
mice go, this one is smooth to use and I had no problems using it without a
mouse pad. The scroll wheel is very responsive, not sluggish like the previous
model. As far as lag or delays, the only thing I've noticed is that if the
computer has gone into screensaver mode, it will take a few strokes of the mouse
before the computer responds. Otherwise, I've been happy the performance of this
mouse.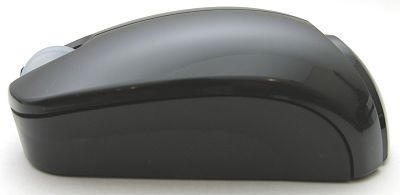 A nifty feature of the BT510, is the ability to switch left and right mouse
buttons. This is done by holding down the scroll button and  either the left or right
button for a few seconds. This is great for lefties.
Unlike my MX1000, the BT510 does not have rechargeable batteries or anyway to
know how much juice is left in the installed batteries. This was my biggest
complaint about the BT500, and continues to be so with the BT510 as well. Bluetake has taken steps to make this issue a
little less important, as they have included a detachable USB cable for powering
the mouse when the batteries are dead. This doesn't mean that you can use the
BT510 as a USB mouse though… The USB cable is only for drawing power, and
nothing else. If you install NiMH cells into the 510, the USB power cable will trickle-charge the cells. Radtech chose to not advertise this fact in the event people would attempt to charge non-rechargeable batteries, which may heat up and swell. So be warned…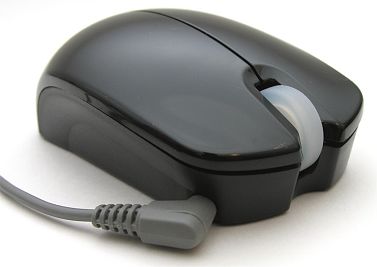 Power issues aside, the BT510 is a nice improvement over the BT500. The bigger size makes it a
little more comfortable to use for extended periods of time, and the addition of
the USB cable ensures that you can use the mouse even after your batteries die.
Sixty dollars may be a lot to pay for a small Bluetooth mouse, but if I were
shopping for one, this one would be at the top of my list.
Price: $59.95
Pros:
Wireless
Ability to use USB cable to power device when batteries are not available
Small size
Cons:
Can't use as a USB mouse
No battery level indicator
Product Information
Price:
59.95
Manufacturer:
Bluetake
Pros:

Wireless
Ability to use USB cable to power device when batteries are not available
Small size

Cons:

Can't use as a USB mouse
No battery level indicator