We use affiliate links. If you buy something through the links on this page, we may earn a commission at no cost to you. Learn more.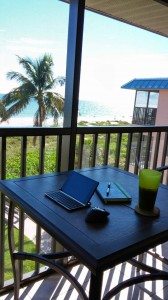 During my vacation planning this year, I decided that I was going to leave my 13in Macbook Air laptop at home and only take my Nexus 7 2013 Android tablet. I figured it was a good way to keep me from wanting to do real work while I was supposed to be relaxing on Sanibel Island, Florida. At least that was my initial intent. But it quickly turned into how can I make the Nexus 7 be my laptop replacement for the trip so that if I do want to work, I can. First order of business was finding a good Bluetooth keyboard. The Minisuit Nexus 7 2013 Keyboard Case was one of the contenders that came  with me on the trip.

Note: Images can be clicked to view a larger size.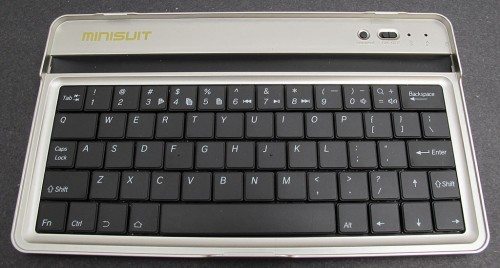 This particular Minisuit keyboard is made specifically for the Nexus 7 2013 and doubles as a protective cover for the Nexus when neither are being used.
It has a silver plastic frame with a black rubber bottom that matches the look and feel of the Nexus, while also keeping the keyboard from sliding around on the table.
The QWERTY keyboard layout includes all the keys that you would normally find on a keyboard and a few special keys like a home key, back button and volume buttons.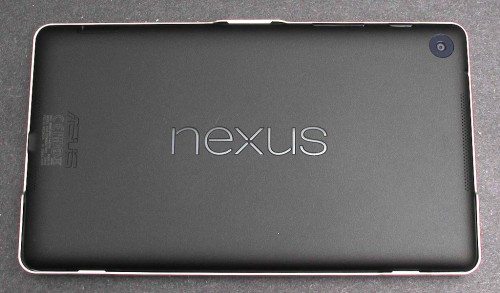 The tablet fits screen side down into the keyboard tray.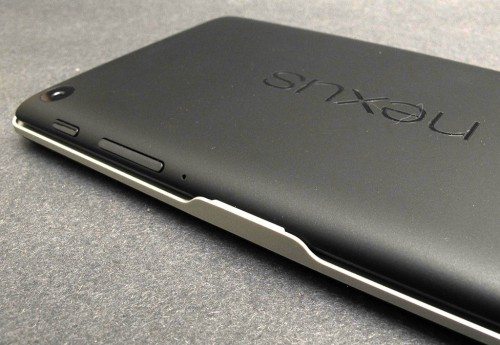 The fit isn't very tight, but the Nexus shouldn't fall out easily.
Before you can use the keyboard, it has to be charged using the included micro USB cable. Charging time: 4-5 hours, standby time: 60 days, uninterrupted working time: 55 hours. Charging is easy, as is pairing.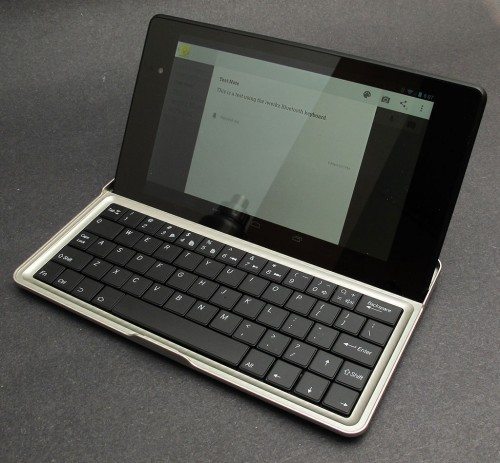 The Minisuit has a slot that will hold the tablet in landscape orientation and effectively turns it into a miniature laptop that can even be used on your lap if you're careful.
The keys have a decent feel and good travel, but the keyboard suffers from one main problem that touch typists will immediately recognise – it's just too small. Unless you have extremely tiny hands, you won't be touch typing on the Minisuit, which is a shame because it's a nice keyboard and would be perfect (for me) if it were larger. Of course not everyone is a two-handed typist and it can obviously be used hunt and peck style.
I really like the Minisuit and think it's a great little keyboard. The key word here is "little". If you don't touch type, I think you'll really like it.
Product Information
Price:
$29.95
Manufacturer:
Minisuit
Requirements:
Pros:

Built in stand
Nice key travel and layout

Cons:

Too small for touch typists