We use affiliate links. If you buy something through the links on this page, we may earn a commission at no cost to you. Learn more.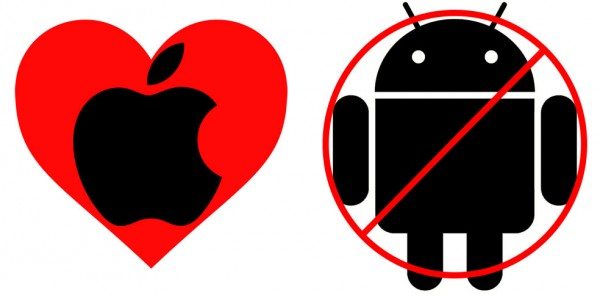 When it comes to mobile devices, fans can be very vocal when talking about their favorite. If you dare put down their chosen platform, some people will take it as a personal insult worthy of verbal fisticuffs. I've often wondered why we can be so sensitive about our choices when it comes to smartphones and tablets. To add more fuel to the fire I thought I'd offer up my own list of 5 reasons why I think Apple devices are better than Android devices. Since I currently prefer Android to Apple, this list may come as a surprise. 
1. Apple hardware has a premium design. When people are trying to decide which platform they want to go with, hardware plays a huge part in that decision. The Android operating system could be the best OS in the universe, but if the devices it runs on are junk, no one will want to buy them. Apple on the other hand makes products that everyone wants… even people who hate Apple will probably admit that they wish Apple devices would work with the Android operating. I'm not saying all Android devices are sub-par when it comes to their physical design, but the majority of them are not nearly as tech sexy as the latest and greatest Apple devices with their thin metal cases, curved edges, premium camera, fingerprint scanner and Retina display. Android devices continue to improve, but do people camp out in front of stores in order to be one of the first people to get their hands on the newest Android phone? I didn't think so…
2. Apple devices get all the cool accessories and software first. I'm probably not the only Android user who gets annoyed when I find a really cool add-on or app only to find out that it is only compatible with the iPhone or iPad. There are so many nifty little gadgets and gizmos made specifically for Apple devices that it's not fair <pout>. Products like the Galileo panning robot, iOgrapher iPad Video Rig, iSense 3D scanner and more. Yes, it's true that there are other accessories that are compatible with some Android devices, but they are usually only compatible with one or two devices and are not compatible with the wide variety of Android devices that are are the market. Which brings me to reason number 3. I won't even go into the insane number of cases that are always available for Apple devices compared to the relatively tiny number of offerings for all the Android devices.
3. There are too many Android devices, which is known as platform fragmentation. The best thing about Android is the fact that it is an open platform. It's also the worst thing about it. The problem is that there are too many variants when it comes to hardware features and specs. Some devices have physical buttons, some don't. Some devices have 99 mega pixel cameras while some only have 8 (yes I'm exaggerating). Some have fingerprint scanners, some don't. Some have microSD card slots, some don't. Some have built in Qi wireless charging, some don't. Some have a replaceable battery and some don't. With Apple the choices are much smaller. There's the iPhone 6 Plus, iPhone 6, iPhone 5S and iPhone 5C. Or as I like to call them, papa bear, mama bear, baby bear and the wacky gay uncle. With Apple you know you'll get a button on the front, volume buttons on the side, a mute button and a power button.
4. Apple knows how to be consistent. If we look at the user interface for Android devices, things can become confusing because vendors like to put their own skin / theme on top of the operating system. You've probably heard of Touchwiz and Sense. Those are the code names for Samsung and HTC's user interface skin. Adding themes and skins isn't necessarily a bad thing, but it causes user confusion and it creates a platform that has no consistency unlike the almost rigid consistency that we find with Apple devices. Android users (myself included) will argue that Apple's walled garden is boring and restrictive and doesn't leave much room for user flare. This is true, but there's a lot to be said for being able to pick up a device and knowing exactly how to use it without having to search around for apps and settings.
5. No waiting for carriers and vendors for OS updates. Apple devices get new iOS version updates immediately instead of being required to wait for various carriers and vendors to approve the updates first. For example, my current phone is the Verizon branded LG G3. Android 5.0 (aka Lollipop) is only just today (April 13, 2015) starting to roll out for this phone when the update has been available since November of last year. Even Google's own Nexus devices don't always get the updates when they are released. My Nexus 7 LTE 2013 tablet didn't get the update when other Nexus 7 devices got theirs. It's really frustrating to know that there's an updated version of the operating system for your device but you can't install it until someone else tells you you can. Apple on the other hand allows everyone to install their updates on their devices on the day that they make it available.
Writing this list almost makes me consider switching back to an iPhone… almost. What are your thoughts on why Apple is better than Android? Please share them in the comment section below.
Update: Check out 5 reasons why I think Android devices are better than Apple devices