We use affiliate links. If you buy something through the links on this page, we may earn a commission at no cost to you. Learn more.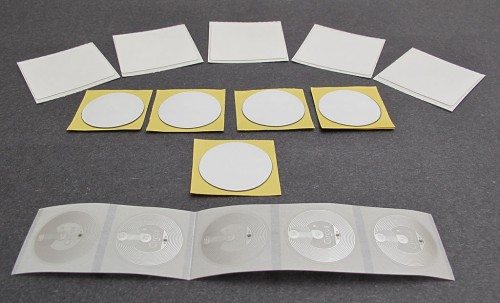 If you're lazy and you know it raise your hand. I bet you were too lazy to even do that…right? Then this article is going to be perfect for you. Or, it will be perfect if you are lazy AND also own a smartphone equipped with NFC. Some of the latest Android smartphones like the Samsung Galaxy S3 have NFC. Sorry iPhone owners, you're out of luck right now, so you can either press the back button on your browser or read on to become really envious.
Note: Images can be clicked to view a larger size.
First things first, NFC stands for near field communication. According to Wikipedia, NFC is:
Near field communication (NFC) is a set of standards for smartphones and similar devices to establish radio communication with each other by touching them together or bringing them into close proximity, usually no more than a few centimeters. Present and anticipated applications include contactless transactions, data exchange, and simplified setup of more complex communications such as Wi-Fi. Communication is also possible between an NFC device and an unpowered NFC chip, called a "tag".
Although you can tap two NFC enabled phones together to transfer contact info, pictures, etc., I'm going to skip all that and talk to you about tags.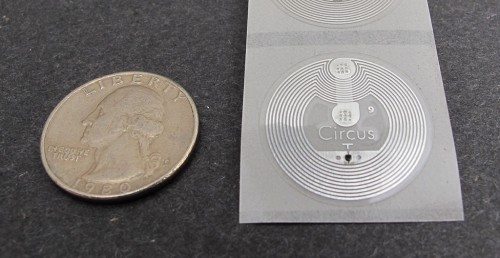 Tags are small stickers or plastic keychain fobs that contain a micro chip wired to an antenna which you can see in the image above. Tags do not require their own power source, so you never have to worry about charging them or changing batteries. What kinds of cool things can you do with NFC tags? That's what this article will hopefully show you.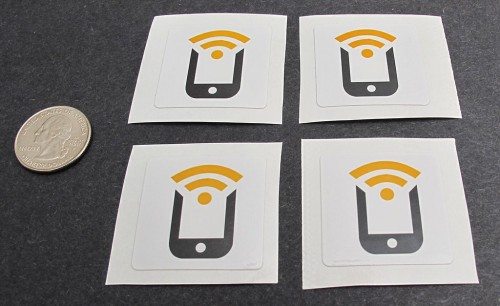 You can buy NFC tags from online retailers like Amazon and Tagstand. I purchased their hobbyist starter kit ($14.99) with 15 stickers that you see in the first image of this article, along with a starter pack ($3.99) shown above, also from Tagstand.
Each tag has a tiny amount of memory that you will be able to program with your smartphone and a tag writing app. Different tags offer different memory capacities between 96 and 4,096 bytes of memory. The stickers I purchased range from 144 bytes up to 512 bytes and are designed for different environments like indoors or outdoors.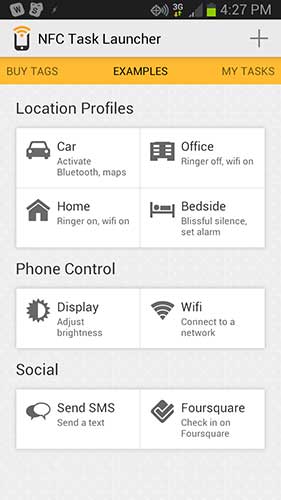 There are many NFC tag writing apps in the Google Play market that will let you create tags that will launch a web address, send an email, SMS, or add contact info when tapped. But NFC Task Launcher from Tagstand will let you do all of those things and a whole lot more. You'll need this app to write tags and you'll need it on any device that you want to be able to read the tags you've created. Note: if you install NFC Task Launcher and tweet from within the app, they will send you a free tag.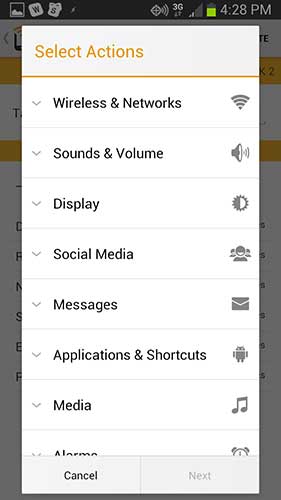 You can create a tag that will enable WiFi, turn off Bluetooth, set volume levels to medium, and send a text to your significant other than you're home from work. Those are actually the commands I used to create a tag called Home that I can tap with my SGS3 as soon as I come in the door. I have another tag that I created called Office where I turn off Wifi, turn off Bluetooth and set volume to vibrate. I use this one when I get to work in the morning. Another tag I called Night sets volume to silent and a wake up alarm for 5:30am. I have this tag on my night stand and tap it before going to bed.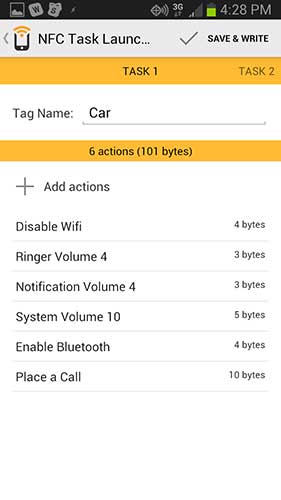 Another tag created for my car runs all the tasks in sequence that you see listed above. As you can see, tags can be created with a variety of commands that will run when you tap the back of your phone on the tag. Tags save you time and clicks.
Some actions can be toggles that turn a feature on or off each time you tap it. Tags can also be rewriteable, so you can update them with a new set of commands whenever you like. If you're worried that one of your friends at work might reprogram your Office tag to send a text message to your boss asking what they're wearing, you can lock the tag so it will be read-only. Once you do that, it can't be reprogrammed again.
When I first began experimenting with NFC tags, I thought they were very cool. I still do, but the shine has worn off a little bit due to a few reasons:
1. Your phone has to be on/unlocked for it to read a tag. That means you'll need to wake it up and swipe to unlock before you can then tap the tag to run the commands.
2. You have to remember to tap the tags for the commands to run.
3. You'll need to remember to tap the tag a 2nd time if you want to toggle settings.
I've since stopped using my Home and Office tags, but am still using the Car tag. For Home and Office I've discovered an amazing and even more powerful alternative… an app called Tasker. I plan to do a follow up article on how I'm using Tasker in a few days.
Do you use NFC tags? Please share your experiences.