We use affiliate links. If you buy something through the links on this page, we may earn a commission at no cost to you. Learn more.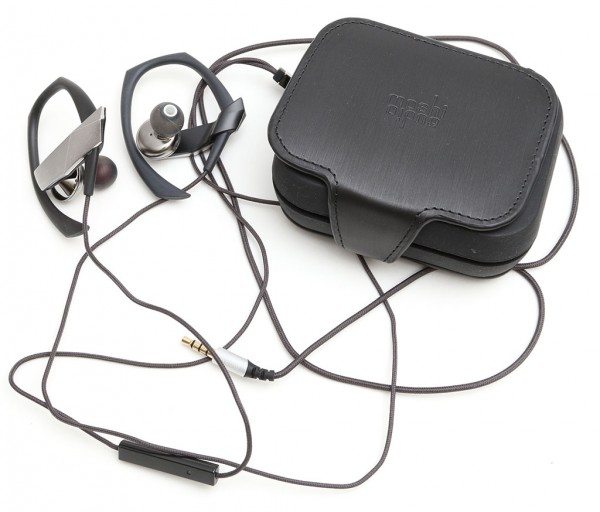 When I'm considering a new pair of earphones, I usually skip the in-ear variety because they seem to always fall out of my ears and I don't like the noise isolation feature that they usually possess. When Moshi Audio approached me to ask if I would be interested in reviewing their Clarus earphones, their ear loop design intrigued me, so I said yes. I've been using these earphones for a few weeks and am now ready to share my thoughts.
Note: Images can be clicked to view a larger size.
Specifications
Transducer Unit XR715 two way DynaDuo™ driver (15mm woofer + 7mm tweeter)
Sensitivity 100 +/- 3dB @ 1kHz
Frequency Response 10 – 25,000Hz (-10dB @ 1kHz)
Impedance 24 Ω
Cavity/housing steel alloy
Cable Length: 3.9 ft/1.2 m
Product Weight 1.23 oz (35 g)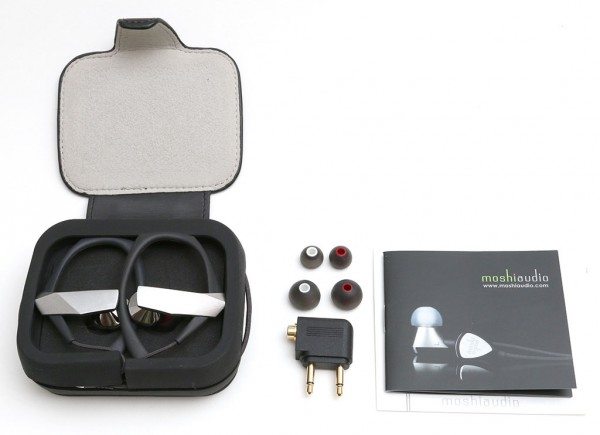 Package contents
Clarus earphones
Airplane dual-mono adapter
3 sizes of soft eartips
Carrying case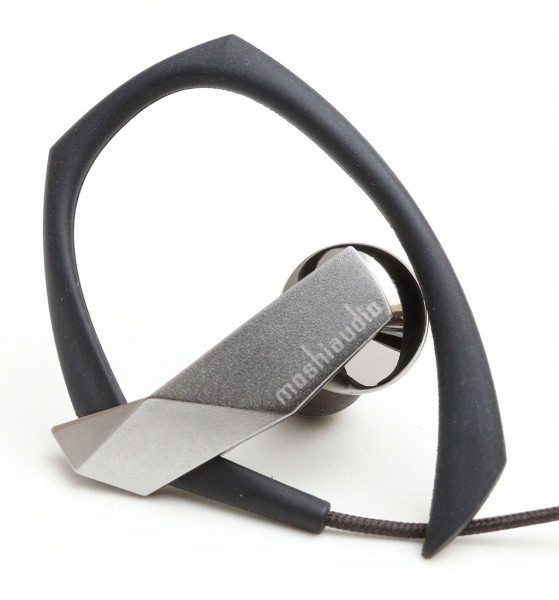 Design and style
The design of the Moshi Audio Clarus earphones reminds me a lot of the Bang & Olufsen A8 headphones that I used a few years ago. Both have an ear loop that has been designed to improve the fit. In addition to the flexible rubber ear loops, the Clarus earphones feature a modern / futuristic brushed metal bar that attaches the earphone to the ear loop. My friend at work teased me with references to Uhura of Star Trek when he saw me wearing these earphones.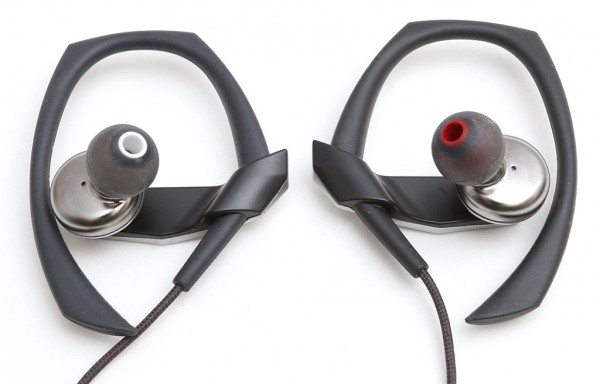 The ear loops are one size fits all. They can not be adjusted, shaped or otherwise changed from their original shape.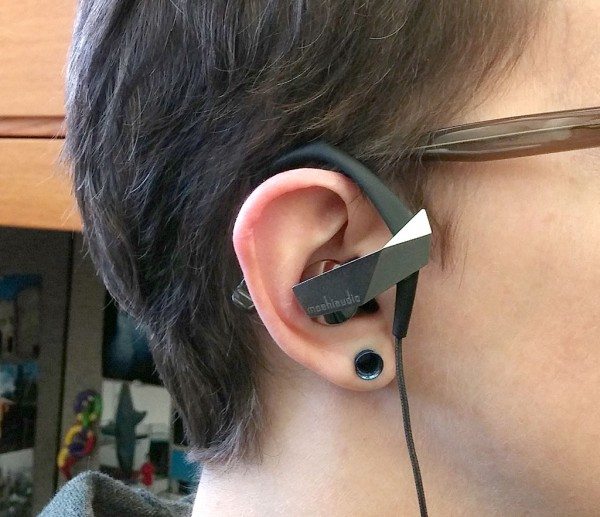 Fit and function
The loops ended up being too large for my ears. The top of the loop basically floats in space when the Clarus earphones are in my ears. When I need to remove the earphones, the ear loop usually hooks around the end of my glasses temple making it difficult to remove. Putting the earphones in my ears takes a little finesse as well. I have to hold the ear tip part of the Clarus earphones between my thumb, middle and ring fingers while my index finger holds the ear loop up so it can go over my ear.
The earphones are designed with an angle to rest on the edge of your ear canal and not completely inside it like most in-ear earphones. I actually like this type of design because I don't like noise isolating in-ear earphones.The Clarus earphones come with 3 sizes of ear tips so you can customize the fit. That said, these earphones are heavy which fatigued my ears after an hour or so of use.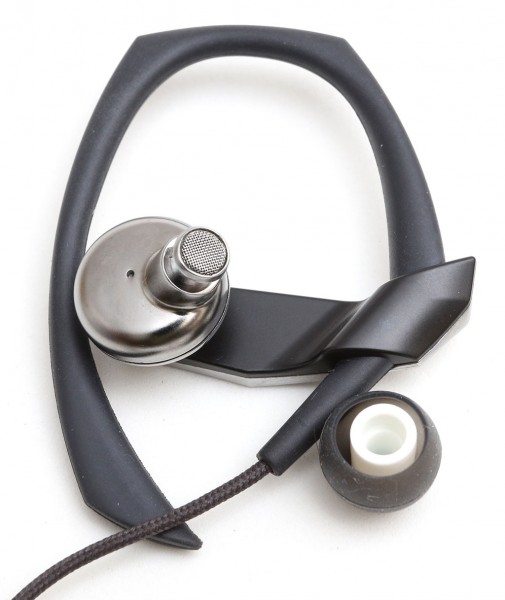 The Clarus earphones each use a 2-way XR715 DynaDuo system that includes a 15mm woofer and 7mm tweeter that are housed in a steel alloy ear piece.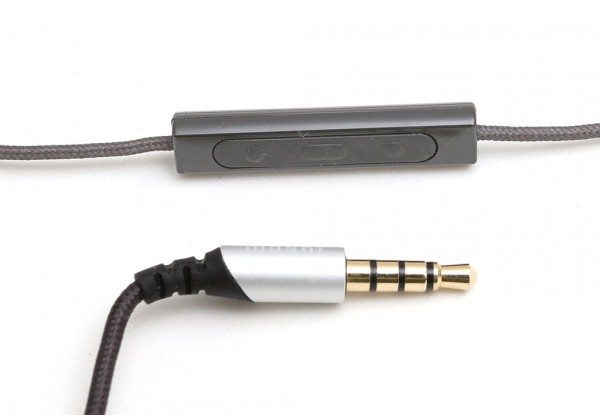 You've probably noticed in the images shown so far that the cable has a braided covering. One benefit is that I didn't notice much if any cable rubbing noises while using the earphones. The Clarus earphones also feature an inline play/pause and volume control with microphone. Only the play/pause function and microphone worked with my LG G3 Android smartphone. The volume controls did not work.
Sound quality
The Moshi Audio Clarus earphones sound good but to my ears they did not rock my world. They provide above average low frequency / bass and clear mids and highs. But having just come off a review of the DUNU Titan 1 earphones, the Clarus earphones did not impress me. I'm not saying that they don't sound good. They do. But my ears prefer the Titan 1s. That said, I found the Moshi Audio burn in tool app pretty interesting. What is a burn in tool?
Like breaking in a new pair of leather shoes, high-quality headphones perform better once they've been used over time. This process can take several weeks or even months, so Moshi Audio has developed a helpful iOS application to expedite the burn-in process. By playing back a curated list of tones/frequencies, the Moshi Audio Burn-In Tool allows the headphone diaphragms to relax and reach their optimal level of sonic performance. Simply install the burn-in tool on any iOS device and select the headphone and desired burn-in period. The burn-in tool is customized for all Moshi Audio headphones, but also includes support for any third-party audio headsets as well.
The app is available for iOS and Android. I installed it on my LG G3.
The app is easy to use. Just plug in your earphones, choose the model and burn in duration. You don't wear the earphones while using the app. It will play a continuous low to high frequency tones that sound like something from a sci-fi movie. After many hours of burn in, I wasn't able to hear much of a sound improvement.
Some of the songs that I listened to during my review testing:
Arsonist's Lullaby – Hozier
Papa Americano – Beat the Track
Far Away – Junip
Uptown Funk – Mark Ronson
Wake Up – Arcade Fire
Final thoughts
For me the Moshi Audio Clarus earphones look better than they sound. Although they are well made and sound above average, I don't think they sound good enough to justify their $200 price tag. The ear loop design didn't work for my ears, so fit and comfort may also be an issue for some people.  If the Clarus earphones fit you, you'll probably enjoy using them, but I think there are many other earphones on the market that cost less, fit better and sound better, so do your research.
Update 06/26/17
I gave these to my friend at work who I see wearing them at his desk every day for the past couple of years, so they are still going strong.
Source: The sample for this review was provided by Moshi. Please visit their site for more info.
Product Information
Price:
$199.95
Manufacturer:
Moshi Audio
Pros:

Good sound
Carrying case included

Cons:

Heavy
Ear loops not adjustable
Expensive