We use affiliate links. If you buy something through the links on this page, we may earn a commission at no cost to you. Learn more.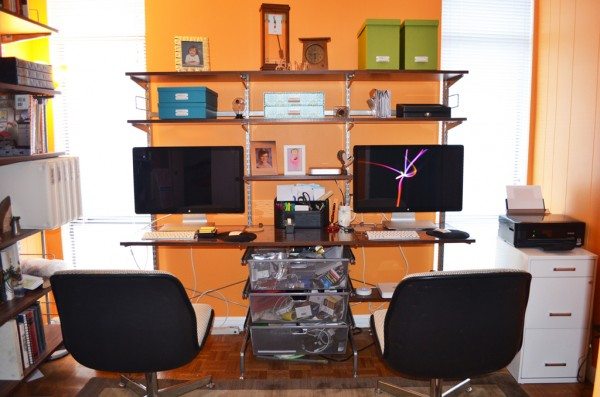 I've shown you pictures of my desk that I custom designed from Elfa components at the Container Store.  I designed a perfect desk for myself, and then I was able to easily turn that one person desk into a two-person desk when my husband wished he had a new desk, too.  That desk was built at our old house, then disassembled and rebuilt at our new house in less than two hours – and that included transit time.  Since that desk, seen in the above image, we've added a matching 75″ wide X 82″ tall desk/88-key keyboard stand to our office, closet drawer systems, back-of-door utility room and pantry organizers, desk for daughter's room, and kitchen shelving/work surface systems.  Elfa has added a lot of organization to our small home, and it was well worth the price.
The only thing that could make Elfa a better bargain is a sales price, and that's happening now at the Container Store.  You can save 30% off the purchase price of all components, and you can even save 30% off installation if you aren't handy.  They have free-standing units like the ones we have and wall-hung units and even the small back-of-the-door units, so you can find everything you need to get organized.  Design everything yourself using the online tools, or go into a Container Store location for help designing your setup.  The 30% discount on Elfa is available in stores and at the Container Store online.