We use affiliate links. If you buy something through the links on this page, we may earn a commission at no cost to you. Learn more.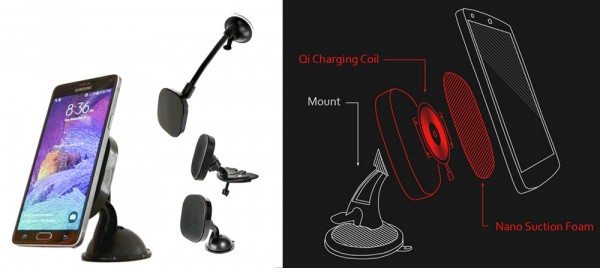 The designers at Air Dock have recently introduced a new Indiegogo project for their second generation wireless charging car mount, the Air Dock 2.0. Like the original, the Air Dock 2.0 is a wireless car charger and dock for smartphones and tablets that are equipped with Qi inductive charging technology. The Air Dock docking surface is made of nano suction foam, so "mounting your device is as simple as placing it on the dock".

The Air Dock 2.0 improvements include:
New Qi transmitter – This allows for a longer charging range, enabling the use of thicker cases. More aftermarket receivers are compatible with the improved transmitter.
NFC enabled – Use the built-in NFC chip to trigger events on your device. You can open apps, start music, or go to dock mode.
Functional design improvements – Thinner design and USB port re-location.

The Air Dock 2.0 has four mounting options:
Standard mount for textured surfaces
Standard mount for smooth surfaces
Long flexible mount
CD mount
At the time of writing this article, the Air Dock 2.0's Indiegogo project is fully funded with three weeks left. A pledge of $85 will reserve one Air Dock 2.0. The project closes on January 26, 2015.