We use affiliate links. If you buy something through the links on this page, we may earn a commission at no cost to you. Learn more.

My love for styluses goes way back to the good old days of the Palm Pilot PDA. If you know what that is, you'll also remember the plastic "toothpick" stylus that started it all. When the iPhone and iPad came on the scene the stylus disappeared for awhile because touch screens changed from resistive to capacitive and were designed to work with a finger tip instead of a plastic stylus. But it didn't take long for people to want to do more with their devices, like taking hand written notes and drawing. Fingers don't really do the best job with those tasks, so styluses made a comeback. First there were wide tipped styluses, which gave way to styluses with special metal disks as tips and now more currently, active styluses. The Dot-Tec DotPen is an active stylus that I've been testing for the past few weeks. Let's take a closer look.

Note: Images can be clicked to view a larger size.

The DotPen stylus will work with the iPad, iPhone, Android and Windows touch screen devices. It is attractive with an anodized aluminum body, a rubber grip area and a heavy duty polished stainless steel pocket clip. It's well constructed and feels comfortable and well balanced in your hand.

Unlike the majority of styluses on the market, active styluses run on a battery. The top of the DotPen unscrews to reveal the battery chamber which holds one AAA battery (included). One battery is supposed to provide up to 12 hours of continuous run time.

A cap on the other end of the stylus protects the writing tip. This cap can post on the opposite end so you won't have to worry about losing it or having it roll off your desk.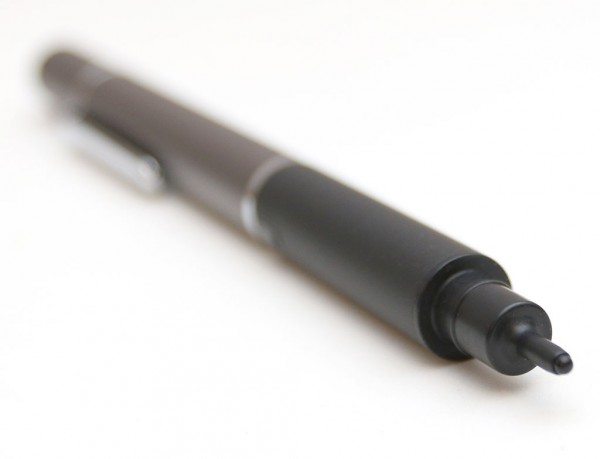 Dot-Tec calls the DotPen stylus tip a quill tip. I guess that's a good name as this is a 1.9mm tip that is close in size to a marker or pen tip. It's a hard thermoplastic tip that has little to no drag on glass touch screens.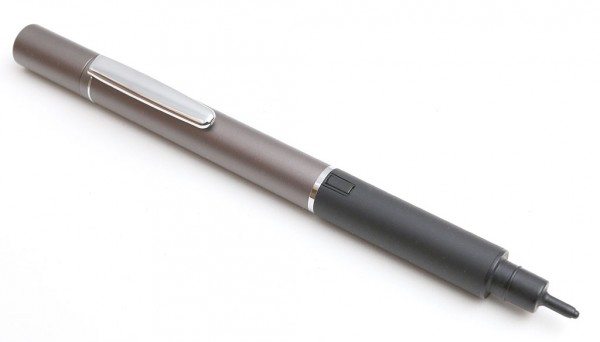 To use the DotPen, you just need an iOS, Android or Windows touch screen device and any app you like for writing or drawing. You don't even need to pair with Bluetooth. All you need to do is press the button on the barrel to turn the stylus on. When it's on the button will glow green. The location of the power button is problematic because it's too easy to press when you don't really mean to press it. Since just a simple press toggles power, you can see how this might be a problem with turning it on in a pocket or turning it off in the middle of drawing a line. Luckily, the stylus will power off automatically after a couple minutes of inactivity.
I like the very narrow stylus tip as it makes it really easy to see what you're writing and drawing without obstructing your view of the screen. However there are a few issues I've noticed after testing the DotPen with a 1st gen iPad mini, Nexus 7 2013 tablet, an LG G3 smartphone and a Nokia Windows smartphone and various drawing apps. First of all, the stylus tip is hard and the display is glass, so every time you touch the tip to the screen it makes a tapping noise which can become annoying. The feel of the tip on the displays is very smooth. It's actually too smooth for my liking. It doesn't feel like pen on paper at all. It feels like you're writing or drawing with a pen on glass. There's a slippery feel that I don't like and makes me feel like I have less control than what I need. That said, this stylus does allow for precise line drawing. But like other active styluses that I've reviewed in the past, diagonal lines can have a wobbly or wavy look if you don't draw the lines quickly. The DotPen isn't as bad as some other active styluses, but the problem is still there. Also depending on the app you use, you might notice some lag and / or issues with the tip and "ink" point offset. One of the apps I noticed this problem with most was ArtRage on my iPad mini.

I have mixed feelings about the DotPen. With a price tag of $70, this is an expensive stylus. But for artists and people who like to take a lot of handwritten notes, I would say that it's one of the nicest active styluses that I've tested. That said, my all time favorite stylus is the S Pen that is only available with some Samsung Galaxy devices. The S Pen provides a perfect feel on the display and an even smaller tip. I wish I could use an S Pen with any device, but until that's a reality, the DotPen from Dot-Tec is a decent alternative.
Source: The sample for this review was provided by Doc-Tec. Please visit their site for more info.
Product Information
Price:
$69.99
Manufacturer:
Dot-Tec
Retailer:
Amazon
Requirements:

iPad, iPhone, Android, Windows tablets or smartphones

Pros:

Narrow tip doesn't obstruct view while drawing or writing
Works with iOS, Android and Windows
Doesn't require Bluetooth

Cons:

Tip is hard and too smooth
Slight lag or point offset with some apps
Power button easy to press by accident
Wavy diagonal lines