We use affiliate links. If you buy something through the links on this page, we may earn a commission at no cost to you. Learn more.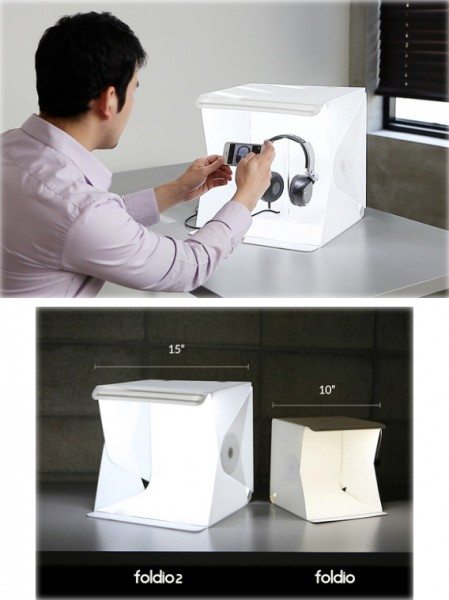 Read Julie's Foldio2 review.
Last year, we told you about a Kickstarter project for a small, foldable, portable photography studio called Foldio.  People who sell products online or who review gadgets need a clear, well-lighted area to take photos for their postings.  Foldio was designed for the person who needed a home studio, but who didn't have much room to work with and who couldn't dedicate a space to just one purpose.  The Foldio was made of laminated paper and was held together with neodymium magnets.  It folded down into a compact carrying case, so you could store it in a desk drawer or pack it in your gear bag.  It had a battery-powered LED light strip for good lighting for better pictures.  Foldio met its funding goals, and you can purchase one now.  It's perfect for many, but at 10.2″ X 10.2″ X 10.2″, it's a bit too small for photographing bigger objects.
Orangemonkie, the makers of the original Foldio has brought their new project to Kickstarter.  The Foldio 2 has all the best features of the original, but it's "bigger and smarter".  It's made of plastic and still uses neodymium magnets for assembly.  The volume has been increased by 200% (15″ on a side instead of 10″).  There are two LED strips now, each twice as long as the one used in the original Foldio, and they are now powered by an AC adapter for brighter, more consistent light (daylight, 5700K, white light).  It's still designed with the smart phone photographer in mind, but it's also perfect for people with compact or even DSLR cameras.  (I know I want a Foldio 2 for use with my Nikon D5100.)
Funding has already far exceeded the goal, but there are still 42 days for you to get your order in.  A pledge of $65 gets you the Foldio 2 with dual LED strips, three backgrounds (white, gray, and black), and the Foldio photo editing app.  Funding continues until .  Delivery is expected for March 2015.  Read more about the Foldio 2 project at Kickstarter.