We use affiliate links. If you buy something through the links on this page, we may earn a commission at no cost to you. Learn more.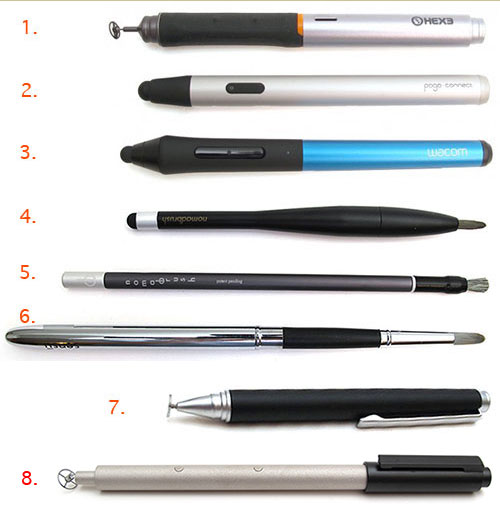 If you have a digital sketcher, doodler, painter or artist on your Christmas list this year, here are eight gift ideas that will help them with their artwork. I've broken the list up into pressure sensitive styluses, paint brush style styluses and precision tip styluses. If you have a favorite stylus not mentioned, be sure and add it to the list.
Pressure sensitive styluses
1. HEX3 Jaja Pressure Sensitive Stylus – Priced at $89.99
2. Ten One Design Pogo Connect – Priced at $79.95
3. Wacom Intuos Creative Stylus – Priced at $99.95
Right now, pressure sensitive styluses are mainly compatible only with iOS devices. The only one on my list that even hints at Android support is the HEX3. And even though I wasn't able to actually get the HEX3 to work with my Nexus 7 tablet, the fact that they are working on supporting Android devices gives this particular stylus a bit of an edge in my mind. It's my first pick. If you could care less about Android support, I'd still pick it because it has a precision tip instead of fat rubber tip. It also is powered by (as is the Pogo Connect) by regular AAA battery. The Wacom uses a AAAA batteries.
Note: The current Ten One Design Pogo Connect stylus is NOT compatible with the latest iPad Air.
Paint brush styluses
4. Nomad Brush Mini 2 stylus – Priced at $35.00
5. Nomad Brush Nomad FLeX capacitive paintbrush stylus – Priced at $29.00
6. Sensu Artist Brush Capacitive Stylus – $39.99
I like all three of these paint brush style styluses, but if I were going to pick just one, I'd go with the Sensu Artist Brush. I like it best because the handle doubles as a cover to protect the brush tip. It makes a compact package that is easy to stow in the pen slot of your gear bag. It also has the thickest and nicest brush tip of the trio. My second favorite would be the Nomad Brush Mini 2 just because the brush is retractable and it offers a rubber stylus tip on the opposite end.
Precision tip styluses
7. LOGiiX Stylus Diamond – Priced at $34.95
8. GoSmart STYLUS – Priced at $24.95
I like both of these styluses a LOT. Both feature a cap to protect the unique precision tip. If I were going to pick just one, I'd go with the GoSmart because it's less expensive and has magnets in shaft so that the stylus will stick to the edge of the iPad.
What is your favorite stylus and why?