Graphical artists and doodling enthusiasts who use an iPad and a stylus, may want to consider upgrading their stylus to one that offers a pressure sensitive tip. Wacom, who is well known for their digitizing tablets and pens, now offers the Intuos Creative Stylus. This pressure sensitive capacitive stylus offers 2048 levels of pressure, which gives tablet users a more natural pen and paintbrush experience. The name Wacom has a lot of respect behind it, let's see if their stylus earns the same regard.
Note: Images can be clicked to view a larger size.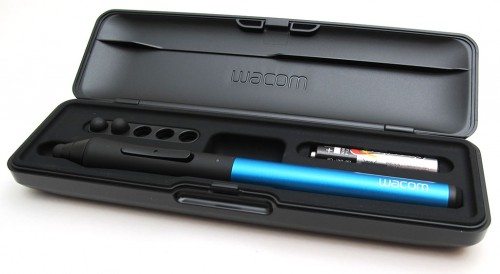 My first impression of the Intuos Creative Stylus was very favorable due to the included storage case which houses the stylus, an extra battery and 2 extra tips. The case is not just useful, but it's actually an important accessory due to the design of the stylus…
The Intuos has a metal barrel, with a rubber grip. A rocker button is located in the grip along with a status LED. The buttons can be customized depending on the application. The problem with the design is that the buttons stick up too high making it too easy to accidentally press them. It's really annoying to be drawing something and all of a sudden start erasing instead because you inadvertently pressed one of the buttons with your finger.  Also just a simple touch will wake the stylus. This means if you carry it around in a pocket, it will probably be activated every so often and will waste battery power. Storing it in the case is almost mandatory.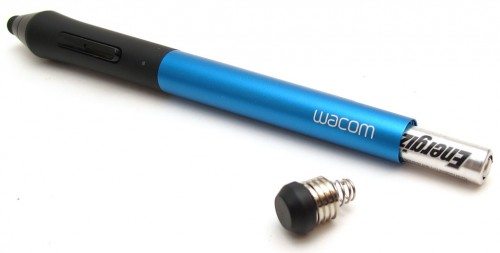 It's also important to note that the Intuos uses a AAAA battery instead of the easier to find AAA. Weird choice…
The stylus requires Bluetooth, but doesn't require you to actually go through the steps of pairing it. As long as Bluetooth is enabled on the tablet and the stylus is awake, the drawing application should detect it and connect. This step worked fine for me, so no complaints there.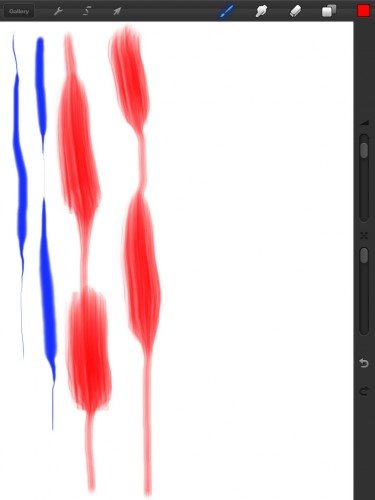 I tested the Intuos with my iPad mini (1st gen) and my two favorite drawing apps: Procreate, Sketchbook Pro and Wacom's own Bamboo Paper app. Unfortunately, this stylus is not compatible with Android devices and apps.
Once connected to a compatible drawing app, you'll be able to use the stylus to draw lines of variable thickness and opacity just by adjusting the pressure on the tip as you drag it across the screen. In hand the stylus is well balanced and comfortable to hold.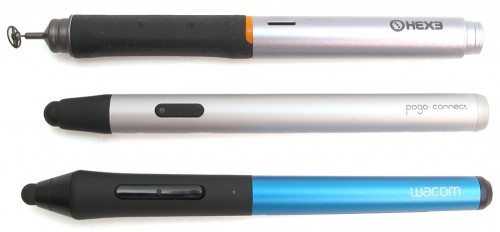 The Wacom Intuos Creative Stylus is the third pressure sensitive stylus that I've had the opportunity to test. It's similar in look and feel to the Pogo Connect and shares the same type of large-ish hollow rubber tip that you see on many other non-pressure sensitive styluses on the market. I'm not a big fan of this style of tip because they drag across the screen and make it tough to draw fine detail. The Wacom feels like I'm trying to draw with a blunt crayon instead of a fine tipped pen. In my opinion, the HEX3 JaJa, pictured above has a better tip design with its Teflon coated metal disc tip. But then the JaJa can almost feel too slick and slippery sometimes. The JaJa can also be calibrated for light and heavy pressure, where the Wacom and Pogo can not.
There are two more pressure sensitive styluses that I've yet to try – the Adonit Jot Touch and Jot Script. But so far I've yet to find the perfect pressure sensitive stylus. That said, the JaJa comes closer than the Wacom and costs $10 less. But if you happen to prefer rubber tipped styluses and want to stick with a well known brand, then I would recommend the Wacom Intuos Creative over the Pogo.
Some of our links in posts like this one are affiliate links, which means that we may receive a small commission on purchases at no cost to you.
Product Information
Price:
$99.95
Manufacturer:
Wacom
Requirements:

iPad 3, iPad mini and later

Pros:

Includes a protective case and extra tips
2048 levels of pressure

Cons:

Uses a AAAA battery
Rubber tip is large
No Android support
Buttons easy to accidentally press