We use affiliate links. If you buy something through the links on this page, we may earn a commission at no cost to you. Learn more.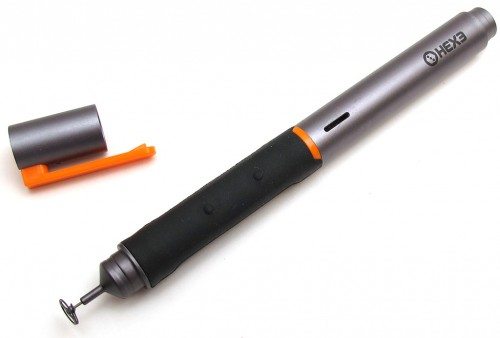 There are hundreds of capacitive styluses on the market right now. Small ones, big ones, fat ones, skinny ones and even ones that look and feel like a paintbrush. But of all the styluses on the market, there are only a few that have pressure sensitivity. Adding that feature can take your digital artwork to the next level because your stylus will mimic a real pen or brush. The harder you press the tip, the thicker the line. Today I want to show you the JaJa Pressure Sensitive Stylus, which was a successfully funded Kickstarter project from HEX3. Let's find out if it deserves a spot in your digital art toolbox.

The JaJa stylus has a satin finished metal body with a snap on cap and a rubber covered grip. The stylus looks and feels like a quality writing instrument. It has a nice balance in your hand and is comfortable to hold.
The protective cap could use a little tweaking though. It snaps over the stylus tip or on the opposite end. When it's placed over the stylus tip, it has a loose fit that allows it to rattle and swivel around, but when it's snapped on the other end, it has a tight fit. This doesn't effect how the stylus works, it's just one of the little things I notice that tend to annoy me because I'm picky.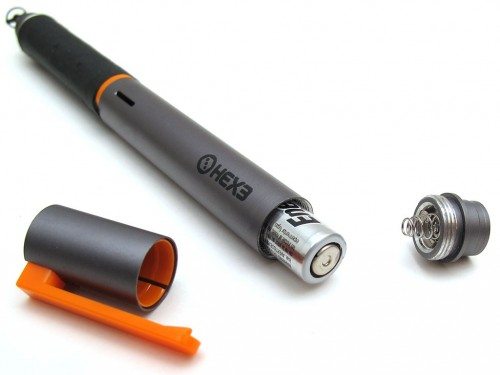 The pressure sensitivity feature isn't "free". It requires battery power. The JaJa takes 1 AAA alkaline battery which easily loads into the barrel. I can't find any info about how long a battery should last, but if it does run out, you can still use the JaJa like a standard capacitive stylus without turning it on or loading a battery.
The JaJa doesn't use Bluetooth to communicate the pressure levels, it uses high frequency sound.
Never miss one of our posts again. Sent MON, WED, and FRI with the latest gadget reviews and news!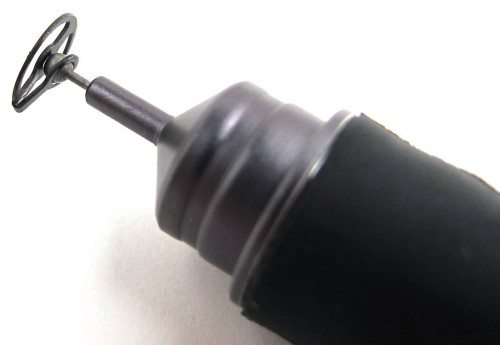 The tip of the JaJa is similar to some of the other disc style tips that we've seen on styluses from Adonit and LOGiiX (see related reviews listed below). But the JaJa's tip has a Teflon coating that allows it to slide smoothly across the glass screen of your iPad. The tips are replaceable and an extra tip is included with your JaJa purchase.
To use the pressure sensitivity feature, you'll need a compatible tablet and a compatible application. Although the JaJa packaging mentions Android, I found only 1 app that is supposed to support the JaJa. I purchased the app for my Nexus 7 (2013) tablet to try it, but I could not find anywhere in the app's settings that mentioned connecting to the JaJa. So I performed all of my testing with this stylus using an iPad mini and my favorite drawing apps Procreate and SketchBook Pro.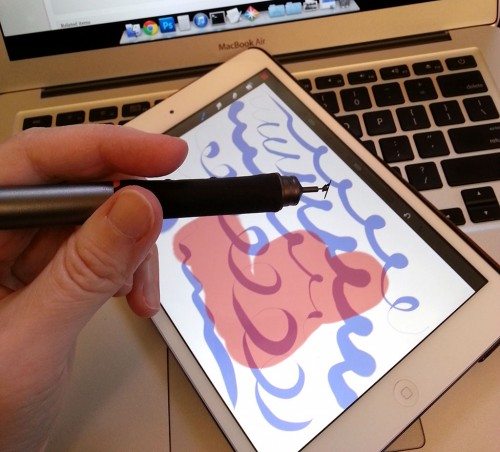 The JaJa has 2 buttons on the barrel. The button farthest from the tip will turn on the stylus when held down for a few seconds. To save battery, the stylus will power off automatically after 2 minutes of inactivity. The 2 buttons can be programmed in the drawing app to functions like undo, erase, etc.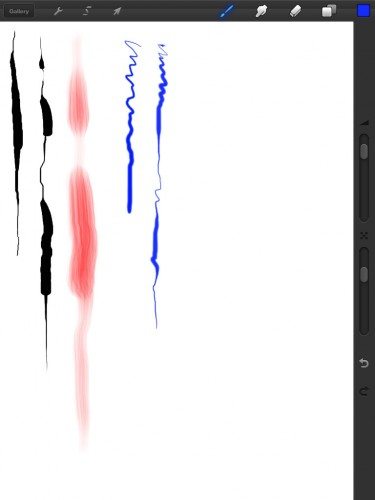 The JaJa stylus can sense up to 1024 levels of pressure as you push the tip against the screen. It translates the pressure into high frequency sound (little clicks that you can actually hear) and then turns this data into a smooth brush stroke that varies in thickness and opacity like a real brush or pen would do on paper. Depending on the app you use, you can adjust the settings for thickness and opacity. If you don't want any changes to opacity at all, but just want the pressure to reflect line width, you can do that. At least you can in Procreate.
I'm not an artist, but I find the JaJa a lot of fun to to use. The Teflon tip allows it to glide effortlessly across the screen with no worries of scratching. The tip also allows very detailed drawing because it's easier to see what you're doing when you don't have a large rubber tip in your way like a lot of other styluses.
I like everything about this stylus except that I can't use it with my favorite apps on my current favorite tablet – a Nexus 7. The lack of Android compatibility seems to be the norm for all of the pressure sensitive styluses currently on the market and I hope that changes soon. If you're an iPad owner that enjoys creating digital artwork on your tablet, you should really check out the HEX3 JaJa Pressure Sensitive Stylus. I can't promise that it will turn you into an instant Pablo Picasso, but hey, you never know.
Product Information
Price:
$89.99
Manufacturer:
HEX3
Pros:

1024 pressure levels
Pressure can translate to line thickness and/or opacity
Auto shutoff
Comes with 2 spare tips

Cons:

No Android support at this time