We use affiliate links. If you buy something through the links on this page, we may earn a commission at no cost to you. Learn more.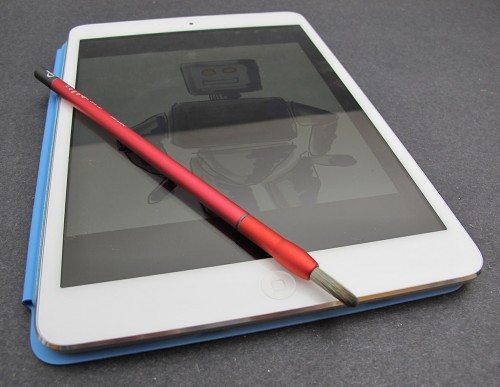 The Nomad FLeX is the newest capacitive paintbrush stylus to be offered by Nomad Brush. I reviewed their original Compose Dual Tip paintbrush stylus a couple years ago and found it to offer a better painting experience when compared to a normal stylus. If you enjoy creating art on your iPad, Android or other tablet, you need to add a paintbrush style stylus to your gear. Let's see if the new nomad FLeX is a worthy stylus to consider.
Note: Images can be clicked to view a larger size.

The Nomad FLeX comes packaged in a plastic holder that can be used to store the stylus when you're not using it.

Since this stylus has bristles just like a real paintbrush, it's important to keep those bristles protected. That said, I'd much rather have some sort of protective cap instead of a plastic case. As is, I made my own "cap" for the Compose Dual Tip and will probably do the same thing for the FLeX.

The body of the Nomad FLeX is made of precision-milled aluminum and comes in five colors: charcoal, silver, cobalt blue, red and pink.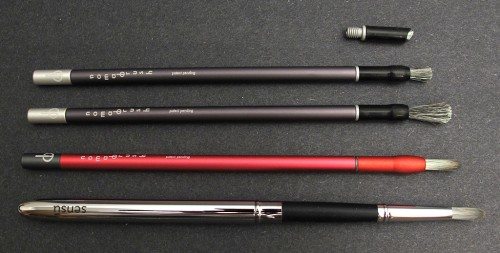 How does the Nomad FLeX compare to other paintbrush styluses? Here we see it next to the Nomad Compose Dual tip styluses and a Sensu paintbrush stylus. The handle of the FLeX is the same as the previous version of the Nomad stylus. The main difference is that the brush has a smoother, finer tip that isn't spread out like a broom. Like the Sensu, it looks like a real paintbrush and could easily be mistaken for one.

Like the previous Nomad brush, the tip can be unscrewed so that it can be replaced. However, I don't see where you can buy replacement tips on the Nomad Brush web site.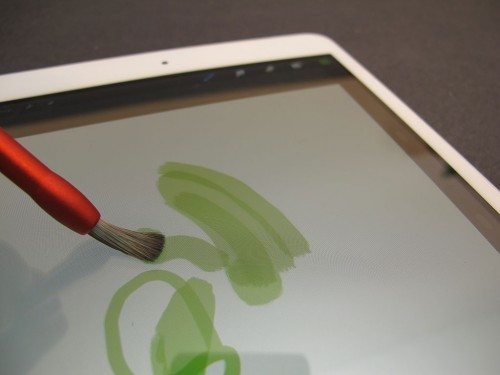 Paintbrush styluses don't work well for writing or drawing fine lines. They are best suited for painting in art apps like Sketchbook Pro and  Procreate. The image above shows what it looks like to use the FLeX with the Procreate app. It really feels like you're painting with watercolors because each time you go over an area, the color gets darker.
I like the FLeX just fine, but if I were in the market to buy a new paintbrush stylus, I would choose the Sensu because it offers a regular stylus tip and built in case. That said, the Nomad FLeX paintbrush stylus is less expensive, well made and should hold up to everyday use if you take care of the bristles. I also really like the fact that  the tip can be replaced if needed.

Product Information
Price:
$29.00
Manufacturer:
Nomad Brush
Requirements:

Tablet or device with a capacitive touch screen

Pros:

Tip can be replaced
Comes with a storage case
Feels like you're using a real paintbrush

Cons: