We use affiliate links. If you buy something through the links on this page, we may earn a commission at no cost to you. Learn more.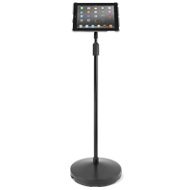 Anyone who has used an iPad or other tablet while standing, walking around, or speaking to a group, without the ability to rest it on something solid, has known the pain that juggling these tools can bring. Since it is a two-handed device, holding with one and manipulating with the other means you've got to somehow steady the device, usually in a pincer grip of the non-dominant hand, which leads to a pain in the thumb joint. Even with the iPad mini and Android tablets of smaller size and weight, holding on to them for hours can be rough. One solution, from the peripheral maker Newer Tech, is the GripBase Podium, a part of the full GripBase system. One of their major distributors, Other World Computing, offered the Gadgeteer team a demo unit, and I was chosen to give it a go.
Note: Pictures can be tapped or clicked for a larger version.
When it arrived, I was a bit taken aback. It comes in a huge box, about 18″x 30″ x 5″ deep. And it's not light, either. Opening up the packaging, I was impressed at the details that went into not only creating the piece, but the fit and finish on the inside parts. You're sent a 12 pound-plus weighted piece, which has a thin, smooth, black plastic cover that will be attached over it. The inner weight, rather than being raw iron, or a glue-and-lead-shot molded hunk, is sealed in a form-fit, thick plastic enclosure, so that there will never be rust spots on your carpet, or chips of the composite base flaking off, or metal splinters from having to adjust the tightness of the podium's pole. Nice.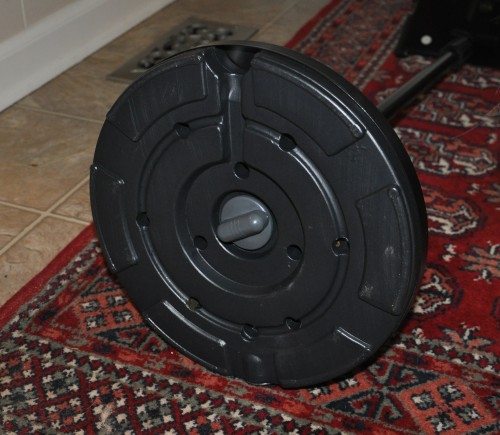 The same kind of attention to detail continues throughout – the bolt that attaches the pole to the base is molded for hand-tightening, rather than pliers, the base that holds your iPad is easy to put on, but tight and cushioned. Folks that appreciate the attention to "the parts no one sees" that Steve Jobs instilled into Apple's culture will be right at home.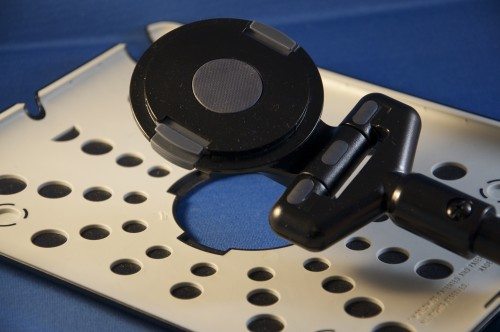 Once the parts are assembled (five minutes, tops, no tools required), you have a heavy base with a thin ~.75″ coated, black pole rising from the center, topped with a circular piece that resembles a radio microphone from days of yore. Just under the top piece is an adjustment ring that allows the user to extend the pole up to 4 feet. Anyone who has used a mic stand in the last three decades will be right at home.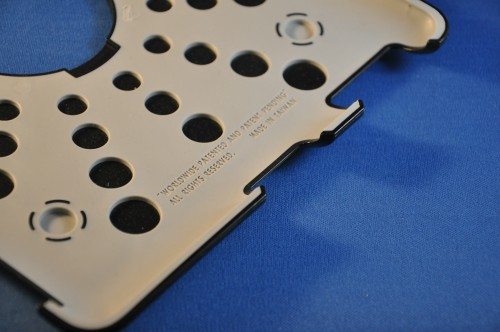 The GripBase cover, part of a full line of productivity aids from Newer Tech, attaches to your iPad (gotta be naked – this thing is form-fitting!), leaving it fully covered on the back, yet with every port and button freely available. You can even leave your Smart Cover attached! On the back center, there is a circular opening ~2.5 inches across that clicks into the piece atop the stand, and – voila! – your iPad is mounted at easy reading and typing level for your two-handed use!
If you're one who likes to wander the stage, returning to your eNotes just often enough to change slides or get back on track after a question, or if you're reading a speech and need to hold a mic, interpret for the hearing impaired, or play an instrument, you're going to be in love at first assembly! As a frequent presenter and guitarist, I was amazed that such a nice device could be had for a mere $60. Then I read the fine print: the cover is not included, but is required. If you have a standard iPad, it's $25, and if it's an iPad mini it's $28, and for an original iPad, it's only $12.50. Not horrible, but an added cost that may slip your notice. (The manufacturer's rep contacted us soon after this review was published, and I had misread the listing. There is a GripBase stand, but it is different from the GB Podium. Both of these, the Stand and Podium, include the GB Cover, and have the same connector. So if you get the desktop stand and the podium, you can have two different stands that could be used by two different iPads interchangeably. The prices in the deleted section above are for the stand and cover.) No announcement yet as to a cover for the iPad Air or non-iPad tablets.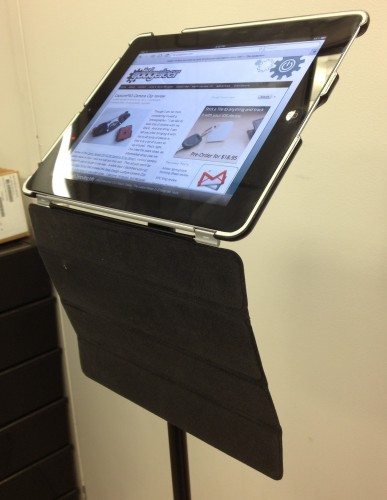 The attachment mechanism, which resembles a lens cap attachment more than anything else, is engaged by pinching sliders on either side of the disc-shaped head on the stand, slipping tabs into notches on the iPad base, and letting the spring-loaded tabs lock fully into place. It's very secure, yet you can swivel and click-lock into any 90º angle easily. I could see a group like TED putting this onto a stage, and anyone who is presenting place their iPad into a cover, so that they walk onto stage, click in, and can start speaking. Buying other backing cases is not a problem, so this system could work for many different multi-use facilities.
Maximum height of the GripBase Podium is just under five feet (shoulder height on a 6′ person), and it can be lowered easily to about a meter from the floor. The adjustments of horizontal to vertical on the screen, plus 90º locking at all four edges means the stand is infinitely adjustable.
I was really impressed by this stand, and hope that more folks start using this line for music stands, professional presentation stages and events, and the like. If they could make an adjustable holder of some kind for the various form factors of non-Apple tablets or iPads in cases, it would help the platform take off, but, as it stands (ahem) this would be great for any teacher, instrumentalist, or speaker. Five stars – well thought out, and well implemented, at a reasonable price.
Updates 03/31/16
I would probably still be using this daily, if they had a grip base backing that worked with the iPad air 2, or the iPad Pro. Sadly, they stopped updating it after the iPad air, and they never made new molds for the backs for newer devices. I have contacted them several times,but I don't think they are ever going to support newer devices. Sad.
Source: The sample for this review was provided by Other World Computing. Please visit their site for more info.
Product Information
Price:
$49 as shown above; $19.99 to add a desktop conversion kit
Manufacturer:
Newer Tech
Retailer:
Other World Computing
Requirements:

iPad 2, 3, or 4, iPad mini (should also work with iPad mini with Retina display.) No word on iPad Air cover availability at this time.

Pros:

Well designed and implemented
Sturdy and adjustable
Useful in a variety of settings, from home to speaker platforms

Cons:

A bit bulky and heavy to carry around
Rigid, such that it's tough to use in some situations
Can't use with any other case.