We use affiliate links. If you buy something through the links on this page, we may earn a commission at no cost to you. Learn more.

Ryan Chapman and I are not only Gadgeteer colleagues but friends as well. We have been karate & tech buddies for years. We have been discussing Apple's latest generation of iPads for weeks now. After much talk and a bit of debate, we both decided to take the plunge and purchase Apple's latest tablet, the iPad Air. We will not be getting into the specs or specifics of the latest tablet from Cupertino, but the Air's release event itself. My comments will be in black and Ryan's will be in blue.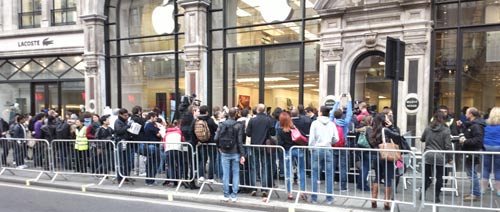 Dave: I have been to more than a few Apple product releases. A majority of them have been crazy and quite the event, typically involving long lines and a good deal of excitement. Even though Ryan and I already have iPads, we both wanted to get the iPad Air right out of the gate. So, to ensure us getting our hands on the Air today, we were both up at midnight to purchase the moment they became available online. But we had agreed to choose 'in store pickup' vs having to wait for Apple to ship them to us. It was Ryan's first Apple event so I/we thought it would be fun for us to meet and pick up our iPads at the same time.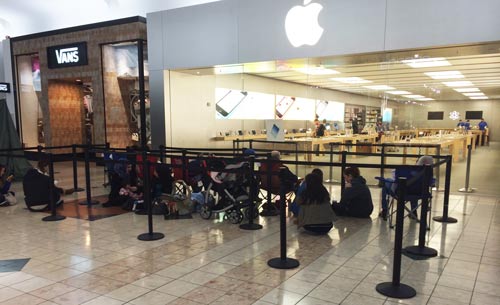 Ryan: I was quite underwhelmed for my first Apple event. I truly thought that a new form factor and 64 bit processor would bring in a large group of excited people. When we got there at 7:00 AM (stores opened @ 8:00), there were three bored security guards and about 20 people in front of us. We stood in line for the experience, but it was very muted and we were guided to a 'line' of three people (including Dave and I) for those who preordered online. I joked to the Apple employee that he can brag that he took care of the entire pre-order line by himself!
Dave: Honestly it was the saddest Apple moment I have ever witnessed. Of the 20 people ahead of us, a decent percentage of them were not there to buy an iPad but were hoping to snag an iPhone 5S. The other individual in the pre-order line with us literally bought his iPad on his iPhone while waiting in line thus getting into the shorter line…..pretty smart actually.

Ryan: While waiting for our iPads to be brought out, we took the chance to really look at the Air. I was amazed at how lightweight it was and it affirmed my choice of the bigger screen. The Mini may be more portable, but I use my iPad at home a lot so the bigger screen was better for me.
Dave: The latest iPad's weight and form factor are definitely nice without a doubt. I am currently using an iPad Mini and have grown accustomed to its size, weight, and ability to thumb-type on its virtual keyboard. But the screen often feels a bit cramped and unfocused compared to a retina display. I take my iPad with me on travel and most places I go, which makes portability a key element. But I am willing to try the Air's larger footprint to see if it will work for me. Because the larger screen is gorgeous and more functional as compared to the first generation Mini.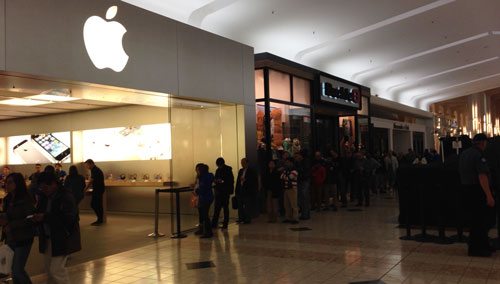 Ryan: The whole atmosphere was subdued and the tiny crowd didn't make hardly a peep when waiting. There was no chatter about features (which I thought would happen) or comparing devices. Heck, hardly anyone was on their cellphones even. They were just standing there like zombies, waiting for the opportunity to get their 'brains' and head out. Only our fellow pre-order guy talked to us.
Dave: There was zero wait for folks. Once 8:00 rolled around, those already in line took less than 30 minutes to make it inside the door. It took Ryan and I less than 20 minutes to complete our sales. It would have taken half that amount of time if there had not been a minor glitch in our pre-orders.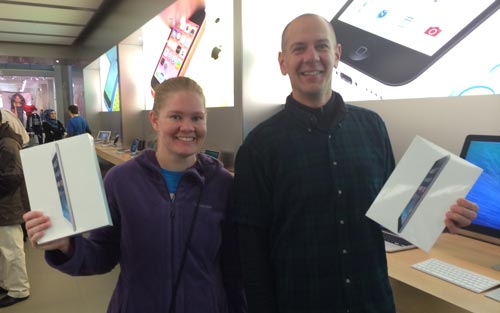 Dave: There is much debate and criticism that Apple has lost touch with today's tablet market. While creating great products, they fail to see that their "Cadillac" pricing needs to be adjusted….that there are products with a much better 'bang for the buck'. Be that as it may, both Ryan and I are pleased with our first day acquisitions. But if line-length and release day excitement are any indicators of what is ahead for (at least) their flagship tablet, we believe Apple may need rethink their current sales model.
Update 11/05/13
Dave: I did not even last 2 days before I returned my iPad Air. While significantly lighter than previous versions, the Air is just too big. I have become very accustom to my iPad Mini's size, form factor and function. The Air felt very cumbersome, like growing 6 inches over the Summer as a teenager.
Ryan: I on the other hand am fully enjoying my iPad Air. I just can't get over how light it is compared to my old iPad. I definitely notice a difference in speed as well. I think that since Dave came from the already extremely lightweight mini to the Air, that his views are much different. If I had chosen to get the Mini instead I think I would go back to the bigger version because I really enjoy the extra screen size.
If this year showed the lost mojo with such a significant upgrade, I feel next year will be even worse. There has to be a point where the upgrades are not significant enough to justify the premium price tag. This year, the Air is worth it in my opinion, but adding more RAM or a fingerprint reader isn't going to justify the cost.
Dave: Bottom line is that I will be going through this process again before the end of this month. Perhaps to more excitement, energy and fanfare than the Air. I know most of you have probably read the rumors that the retina display iPad Mini maybe (initially) difficult to get ahold of. If true, I hope to be one of the fortunate ones. The question is: will Apple allow folks to choose in store pick-up like they did for the Air or will they be going for the frenzy of it all.