We use affiliate links. If you buy something through the links on this page, we may earn a commission at no cost to you. Learn more.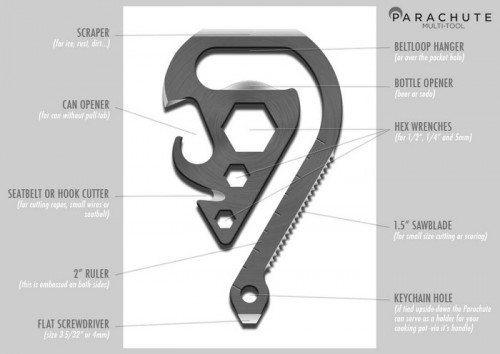 I will admit that I am a pocket multi-tool lover. I guess I picture myself as a closeted Boy Scout, aways wanting to be prepared. So when I see a different design for a pocket multi-tool, I like to post about it. The Parachute Multi-Tool, a Kickstarter project by Jeff Morin, recently caught my eye. The Parachute is a 10-function multi-tool that incorporates some unique features, like a saw and a hook cutter. The Parachute has:
Belt loop hanger
Bottle opener
Flat head screwdriver
Hex wrenches (5mm 1/4″ and 1/2″)
Saw blade
Keychain hole
Scraper
Can opener
Seatbelt or hook cutter
Ruler
Made of stainless steel with either a matte black or silver finish, the Parachute is 3.5″ high X 2″ wide X 0.15″ thick. The Parachute has several pledge options, with a pledge of $19 getting you your choice of the black or silver matte-finished Parachute. Funding for this project runs until October 21, 2013, and if successfully funded, the Parachute is set for delivery in the November 2013 time frame.