We use affiliate links. If you buy something through the links on this page, we may earn a commission at no cost to you. Learn more.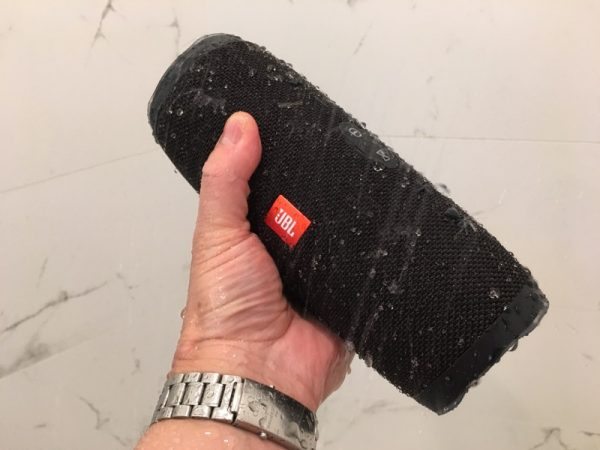 In the world of cylindrical bluetooth speakers, the Logitech UE Boom I reviewed is the first that usually comes to my mind.  It had great 360 degree sound plus a waterproof design.  Today I look at the JBL Charge 3 waterproof portable bluetooth speaker to see how it holds up in the crowded world of bluetooth speakers.
The JBL Charge 3 is listed as a Bluetooth speaker that's waterproof, linkable to another JBL Connect-enabled speaker, and serves as a 6,000 mAh battery to charge your smartphone.

Hardware specs

Battery type:  Lithium-ion Polymer (22.2Wh)

Music playing time:  up to 20 hours (varies by volume level and content)
Rated power:  2 x 10W
USB charge out:  5V / 2A (maximum)
Support:  A2DP V1.3, AVRCP V1.5, HFP V1.6, HSP V1.2
Frequency Response:  65Hz-20kHz
Transducer size (mm):  2 x 50
Signal-to-Noise Ratio:  >80dB
Bluetooth transmitted modulation:  GFSK, π/4 DQPSK, 8DPSK
Battery charge time:  4.5 hrs
Weight (g):  800
Power supply:  5V / 2.3A
Dimensions (W × D × H) 213 x 87 x 88.5mm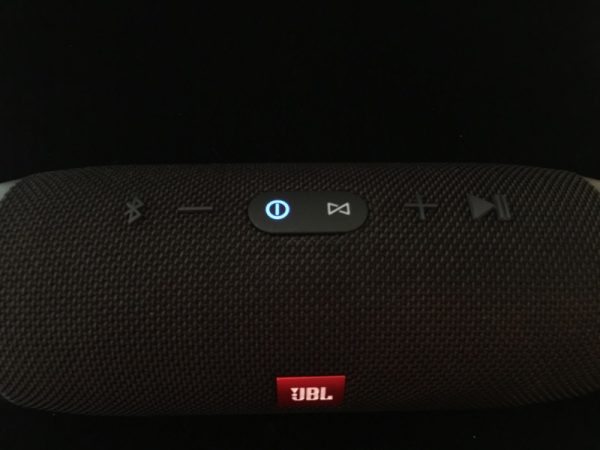 It's a little hard to see, but the power button on the top lights up to show connection status.  Each button has a nice tactile click to it.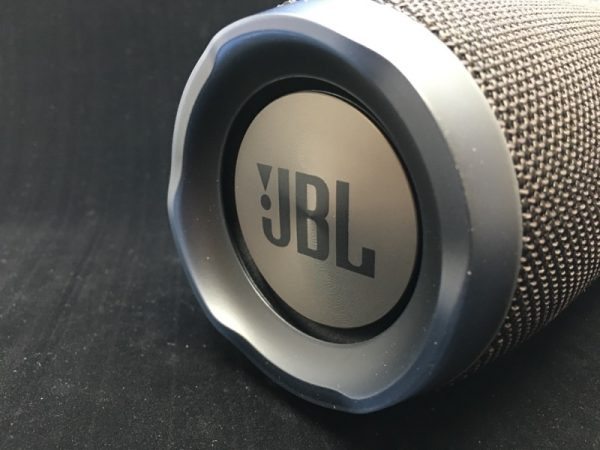 You'll find a passive bass radiator on each end of the Charge 3.  Notice the wavy end cap design that allows sound to pass when placed on end.
A thick rubbery flap is on the back.  It covers the aux audio input, microUSB charging port, and regular USB for charging your things.
Never miss one of our posts again. Sent MON, WED, and FRI with the latest gadget reviews and news!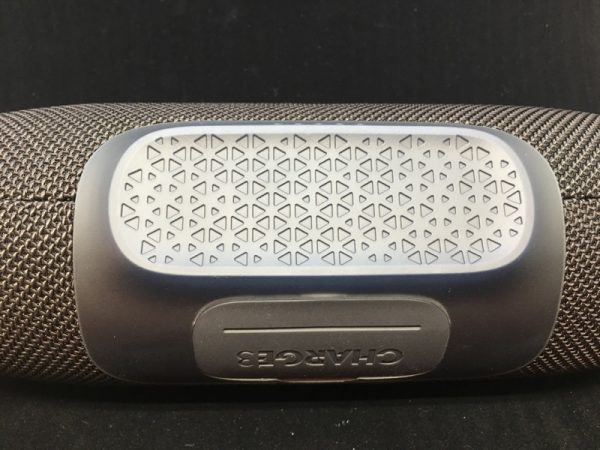 This unusual-looking thing is a flat spot on an otherwise cylindrical design.  It allows the Charge 3 to remain in a horizontal position without rolling away.  Pretty clever.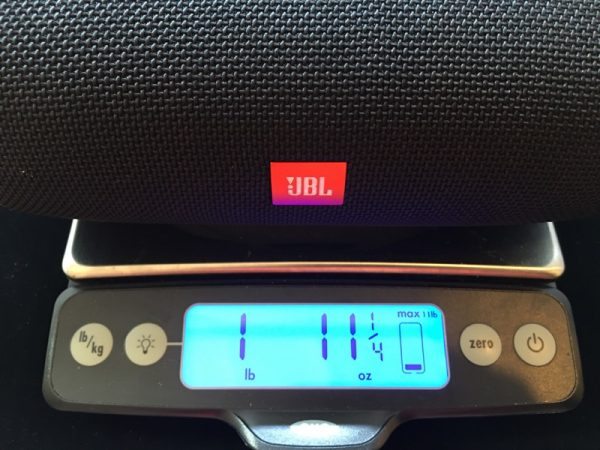 I weighted the Charge 3 at just over 1 lb, 11 oz. without the charger or cable.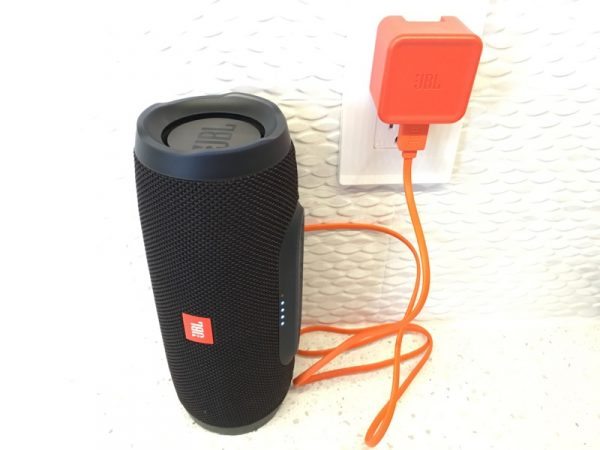 I really liked the bright orange USB charger and matching microUSB cable.  The cable is one of those flat ribbon-style ones that tend not to tangle as much.  Note the bright series of white LED dots at the base of the rubber foot that indicates charge level.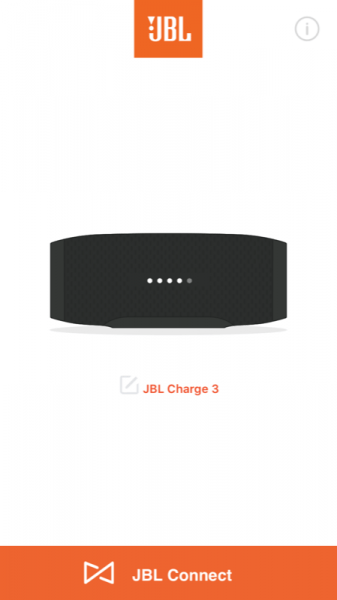 There is a smartphone app (iOS version shown above) but it seems to be limited to setting up the JBL Connect features, which allows you to tie two compatible speakers together in stereo.  I found no audio adjustments.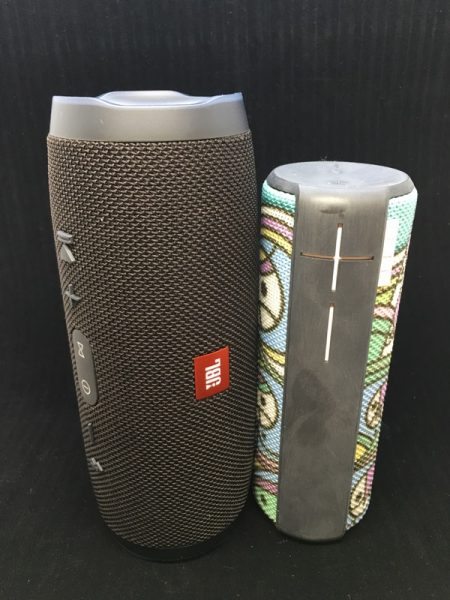 At first I thought this would be a pretty comparable side-by-side with the UE Boom speaker I reviewed in 2014 until I put them side by side.  The Charge 3 is definitely larger.  Since I didn't have the closer-in-size, larger UE Megaboom to review, I decided to test the two anyway.  To the lab!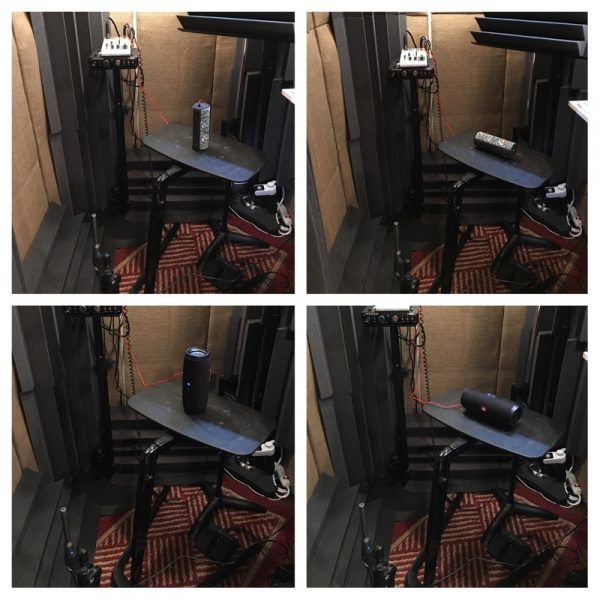 I placed each in my recording booth and arranged them in both standing up on end position as well as "lying down/horizontal".  Here were the results of the sweeps: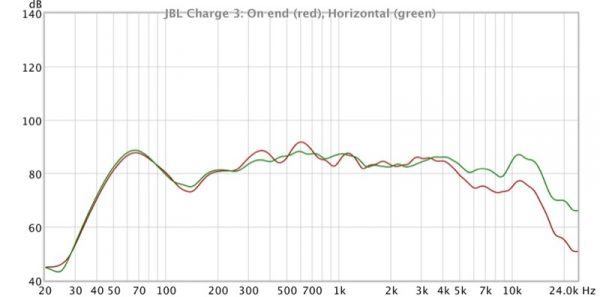 First up, the JBL Charge 3.  Not much difference between standing up and lying down, except the higher frequencies seem a little attenuated when standing on end.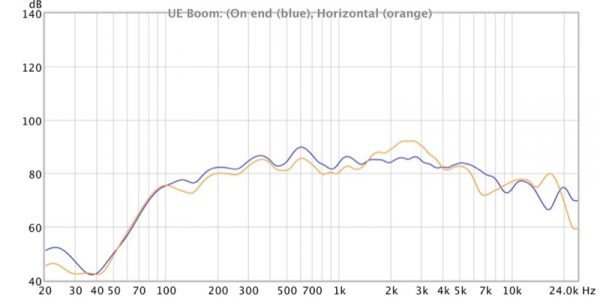 Here's the same test with the UE Boom, in both standing up on end and lying down.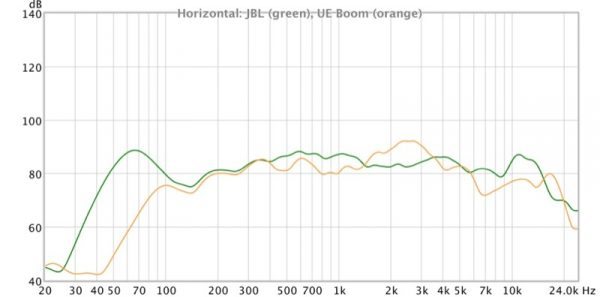 Now let's overlay both speakers lying down (horizontal).  The JBL (green) definitely has a bigger bass presence below 100 Hz.  The UE Boom (yellow) just kind of rolls away below that.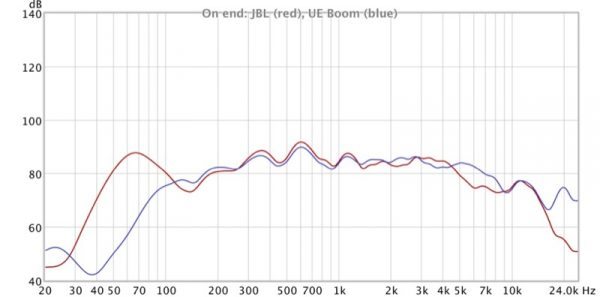 The story is pretty much the same when standing upright.  This time, JBL in red, UE Boom in blue.
I can definitely confirm these findings with music.  If you like low-end thump, you're not going to rattle your windows, and the police aren't going to knock on your door.  However, it's a definite improvement over the UE Boom.  Maybe the UE Megaboom would be a better one to test against.
I also found out the Charge 3 can play very loud, and very clear quite by accident.  I still had the Charge 3 set to a very loud volume setting after testing when I tried some music, and I nearly leapt out of my chair.  Even at a "this is way too loud for me" level, it still sounded good.
As pictured near the top, the Charge 3 is waterproof.  The one thing I didn't quite anticipate after the water test was how moisture tends to collect in the two bass radiator end caps.  Be sure to shake it out before you pack it away!
The JBL Charge 3 is bigger and bulkier than the now-classic UE Boom.  The app doesn't do a whole lot without a second compatible speaker.  However, the clever design includes bass radiators at each end, a "foot" that permits stable horizontal play, and noticeable low-end improvement vs. my old UE Boom.
Source: The sample for this review was provided by JBL. Please visit their site for more info and Amazon to order.