We use affiliate links. If you buy something through the links on this page, we may earn a commission at no cost to you. Learn more.

Yes, another Bluetooth speaker.  Maybe I'm a grouch, or old fashioned, or something else, but I see very little use or need for Bluetooth speakers.  The only one I own is the a secondhand Jawbone Jambox, and I never use THAT.  Then I found out the Logitech Ultimate Ears UE Boom model was highly rated, so I thought I'd see what all the fuss was about.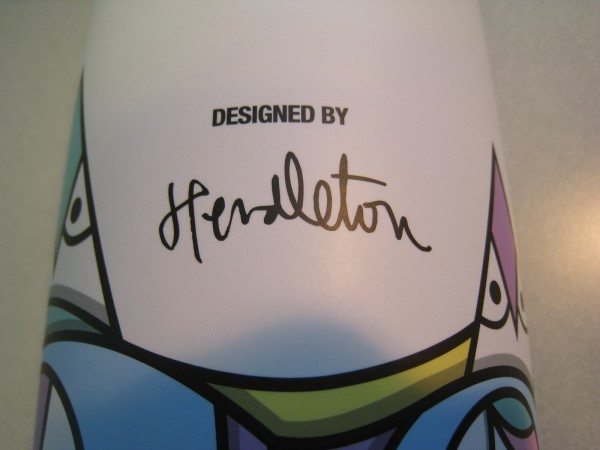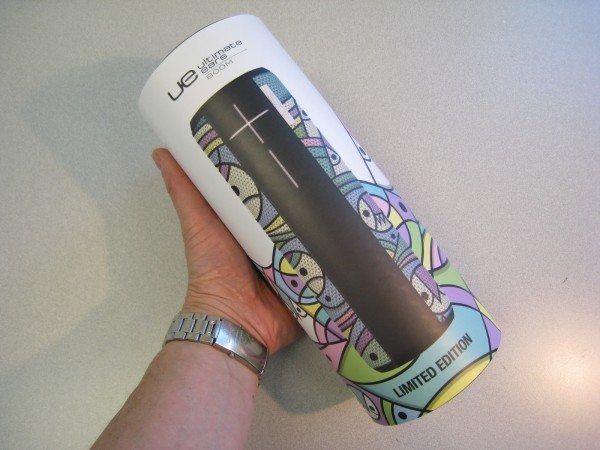 The first thing you'll notice is that this version of the Logitech Ultimate Ears UE Boom speaker is… different.  It's wild, colorful, and Limited Edition.  This version is the Jettison Edition, styled by skateboard artist Don Pendleton.  The crazy shapes and colors remind me of something I probably wore in the 80's.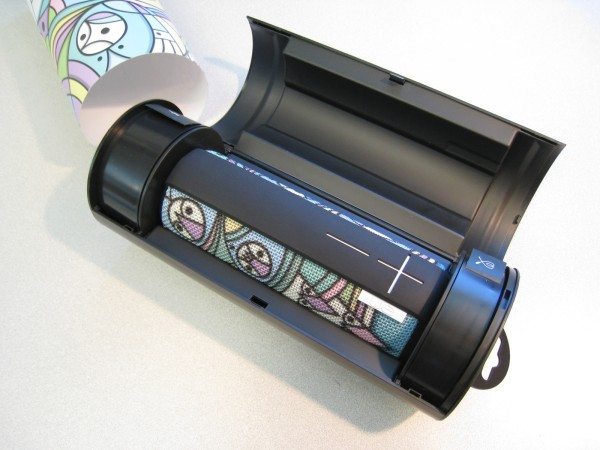 The box!  Or cylinder.  Very cool.  Reminds me of Spock's photon torpedo casket from Star Trek II and III (nerd alert!)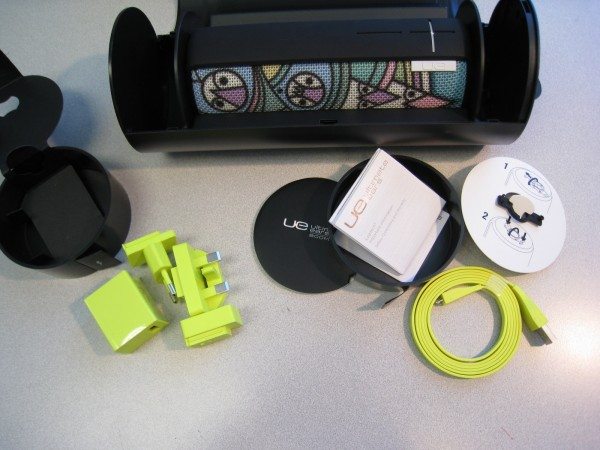 Somehow, they managed to cram all these bits and bobs in the cylinder.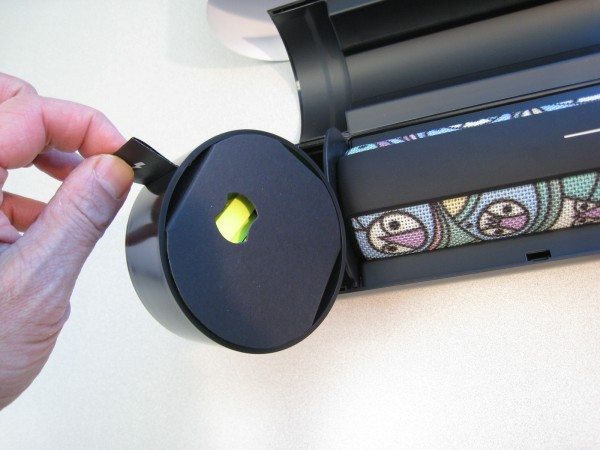 You'll find them tucked neatly away in these clever round boxes.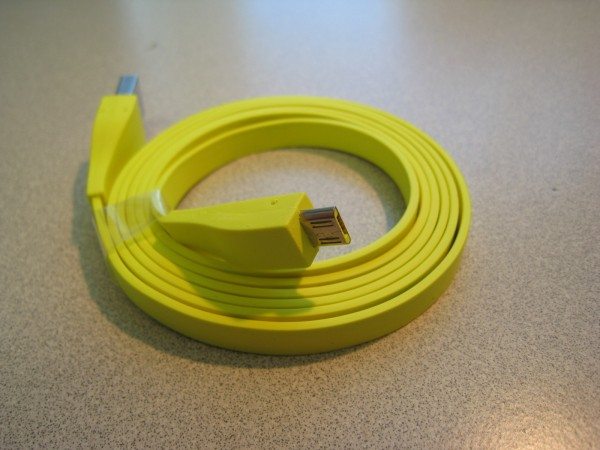 A neon yellow micro USB cable!  And it's flat!  I love it.  You'll never lose this one.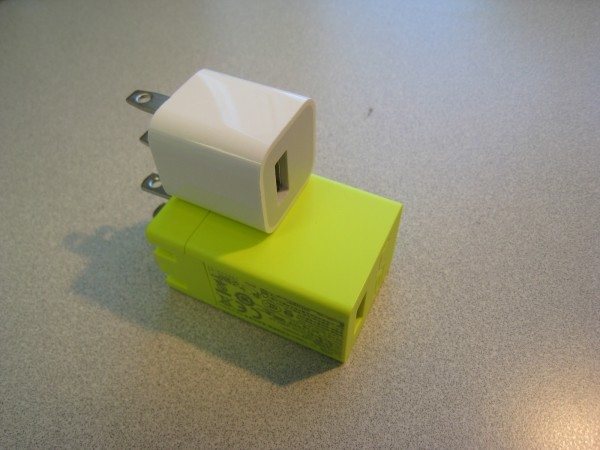 And, a matching USB adapter.  It's a little bigger than the generic Apple charger, but that's probably because it's rated at 2 amp output vs. the Apple's 1 amp.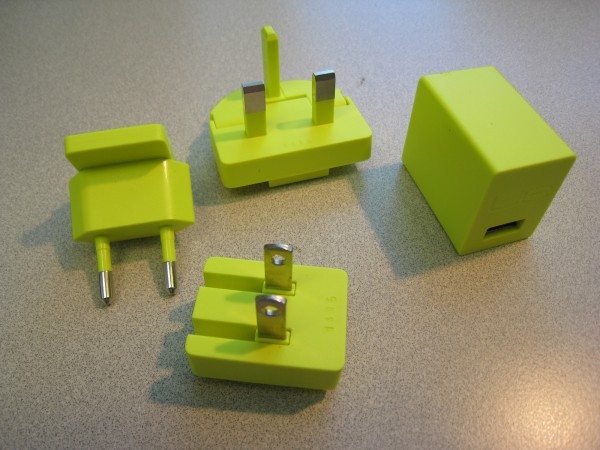 Logitech thoughtfully included a total of three plugs that snap into the charger.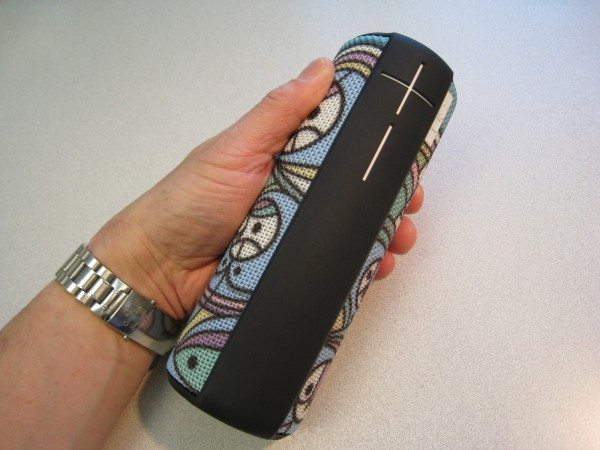 Here's the Ultimate Ears in my hand.  I can't help but think it feels a lot like a large can of energy drink.
WIRELESS CAPABILITIES:
Pair up to 8 Bluetooth® enabled source devices – Connect up to two source devices at the same time.
Wirelessly play (stream) to 2 UE BOOMs from one Source.
Mobile range of play is up to 15m (50 ft).
NFC (passive) enabled – (works with active NFC enabled source devices * Android Jellybean and higher).
AUDIO:
Maximum Sound Level: 88dBA
Frequency Range: 90Hz – 20kHz
Drivers: Two 1.5″, 4 Ohm Drivers; Two 2″ Passive Radiators
POWER:
Rechargeable Lithium-Ion Battery for up to 15 hours of battery life between Micro USB charges.
Actual battery life will vary with use, settings and environmental conditions.
Rechargeable batteries have a limited number of charge cycles.
Charge time: 3.4 hours
APP CONFIGURABLE (iOS AND ANDROID)
2-YEAR LIMITED HARDWARE WARRANTY
DIMENSIONS
Diameter: 6.5cm (2.6")
Height: 18 cm (7.1")
Weight: 538g (speaker only) 19oz
COMPATIBILITY:
For Audio Playback:
Smartphones, tablets and other devices that support Bluetooth® wireless audio profile [Advanced Audio Distribution Profile (A2DP)] or 3.5 mm audio output.
For Phone Calls:
Phones that support Bluetooth® Hands-Free Profile (HFP1.5)
IPX4 RATED:
Ingress Protection Rating – Liquid – Level 4: Water Resistant Acoustic Skin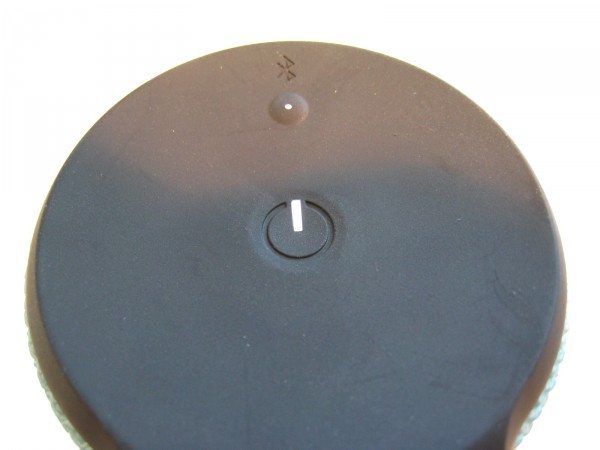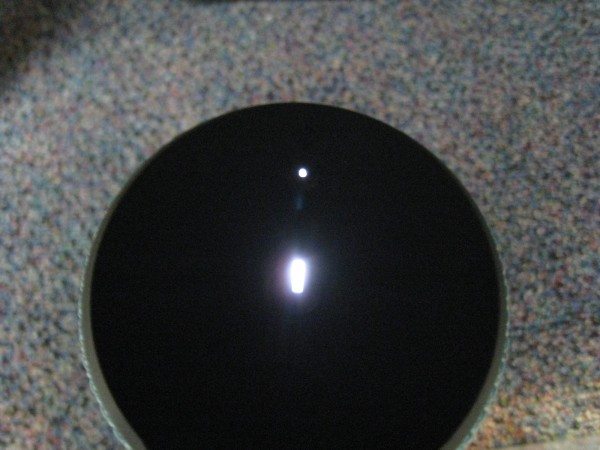 On the top, you'll find two buttons:  The Bluetooth pairing button (top) and the power button (center).  Both have white LEDs hidden behind them.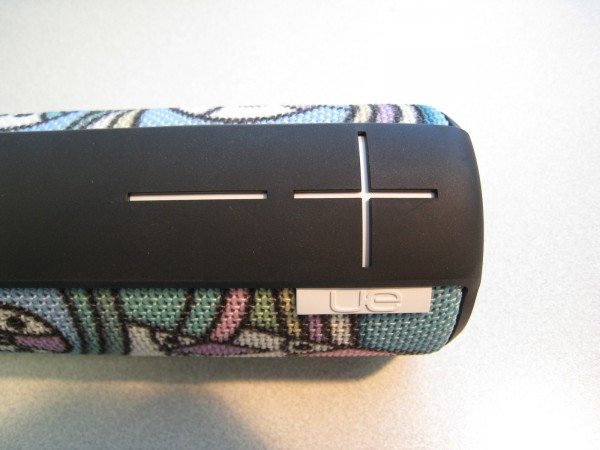 On the side you'll find two HUGE volume buttons.  Although look large, the actual switches are located dead center of the plus and minus symbols, and you'll have to find them with your fingertips.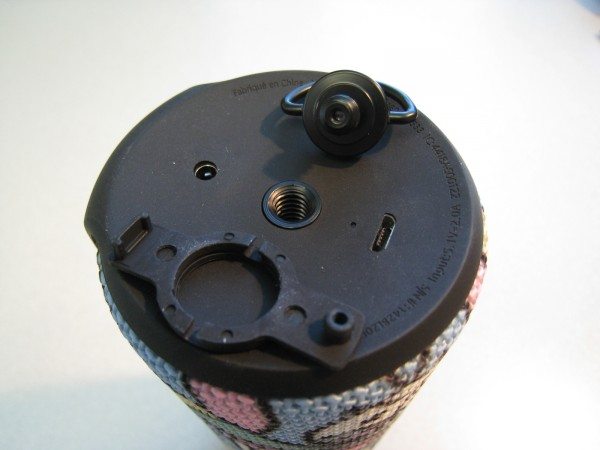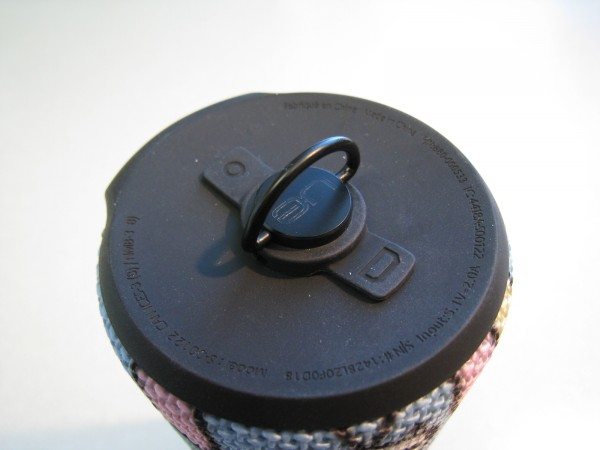 On the other end is an audio input jack, tripod thread, and micro USB charging port.  Here you'll see the included D-ring screw and rubber plug for splash resistance.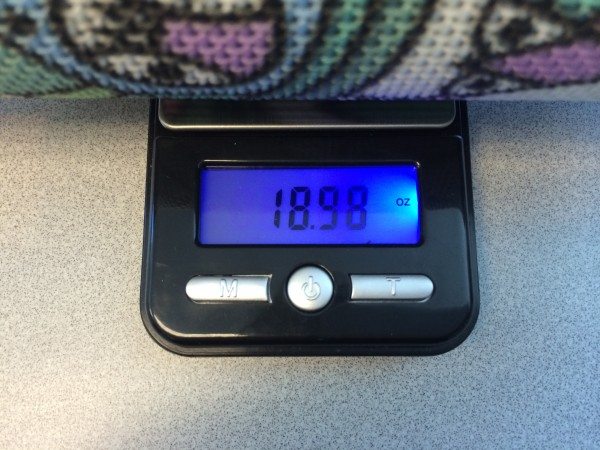 If you're curious, the cylinder weighs in at just a hair under 19 ounces.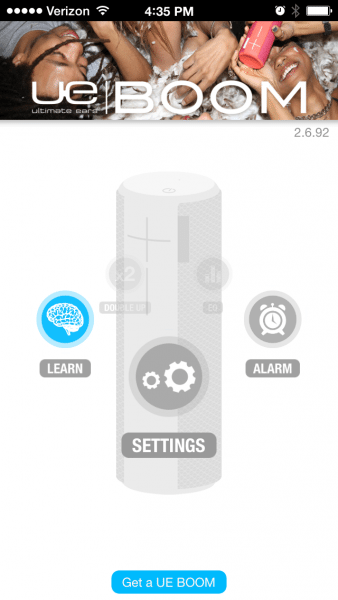 Yes, there's an app for that.  Once connected, the greyed out photo of the speaker actually reflects the color of the physical speaker you have.  Neat touch!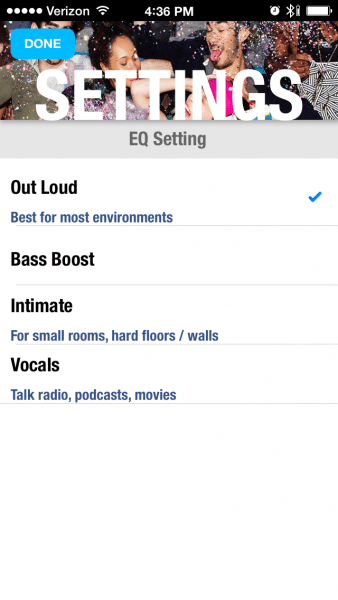 There are only a few EQ settings.  They don't appear customizable.  In practice, I found the default "Out Loud" the best for all-around sound.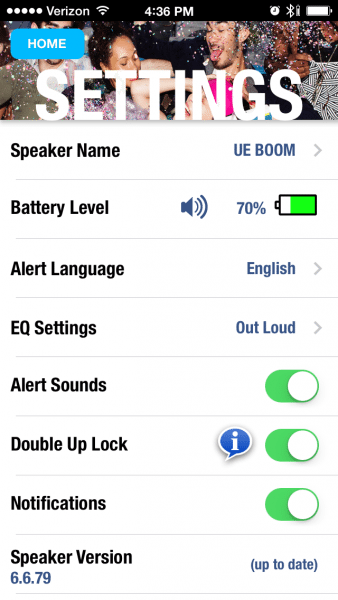 Here's the settings screen.  I like how you can check the speaker's firmware version from here.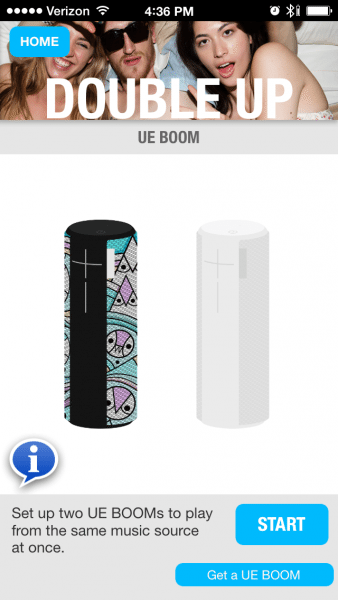 Double Up is an unusual feature where you can somehow link two speakers and serve them up in unison.  I couldn't test this since I only had one.  Notice the one picture on the left is the exact some one I tested.  Nice touch!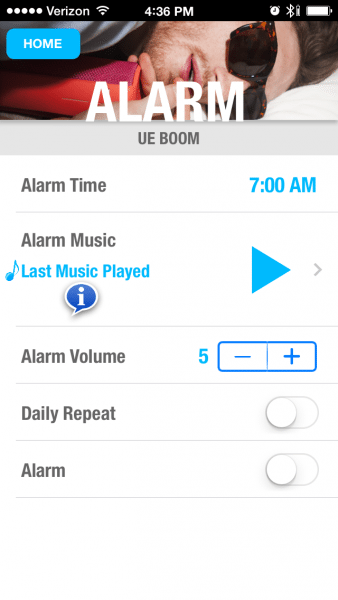 Yes you can set your speaker as an alarm, as shown by the cool hip guy with perfect hair napping with his violet-and-orange speaker.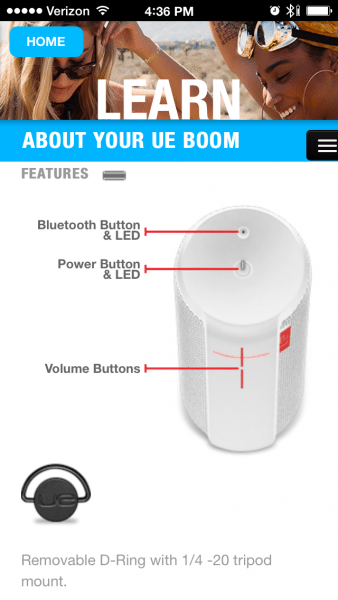 Another nice touch:  There's a short scrollable overview of your speaker, should you need a refresher.  Not shown in this screenshot:  Pressing the volume + and – buttons gets the speaker to speak the battery level.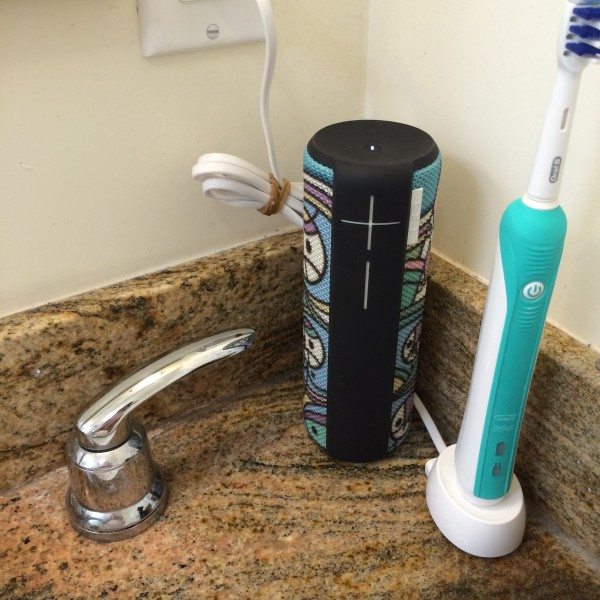 But how does it SOUND?  Well, like I said, I have NO use for these Bluetooth speakers, but there's someone in my household who does!  I let them loose with the Ultimate Ears UE Boom Jettison Edition, and it somehow found a home… in the bathroom?
Well why not.  The Ultimate Ears UE Boom is coated in what they call "plasma armor", which is touted as water and stain resistant.  Here it is, sitting next to the Oral B Deep Sweep toothbrush.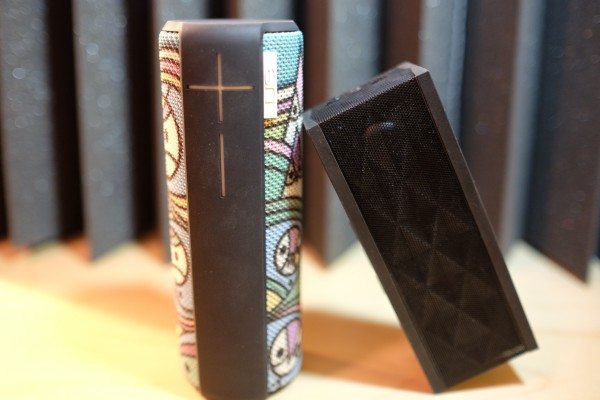 And how did it compare to the previous bathroom speaker resident, the original Jambox?  Well, it seems that although the Jambox produced a little more bass, the Ultimate Ears UE Boom produced a much more room-filling sound.  The shape of the Logitech does lend itself to a 360-degree effect.
I never cared for the Jambox's fussy, three-position slider power switch.  The Logitech Ultimate Ears UE Boom's one-touch on/off switch gives out distinctive audio feedback when turned on and off (you can turn them off if you like) to minimize confusion.
And, a HUGE plus for control freaks like me:  The Logitech Ultimate Ears UE Boom's volume buttons actually mimic those on the iPhone (iOS 7.1.2 when tested).  That is, when you adjust the volume on the speaker, you can see the slider change on your iPhone, too… and vice versa.  I can't do that on my old Jambox, at least in iOS.
This Logitech Ultimate Ears UE Boom Jettison Edition speaker has found a home.  Sure, it may not be churning out jams at the local skate park, but it sounds great and looks sharp, too.
Source: The sample for this review was provided by Logitech. Visit their site for more info.
Product Information
| | |
| --- | --- |
| Price: | $199.99 |
| Manufacturer: | Logitech /Ultimate Ears |
| Requirements: | |
| Pros: | Room-filling sound in a cool-looking, artist-inspired package. Volume controls actually link up with iOS devices properly. Don Pendelton artwork is really eye-catching. |
| Cons: | You have the press the volume buttons closer to the center of the + and - symbols. |