We use affiliate links. If you buy something through the links on this page, we may earn a commission at no cost to you. Learn more.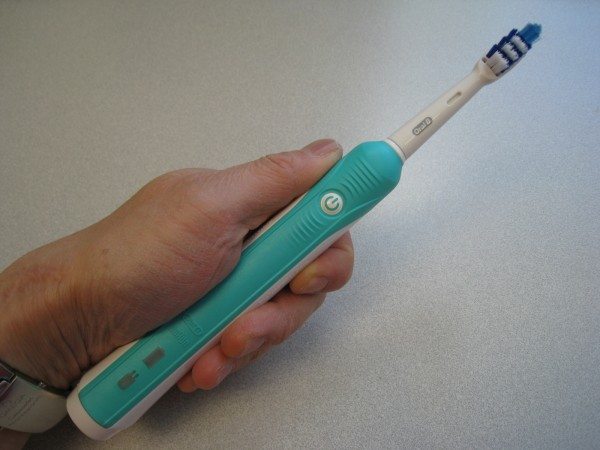 "He needs to brush longer," said my son's dentist.  Funny, I seem to get that from my dentist as well.  What good could an electric toothbrush do that can't be accomplished with a regular toothbrush?  Today we look at the Oral-B Deep Sweep 1000 Electric Toothbrush.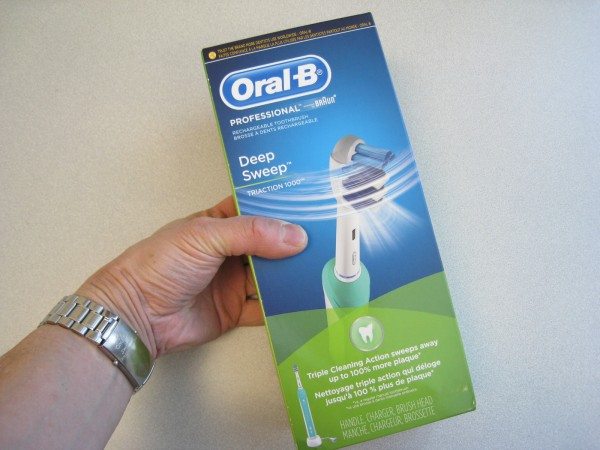 Oral-B Deep Sweep 1000 Electric Toothbrush Features:
Superior plaque removal: Triple action deep cleaning technology removes up to 100% more plaque than a regular manual toothbrush, even between teeth
Advanced Triple Zone cleaning technology: 1) Moving power tip for hard-to-reach back teeth; 2) Shorter, stationary bristles for thorough surface cleaning; 3) Longer, sweeping bristles for deep between teeth
Deep cleaning action: Provides 40,000 pulsations and 8,800 sweeps per minute
Long-lasting battery: Battery lasts up to 7 days when brushing 2 minutes, twice a day
Professional timer with quadrant prompt: A two-minute timer with 30-second intervals helps guide you through the four quadrants of the mouth, making it easy to track how long you've been brushing
Base charging station: Also acts as toothbrush holder
Charge-level display: Lets you gauge how full the battery charge is
User-friendly intuitive design: Superior cleaning results with no change in brushing technique vs. a regular manual brush. With wide sweeping bristles that reach significantly more tooth surface than a standard manual brush, you can enjoy a comprehensive cleaning.
Indicator® Bristles: Indicator bristles signal time to change brush head.
Ergonomic Waterproof Handle: Waterproof handle has a non-slip grip for complete control
I do remember as a kid wanting one of these electric toothbrushes.  I tried one as an adult but the novelty factor wore off pretty fast.  I'm willing to give this another shot.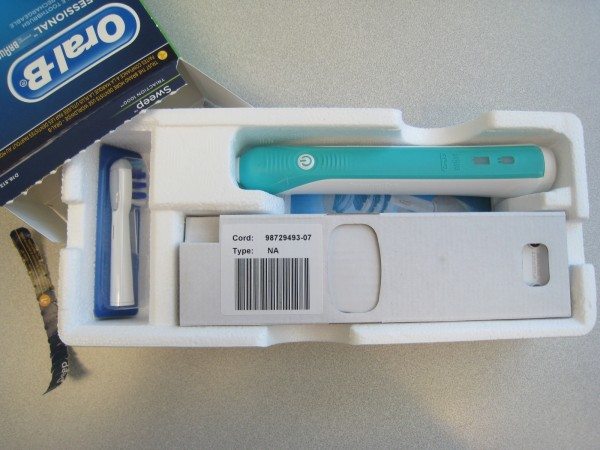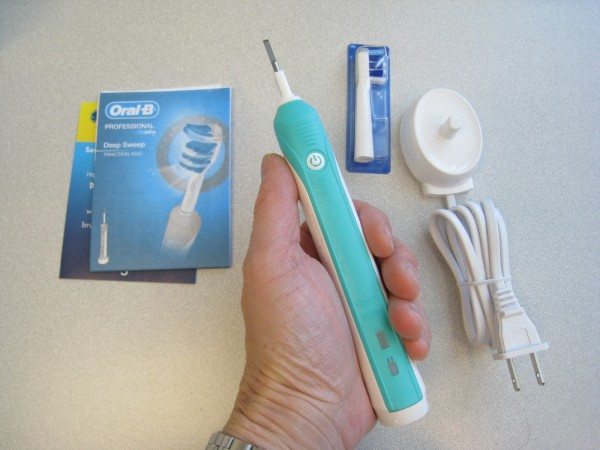 Comes with the charging dock and a brush head for starters.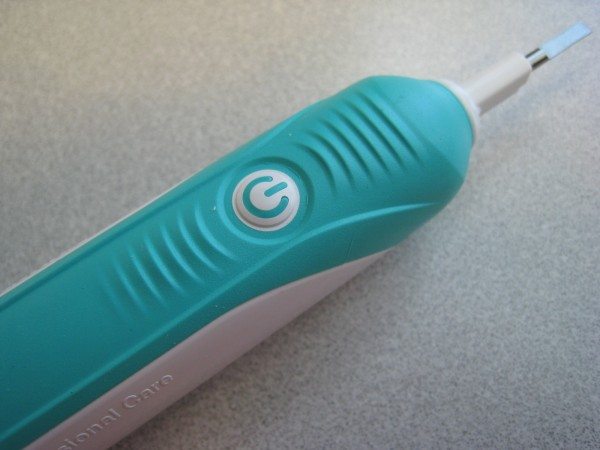 There's only one button to turn the brush on and off.  That's it!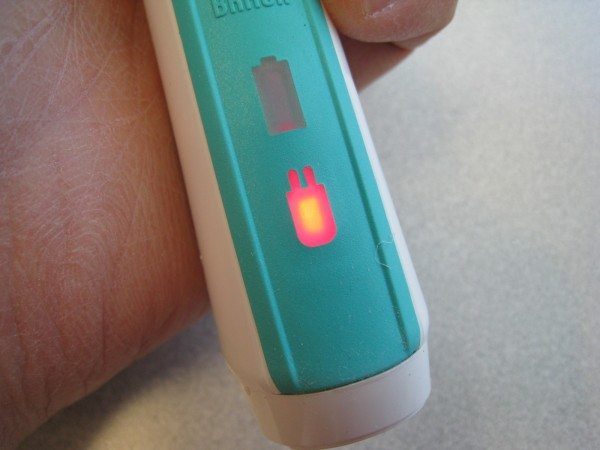 The red light means it's time for a charge!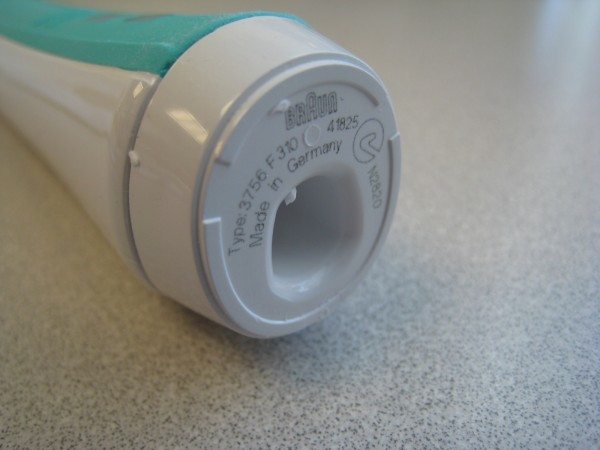 The bottom of the toothbrush.  Made in Germany.  Brush heads appear to be made in China.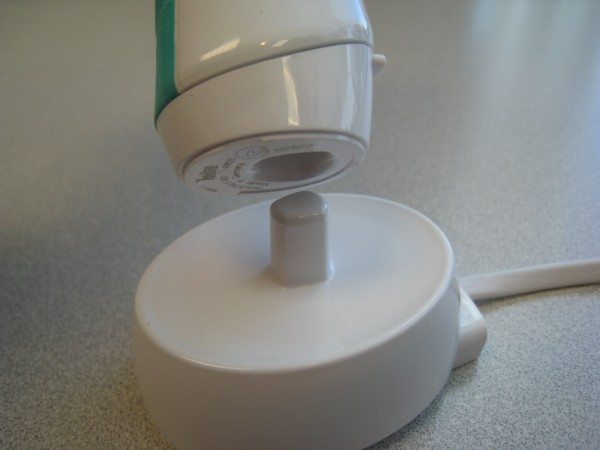 The brush docks with the inductive charger.  No exposed electrical contacts.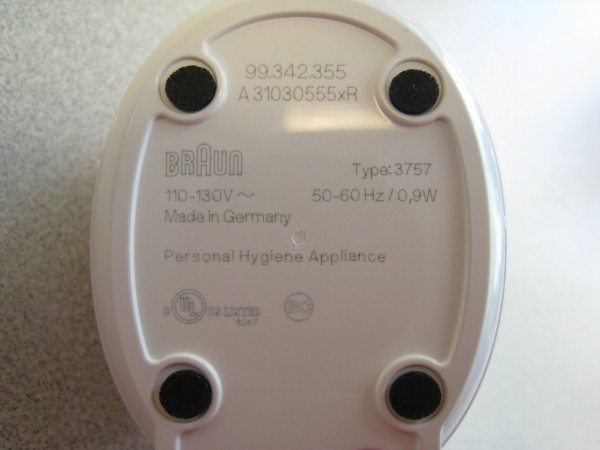 The bottom of the dock.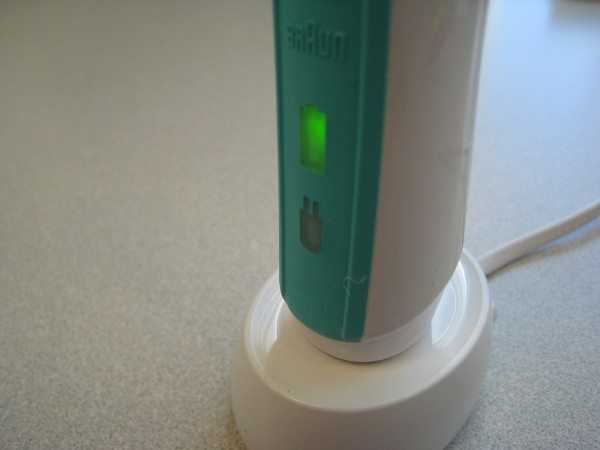 A green light blinks to let you know the brush is charging.  After a while, the light stops blinking when charged.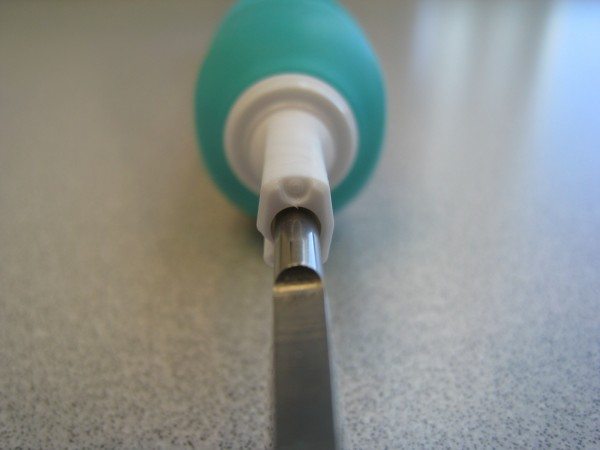 A view of the metal shaft.  Note the flat portion of the shaft, and the unique keyed bits on the plastic part.  This is undoubtedly to allow certain kinds of brush heads to be used.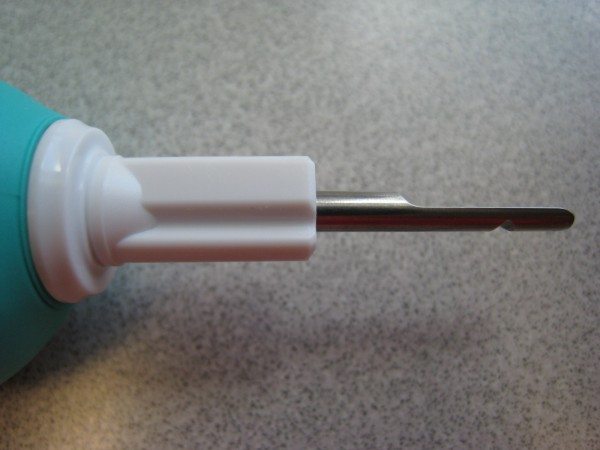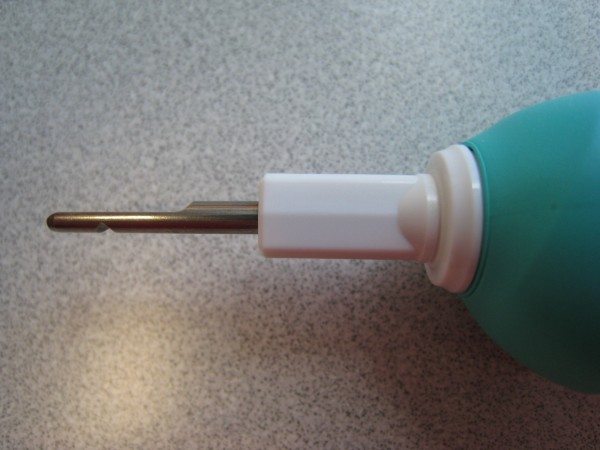 Side views of the toothbrush top.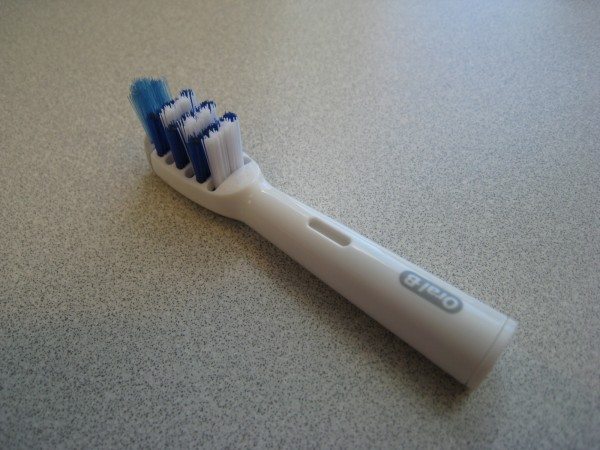 The actual head is made up of plastic.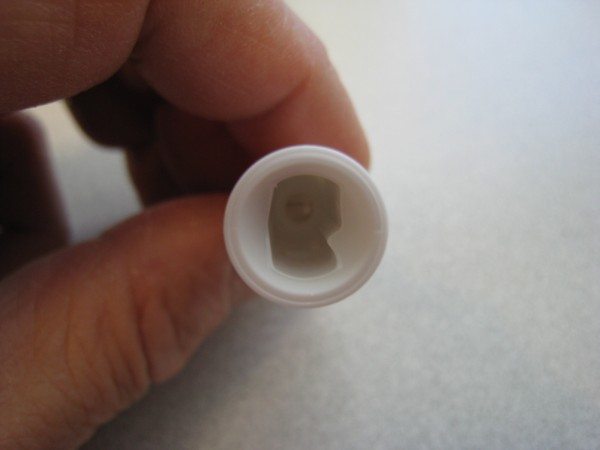 Bottom view of the brush head.  Note they key on the right side.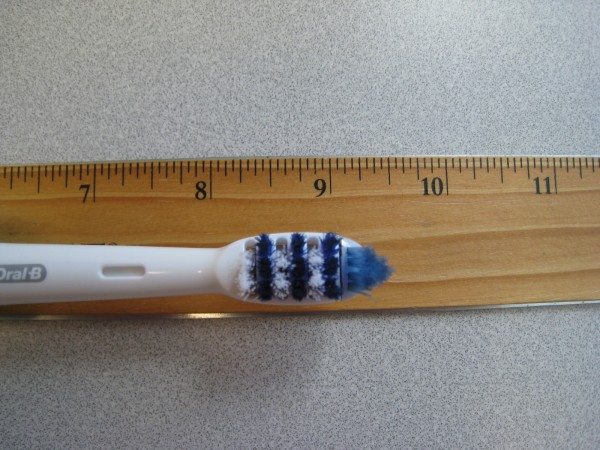 Overall, when assembled, the entire Oral-B Deep Sweep 1000 measures over 9 inches.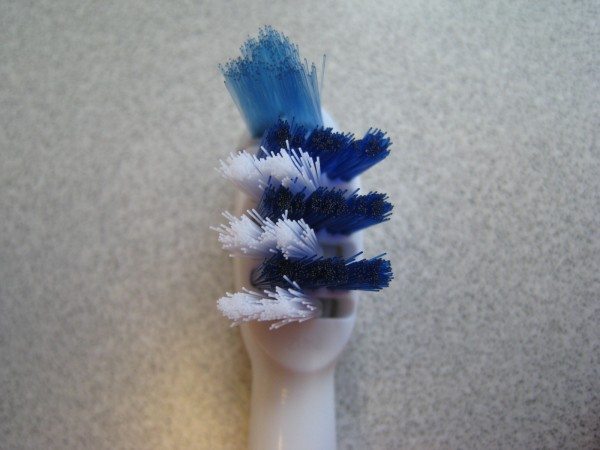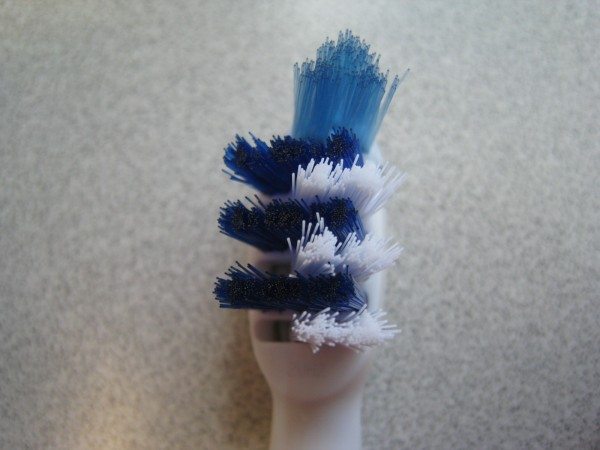 It seems every electric toothbrush head has it's own unique characteristics.  This one "sweeps" rapidly side to side.
After I charged it up, it was time to brush.  Yes, it felt strange at first but the vibrating bristles gives a nice massage to the gums as well.  Very soothing!
The other important feature is the brush timer.  Oral-B suggests brushing in quadrants:  Upper-right, upper left, lower right, lower left.  After 30 seconds, the brush "stutters" (vibrate turns on-off-on) to remind you that 30 seconds has passed, and you can move on to the next quadrant.  After four 30-second periods, the brush sutters about four times (buzz-buzz-buzz-buzz) to let you know two minutes have passed.
How did it feel?  At first I was annoyed about having to brush so "long" until I realized I had brushing probably too little.  My gums are left feeling renewed, like they just spent the day at the spa.  Not a bit of grime left on my teeth, either.  It's like taking your teeth to the car wash.
The brush timer is perhaps the biggest benefit.  Since using the Oral-B Deep Sweep 1000, I've been brushing for a solid 2 minutes each time.  Sure I could probably use a stopwatch or look at a clock with a regular toothbrush, but using a toothbrush that keeps time is so much more convenient.
Update 01/22/15
I've actually stuck to using this toothbrush for nearly a year now.  Still going strong.
Updates 04/23/15
Been nearly one year: Still performing great. And, I'm surprised I'm still using it. I've changed the heads periodically, of course. The only thing I've had to do is wipe down the charging base from time to time. It seems to collect moisture if I dock a wet handle. I try to prevent water and toothpaste stains from congealing on the base by wiping down the handle a bit when I'm done.
Source: The sample for this review is provided by Oral-B. Visit their site for more info.
Product Information
Price:
MSRP $99 (about $65 street)
Manufacturer:
Oral-B
Requirements:
Pros:

Waterproof
Two-minute brush timer helps ensure a complete cleaning

Cons:

Expensive for "just" a toothbrush