We use affiliate links. If you buy something through the links on this page, we may earn a commission at no cost to you. Learn more.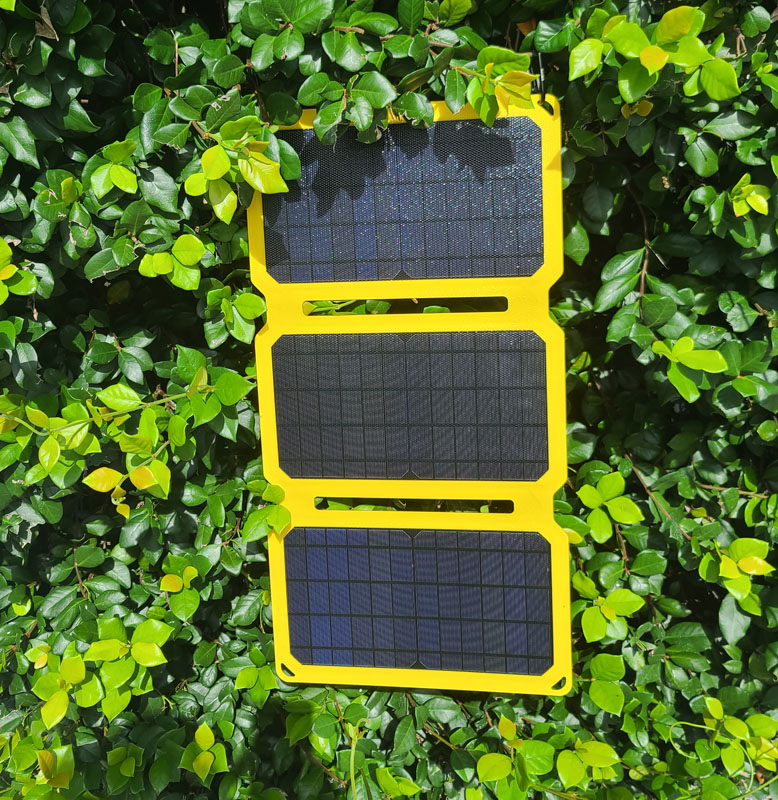 REVIEW – I've talked before about how reliant we Gadgeteers are on power.  We love gadgets and gadgets love power.  How about a gadget that doesn't run on power – it creates power!  Let's take a look at the SunJack 25W foldable ETFE monocrystalline solar panel charger with two 10,000mAh power bank batteries system.  How's that for a mouthful?
What is it?
Basically, it is a solar panel.  It is constructed using ethylene tetrafluoroethylene (ETFE) – a fluorine-based plastic. ETFE is highly corrosion-resistant, and more importantly, can withstand exposure to high temperatures.  This is certainly important for a product designed to be left out baking all day in bright sunlight. ETFE is also up to 95% ultraviolet (UV) permeable, meaning that it allows more sunlight to hit the solar cells, improving overall efficiency.  It features a monocrystalline that provides improved efficiency versus polycrystalline units. With the included batteries, the entire system is a solar power solution that can both provide immediate daily energy plus capture and store energy in the batteries for use after dark.
What's in the box?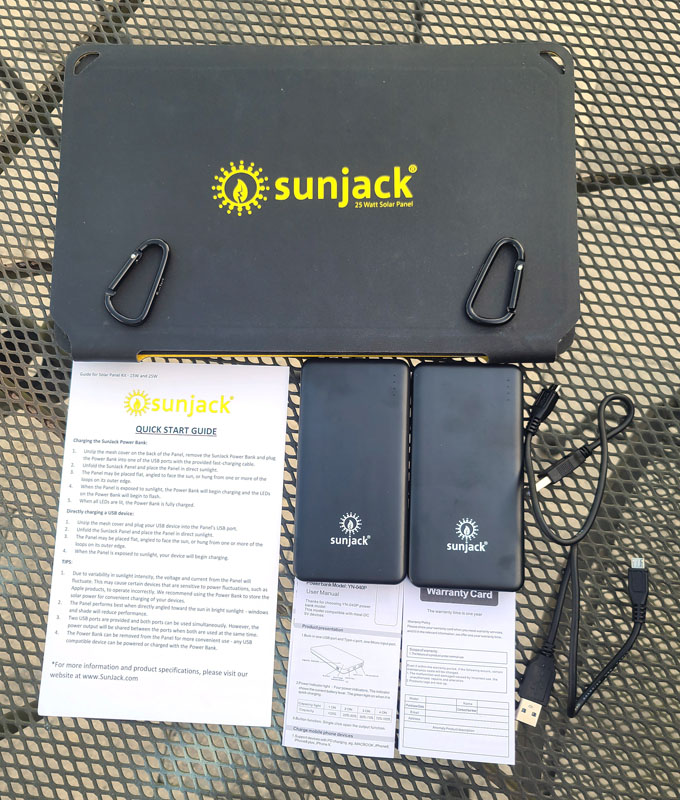 SunJack 25W solar panel
Carabiners (2)
Quick start guide
10,000 mAh batteries (2)
USB-A to micro-USB charging cables (2)
Battery manual/warranty cards (2)
Hardware specs
Solar panel: 25 Watts high-efficiency mono-crystalline design
Max output voltage/current: Two 5V/2A USB-A ports
Battery: 2 x 10,000mAh lithium-polymer battery with USB-C 18W and Quick Charge 3.0
Unit size folded: 12.5″ x 8″ x 1.2″ (31.8cm x 20.3cm x 3cm)
Unit size unfolded: 24.5″ x 12.5″ x 1″ (62.2cm x 31.8cm x 2.5cm)
Unit weight: 3.0 lbs / 1.4 kg (batteries included)
Design and features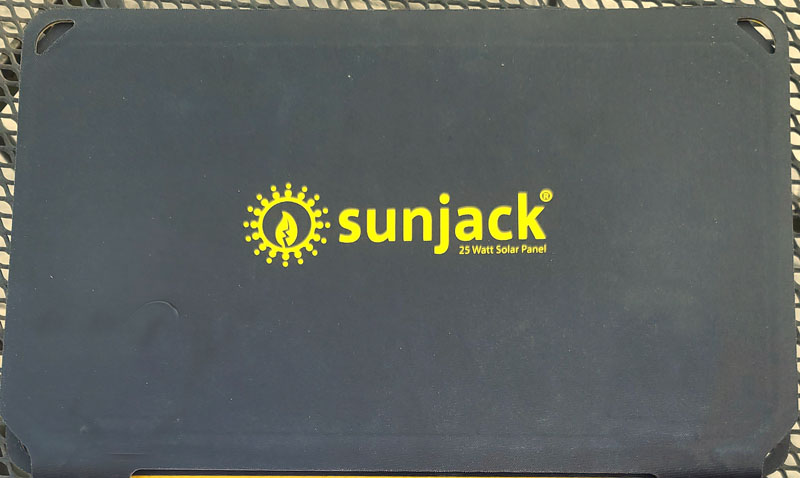 The panel is a tri-fold design. It folds up to about the size of an iPad.  Weighing in at about three pounds with the batteries installed, it's not light, but it's not overly heavy. Unfolding the panel reveals the three monocrystalline cells that gather the UV light.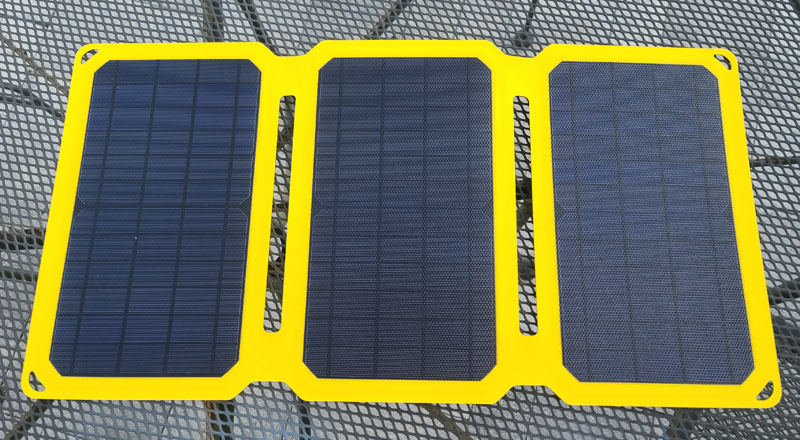 There are four mounting holes, one at each corner.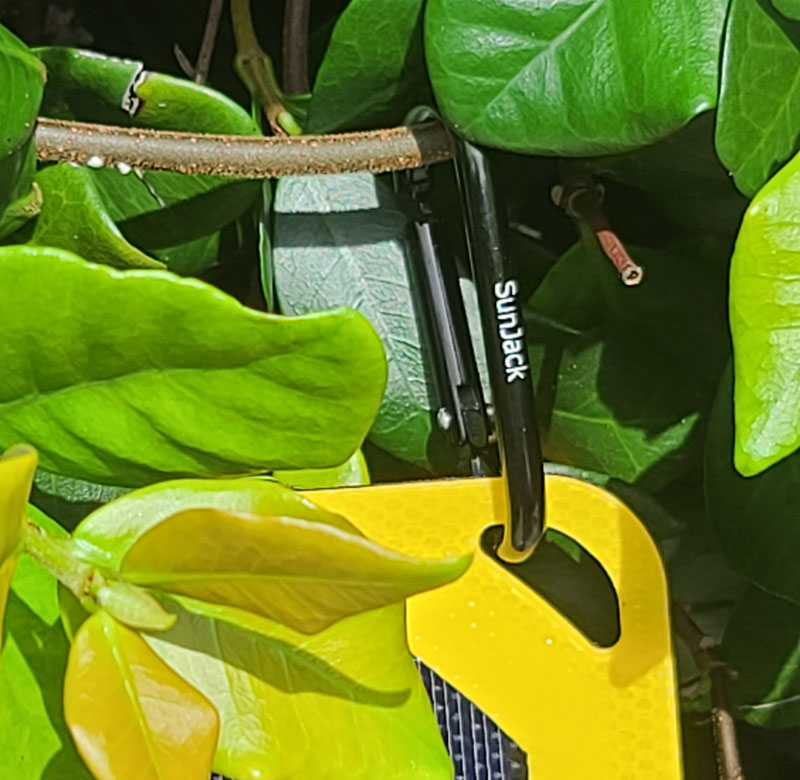 These allow you to use the two included carabiners to hang the panel from whatever is available facing the sun.  One potential idea would be to open the panel and hook it on a backpack.  That way, if you're out hiking, you can get a free charge along the way.
Behind the center panel, we see a mesh-covered zipper compartment.  There are two elastic bands sewn-in designed to hold the two included batteries.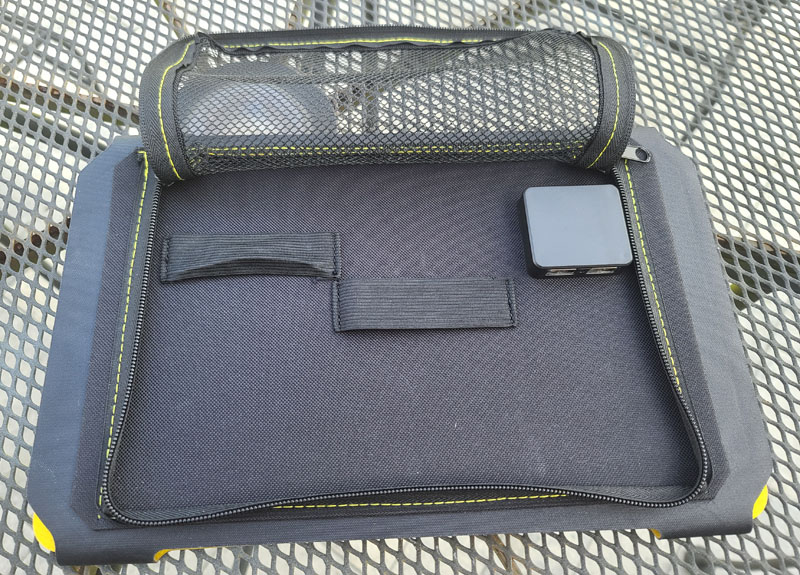 in the photo above, you can see the charging port that supplies the power in the upper-right corner.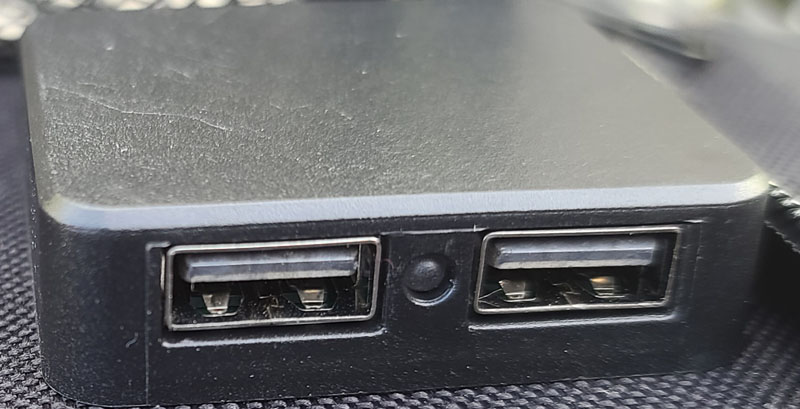 That port contains two USB-A charging ports and a power indicator LED between the ports.
The batteries are fairly small for their 10,000 mAh capacity.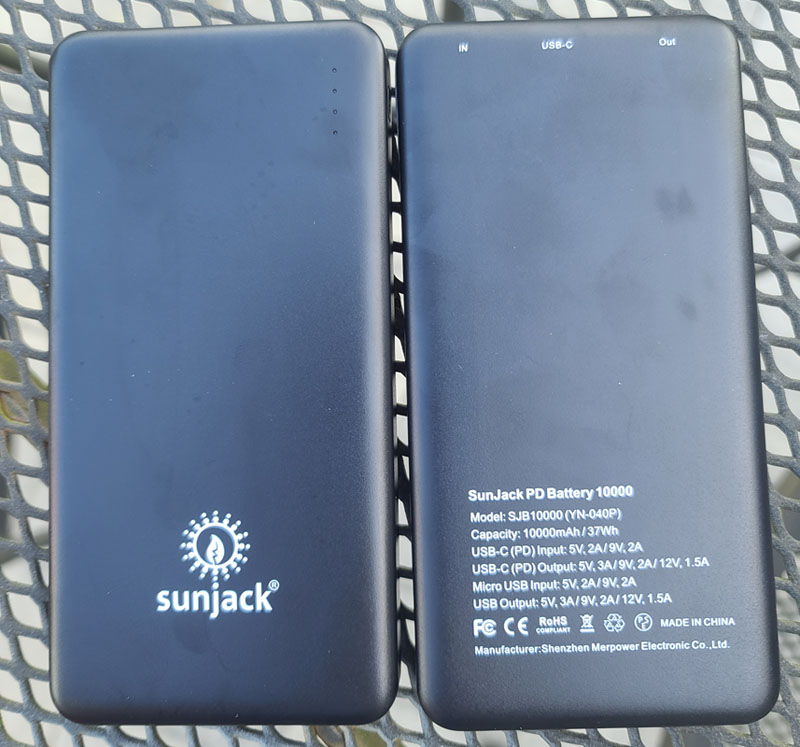 Each battery has three ports: a micro-USB port to charge the battery, a USB-A port to charge devices plus a USB-C PD port.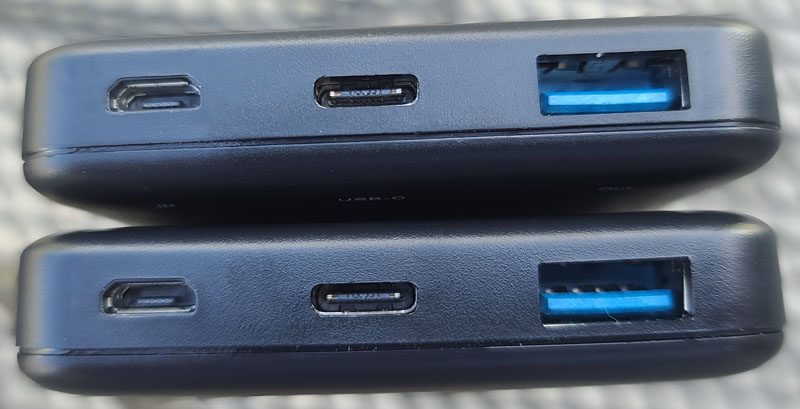 Here's what it looks like with the batteries installed.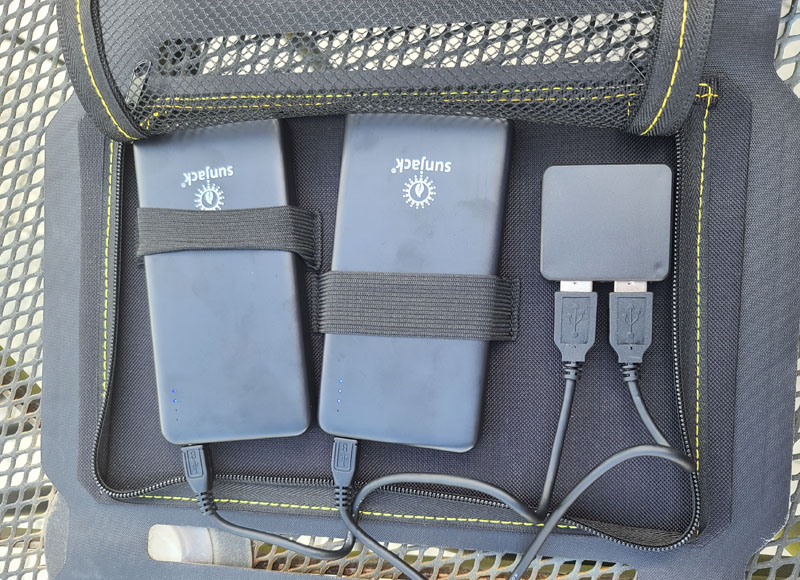 Dropping in the carabiners and zipping it all up (after reversing one of the batteries for a better fit) creates a nice, compact power package.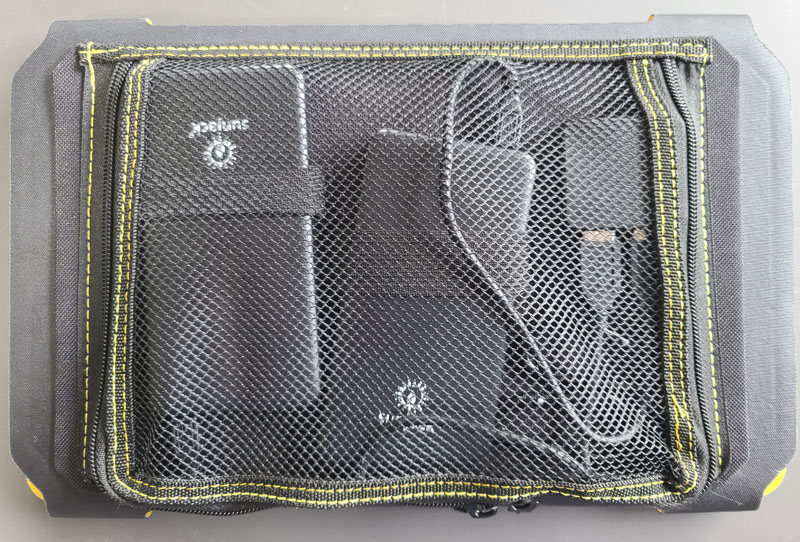 Setup
To use the panel, plug in your device(s) and/or batteries, open it up and place it in the sun.
Performance
I took the panel outside on a relatively sunny day.  I placed it in the shade and partially opened it up.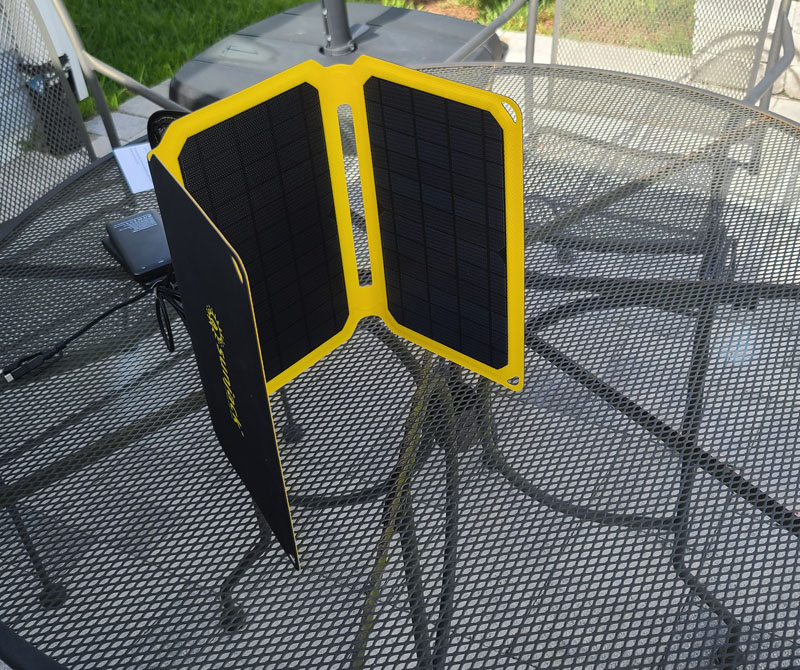 To my surprise, even out of direct sunlight, the power LED came on, showing that it was generating power.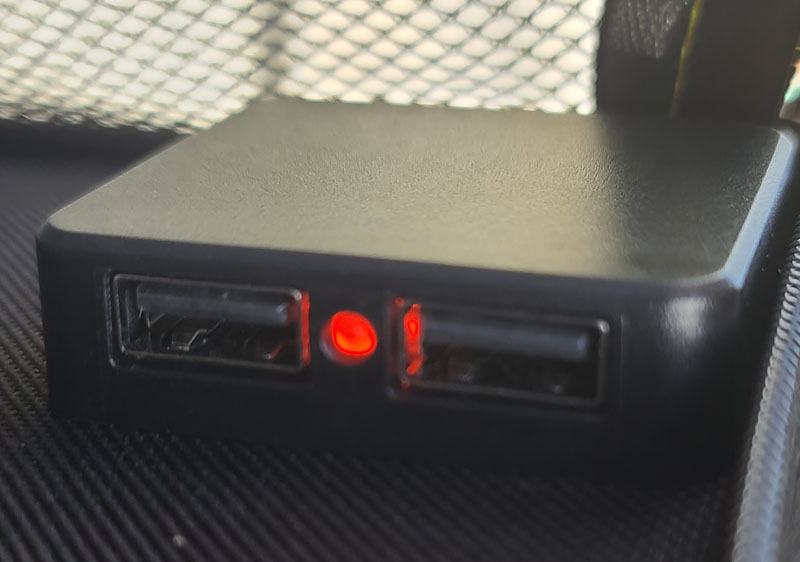 Wow – is it that efficient?  Let's see!  I plugged my Samsung Galaxy S20 Ultra in and got this indication.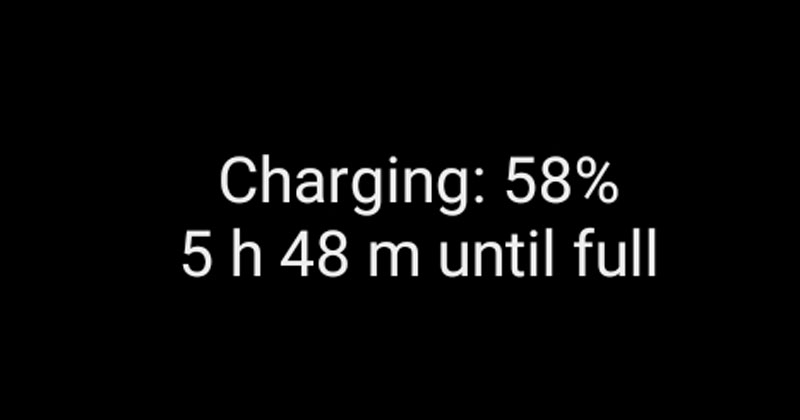 Hmm…nearly six hours to get less than a half-charge?  That doesn't seem very good.  But, to be fair, I only partially opened the panel and didn't put it in direct sunlight.  So, I changed my opinion from disappointed to somewhat impressed.  Even with little light, it can still provide a minimal amount of juice.
Next, I moved it into direct sunlight.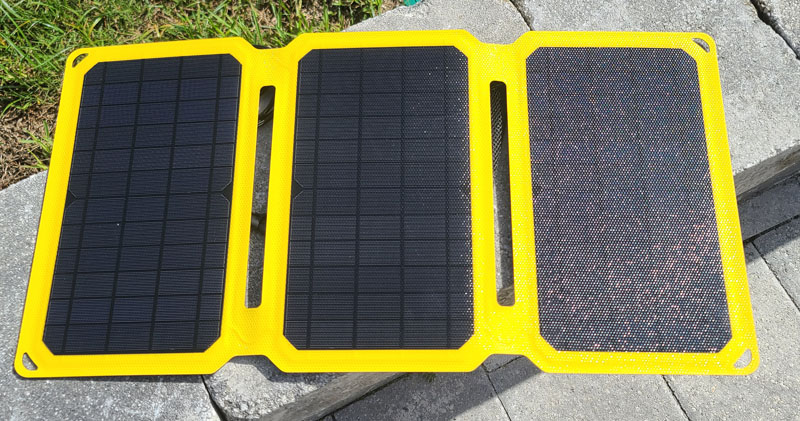 Let's do a phone check.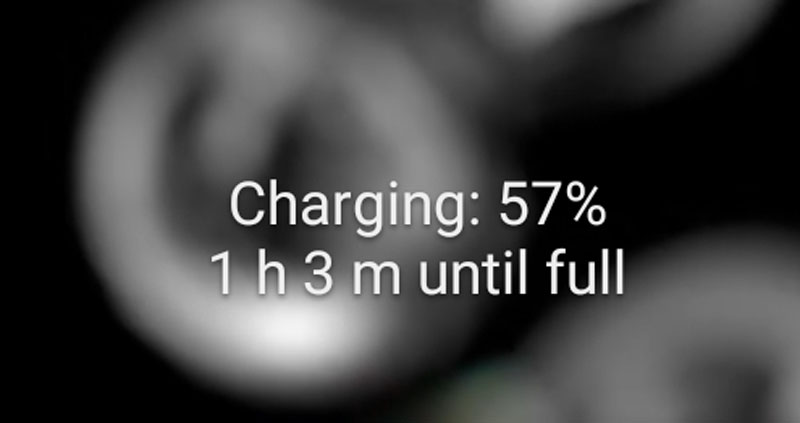 That's more like it!  That is about the same as a regular wall charger.  Pretty cool!
Next, I put the panel back in the shade and plugged in both battery packs.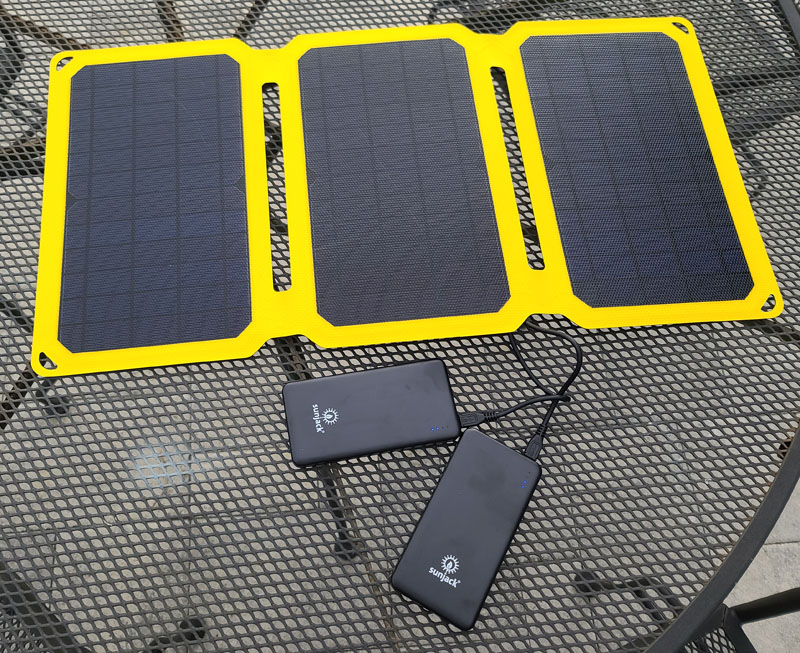 Both packs were charging – again, impressive, even if the charging takes longer.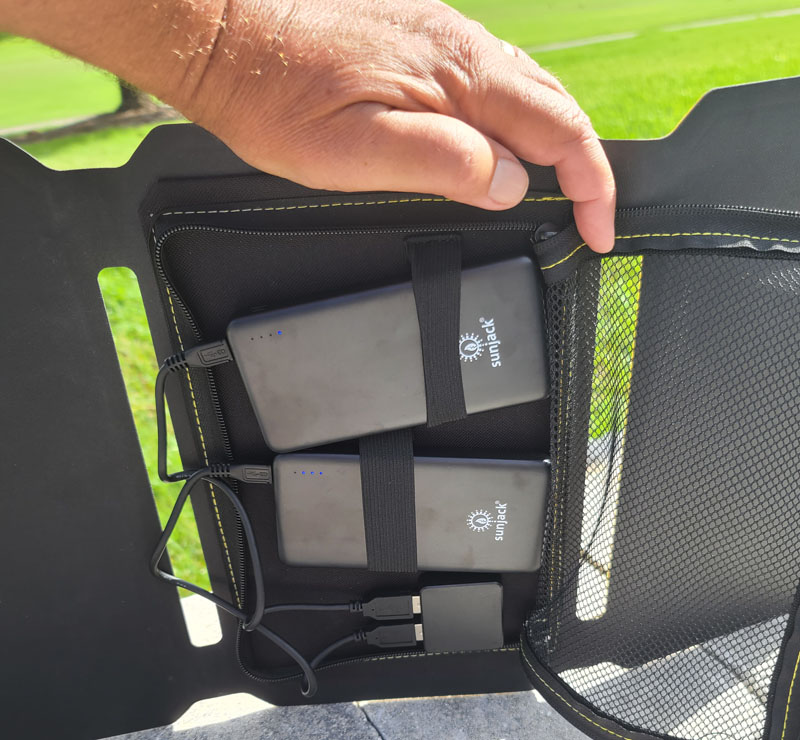 Of course, in full sun, they charge much faster.
I plugged my phone into one of the batteries using the USB-C PD port.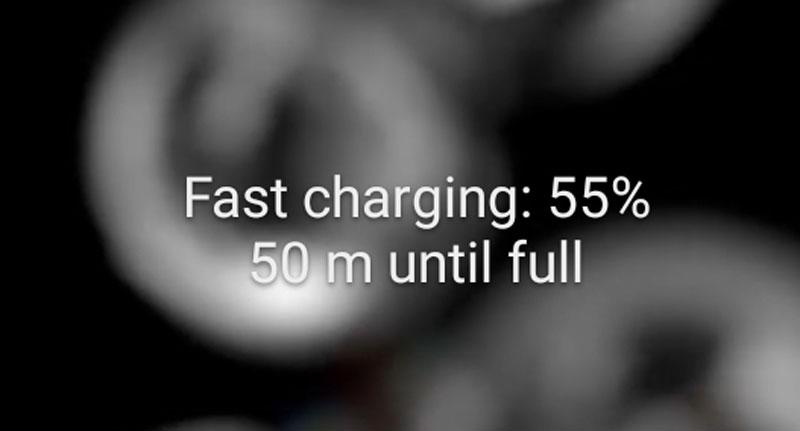 Sure enough, as advertised, the batteries offer quick charging.  Nice
One thing this pack is missing is a built-in easel-like stand.  Angling the panel about 45-degrees or so up at the sky provides an optimal angle.  Having fold-out legs would be handy.  Still, if you're out and about, using rocks or any other hard object could accomplish the same thing.  Including the carabiners and mounting holes is a nice touch, especially for backpackers.
What I like
Compact and relatively light
Good power delivery in most lighting conditions
Nice, light high-power battery packs
What I'd change
Add a fold-out easel stand
Final thoughts
If you're a gadget person on the go outdoors, this solar panel can power your goodies when you're away from power outlets.  That can be handy for a beach day and a portable speaker and your cell phone.  If you live in an area that is prone to power outages, this could be a lifesaver providing emergency power for your cell phone.
All-in-all, this is a great portable solar power solution
Price: $119.95
Where to buy: Amazon; SunJack
Source: The sample of this product was provided by SunJack.