We use affiliate links. If you buy something through the links on this page, we may earn a commission at no cost to you. Learn more.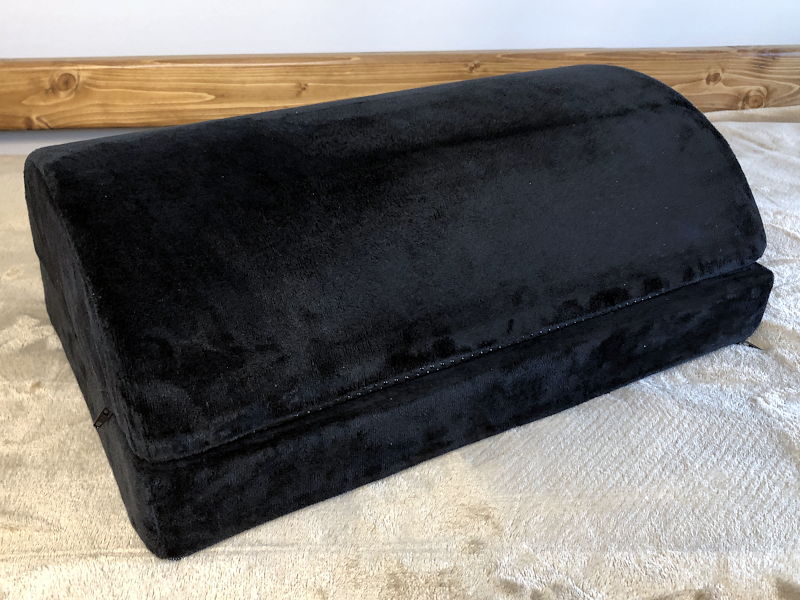 REVIEW – My wife teaches English online to international students. While teaching, she needs the camera for her computer to be angled so that it captures her and the bulletin board behind her, all at just the right angle and depth.  Additionally, she is, shall we say, a bit vertically-challenged.  The end result of all this is that when she's sitting at her desk teaching, her feet don't quite touch the floor.  This arrangement gets to be uncomfortable quickly, so she's been resting her feet on a plastic step stool.  While this works, she would like to have something a bit softer.  She's hoping that the ErgoFoam Adjustable Foot Rest will do the job.
What is it?
The ErgoFoam Adjustable Foot Rest is an under-the-desk foot rest that is made of foam and covered with black velvet.  It has a base foot rest whose height can be increased with a lifter.  ErgoFoam's mission is "to help you feel your best every day."
What's in the box?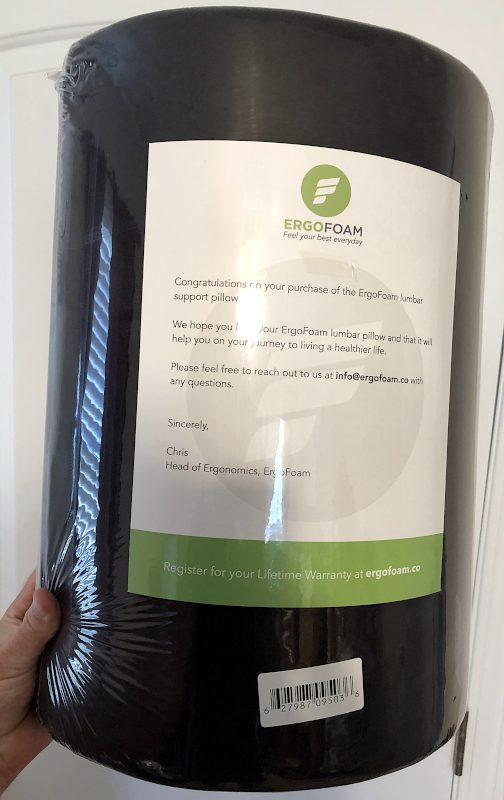 The ErgoFoam Adjustable Foot Rest arrived shrink-wrapped in plastic and included a piece of paper with an email address for support or questions.
Hardware specs
Size: 17.5″ x 12″ x 6″
Weight: 1.1 lbs
Design and features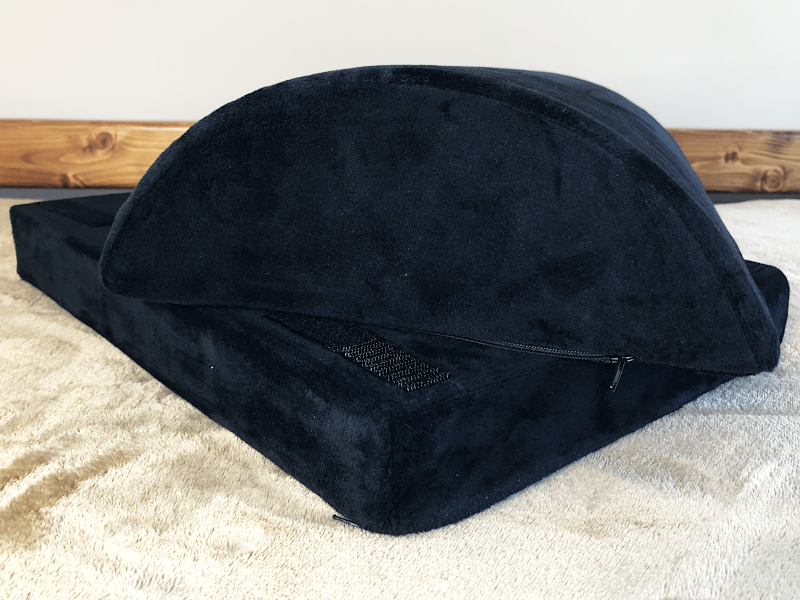 ErgoFoam's design is very similar to many other foam foot rests that are available on the market.  It has a rounded top on which the feet are placed and a rectangular base with a non-slip surface.  The interior is made of a foam, and the exterior of a black velvet.  The ErgoFoam Adjustable Foot Rest doesn't look cheap, like a plastic foot rest, nor does it look industrial, like some mechanical constructions; it has a simple, curved look that feels at home in a home office.  It's also available in a moisture-wicking mesh material.
Installation and setup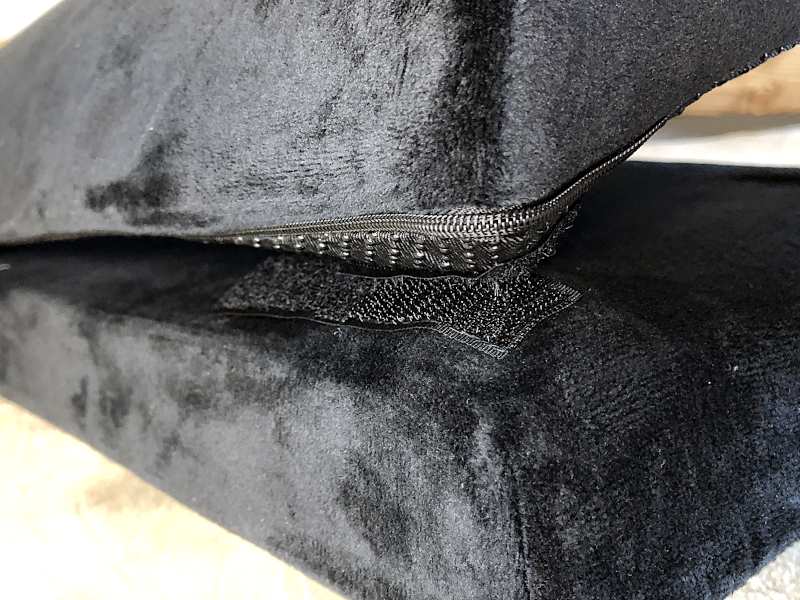 Once I removed the ErgoFoam Adjustable Foot Rest from the plastic, the only setup is to choose whether or not to attach the lifter.  The base foot rest is 4 inches tall, and adding the lifter raises it by 2 inches.  My wife appreciated the extra height, so we attached the lifter using the built-in Velcro strips.
Performance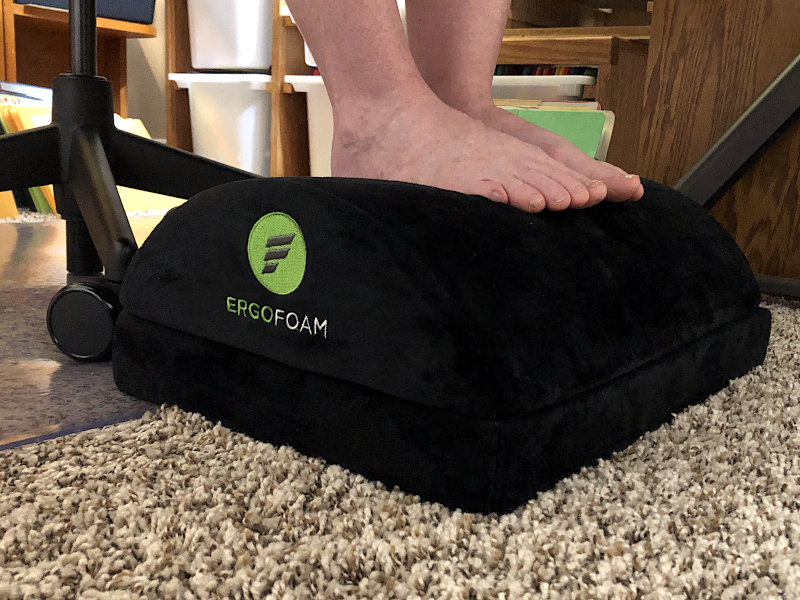 It didn't take long for my wife to decide that she definitely prefers the ErgoFoam Adjustable Foot Rest over the step stool that she was using previously.  She found it to be more comfortable and soothing for her feet, and the extra width allowed for a more natural sitting position.  A good foot rest can have ergonomic benefits, encouraging my wife to sit properly, which relieves pressure on her legs and helps to enable good circulation.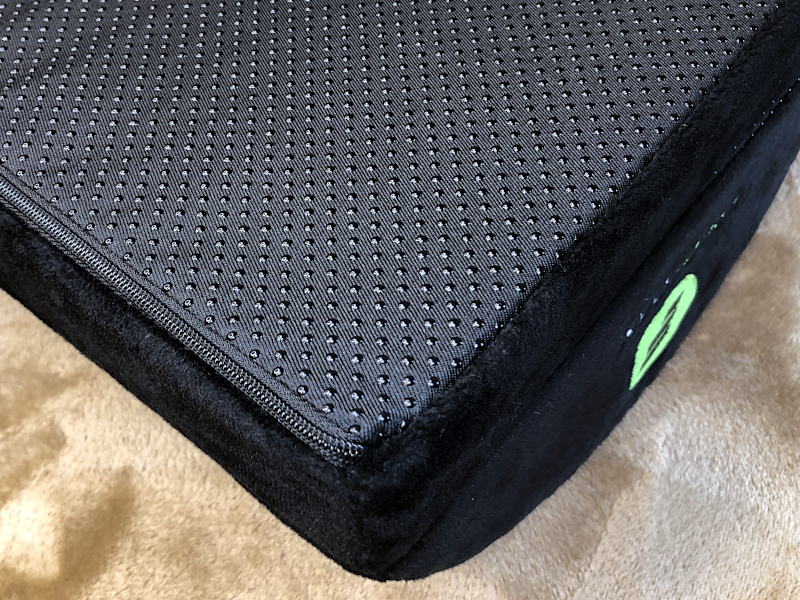 The base of the foot rest has a non-slip surface, which keeps it from sliding on the chair mat under her desk.  As it's rather light, she can easily flip the foot rest over with her feet, which allows her to rest her feet on the bottom and rock them back and forth.  This motion of the legs and feet is also good for her circulation.  The velvety material on the top is not anti-slip, however, so it slides around more.  Even so, my wife uses it this way several times a day.
While the velvet gives it a plush look, it picks up and shows every bit of dust, hair, and other particles that it comes in contact with.  Honestly, black-colored velvet is not really a good idea for anything that sits on the floor.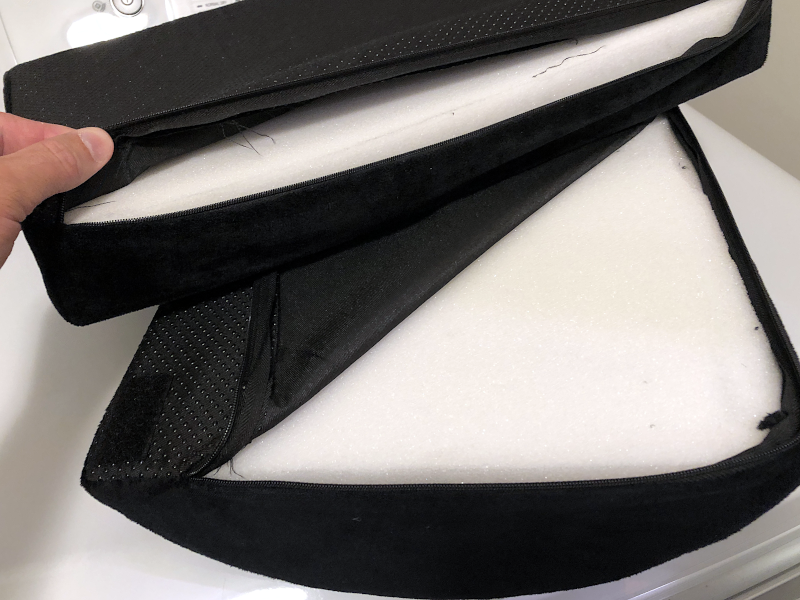 As the ErgoFoam Adjustable Foot Rest shows the dirt so easily, and as the covers have zippers, I assume that they are designed to be washed.  ErgoFoam's website doesn't have any information that I could find about how to wash or dry it, so I took my best guess on what to do.  I unzipped the covers from the foot rest and the lifter.  As it has Velcro, I turned the covers inside out and put them into a mesh laundry bag.  I then washed them on normal with warm water and let them air dry. They cleaned up nicely, but they were a real pain get to get back on.  Both of the zippers separated, and it took a bit of work to get them together again.  If ErgoFoam extended the zippers a bit further, this would probably be easier.
One final note is the price.  At $40, this is one of the most expensive foam foot rests on Amazon.  It's not obvious to me why it costs so much, especially since similar products are half the price.
What I like
Soft and comfortable
Non-slip surface on the base
The extra height from the lifter
What I'd change
Lower the price
Add instructions on how to take care of the foot rest
Final thoughts
The ErgoFoam Adjustable Foot Rest has been a hit with my wife.  She uses it for a few hours every day while teaching, and she finds it to be a lot more pleasant for her feet than the plastic stool.  The extra height of the lifter was perfect for her, and she appreciates being able to flip it over and rock her feet.  While my wife really likes it, I do have some concerns.  Black velvet is a poor color/material combination, as it shows all the dirt, and ErgoFoam hasn't provided any information on how to keep it clean.  Also, it's more expensive than many similar products.  Should you buy this foot rest?  It's a good gadget, worth having, but you should do some comparison shopping first to make sure it's the best foot rest for your money.
Price: $39.67
Where to buy:  ErgoFoam or Amazon
Source: The sample for this review was provided by ErgoFoam.